STORY HIGHLIGHTS
Heavily armed attackers dressed as soldiers kill 400 to 500 people, witnesses say
Survivors flee to neighboring Cameroon and into the Mandara Mountains on the border
Insurgents still control the area, "and residents can't go back to bury the dead," official says
Insurgents destroyed mobile phone towers in the region, making communication difficult
Kano, Nigeria (CNN) -- Hundreds of people were killed in raids by Boko Haram Islamic militants in northeast Nigeria's Borno state, on the border with Cameroon, with some sources putting the death toll at 400 to 500.
On Tuesday, heavily armed men dressed as soldiers in all-terrain vehicles and on motorcycles attacked neighboring Goshe, Attagara, Agapalwa and Aganjara villages in Gwoza district, shooting residents to death and burning homes.
The attacks forced surviving villagers to flee to Cameroon and into the Mandara Mountains on the border.
"The killings are massive. Nobody can say how many people were killed, but the figure runs into some hundreds," said Peter Biye, a lawmaker in Nigeria's lower parliament representing the Gwoza region.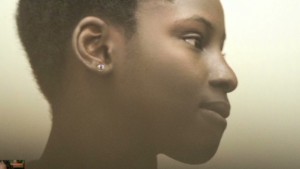 Her family was killed in front of her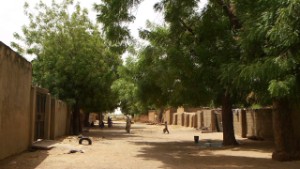 Poblaciones casi vacías en Nigeria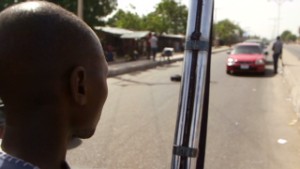 Nigerian vigilantes do what army can't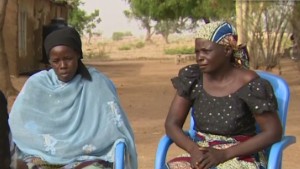 Mother of missing girl: 'Our hearts hurt'
"The area is still under the control of the insurgents, and residents can't go back to bury the dead because of the danger involved," he said.
On Wednesday, a military jet bombarded Boko Haram positions to dislodge the militants from the villages they have occupied, forcing them to temporarily withdraw.
"They returned immediately after the jet left, making it too risky for villagers to return to bury the dead," Biye said.
Dead bodies litter the area around the attacked villages. Ground troops have yet to go to the area to push out the insurgents, he said.
The attackers, who posed as soldiers, told residents they had come to protect them from Boko Haram and asked them to assemble. They singled out men and boys and opened fire on them, Biye said.
A local leader in Attagara village, who fled to nearby Madagali town in neighboring Adamawa state, said the death toll was staggering.
"The death is unimaginable. We have lost between 400 and 500 people in the attacks in which men and male children were not spared," said the local leader, who asked not to be named for security reasons.
"The gunmen pursued on motorcycle people who fled into the bush in a bid to escape and shot them dead.
"Even nursing mothers had their male infants snatched from their backs and shot dead before their eyes," the local leader said.
The insurgents destroyed mobile phone towers in the region, so news of attacks is usually slow to emerge and verification of death tolls difficult to obtain.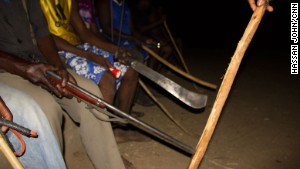 Nigerians take security into own hands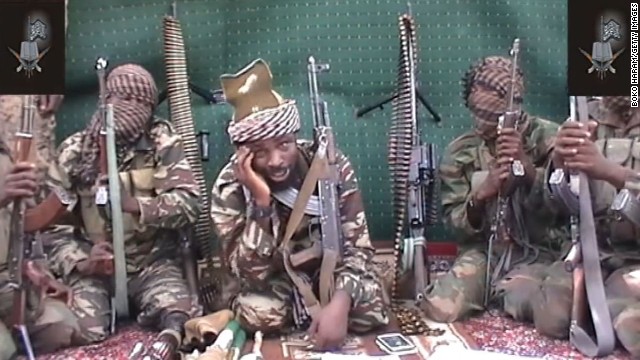 A video of Abubakar Shekau, who claims to be the leader of the Nigerian Islamist extremist group Boko Haram, is shown on September 25, 2013. Boko Haram is an Islamist militant group waging a campaign of violence in northern Nigeria. The group's ambitions range from the stricter enforcement of Sharia law to the total destruction of the Nigerian state and its government. Click through to see recent bloody incidents in this strife-torn West African nation:
Bodies lie in the streets in Maiduguri after religious clashes in northern Nigeria, on July 31, 2009. Boko Haram exploded onto the national scene in 2009 when 700 people were killed in widespread clashes across the north between the group and the Nigerian military.
An unidentified official displays burned equipment inside a prison in Bauchi on September 9, 2010, after the prison was attacked by suspected members of Boko Haram on September 7. About 720 inmates escaped during the prison break, and police suspect the prison was attacked because it was holding 80 members of the sect.
Nigerian President Goodluck Jonathan, second from left, stands on the back of a vehicle after being sworn-in as President during a ceremony in the capital of Abuja on May 29, 2011. In December 2011, Jonathan declared a state of emergency in parts of the country afflicted by violence from the militant Islamist group.
Rescue workers evacuate a wounded person from a U.N. building in Abuja on August 26, 2011. The building was rocked by a bomb that killed at least 23 people, leaving others trapped and causing heavy damage. Boko Haram had claimed responsibility for the attack in which a Honda packed with explosives rammed into the U.N. building, shattering windows and setting the place afire.
A photo taken on November 6, 2011, shows state police headquarters burned by a series of bomb and gun attacks that targeted police stations, mosques and churches in Damaturu on November 4, 2011. Attackers left scores injured -- probably more than 100 -- in a three-hour rampage in the Yobe state city of Damaturu. Sixty-three people died.
Men look at the wreckage of a car after a bomb blast at St. Theresa Catholic Church outside Abuja on December 25, 2011. A string of bombs struck churches in five Nigerian cities, leaving dozens dead and wounded on the Christmas holiday, authorities and witnesses said. Boko Haram's targets included police outposts and churches as well as places associated with "Western influence."
A paramedic helps a young man injured during one of the multiple explosions and shooting attacks as he leaves a hospital in the northern city of Kano on January 21, 2012. A spate of bombings and shootings left more than 200 people dead in Nigeria's second-largest city. Three days later, a joint military task force in Nigeria arrested 158 suspected members of Boko Haram.
A photo taken on June 18, 2012, shows a car vandalized after three church bombings and retaliatory attacks in northern Nigeria killed at least 50 people on June 17 and injured more than 130 others, the Nigerian Red Cross Society said.
A French family kidnapped on February 19, 2013, in northern Cameroon is released after two months in captivity in Nigeria. The family of four children, their parents and an uncle were kidnapped in Waza National Park in northern Cameroon, situated near the border with Nigeria. One of the captive men read a statement demanding that Nigeria and Cameroon free jailed members of Boko Haram.
A soldier stands in front of a damaged wall and the body of a prison officer killed during an attack on a prison in the northeastern town of Bama on May 7, 2013. Two soldiers were killed during coordinated attacks on multiple targets. Nigeria's military says more than 100 Boko Haram militants carried out the attack.
A deserted student hostel on August 6, 2013, is shown after gunmen stormed a school in Yobe state, killing 20 students and a teacher, state media reported on July 6, 2013. Boko Haram regularly carries out attacks in Yobe, in Nigeria's northeast.
A photograph made available by the Nigerian army on August 13, 2013, shows improvised explosive devices, bomb making materials and detonators seized from a Boko Haram hideout. Gunmen attacked a mosque in Nigeria with automatic weapons on August 11, 2013, killing at least 44 people.
Nigerian students from Jos Polytechnic walk on campus in Jos, Nigeria, on September 30, 2013. Under the cover of darkness, gunmen approached a college dormitory in a rural Nigerian town and opened fire on students who were sleeping. At least 40 students died, according to the News Agency of Nigeria.
Soldiers stand outside the 79 Composite Group Air Force base that was attacked earlier in Maiduguri on December 2, 2013. Hundreds of Boko Haram militants attacked an Air Force base and a military checkpoint, according to government officials.
Former hostage and French Catholic Priest Georges Vandenbeusch speaks to reporters outside Paris, France, on January 1, after his release. Vandenbeusch was snatched from his parish church in Cameroon on November 13, 2013. Boko Haram claimed responsibility for kidnapping the priest.
A man receives treatment at Konduga specialist hospital after a gruesome attack on January 26. It's suspected that Boko Haram militants opened fire on a village market and torched homes in the village of Kawuri in Borno state, killing at least 45 people.
Police officers stand guard in front of the burned remains of homes and businesses in the village of Konduga, in northeastern Nigeria, on February 12. Suspected Boko Haram militants torched houses in the village, killing at least 23 people, according to the governor of Borno state on February 11.
Ibrahim Gaidam, governor of Yobe state, left, looks at the bodies of students inside an ambulance outside a mosque in Damaturu. At least 29 students died in an attack on a federal college in Buni Yadi, near the the capital of Yobe state, Nigeria's military said on February 26. Authorities suspect Boko Haram carried out the assault in which several buildings were also torched. In April as many as 200 girls were abducted from their boarding school in northeastern Nigeria by heavily armed Boko Haram Islamists who arrived in trucks, vans and buses, officials and witnesses said. The group has recently stepped up attacks in the region, and its leader released a video last month threatening to kidnap girls from schools.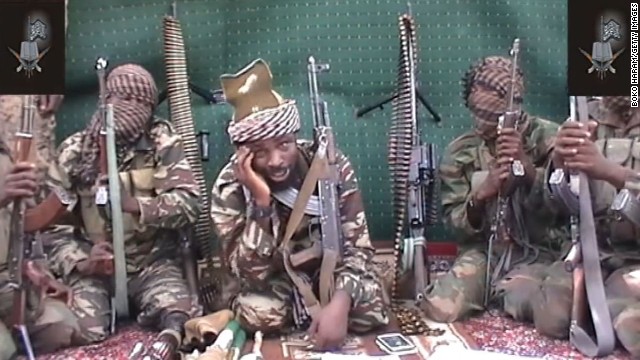 Boko Haram: Nigeria's crisis
If the death toll is confirmed, it will be the worst attack by Boko Haram in its five-year insurgency that has killed thousands, mostly in the northeast.
Boko Haram: A bloody insurgency, a growing challenge
On May 5, the group killed 315 people in the town of Gamboru Ngala on the border with Cameroon not far from Gwoza, where they burned a market, businesses and several homes.
Meanwhile, dozens of Boko Haram fighters stormed Madagali town early Thursday, burning a church and a local government administrative building after subduing military and police personnel, a local official said.
Residents said two civilians were killed in crossfire during a shootout between soldiers and the gunmen.
"They came around 6 a.m. ... in 10 all-terrain vehicles and on several motorcycles, all dressed in military uniforms," said Maina Ularamu, a Madagali local government chairman.
The gunmen overran a police checkpoint, forcing policemen to flee, and then opened fire on a military checkpoint just outside the town, where they engaged soldiers in a shootout.
After overwhelming the soldiers who withdrew from the checkpoint, the gunmen attacked and burned a Roman Catholic church and a local government office opposite it, Ularamu said.
4 Nigerian villages reeling after Boko Haram attack: 'We lost many people'
Nigeria backtracks on ban on protests for kidnapped girls in capital
Boko Haram raids Nigerian villages, killing 35