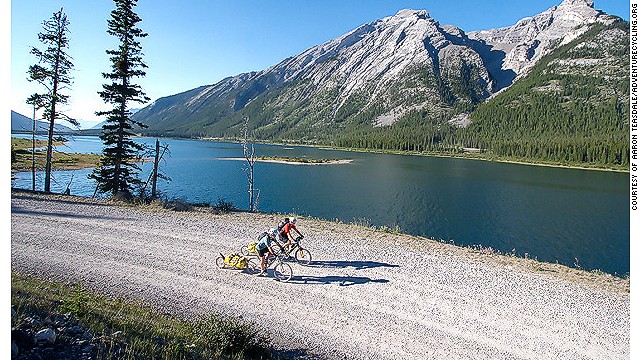 Rides don't come much bigger or more remote than this. The Great Divide Mountain Bike Route is off-road touring from Canada's Alberta all the way to New Mexico that takes in 61,000 meters of climb. That's more than 200,000 feet of glorious thigh burn.
The shimmering turquoise waters of Yamdrok Yumtso lake is one of the sights that greet riders as they climb to lung-bursting heights in the shadow of Everest. The road stretches between Lhasa and the Nepalese border.
Tackling the Friendship Highway from Lhasa to the Nepalese border by bicycle takes careful planning. Especially if you're planning to get married along the way. The stunning scenery is, apparently, a favorite for wedding photographers.
With start and finish points in the northerly Shetland Islands and the Norwegian town of Bergen, riders of this coastal route through eight European countries are unlikely to suffer from heat exhaustion. Many hedge their bets by completing it over a series of summers.
Built for gentle meandering, this track snakes across a series of small, scenic islands in Hiroshima prefecture, in the west of Japan. At just more than 40 miles long, it's possible to complete in a day.
Tracing the route of the 16th-century Spanish conqueror Juan de Cavallon, La Ruta takes cyclists through Costa Rica's vast range of natural wonders.
La Ruta begins in a Pacific surfing resort, rises into volcanic peaks and descends to the Caribbean coast. Along the way there's some tough terrain, and a few rickety-looking railway bridges to navigate.
Munda Biddi means "path through the forest" in the local indigenous language -- it runs from near the state capital, Perth, to Albany in the far southwest.
The bucolic scenery looks inviting, but this 99-mile trek across the rolling English countryside is deceptively tricky, not least because of the countryside pubs that tempt riders from the track.
Some hardy souls tackle the entire South Downs Way in a day, but there's an argument that pedaling furiously through some of England's most glorious vistas kind of misses the point.
Great Divide (North America)
The Friendship Highway (China)
Wedding on wheels
North Sea Cycle Route (Europe)
Shimanami Kaido (Japan)
La Ruta de los Conquistadores (Costa Rica)
Crossing bridges, and a continent
Munda Biddi Trail (Australia)
South Downs Way (England)
Dawdling on the South Downs