STORY HIGHLIGHTS
Jean Ekwa worked out alongside President Obama in Poland and said he was lifting 26-pound weights
"As for the technique, I can't honestly say that it's perfect," Ekwa, a personal trainer, said.
P90X founder Tony Horton gave Obama a "B-plus, maybe an A-minus" on form
Former White House videographer: Obama "just acts the same on and off camera"
Washington (CNN) -- They're not exactly gym buddies, but a personal trainer in Poland can now say he worked out with the President of the United States.
Jean Ekwa was at the Marriott gym with Barack Obama in Warsaw and confessed to some eavesdropping in an interview with CNN's Brooke Baldwin.
Someone in the hotel workout room captured every grunt and stretch of Obama's routine, then leaked the video on Wednesday.
Ekwa said Obama was lifting 25-pound free weights.
"As for the technique, I can't honestly say that it's perfect," Ekwa, a personal trainer, said.
Ekwa noted that everyone present in the gym had been scanned by the Secret Service.
He said when he first saw the roughly 10 agents at the gym, he didn't think he would be allowed in.
"All the people there tried to play it cool," he said. "On the inside I was very excited. I didn't want to do anything that would end up with security guards breaking my arm or something."
While Ekwa couldn't give Obama top marks, fitness guru Tony Horton called his form "pretty good."
"I'd give him a solid B-plus, maybe an A-minus," Horton, creator of the P90X workout, said Thursday on CNN's New Day.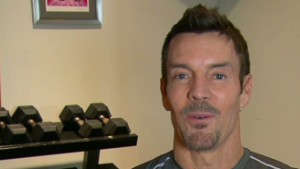 P90X creator praises Obama's workout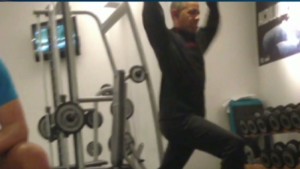 Was the Obama gym video a security breach?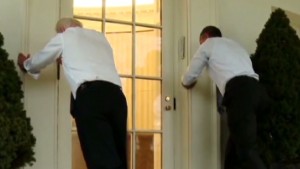 Biden, Obama make best workout video ever?
Horton, whose workout has been adopted by Republican Reps. Paul Ryan of Wisconsin and Aaron Schock of Illinois, advised Obama to "breathe a little bit more." But said he was glad Obama decided to hit the gym while abroad.
"I'm just thrilled that our President shows up to Poland and ends up doing a workout for a half an hour before going to bed instead of grabbing a Scotch and a cigarette," Horton said.
Comments online ran the gamut, as some Twitter users knocked the weight of the President's dumbbells while others cheered him for staying active.
Gawker, meanwhile, published a list of Obama's biggest workout mistakes: from "wearing long pants" to not lunging far enough during his exercise. The viral website even called him out for using the elliptical machine.
Horton instead focused on the importance of the President's commitment to fitness, which he said helps keep his mind sharp.
First lady Michelle Obama has pushed Americans to get in shape and is working to end childhood obesity by encouraging kids to get active through her "Let's Move" campaign, which she launched in 2010.
Setback for first lady in food fight with Congress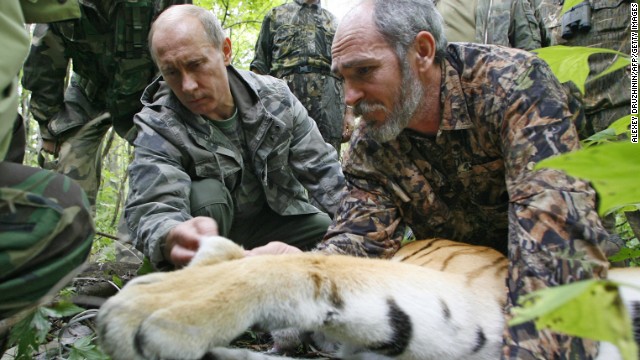 Assisted by a Russian scientist, Putin fixes a satellite transmitter to a tiger during his visit to the Ussuriysky forest reserve of the Russian Academy of Sciences in the Far East on August 31, 2008.
Russian President Vladimir Putin holds a Persian leopard cub at a breeding and rehabilitation center in the Black Sea resort of Sochi. Perhaps the most important vote in Russia's public selection of a new Olympic mascot was cast when Putin said he wanted a funky leopard to represent the 2014 Sochi Winter Games. Browse through for more photos of Putin trying his hand at different activities.
Putin skis at the Laura Cross Country and Biathlon Centre near Sochi on January 3.
Putin holds a pike he caught in the Siberian Tuva region of Russia on July 20, 2013.
Putin enjoys some fishing during his vacation to the Tuva region on July 20, 2013. For years, Russia's leader has cultivated a populist image in the Russian media.
Putin submerges on board Sea Explorer 5 bathyscaphe near the isle of Gogland in the Gulf of Finland on July 15, 2013.
Putin studies a crane during an experiment called Flight of Hope on September 5, 2012, in which he piloted a hang glider, aiming to lead the birds into flight. It's part of a project to save the rare species of crane.
Putin takes part in a training session for young ice hockey players before the "Golden Puck" youth tournament final in Moscow on April 15, 2011.
Putin rides a Harley-Davidson to an international biker convention in southern Ukraine on July 14, 2010.
The Russian president aims at a whale with an arbalest (crossbow) to take a piece of its skin for analysis at Olga Bay on August 25, 2010 .
A wetsuit-clad Putin embarks on a dive to an underwater archaeological site at Phanagoria on the Taman Peninsula on August 10, 2011.
Famed for his love of martial arts, Putin throws a competitor in a judo session at an athletics school in St. Petersburg on December 18, 2009.
Putin during his vacation in southern Siberia on August 3, 2009.
Putin swims the butterfly during his vacation outside the town of Kyzyl in southern Siberia on August 3, 2009.
Putin carries a hunting rifle in the Republic of Tuva on September 3, 2007.
A shirtless Putin fishing in the headwaters of the Yenisei River in the Republic of Tuva on August 13, 2007.
Putin in the cockpit of a Tupolev Tu-160 strategic bomber jet at a military airport on August 16, 2005, before his supersonic flight.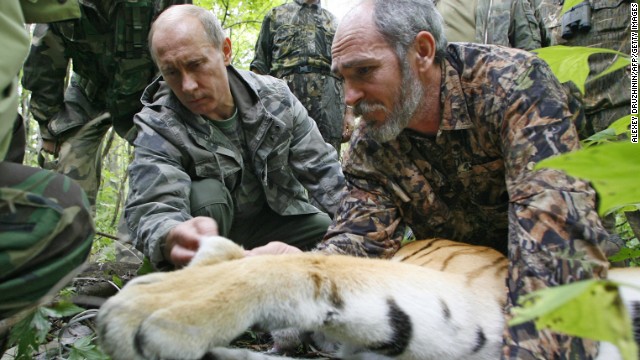 Photos: Cult of Putin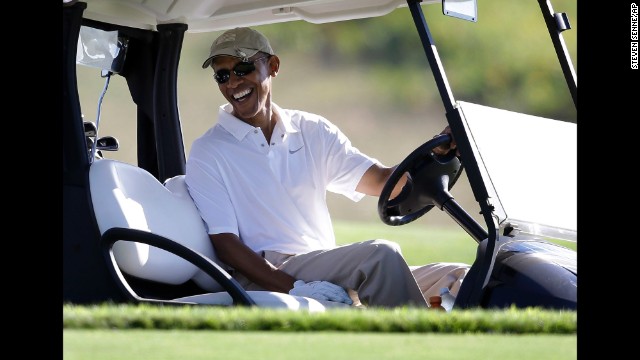 President Barack Obama plays a round of golf Wednesday, August 20, at Vineyard Golf Club in Martha's Vineyard, Massachusetts. Here's a look at how Obama and other presidents have escaped from the pressure of the Oval Office.
Obama waits for lunch with daughters, Malia, left, and Sasha, at a Martha's Vineyard restaurant in August 2009.
President George W. Bush rides a bicycle at his ranch in Crawford, Texas, in August 2007.
President-elect Bill Clinton plays volleyball in November 1992 on a Pacific Coast beach.
President George H. W. Bush pauses to speak to the media while he plays golf in Kennebunkport, Maine, in August 1990.
President Ronald Reagan and first lady Nancy Reagan ride horses at their vacation home in Santa Barbara, California, in November 1982.
President-elect Jimmy Carter vacations at St. Simons, an island off the coast of Georgia, in November 1976 following his election victory.
President Gerald Ford opens a gift from his wife, Betty, during their usual Christmas holiday vacation spot in Vail, Colorado, in December 1974.
President Richard Nixon and his wife, Pat, walk along the beach in San Clemente, California, in 1971.
President Lyndon Johnson and his wife, Lady Bird, often vacationed at the LBJ Ranch in Johnson City, Texas.
President John F. Kennedy, far right, vacations with his family in this undated photo. From left is daughter Caroline, first lady Jacqueline and son John Jr.
President Dwight Eisenhower fishes the North Platte River in 1953 at the Swan Hereford Ranch in Colorado. Eisenhower also enjoyed golf trips to Augusta, Georgia.
President Harry Truman holds a news conference during a vacation in 1951.
President Franklin D. Roosevelt swims in Warm Springs, Georgia.
President Herbert Hoover and his wife, Lou Henry, sit on the porch of their Radipan Camp retreat, which is now part of the Shenandoah National Park in Virginia. The president originally bought the land for the vacation spot in 1929.
President Calvin Coolidge poses in personalized chaps with his wife, Grace, at a party in South Dakota celebrating the Fourth of July and his 55th birthday in 1927.
President Warren Harding, right, goes camping with Firestone Tire Co. founder Harvey Firestone in 1921.
President William H. Taft, center, enjoys a round of golf at the Chevy Chase Country Club in Maryland in 1909.
President Theodore Roosevelt's Sagamore Hill home in Oyster Bay, New York, often served as his vacation retreat.
President Ulysses Grant enjoys the porch of his cottage by the sea in Elberon, New Jersey, in 1872.
President Abraham Lincoln's summer retreat was just a few miles from the White House, and he used to commute between the two on horseback. Now known as the Lincoln Cottage, it features a life-size statue of the 16th president.
President Thomas Jefferson liked to spend time at Monticello, his home in Virginia. In 1805, he spent nearly four months there while in office.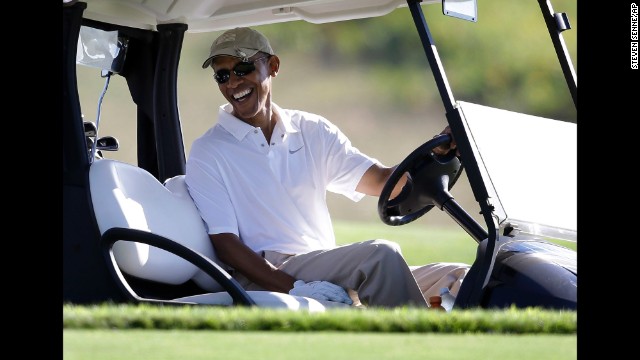 Photos: Presidential vacations
The candid video might have caught Obama off guard, but likely not unaware, former White House videographer Arun Chaudhary said.
It shows Obama calmly perusing the rack of free weights, which he used to lunge and lift and perform an intense set of curls.
"President Obama is somebody who just acts the same on and off camera and has this unique ability just to sort of not care about it," Chaudhary said. "He is very aware that everybody in that gym has a cell phone and that they're probably taking a video."
Chaudhary backed up the Secret Service's claims that Obama was safe, assuring that all hotel guests were without a doubt screened by the President's security detail.
"I think it's unusual for us to see the President working out in a gym, but as a security level it's not different than him getting pancakes at a diner in Iowa," he said.
"For me, this gym tape is almost ... no different than (White House photographer) Pete Souza's photo of the first lady and the President touching heads in the freight elevator on Inauguration Day," Chaudhary said.
The video does show a lanky Obama in a different light than his Russian counterpart, Vladimir Putin, who has been photographed shirtless hunting, fishing and riding horseback.
"This is not him strangling a tiger on top of a horse while he's shirtless," Chaudhary said of Obama. "This is someone doing what they do in a non-glamorous way."