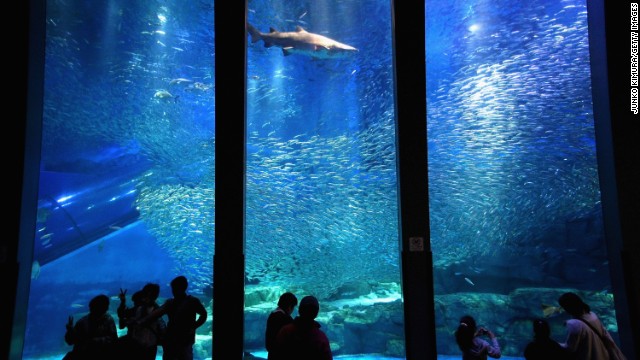 25. Yokohama Hakkeijima Sea Paradise in Japan features amusement park rides, an aquarium and over 500 varieties of fish.
24. Efteling theme park in the Netherlands is one of the oldest theme parks in the world.
23.Tivoli Gardens in Denmark features all sorts of amusements and entertainments.
22. While SeaWorld California has come under fire recently, with questions being raised about the care of its whales, visitors keep coming to see Shamu and other marine animals perform.
21. Walt Disney Studios Park at Disneyland Paris is just one part of Disney's French empire.
20. Europa-Park in Germany features a restaurant with a one-star Michelin rating.
19. SeaWorld Florida also features the famous whales in its shows.
18. Check out the Steel Dragon roller coaster at Nagashima Spa Land in Japan.
17. Universal Studios Hollywood offers behind-the-scenes access to Universal Studios movies (the VIP tour is shown here).
16. Universal Studios at Universal Orlando in Florida is abuzz with additions to the Wizarding World of Harry Potter, shown here in 2010.
15. The Everland amusement and animal park in Yongin, south of Seoul, is South Korea's largest amusement park.
14. Lotte World in South Korea includes a theme park, shopping mall, hotel, sports facilities and a movie theater.
13. Toy Story Land is one of the star attractions at Hong Kong Disneyland.
12. Ocean Park in Hong Kong has been criticized for how it treats its marine life, much like SeaWorld, but visitors keep coming to the park.
11. Islands of Adventure at Universal Orlando features the Jurassic Park river adventure, where visitors will spot friendly and not-so-friendly dinosaurs.
10. Disney's California Adventure Park features Mickey's Fun Wheel and the California Screamin' roller coaster.
9. Universal Studios Japan in Osaka features Universal Wonderland, an amusement zone within the park.
8. Disney's Hollywood Studios theme park at Florida's Walt Disney World Resort welcomed daytime TV talk show host Wendy Williams and her son Kevin, shown here on a ride on Toy Story Midway Mania!
7. Disney's Animal Kingdom at Walt Disney World in Florida offers hotel views of animals wandering by.
6. Mickey Mouse poses in front of the Sleeping Beauty Castle at the Disneyland park outside of Paris.
5. Disney's Epcot at Walt Disney World in Florida features the futuristic Spaceship Earth geosphere and monorail, shown here.
4. Tokyo DisneySea offers steamer boat rides through all the ports of the park.
3. There's nothing like visiting the original Disneyland, featuring Mickey and Minnie Mouse in front of Sleeping Beauty Castle in Anaheim, California.
2. Tokyo Disneyland celebrated its 30th anniversary in 2013.
1. It takes many hands to keep the Magic Kingdom in Florida on top as the No. 1 amusement park in the world. Here a custodian polishes the Walt Disney and Mickey Mouse statue at the Orlando park.
25. Yokohama Hakkeijima Sea Paradise, Japan
24. Efteling, Netherlands
23. Tivoli Gardens, Denmark
22. SeaWorld California
21. Walt Disney Studios, France
20. Europa-Park, Germany
19. SeaWorld Florida
18. Nagashima Spa Land, Japan
17. Universal Studios Hollywood, California
16. Universal Studios, Florida
15. Everland, South Korea
14. Lotte World, South Korea
13. Hong Kong Disneyland
12. Ocean Park, Hong Kong
11. Islands of Adventure, Florida
10. Disney's California Adventure
9. Universal Studios Japan
8. Disney's Hollywood Studios, Florida
7. Disney's Animal Kingdom, Florida
6. Disneyland Park, France
5. Disney's Epcot, Florida
4. Tokyo DisneySea, Japan
3. Disneyland, California
2. Tokyo Disneyland, Japan
1. Magic Kingdom, Florida