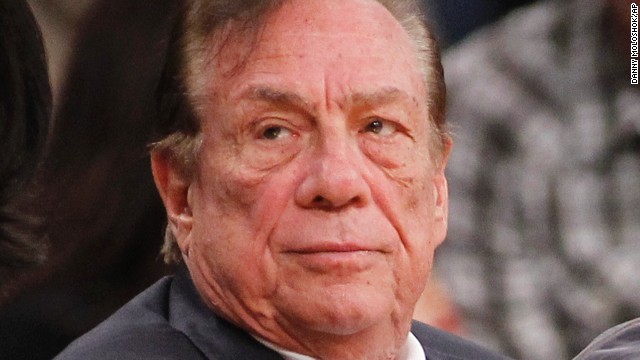 After a recording of Los Angeles Clippers owner Donald Sterling
making racist remarks was released in April 2014
, he was
fined and banned
from NBA games for life. But he's not the only well-known figure who has served as a lighting rod for discussion on race and identity.
made news
in 2014 for his battle with the federal government and his comments that implied blacks would have been better off in slavery. In an interview with CNN's "New Day," he said he is not a racist.
Rancher Cliven Bundy
admitted to use of the "n-word"
and botched an apology. A racial discrimination charge against her
was later dropped
, and she is in the midst of a
comeback
, as she continues to spur controversy with her
comments
.
TV personality and chef Paula Deen lost her sponsors and her Food Network show in 2013 after she
Actor LL Cool J and musician Brad Paisley collaborated on the song "Accidental Racist" that was largely panned by critics for being too simplistic in how it discussed American racial history.
Protesters hold signs in front of the U.S. Supreme Court on October 10, 2012, ahead of the high court's hearing of arguments on Fisher V. University of Texas at Austin. In 2013, the court ruled on the constitutionality of the school's consideration of race in admissions.
twerking a household term
after her controversial performance at the 2013 MTV Video Music Awards with Robin Thicke. Critics accused her of
appropriating hip-hop culture
and
outraged parents
whose children once knew her for her kid-friendly Hannah Montana character.
Miley Cyrus made
some questioned his citizenship
and mariachi outfit, it sparked defense of the young singer from notables such as actress
Eva Longoria
.
Sebastien De La Cruz, known as San Antonio's Little Mariachi, sang the national anthem before an NBA finals game between the San Antonio Spurs and the Miami Heat in 2013. When
In 2013, stop-and-frisk became a major issue in the New York mayoral campaign, and additional discussion was prompted with the George Zimmerman trial and movies such as "Fruitvale Station" that highlighted the issue.
In July 2013, George Zimmerman was acquitted in the killing of Trayvon Martin, sparking outrage in response to the verdict and later for a juror getting a book deal to discuss the case. After backlash, the book offer was revoked.
In a highly publicized move, Sasheer Zamata was hired as a performer on "Saturday Night Live" in early 2014 after an outcry about the show's lack of diversity and not having a black female cast member in six years.
Stories that sparked discussions on race
Stories that sparked discussions on race
Stories that sparked discussions on race
Stories that sparked discussions on race
Stories that sparked discussions on race
Stories that sparked discussions on race
Stories that sparked discussions on race
Stories that sparked discussions on race
Stories that sparked discussions on race
Stories that sparked discussions on race
Stories that sparked discussions on race
Stories that sparked discussions on race
Stories that sparked discussions on race
STORY HIGHLIGHTS
Suspect in V. Stiviano assault released on his own recognizance
Dominick Diorio turned himself in to police, NYPD source says, and later was ID'd by Stiviano
Police had spoken to the Long Island man the night of the alleged attack
V. Stiviano says two men yelled at and hit her
(CNN) -- A 40-year-old man who allegedly punched and shouted racial slurs at V. Stiviano outside a Manhattan hotel was released on his own recognizance Wednesday as prosecutors investigate possible hate crime charges against him.
Dominick Diorio allegedly followed Stiviano -- whose audio recording of Donald Sterling ranting against African-Americans led to his NBA lifetime ban -- from a restaurant to a hotel and taunted her with racial slurs, according to a criminal complaint.
When she got into a cab with companions, the complaint said, Diorio "reached through an open taxi window and struck her in the face with his closed fist," causing swelling, redness and pain in her right cheek.
According to the complaint, Diorio swung his fists at her, saying, "Yeah, I'll f**king hit a girl. I'll hit you, you n****r bitch."
David Scott Smith, Diorio's attorney, said outside court that his client "vehemently denies each and every allegation."
"I am confident that as this case goes forward and the investigation continues, Ms. Stiviano's allegations will likewise begin to fail and, at the end of the day, the assault charge will be dismissed," he said. "Simply put, a credible victim of a crime does not have her attorneys call the press before she calls the police. Ms. Stiviano seems intent on keeping her name in the spotlight but I can assure you that if this case goes to trial, my cross-examination will last longer than her 15 minutes of fame."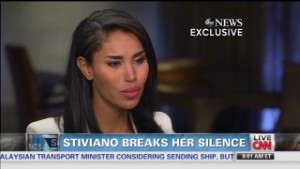 Sterling's alleged mistress speaks out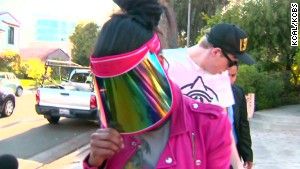 Tax trouble for Sterling's friend?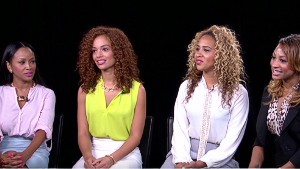 Stiviano's friends say she wanted fame
Stiviano filed a formal police complaint Monday -- one day after the alleged assault.
Diorio was arraigned Wednesday on a charge of third-degree assault and prosecutors agreed to his release pending an investigation of hate crime charges. The case will be presented to a grand jury. Diorio, who surrendered to police, next appears in court July 30.
The complaint said Dioro followed Stiviano on the street while repeatedly calling her a "n****r bitch" and a "whore."
Stiviano told police she was with her sister and a friend at Revel restaurant when a group at another table called her a prostitute and shouted slurs at her, a NYPD official said. Stiviano and her sister exchanged words with the group.
When Diorio allegedly put his cell phone near Stiviano's face to snap a photo, she knocked the phone out of his hands and walked out of the restaurant, the police official said.
Stiviano told investigators that she and her sister were followed by the group as they walked to the Gansevoort hotel to hail a cab, the official said. Video obtained by police showed the women were followed by two men and a woman from outside the restaurant to the hotel.
Outside the hotel, the official said, Diorio allegedly directed more slurs at Stiviano, who got into a cab with her sister. One man held the cab door open, while the other yelled at her and punched her in the face. The man who held the door then spit at her, the official said. The second man has not been arrested.
Stiviano and her sister left the cab and got into a shoving match with the two men, the official said. Witnesses told police that Stiviano and the men were in a fighting stance when both men threw punches at her.
Two other men intervened and broke up the fight.
Security at the Gansevoort called police, the official said. When officers arrived, one of the men who attacked Stiviano was bleeding. He said he had fallen to the ground.
A witness provided police the name of one of the attackers, who was located in a Facebook photo of the group from Sunday.
The group was out celebrating the suspect's 40th birthday, according to the law enforcement official.
Police also identified the second man and were trying to locate him.
"We understand that there are now two videos of the assault that have been located," Mac Nehoray, Stiviano's lawyer, said in a statement. "In addition, several witnesses have been come forward with relevant and critical information regarding the facts surrounding the incident and the identity of the assailants."
The assault came after video surfaced on TMZ that showed Stiviano making disparaging remarks about African-Americans.
"I don't understand black people. You give them a little bit of money, they don't know what to do with it," she says in the video that purportedly dates back to 2011 as part of a reality show pilot, TMZ said. CNN reached out to Nehoray for comment on the video but has not received a response.
Stiviano is known as the woman who recorded inflammatory remarks by Sterling, owner of the Los Angeles Clippers basketball team, which spawned outrage among NBA fans, players and executives.
In that recording, Sterling chastises Stiviano for posting pictures online of herself with African-Americans, including NBA legend Earvin "Magic" Johnson. He tells her not to bring Johnson to Clippers games.
NBA Commissioner Adam Silver banned Sterling from the league, fined him $2.5 million and pushed through a charge to terminate all of his ownership rights in the franchise.
Sterling sues NBA for $1 billion as questions over his mental state loom
CNN's Joe Sutton and Shimon Prokupecz contributed to this story.