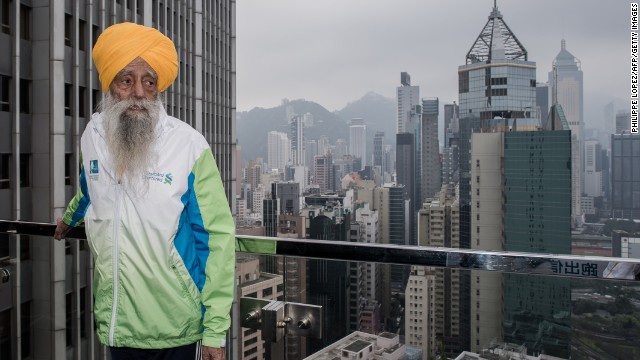 Fauja Singh is recognized
as the first 100-year-old to ever run a marathon. The great-grandfather, now 103, continues to run or walk every day. Nicknamed the "Turbaned Tornado," he took up running to overcome his grief after the death of his wife and a son. He ran his first marathon at age 89. The key to life: "Laughter and happiness," he says. "That's your remedy for everything."
Ruth Frith died February 28 at the age of 104. At 102, the Australian native was the oldest living competitor at the World Masters Games in Sydney, where she won several gold medals and set world records. Her advice for a long life? Avoid smoking, drinking and vegetables. She was also an optimist: "Every year brings something new. I've always been content with what I have."
James Sisnett was born on February 22, 1900, in Barbados. He made it to 113. He worked as a blacksmith, a sugar factory worker and a farmer before retiring at age 70. His longevity made him a local celebrity. His only real health challenge toward the end of his life was hearing loss. He died "peacefully in his sleep at home" in May 2013.
Mississippi Winn was born on March 31, 1897, in Benton, Louisiana, and she lived to be 113. She maintained her independence until age 103; at 105, she was still walking and working out daily at a local track. Winn said exercise and an optimistic attitude helped her stay healthy for most of her life. She worked primarily as a domestic and child caretaker. She died in January 2011.
Jiroemon Kimura was born April 19, 1897, and died June 12, 2013, at the age of 116. The retired Japanese postman attributed his long life to eating light, working in the sunshine and not smoking. After his postal career, he worked on a farm: "I am always looking up towards the sky; that is how I am." Of his six siblings, five lived to the age of 90. He died of natural causes.
Jeanne Calment was born on February 21, 1875, and lived to the age of 122 in Arles, France (home of the painter Vincent Van Gogh, whom she met as a little girl). At 85, she took up fencing lessons. At 100, she was still riding her bike. She said she ate more than two pounds of chocolate a week and only quit smoking at age 120 -- not for health reasons, but because she could not see well enough to light her cigarettes. She credited her longevity to port wine, her sense of humor and a diet rich in olive oil. She died in August 1997.
Ann Nixon Cooper became famous
after President-elect Barack Obama used her story on election night 2008 to talk about the country's progress. "She was born just a generation past slavery," Obama said. "At a time when women's voices were silenced and their hopes dismissed, she lived to see them stand up and speak out and reach for the ballot." She died in 2009 at age 107. The secret to her long life, she said, was being cheerful: "I've always been a happy person, a giggling person, a wide-mouthed person." She also kept fit, dancing the electric slide until age 103.
Alexander Imich
, a New Yorker who had been certified as the world's oldest living man, died Sunday, June 8, at the age of 111. Imich was born in Poland on February 4, 1903, but fled when the Nazis took over in 1939. Despite a doctorate in zoology, Imich's passion was investigating paranormal activity. He detailed his encounters with the supernatural in "Incredible Tales of the Paranormal," a journal that was published when he was 92.
The oldest living woman alive is Misao Okawa, a 116-year-old from Japan. She was born March 5, 1898, and had three children. Her husband died in 1931. She kept in shape throughout much of her life. At 102, she said she did leg squats to keep healthy. She didn't start using a wheelchair until she turned 110. She currently lives in a nursing home.
according to The New York Times
. Photographic typesetting was an easier way to print than hot-metal type. Rondthaler credited cold showers with his longevity. He died at his home in Cedar City, Utah.
Edward Rondthaler was born on June 9, 1905, in Bethlehem, Pennsylvania, and he died in 2009 at the age of 104. He was a noted typographer, earning a national reputation for helping to usher in the age of photographic typesetting,
Fauja Singh
Ruth Frith
James Sisnett
Mississippi Winn
Jiroemon Kimura
Jeanne Calment
Ann Nixon Cooper
People who made it to 100 and beyond
Misao Okawa
Edward Rondthaler
STORY HIGHLIGHTS
The number of people 100 or older has more than doubled every decade since the 1950s
A new study finds centenarians die most often from pneumonia or frailty
By the end of the century some 18 million globally will be 100 or older
(CNN) -- It is Her Majesty's custom to send a personal greeting to her subjects on their 100th birthdays. These days the Queen of England has a lot more letters to write.
That's because a record number of people are living to 100 and beyond in the United Kingdom -- and worldwide. In fact, one-third of babies born in the UK in 2013 are expected to live to 100, according to their Office for National Statistics. In the United States, the population has seen similar trends.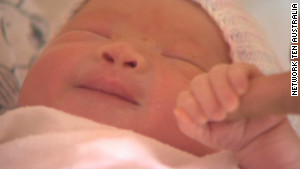 Celebrating 12/12/12 birthdays, weddings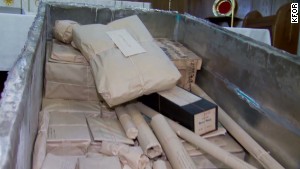 See what's in 100-year-old time capsule
As this centenarian population grows, scientists want a better understanding of how and why those people do eventually die.
A new study finds that these 100+ types are more likely to have "old age" listed as their cause of death than chronic diseases, according to lead author Dr. Catherine Evans.
The study, published in the most recent edition of PLOS Medicine, finds that most centenarians die from pneumonia or general frailty rather than cancer or heart disease. Chronic diseases are more likely to kill people who only make it to their 80s and 90s.
To get at this information, Evans examined data from the death records of people in the United Kingdom who died between 2001 and 2010. She looked at a group of 35,867 people who were between 100 and 115 when they died. The median age of death was 101.
Evans said she was surprised at how large that 100+ population is. It has nearly doubled every decade since the 1950s in the UK. Globally the 100+ population is projected to grow to about 18 million people by the end of the century.
Looking at where these centenarians died showed that the majority ended their days in a care home (61%) or hospital (27%). They were less likely to die at home (10%) or in hospice care (0.2%).
Earlier studies show the elderly prefer to die at home, so the study authors argue that as this population grows there is an "urgent need to ensure adequate long-term care and responsive community care services to support people living with extreme longevity in these care settings."
Dr. Sanjay Gupta: Chasing Life
Since the elderly are often frail, earlier studies have shown that "home" isn't necessarily about the brick and mortar where a person's family lived. Home, Evans suggests, may be more of a "metaphor for where you feel safe and secure, and where your loved ones are nearby."
While this study specifically looked at the British population, the number of centenarians has grown all around the world.
Dr. Ronald D. Adelman, who works with many of these old-old people as the medical director of the Weill Cornell Wright Center on Aging, said that the study is an important tool to understand a population that's often overlooked.
"When it comes to the elderly there are really three groups we look at," explained Adelman. "Those who are considered old, who are 65 to 74 years of age; the older, between ages 75 to 84; and the old-old, which are those people over the age of 85.
"But when you look at centenarians, that really is an expanding group, and the important thing is to get their advance directives, to make sure these people express how they want to be treated in their later years, so they can live a better quality of life and be more comfortable. Where do they want to live, how do they want to live and what's best for them?"
Because of advances made in medical technology, and the fact many people entering their golden years are more health-conscious than ever before, Adelman says it's time society takes the elderly, including centenarians, seriously because this older age group will continue to grow and need care.
"To be honest, 65 is no longer old," noted Adelman. "Ten thousand Americans are turning 65 every day. There are 77 million baby boomers, who were born between 1946 and 1964. They are more educated, they have the best health literacy than prior generations, they exercise, they eat right and they are living longer, healthier lives.
"We need to be able to provide them the best care and services possible, as they age into their 80s, 90s and beyond."
World's oldest man dies at age 111