STORY HIGHLIGHTS
NEW: Victim was "one millimeter away from certain death," according to court documents
NEW: Suspects are thought to have planned the attack since February
NEW: They appeared in court Monday to face charges of attempted murder
Girls, 12, lured friend into park after sleepover, police say
(CNN) -- Two 12-year-old girls inspired by Internet horror stories are accused of luring a girl of the same age into a wooded area near Milwaukee before stabbing the victim 19 times and leaving her to crawl to her own rescue over the weekend.
The victim, a 12-year-old friend of the suspects, was in stable condition at a hospital Monday, two days after a bicyclist found her on along a road in Waukesha, city Police Chief Russell Jack said.
The suspects were arrested hours after the girl was found Saturday, and they were being held on preliminary charges of attempted first-degree intentional homicide.
The girls were identified in a criminal complaint as Morgan Geyser and Anissa Weier.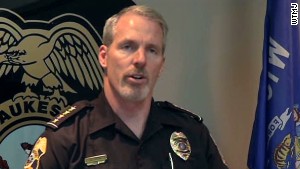 Police: Suspects inspired by Internet
They are being charged as adults and appeared in court Monday. Bail was set for each in the amount of $500,000, according to Waukesha County District Attorney Brad Schimel.
The suspects attended the same middle school as the victim and had a sleepover at the home of one of the suspects Friday night, Jack said.
"Both suspects had a fascination with a fictitious character that often posted" to websites dealing with stories about death and horror, the police chief told reporters at a news conference.
According to the criminal complaint, the suspects had been planning the attack since February.
They first thought to kill the victim by placing duct tape over her mouth while she was sleeping and stabbing her in the neck, the complaint read.
Next, the plan was to kill her in a bathroom where there was floor drain that could make cleanup easier, it continued.
But, finally, the girls decided to do it in a park while playing a game of hide-and-seek, the complaint read.
It states: "As they left for the park ... (the victim) was walking in front of them and Geyser lifted up the left side of her while jacket and displayed the knife tucked in her waistband. Weier stated she gave Geyser a look with wide eyes and, when asked what that meant Weier stated, 'I thought, dear god, this was really happening.'"
Some of the girl's major organs were struck, but she survived.
One of the stab wounds was near her heart and she was "one millimeter away from certain death," the complaint read.
After the suspects left, the victim crawled out of the woods and onto a road, where the bicyclist found her.
According to the complaint, the victim stated: "Please help me. I've been stabbed." She was in extreme pain and could only answer questions with yes or no.
Authorities searched for the two other girls, and a sheriff's officer found them walking near Interstate 94, Jack said.
He declined to say whether the suspects had blood on their clothes, but added: "There was evidence that was readily apparent when the two were taken into custody."
That evidence included a large kitchen knife inside a purse that Geyser identified as one of her mother's old purses, according to the complaint.
Both girls spoke readily with police, the complaint said.
Attempts to contact an attorney, believed to be representing them, were unsuccessful Monday.
According to the complaint, Weier told authorities about a website known as Creepypasta Wiki, which posts horror stories. She learned about a man named Slenderman on the site. Many believe he is not real and Weier wanted to prove skeptics wrong, the complaint read.
She allegedly introduced Geyser to the site and they believed they needed to kill in order to prove their dedication to "Slenderman."
Read: Dad to teenage suspects: 'Rot in hell'
CNN's Janet DiGiacomo and Kara Devlin contributed to this report.