Modern milestone: 'Gangnam' hits 2 billion
updated 2:32 PM EDT, Sun June 1, 2014
STORY HIGHLIGHTS
The Korean pop tune is first to reach two billion page views
Gangnam Style was first uploaded in July 2012
Artist Psy tweets that the achievement was "very honorable"
(CNN) -- As viral videos go, "Gangnam Style" went gangbusters ages ago. But now it has charted a new record: 2 billion YouTube views.
Breaking records is nothing new for the Korean pop tune. It was first uploaded in July 2012 and took only three months to achieve 800 million views, making it then the most-watched video of all time, according to Google Spokesman Matt McLernon.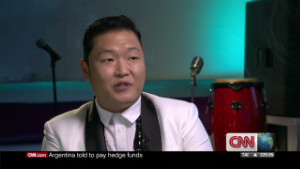 Psy: Growing up 'Gangnam Style'
Those achievements might not enshrine Psy in the Rock and Roll Hall of Fame. But when it comes to measurements of pop-culture, the 2-billion mark is a modern-day milestone -- making Psy's earworm, with its equine choreography, a titan of zeitgeist.
Psy's twitter feed was full of congratulatory tweets and retweets of news stories commemorating the record on Sunday.
The 36-year-old acknowledged the achievement himself in a tweet on Friday, citing "very honorable and burdensome numbers. With the appreciation, I'll come back soon with more joyful one! #THX"
Interview: PSY on 'Gangnam Style'