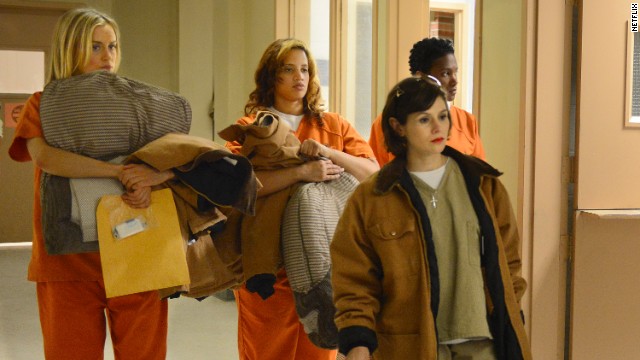 Sure, June is a great time to be outdoors, but you have to come inside sometimes, right? While you're there why not tune into the latest streaming offerings like
"Orange is the New Black: Season 2"
?
The original Netflix series about a woman sentenced to prison years after her crime returns for a new season to binge-watch and we are so here for it.
"Barbershop" (2002) - Ice Cube, Eve and Cedric the Entertainer star in this comedy about a barbershop in Chicago. (Netflix)
"Carrie" (1976) - Sissy Spacek stars as a bullied teen who isn't your average kid in this film based on a Stephen King novel. (Netflix)
"Clear and Present Danger" (1994) - Harrison Ford is CIA analyst Jack Ryan, who is trying to stay safe in the midst of a drug war. (Netflix)
"Cold Mountain" (2003) - Nicole Kidman and Jude Law star in this Civil War romance. (Netflix)
"El Dorado" (1966) - Robert Mitchum and John Wayne star in this classic about a gunslinger who joins forces with a sheriff in a war over water. (Netflix)
"Ever After: A Cinderella Story" (1998) - Drew Barrymore stars in what is supposed to be the actual story of Cinderella. (Netflix)
"Funny Lady" (1974): James Caan and Barbra Streisand star in this film as a showman and singer in love. (Netflix)
"Harriet the Spy" (1996) - This beloved children's book was adapted into a movie starring Rosie O'Donnell and Michelle Trachtenberg. It was the first film released by TV network Nickelodeon. (Netflix)
"I.Q" 1994 - Walter Matthau, Meg Ryan, and Tim Robbins star in this film, which believe it or not involves both Albert Einstein and love. (Netflix)
"Left Behind: The Movie" (2000): Kirk Cameron is one of the stars in this movie based on the Christian series of novels by Tim LaHaye and Jerry B. Jenkins. (Netflix)
"Reign Over Me" (2007) - Adam Sandler and Don Cheadle star in this drama about a man grappling with grief after the terrorist attacks of September 11. (Netfix)
"Rudy" (1993) - Sean Astin doesn't let his size stop him from pursuing his dream to play football in this film. (Netflix)
"Swept Away" (2002)
- Guy Ritchie directed his then-wife Madonna in this clunker, which swept the
Razzie Awards
, including snagging worst picture. (Netflix)
"The Adventures of Milo and Otis" (1986) - Awww. How can you not love a movie about a cat and a dog's adventures? (Netflix)
"The Craft" (1996) - Witchcraft and teen girls. Enough said. (Netflix)
The Stepford Wives (2004) - Nicole Kidman and Glenn Close star in this remake about a community not as perfect as it appears. (Netflix)
"The Triplets of Belleville" (2003) - In this animated flick, Madame Souza and her pooch Bruno team up with the Belleville sisters to find her missing grandson. (Netflix)
"Bonnie and Clyde" (2013) - Now is your chance to catch this TV miniseries if you missed it first time around. Holliday Grainger and Emile Hirsch star in the title roles. (Netflix)
"One Direction: Clevver's Ultimate Fan Guide" (2013) - One Direction fans, go ahead and commence to screaming. Because we know you want to. (Netflix)
"Pretty Little Liars: Season 4" (2013) - Troian Bellisario, Sasha Pieterse, Lucy Hale, Ashley Benson and Shay Mitchell are out for answers in season 4 of this TV series. (Netflix)
"World War Z" (2013) - Brad Pitt and Fabrizio Zacharee Guido try to save their family from certain destruction in this film. (Amazon and Netflix)
"Jane Eyre" (2011) - Michael Fassbender and Mia Wasikowska star in this remake of the classic. (Netflix)
"Key and Peele: Season 3" (2012) - Keegan-Michael Key and Jordan Peele (seen here in a scene with Erin Gibson) star in one of the sharpest comedy shows on TV. (Amazon)
"Real Husbands of Hollywood: Season 2" (2013) - Kevin Hart, Duane Martin, J.B. Smoove and Robin Thicke are the stars of this parody of reality shows. (Netflix)
"Oldboy" (2013) - Samuel L. Jackson and Josh Brolin star in this film directed by Spike Lee about a man out for vengeance. (Netflix)
"Comedy Bang! Bang!: Season 2" (2012) - Scott Aukerman and Reggie Watts star in this absurdly funny talk show parody. (Netflix)
"Downton Abbey: Season 4" (2014) - Fans of this show love it, and season 4 was a biggie for sure. (Amazon)
"Kung Fu Panda" 2008 - An all-star cast including Jack Black and Angelina Jolie give voice to the characters in this animated action film. (Amazon)
"My Girl 2" (1994) - Anna Chlumsky and Austin O'Brien star in the sequel to the popular film "My Girl." (Don't worry, they're both streaming). (Netflix)
"Sophie's Choice" (1982) - Kevin Kline and Meryl Streep star in the heartwrenching and critically acclaimed film. (Netflix)
What's streaming on Netflix, Amazon in June
What's streaming on Netflix, Amazon in June
What's streaming on Netflix, Amazon in June
What's streaming on Netflix, Amazon in June
What's streaming on Netflix, Amazon in June
What's streaming on Netflix, Amazon in June
What's streaming on Netflix, Amazon in June
What's streaming on Netflix, Amazon in June
What's streaming on Netflix, Amazon in June
What's streaming on Netflix, Amazon in June
What's streaming on Netflix, Amazon in June
What's streaming on Netflix, Amazon in June
What's streaming on Netflix, Amazon in June
What's streaming on Netflix, Amazon in June
What's streaming on Netflix, Amazon in June
What's streaming on Netflix, Amazon in June
What's streaming on Netflix, Amazon in June
What's streaming on Netflix, Amazon in June
What's streaming on Netflix, Amazon in June
What's streaming on Netflix, Amazon in June
What's streaming on Netflix, Amazon in June
What's streaming on Netflix, Amazon in June
What's streaming on Netflix, Amazon in June
What's streaming on Netflix, Amazon in June
What's streaming on Netflix, Amazon in June
What's streaming on Netflix, Amazon in June
What's streaming on Netflix, Amazon in June
What's streaming on Netflix, Amazon in June
What's streaming on Netflix, Amazon in June
What's streaming on Netflix, Amazon in June
What's streaming on Netflix, Amazon in June