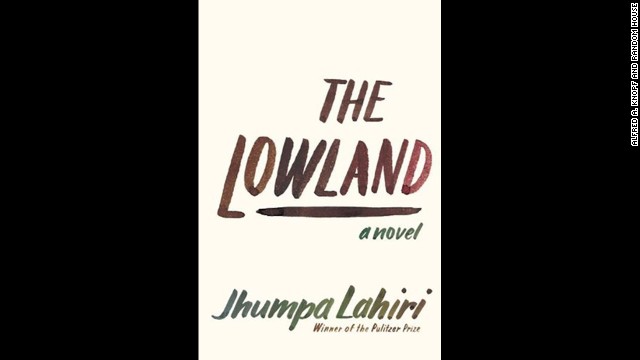 "The Lowland" by Pulitzer Prize-winning writer Jhumpa Lahiri is on author Emma Donoghue's summer reading list. It's a family drama that takes place in India and the United States from the 1960s to the present.
Also on Donoghue's list: "The Snow Queen" from Pulitzer Prize-winner Michael Cunningham. It is a story about two brothers on very different paths to enlightenment.
Donoghue also plans to pick up "Someone..." by Alice McDermott. The book shares one woman's journey from childhood to old age.
Author Joshua Ferris plans to read the 1968 classic, "Desert Solitaire," by Edward Abbey. The autobiographical work from the legendary author of "The Monkey Wrench Gang" captures Abbey's three seasons as a park ranger in Utah.
Also on Ferris' summer reading list is the critically acclaimed novel "The Kindly Ones" by Jonathan Littell. It's about a former Nazi officer who reinvents himself after World War II as a family man in France.
Author Michael Koryta says he's looking forward to Alafair Burke's "All Day and a Night," a legal thriller about a murder in New York and questions of innocence surrounding a convicted serial killer.
Koryta has several nonfiction titles on his summer reading list, including "In the Kingdom of Ice" by Hampton Sides, a "white-knuckle tale" of polar exploration in the late 19th century.
Koryta also plans to read "In Paradise," the last book by the late Peter Matthiessen, about a spiritual retreat at the site of the World War II concentration camp Auschwitz.
Koryta also plans to read "The Son" by Jo Nesbo, Norway's best-selling crime writer. It's a dark thriller about a young man who breaks out of prison seeking revenge for his father's death.
Koryta and author Sarah Lotz said they're looking forward to reading Stephen King's new novel, "Mr. Mercedes" when it hits shelves in June. It's described as King's first "hard-boiled detective tale" about the search for a hit-and-run killer.
Lotz is planning to read "Murder" by British novelist Sarah Pinborough. It's a thriller about a police surgeon in London in the era of Jack the Ripper.
Also on Lotz's summer reading list is "Broken Monsters," by South African author Lauren Beukes. Her latest is described as a "genre-bending" crime thriller set in Detroit.
Lotz is eagerly anticipating David Mitchell's "The Bone Clocks," another sweeping and surreal novel like his previous best-seller, "Cloud Atlas." It takes place in wildly different settings and times, from the medieval Swiss Alps to modern-day Iraq. The novel doesn't go on sale until September, but there's a perk to being an author: Lotz plans to read an advance copy this summer.
Romance writer Jojo Moyes has Emma Straub's "The Vacationers" on her summer reading list. In the book, jealousy and secrets bubble to the surface during a dysfunctional family's two-week vacation in Mallorca.
Authors' choice: Beach reads of 2014
Authors' choice: Beach reads of 2014
Authors' choice: Beach reads of 2014
Authors' choice: Beach reads of 2014
Authors' choice: Beach reads of 2014
Authors' choice: Beach reads of 2014
Authors' choice: Beach reads of 2014
Authors' choice: Beach reads of 2014
Authors' choice: Beach reads of 2014
Authors' choice: Beach reads of 2014
Authors' choice: Beach reads of 2014
Authors' choice: Beach reads of 2014
Authors' choice: Beach reads of 2014
Authors' choice: Beach reads of 2014
STORY HIGHLIGHTS
Best-selling authors name their favorite beach reads, from "Jaws" to "Flowers in the Attic"
"Frog Music" author Emma Donoghue will be reading books by Pulitzer winners
Last summer, Jojo Moyes read the "Game of Thrones" series
The best summer reading of all? "The back of a beer bottle," Joshua Ferris says
(CNN) -- They're books you've likely seen in the hands of readers at the pool or under the shade of a beach umbrella, often a dog-eared paperback folded in two and smeared with sunscreen.
While there are no hard and fast rules about what constitutes a "beach read," the idea is that they can be read quickly, or that they're light in tone. Always, they're captivating and preferably escapist.
Now that beach season has arrived, we quizzed five best-selling authors about their favorite summer reads. Of course, they're each having busy seasons, working on new novels or showing off those that debuted recently. But they all plan to have some quality time with books.
Click through the gallery above to see what makes each author's reading list for the coming months, and read on to learn about their all-time favorite beach reads.
Emma Donoghue, author of "Frog Music"
For summer, Emma Donoghue, of "Frog Music" and "Room" fame, wants "a meaty plot; brilliant language; extra points for hilarity." She wants something she can read for hours on end, "anything too delicious to spoil by only reading it in 10-minute snippets when you're tired." Books from two Pulitzer Prize winners -- Jhumpa Lahiri and Michael Cunningham -- are on her to-read list this summer.
But a beach read doesn't even need to be a book, Donoghue said. "When I'm on beaches I read magazines, because then it doesn't matter so much if my kids spatter them with sunblock, mud or juice."
Joshua Ferris, author of "To Rise Again at a Decent Hour"
Joshua Ferris, who wrote the National Book Award finalist "Then We Came to the End," said he doesn't vary his reading choices, regardless of the time of year. Classics like "Desert Solitaire" make his summer reading list this year.
"What I bring to the beach is whatever I'm reading at the moment, and what I'm reading at any given moment usually concerns death, misery and marital discord, which don't seem too beachy," Ferris said. "I find it impossible to alter my reading for the sake of a season, and I never want to take a vacation from being honestly and firmly in the world."
His favorite vacation read of all? "The back of a beer bottle."
Michael Koryta, author of "The Prophet"
A good story is important to Michael Koryta, whose new novel, "Those Who Wish Me Dead," debuts in June, but a vivid setting is key.
"It would need to be a very atmospheric book, one that transports you to another place. The setting need not be tropical but I feel it should be remote or at least romantic," he said.
This summer, Stephen King's "Mr. Mercedes" and Jo Nesbo's "The Son" make his list. But Koryta called Stephen King's "Bag of Bones" hard to beat and said "Jaws" by Peter Benchley "redefined the way people looked at the ocean from the beach."
Sarah Lotz, author of "The Three"
Sarah Lotz, whose novel "The Three," was released in May, prefers a beach read "that can be put down and picked up without straining my brain (it's quite easily strained)." She said crime and fantasy are among her favorites, "something I can lose myself in."
This summer, books by Stephen King and Lauren Beukes make her reading list. But Lotz said she'll never forget reading V.C. Andrews' "Flowers in the Attic" as a preteen.
"I think the whole of my generation was glued to it in the '80s," she said. "It's a truly horrible novel in a lot of ways, but I was absolutely sucked in by the melodrama of it, and whenever I think of it, I smell coconut suntan oil."
Jojo Moyes, author of "The Girl You Left Behind"
Don't miss out on the conversation we're having at CNN Living.
Follow us on Twitter
and
Facebook
for the latest stories and tell us what's influencing your life.
Jojo Moyes, whose romance "The Girl You Left Behind" will be available in paperback in June, said vacation is the perfect opportunity for something more challenging. This year, it will be "The Vacationers," by Emma Straub.
"The ability to sit and read for long stretches means that I read books that might be a little more challenging than in my everyday life, when I tend to fall asleep after two pages," Moyes said. "A couple of years ago, I read Hilary Mantel's 'Bring Up The Bodies,' which I'm pretty sure I wouldn't have managed at the end of a working day."
Last summer, Moyes started reading George R.R. Martin's "Game of Thrones" series and said it was "slightly odd to be reading about medieval blood and gore and walls of ice while lying in the idyllic warm French countryside. But it worked."
What are your favorite beach reads? Share your thoughts in the comments, on Twitter @CNNLiving or on CNN Living's Facebook page!