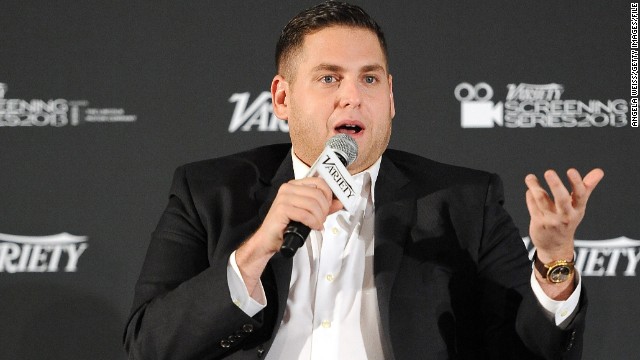 Jonah Hill is taking full responsibility for
yelling a homophobic slur
at a paparazzo the weekend of May 30. The actor was caught on camera telling the photographer, "suck my d*** you f*****," and later explained that he's frustrated by his own words. "From the day I was born and publicly I've been a gay rights activist. ... I played into exactly what he wanted and lost my cool. And in that moment, I said a disgusting word that does not at all reflect how I feel about any group of people." Hill isn't the only star who's been caught making a controversial comment.
the Australian rapper lashed out
at unspecified "Internet kids" for "cracking jokes about artists." "Most of you have done NOTHING. NOTHING! With your lives," Azalea said.
Iggy Azalea has no patience for online hate. On her Twitter account June 2,
was quoted in an interview
as comparing the "dehumanizing" experience of dealing with negative comments on the Internet to war.
Gwyneth Paltrow has once again run afoul of some people with her comments. The actress
speaks her mind
. In an elevator ride with Cara Delevingne, Kate Upton and Zooey Deschanel reportedly after the Met Gala,
the Southern actress was taped
saying, "The most important thing in a name for a girl is that a man can whisper it in his pillow."
We personally love it when Reese Witherspoon
some serious backlash
after his disappointment over voting on the show resulted in his uttering "I hate this country." He released a statement trying to clarify what he meant, saying that he was frustrated.
Adam Levine learned the hard way that you have to watch it before you speak. "The Voice" judge found himself facing
his Weight Watchers endorsement deal was a "scam."
The company saw the humor in it and
released a statement
saying "We love Charles for the same reason everyone loves Charles, he's unfiltered."
Charles Barkley, seen here at the 2010 NBA All-Star Weekend in Dallas, got caught on a hot mic while covering a basketball game for TNT saying that
Politicians have to deal with this type of thing all of the time and President Barack Obama is no exception. After Kanye West interrupted Taylor Swift at the MTV Awards in 2009,
Madonna was on her best behavior at 'W.E.' press conference during the 2011 Toronto International Film Festival. But at the Venice Film Festival that same year she
"Seinfeld" star Michael Richards found himself in a whirl of bad publicity in 2006 after he screamed racial epithets at audience members during his comedy show at The Laugh Factory in Los Angeles. He later apologized.
He later told CNN
he didn't realize his microphone was on.
The Rev. Jesse Jackson was waiting to act as a pundit on a news show in 2008 when he was heard saying he'd like to cut off a particular portion of President Obama's body.
Overheard: Celebrities unfiltered
Overheard: Celebrities unfiltered
Overheard: Celebrities unfiltered
Overheard: Celebrities unfiltered
Overheard: Celebrities unfiltered
Overheard: Celebrities unfiltered
Overheard: Celebrities unfiltered
Overheard: Celebrities unfiltered
Overheard: Celebrities unfiltered
Overheard: Celebrities unfiltered
Overheard: Celebrities unfiltered
Overheard: Celebrities unfiltered
Overheard: Celebrities unfiltered