STORY HIGHLIGHTS
NEW: Brad Pitt gets protective order against alleged attacker
Vitalii Sediuk loses his TV job after Cannes carpet stunt
Sediuk is already on probation for crashing the Grammy's stage
Pitt and Angelina Jolie were at the Hollywood premiere of Jolie's movie
Hollywood, California (CNN) -- A journalist accused of striking Brad Pitt at the "Maleficent" premiere is out of a job and possibly faces months in jail.
Ukrainian TV reporter Vitalii Sediuk is infamous for red carpet pranks around the world, including kissing Will Smith in Moscow and hugging Leonardo DiCaprio and Bradley Cooper around the knees at separate events earlier this year.
Sediuk, 25, was fired from his reporter job with Ukrainian television channel 1+1 after he jumped under actress America Ferrera's dress on a Cannes red carpet on May 17, a spokesman for the company told CNN.
The TV network was not involved in his stunts, a spokesman said.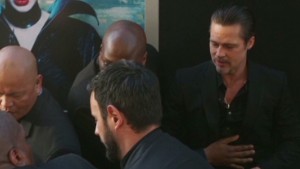 Brad Pitt attacked at movie premiere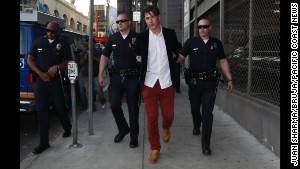 Meet the prankster who hit Brad Pitt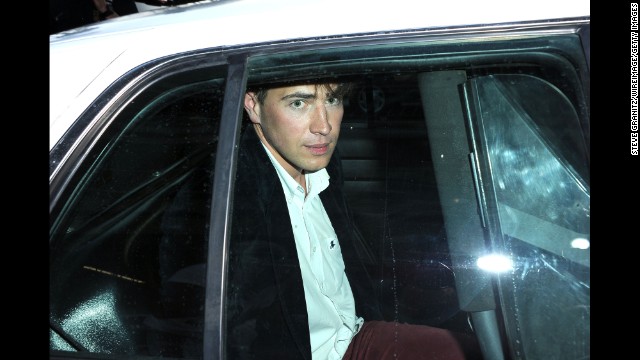 Vitalii Sediuk sits in the back of a police car after allegedly striking Brad Pitt in the face as Pitt and Angelina Jolie walked the red carpet at the premiere of Disney's "Maleficent" in Hollywood, California, on Wednesday, May 28. Sediuk has a history of confronting celebrities at red carpet events.
Security guards quickly pull Sediuk away from under the dress of actress America Ferrera on the red carpet at the 2014 Cannes Film Festival in France on May 16.
Sediuk attempts to crash the "Charles James: Beyond Fashion" Costume Institute Gala at the Metropolitan Museum of Art in New York on May 5.
Sediuk wraps himself around the legs of Leonardo DiCaprio at the 29th Santa Barbara International Film Festival in Santa Barbara, California, on February 6.
Sediuk hugs Bradley Cooper's legs as Michael Pena looks on at the 2014 Screen Actors Guild Awards in Los Angeles on January 18.
Sediuk runs on stage to greet singer Adele as she wins a Grammy for Best Pop Solo Performance at the 2013 Grammy Awards in Los Angeles.
Will Smith walks away after slapping Sediuk, white jacket, who had just tried to kiss him, on the red carpet of the premiere of "Men in Black III" in Moscow in 2012.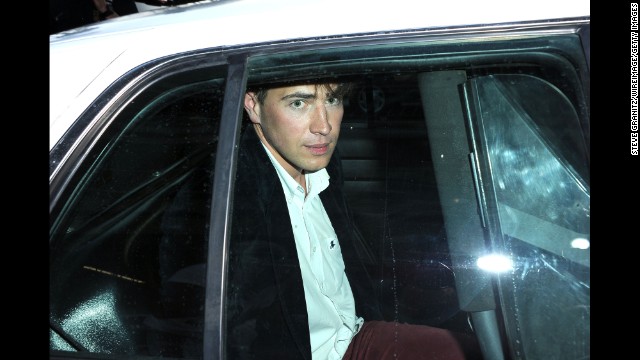 The red carpet crasher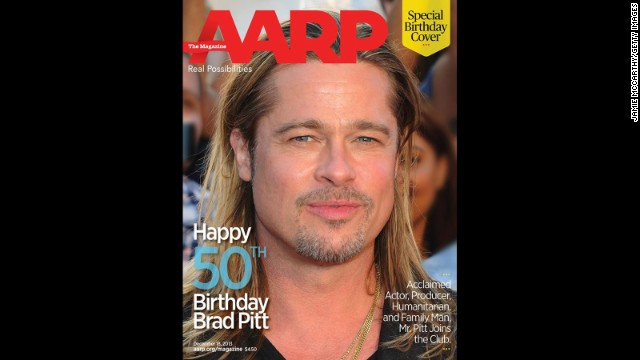 In honor of Brad Pitt's 50th birthday on December 18, The AARP marked the occasion with a special cover featuring the star. Take a look back at his life and career through the years.
If we had to guess, we'd bet that Pitt's celebrating the milestone surrounded by his family, like he is here in this 2011 photo.
In the 1980s, a young Pitt left the University of Missouri in Columbia, Missouri to pursue his dream of acting.
TV fans might remember a youthful Brad Pitt launching his career with appearances on "Another World," "21 Jump Street" and "Dallas" in his early 20s. Here, he's seen as a recurring character named Randy on "Dallas," a role he held from 1987 to 1988.
In 1991, Brad Pitt established himself as a sex symbol in the making thanks to his steamy shirtless work in "Thelma & Louise."
His breakout role came in 1992's "A River Runs Through It," which was directed by Hollywood great Robert Redford.
Pitt's long locks were on full display at the September 1993 premiere of his film "True Romance." Looking back, Pitt told CNN, he wouldn't have any career advice for his younger self. "I think that guy did all right. I think he figured it out quite fine. I don't think I need to tell him much."
In 1994, Pitt turned in noted performances in "Legends of the Fall," as seen here, and in "Interview With the Vampire" alongside Tom Cruise.
Brad Pitt was the vampire with the good heart, Louis de Pointe du Lac, in 1994's "Interview with a Vampire."
In 1995, Pitt had another breakout role in the thriller "Se7en," in which he co-starred with Morgan Freeman.
Pitt attended the Academy Awards in 1996 as a best supporting actor nominee for his work in the acclaimed "12 Monkeys." It was his first Oscar nod, and the actor arrived with the "love of his life" at the time, Gwyneth Paltrow.
After "12 Monkeys," Pitt went on to knock out "Seven Years in Tibet" (1997), "Meet Joe Black" (1998) and "Fight Club" (1999), as seen here. The then 35-year-old actor captivated audiences as the volatile Tyler Durden.
In 1999, Pitt was just as famous for his relationship with Jennifer Aniston, whom he started dating in 1998, as he was for his film career.
A match made in Hollywood A-list heaven, Pitt and Aniston tied the knot in July 2000.
By 2004, Pitt was a sculpted leading man, landing roles in comedy capers such as 2001's "Ocean's Eleven" and action epics such as 2004's "Troy."
George Clooney, Matt Damon and Brad Pitt brought back the gang from "Oceans Eleven" in the 2004 sequel "Ocean's Twelve."
When Pitt and Aniston arrived for the premiere of "Troy" at Cannes in May 2004, they were just months away from announcing the end of their marriage. That news came with a formal statement in January 2005.
Fans took sides in the Pitt-Aniston breakup as reports claimed that Pitt's "Mr. & Mrs. Smith" co-star Angelina Jolie -- seen here with Pitt and producer Arnon Milchan at a premiere of the film in June 2005 -- was a factor in the split.
After his split from Aniston, it wasn't long before Pitt was seen spending time with Jolie's two adopted children, Maddox and Zahara, whom Pitt carries here through the New Tokyo International Airport in November 2005.
In January 2006, the pair (seen here in Switzerland at the time) announced that they were expecting a baby. Pitt and Jolie's daughter, Shiloh, arrived that May.
Brad moved to adopt Zahara and Maddox toward the end of 2005, officially making them Jolie-Pitts. Here, the family walks along the seafront promenade in Mumbai, where Jolie was filming "A Mighty Heart," a project Pitt produced.
"The Departed," the lauded 2006 film starring Matt Damon as Colin Sullivan and Leonardo DiCaprio as Billy Costigan, was one of Brad Pitt's first successful forays into producing.
Pitt and Jolie quickly became a fixture on the red carpet and in celebrity gossip magazines as they continued to grow their family. Seen here, the pair arrive at the June 2007 premiere of Pitt's "Ocean's Thirteen."
Along with his partner Jolie, Pitt made an effort to give back. Through his "Make It Right" organization, which builds sustainable homes for communities in need, he planned the construction of 150 eco-friendly homes in the Lower Ninth Ward of New Orleans.
By 2008, Pitt and Jolie's family had grown to include six kids as the couple welcomed twins that July, following the May "Kung Fu Panda" premiere at Cannes, as seen here.
Pitt ages backward in the 2008 film "The Curious Case of Benjamin Button."
Brad Pitt earned rave reviews in 2009 as Lt. Aldo Raine in "Inglourious Basterds."
Pitt's influence has stretched beyond Hollywood and into politics. Here, the actor appears alongside former President Bill Clinton at 2009's Clinton Global Initiative meeting to discuss New Orleans after Hurricane Katrina.
Pitt has done voice work in kid-friendly animated films such as 2010's "Megamind" and 2011's "Happy Feet Two."
Pitt portrays a strict father, Mr. O'Brien, in the 2011 Terrence Malick film "The Tree of Life."
Every so often, photographers will catch the entire Jolie-Pitt clan all at once, which is what happened here as the family arrives at the Haneda Airport in Tokyo in November 2011. They were in town to promote Pitt's film "Moneyball," which earned him another Oscar nomination, his third for acting.
Pitt played a mob enforcer in 2012's "Killing Them Softly."
Pitt is also a passionate advocate for marriage equality. He and his pal George Clooney appeared in a play about the issue in March 2012, and he told CNN in November 2012 that marriage is "one of our last big issues of equality. ... [T]here's a certain faction of our society that is not being included."
Pitt and Jolie are supporters of marriage equality and have said that they won't marry until everyone can. Yet the couple has taken one step closer to the altar this year as Pitt and Jolie announced their engagement in April, a few months after they were seen at the 2012 SAG Awards. The two were prompted by their kids to get engaged, Pitt told CNN in November 2012, but he clarified that they're also getting married for themselves.
In June 2013, Brad Pitt went on a whirlwind global press tour to promote his zombie epic, "World War Z." Critics haven't overlooked the film's flaws, but they also haven't ravaged it, as was expected. At the time of the film's release, Pitt was hinting at possible sequels.
Jolie and Pitt's relationship was strengthened after he supported her when she had a double mastectomy in May 2013.
In 2008 Pitt and Jolie bought Chateau Miraval, a vineyard estate in southeastern France. In November 2013, their Jolie-Pitt & Perrin Côtes de Provence Rosé Miraval wine made the Wine Spectator's Top 100 Wines of 2013 list.
Brad Pitt had a bit role as an abolitionist in the film "12 Years a Slave." He also served as a producer on the film.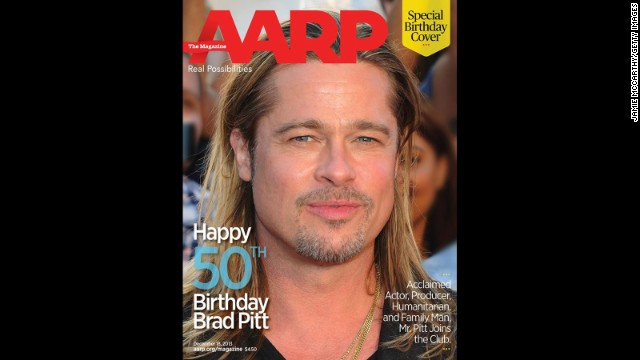 Brad Pitt: From 'Dallas' to 'World War Z'
He was already on three years of "formal diversion" -- a form of probation -- in Los Angeles for crashing the Grammy stage during Adele's acceptance last year, according to the Los Angeles city attorney's spokesman. Prosecutors are now preparing new charges for his Hollywood arrest Wednesday, spokesman Rob Wilcox said.
Sediuk is set for an initial appearance before a Los Angeles judge Friday, Wilcox said.
The lawyer who represented Seduik in the Grammy case was surprised when CNN called him Thursday about the latest arrest.
Sediuk is "a real nice guy," Anthony Willoughby said. "I'm really shocked that he would be accused of hitting somebody."
Pitt was signing autographs at the area of the red carpet where fans are allowed to gather when Sediuk allegedly jumped the rope and hit actor in his face, according to Los Angeles Police Sgt. Leonard Calderon. Pitt, who was there with partner Angelina Jolie, star of "Maleficent," continued unfazed on the carpet to give interviews.
"This was an unfortunate and inappropriate incident that is being investigated by the LAPD," a spokesman for Disney Studio, the film's distributor, told CNN on Thursday.
Police did not say whether Pitt was punched or slapped, just that the attacker struck him in the face. He was quickly tackled by bodyguards, handcuffed by police and hauled away to jail.
Sediuk was held in the LAPD's Hollywood jail on suspicion of battery, pending $20,000 bond, according to online jail records. Attorney Willoughby said he had not yet been called by Sediuk for help getting out of jail, but he planned to send another lawyer to the jail to check on him. "I'm pretty sure they're going to call me," he said.
When Sediuk is freed, he is barred from going near Pitt. Los Angeles police issued an emergency protective order effective for five days starting Thursday, but the actor's lawyer can ask a judge to extend it.
The prosecutor will also ask a judge to issue a stay-away order barring Sediuk from any entertainment industry events in Los Angeles, Wilcox said.
Sediuk's celebrity pranks are usually silly, attention-getting stunts that do not involve violence.
Grammys stage-crasher reveals his entry plan
He eluded security to get a second-row seat inside the Staples Center at the 2013 Grammy Awards, despite having no credentials. Sediuk jumped onto the stage when Jennifer Lopez announced Adele as the winner. "I love you, Adele," he is heard saying as the singer approached. He was arrested offstage and later prosecuted on two misdemeanor charges.
He eventually accepted a plea deal for probation with the provision that he not go back to the Staples Center and stay out of trouble for three years.
"I think that the court overly protects the entertainment industry," Willoughby told CNN.
Award show and premiere producers apparently black-listed Sediuk after last year's Grammy incident. He was denied reporter credentials to the Oscars, but he showed up anyway wearing a feathered swan outfit similar to the one worn by Björk on the 2001 Oscars red carpet. He was ordered to leave the venue after telling police it was a protest.
Will Smith on the red carpet slap heard 'round the world'
His celebrity stunts apparently began when Sediuk handed Madonna an odd and unwelcomed gift of a hydrangea during a news conference at the Venice Film Festival in September 2011. "I absolutely loathe hydrangeas," she said as she stuffed them under a table.
Sediuk's infamy grew in May 2012 on a Moscow red carpet where Will Smith was attending a movie premiere. Video shows Sediuk attempting to kiss the actor on the mouth. "Come on, what the hell is your problem?" Smith said as he pushed the reporter away and lightly slapped him. "He's lucky I ain't sucker punched him."
Sediuk crawled onto a red carpet and under Ferraro's dress at the Cannes Film Festival in France earlier this month. Video shows him being dragged away. It was this incident that cost him his job at the Ukrainian channel, the company said.
Sediuk's actions "were neither suggested nor coordinated by the network," 1+1 TV spokesman Serhiy Popov told CNN on Thursday. "Vitalii was acting on his own behalf and not on the behalf of the channel."
The network is not helping Sediuk deal with his legal problems, Popov said.
CNN's Victoria Butenko,Topher Gauk-Roger, David Daniel, Talia Kayali and Dottie Evans contributed to this report.