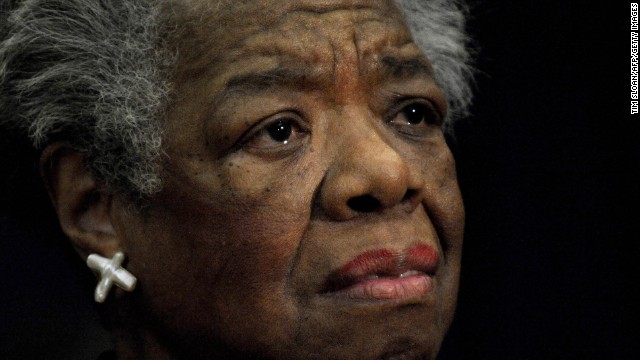 With the death of Maya Angelou, the world has lost one of the premier female voices in African-American literature. Angelou belonged to a group of women writers who began to rise in prominence after the turn of the 20th century and who depicted in letters the lives of African-American and Afro-Caribbean women. Click through the gallery for examples of Angelou's contemporaries.
Toni Morrison was a former book editor whose first novel, 1970's The "Bluest Eye," launched her career telling the often painful stories of African-American girls and women coming of age in a world stacked against them. Winner of numerous awards, including the Nobel Prize in literature and the Pulitzer Prize, Morrison continues to reign as the grand dame of literary fiction.
Pulitzer Prize and National Book Award-winning author Alice Walker has written biographical books and lauded novels, such as 1982's "The Color Purple," which was made into an Oscar-nominated film starring Whoopi Goldberg and directed by Steven Spielberg. She is also a poet and activist for women's rights.
Poet and professor Nikki Giovanni's fiery work often addresses race and gender. A finalist for the National Book Award and a sought-after speaker, Giovanni teaches at Virginia Tech and has penned several books for children and adults.
Born in 1949 as Elaine Richardson on the island of Antigua, the novelist known as Jamaica Kincaid moved to the U.S. as a young woman. She wrote in "A Small Place" of life in post-colonial Antigua and has written for publications such as the New Yorker. She is a professor of literature at Claremont-McKenna College.
Playwright and civil rights activist Lorraine Hansberry wrote the classic tale of African-American striving "A Raisin in the Sun" before she turned 30. The play would earn her a prestigious New York Critics' Circle award in 1958 and be staged continually over the years. After enjoying early success, Hansberry died at age 34 of pancreatic cancer.
Gwendolyn Brooks was named Illinois Poet Laureate and was the first African-American to be awarded a Pulitzer Prize. Her poems, many of which lyricized the plight of the urban poor such as "We Real Cool," won her a multigenerational following. She also wrote a novel, "Maud Martha." Brooks died in 2000.
Science fiction novelist Octavia Butler wrote of future worlds and isolation, themes familiar to her. Butler told The New York Times in 2000 that she didn't see characters like herself in the sci-fi she read as a child, so when she became a writer, she wrote herself into the story. The onetime MacArthur "genius" Fellow died in 2006.
Paule Marshall's first novel, 1959's "Brown Girl, Brownstones," depicts the life of a West Indian girl growing up in New York -- an upbringing similar to her own. The pull between traditional island life and the big city is a theme Marshall has often explored; she went on to write several more books and works of poetry. She was a MacArthur Fellow and winner of the Dos Passos Prize for Literature and American Book Award.
Maya Angelou's contemporaries
Toni Morrison
Alice Walker
Nikki Giovanni
Jamaica Kincaid
Lorraine Hansberry
Gwendolyn Brooks
Octavia Butler
Paule Marshall
STORY HIGHLIGHTS
Poet Nikki Giovanni knew Maya Angelou over the years and shares her memories
Angelou was a great cook and good friend, author says
Giovanni notes Angelou's special ability to speak to everyone in the same voice
Editor's note: Nikki Giovanni is a poet, writer, and a professor at Virginia Tech. Her latest work is "Chasing Utopia: A Hybrid."
(CNN) -- I must have met Doc, as we called Maya Angelou, way before I remember.
We often attended readings, but the first time she absolutely caught my attention was at Mount Holyoke College in Massachusetts.
It wasn't all that cold, but Maya and others had fur coats on. My mother, who was a big fan of the Seven Sisters colleges, had come with me. We both had on cloth coats.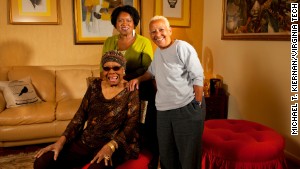 "Doc" Maya Angelou (seated) with Joanne Gabbin (left) and Nikki Giovanni in 2012.
Doc, as we all know, was 6 feet or taller. Mommy was 4-foot-11, and I am 5-foot-2. Not only were we shorter, we felt smaller.
I looked at that group and made a silent vow to never allow my mother to be with this group again without a fur coat. We purchased one soon after.
When Mommy died, I shared that story with Doc.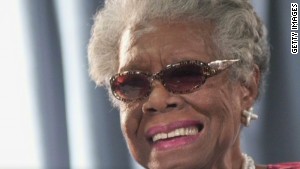 The words Maya Angelou left behind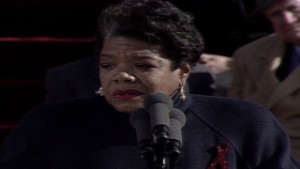 1993: Angelou at Clinton's inauguration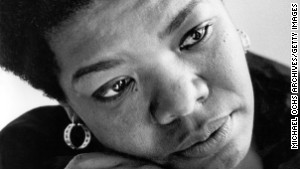 Legendary author Maya Angelou dies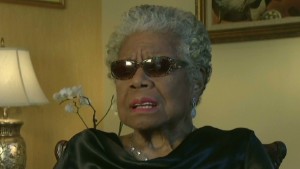 2013: Maya Angelou discusses MLK's dream
Maya laughed. "We had no idea," she said. And laughed again. Mommy owes Doc.
Opinion: Maya Angelou: The definition of a phenomenal woman
When Doc moved to Winston-Salem, North Carolina, she was not far from me in Virginia, so I got to see a lot of her. If I had any inkling she was frying chicken, I'd go down and spend the night. When Jay-Z sent her a case of wonderfully expensive champagne, those days I had to spend the night!
Everyone came to Doc's place, which was great fun. You'd wake up in the morning not knowing who would be down to breakfast. The superstars; the wonderfully funny; old friends from another country; a congressman. And Doc treated them all the same.
Maya Angelou remembered by those she inspired
Her ability to speak to everyone in the same voice was what made her the force she was.
Our only disagreements were about food.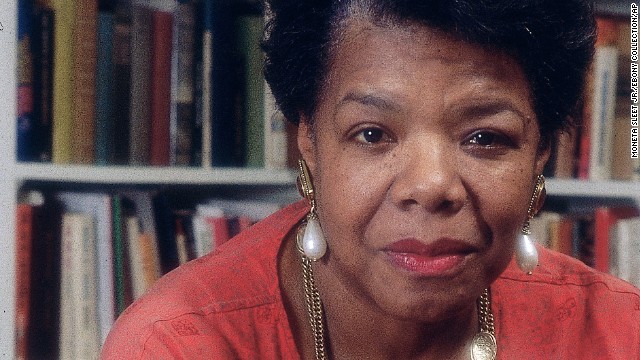 Maya Angelou, a renowned poet, novelist and actress best known for her book "I Know Why the Caged Bird Sings," has died at the age of 86, according to her literary agent, Helen Brann.
Angelou was also a professor, singer and dancer whose work spanned several generations. Here, she dances next to a fire in this promotional portrait taken for the cover of her first album, "Miss Calypso," in 1957.
Angelou poses with her book "I Know Why the Caged Bird Sings" in 1971. It was the first in a series of autobiographical books.
From left, actress Betty Furness, educator Bettye Caldwell, Angelou, singer Kate Smith, first lady Betty Ford, Dr. Annie D. Wauneka and former Olympic diver Micki King pose for a photo during the taping of the television special "Woman of the Year 1976" in New York City.
Angelou acts in a scene from the television miniseries "Roots" in 1977.
Angelou speaks during an interview at her home in 1978.
Angelou poses with U.S. Sen. Ted Kennedy and two other women who received the 1983 Matrix Award from the New York Chapter of Women in Communications. At the far left is Jane Bryant Quinn, contributing editor of Newsweek and Woman's Day. At the far right is Mary McGrory, syndicated columnist for The Washington Post.
Angelou recites her poem "On the Pulse of Morning" at the inauguration of President Bill Clinton in 1993.
Angelou works on the set of "Down in the Delta" in 1998. Angelou directed the film, which starred Alfre Woodard.
Angelou receives an honorary doctorate from Shenandoah University in Winchester, Virginia, in 2008.
Angelou reads a poem during a 2008 ceremony to present South African Archbishop Desmond Tutu with the William J. Fulbright Prize for International Understanding.
Clinton speaks to Angelou on stage at the the 2009 Women of the Year event hosted by Glamour magazine.
Angelou laughs during her 82nd birthday party at her home in Winston-Salem, North Carolina, in 2010.
Angelou and talk show host Oprah Winfrey laugh during the taping of "Surprise Oprah! A Farewell Spectacular" in 2011.
Angelou receives the Medal of Freedom from President Barack Obama at the White House in 2011. The Medal of Freedom is the country's highest civilian honor.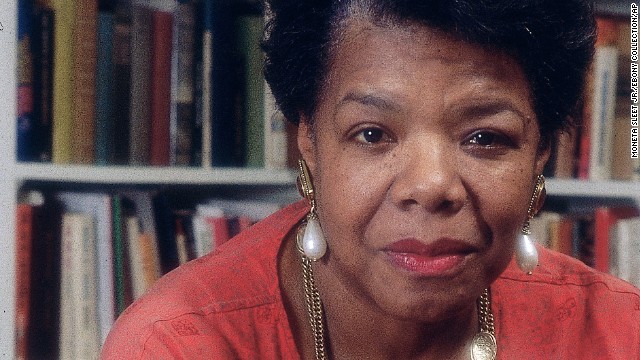 Maya Angelou: Poet, novelist and actress
She was a great cook, and I think of myself as a good one. We were arguing about rack of lamb, one of my specialties. My recipe comes from the late, great country cook Edna Lewis. I went home after my visit and decided I should not just talk the talk but also walk the walk.
I called my good friend Joanne Gabbin from Furious Flower Poetry Center to have her come with me to Doc's to cook. Jo is a great cook, too. We got on Doc's calendar, packed all our ingredients and spices and boogied on down.
Doc sat at the head of the table, where she could see everything going on in the kitchen. She inspected the lamb, checked the veggies, tasted everything and praised Joanne.
I think she loved me a little bit because she, like my only living aunt, always felt free to make minor corrections. "I think the lamb is a bit overdone," she offered.
"Well Edna Lewis is in heaven, and I checked with her before I put this on the table," I responded.
We both laughed. I know if the lamb was not done properly, she would have eaten it and not said a word.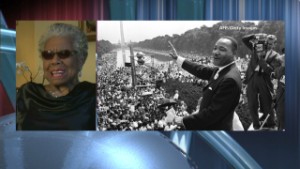 Anderson and Dr. Maya Angelou Part 1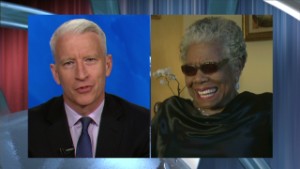 Anderson and Dr. Maya Angelou Part 2
I wanted to fry chicken for her, too, but time just ran out.
Don't miss out on the conversation we're having at CNN Living.
Follow us on Twitter
and
Facebook
for the latest stories and tell us what's influencing your life.
Our mutual friend, the late author Alex Haley, always said, "Find the good and praise it." Maya took it to heart. She would always seek the good in any situation, or she avoided the question.
Opinion: How Maya Angelou gave me life
In all my years of knowing her, I only heard her once speak ill of someone and that was well deserved.
Like everyone, I have read and reread "I Know Why The Caged Bird Sings." And like that caged bird, Maya sought an inner freedom.
We only have to look at her life to see that she took every ounce of joy life had to offer.
I will remember her as a courageous woman who always wanted to love, and wish her a rightful place in literature.
Some of Angelou's most powerful speeches
The opinions expressed in this commentary are solely those of Nikki Giovanni.