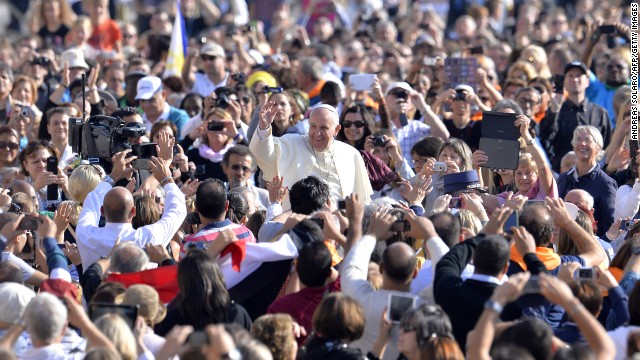 Pope Francis greets the crowd as he arrives for his general audience at St. Peter's Square at the Vatican on Wednesday, October 8. With his penchant for crowd-pleasing and spontaneous acts of compassion, the Pope has earned high praise from fellow Catholics and others since he replaced Pope Benedict XVI in March 2013.
Pope Francis speaks during the feast-day Mass on a one-day trip to the Calabrian region of Italy on Saturday, June 21. The Pope spoke out against the Mafia's "adoration of evil and contempt for the common good," and declared that "mafiosi are excommunicated, not in communion with God.'
The Pope meets faithfuls as he visits the San Gregorio Parish in Rome on Sunday, April 6.
Queen Elizabeth II and Prince Philip, Duke of Edinburgh, have an audience with the Pope during their one-day visit to Rome on April 3.
Francis speaks with U.S. President Barack Obama, who visited the Vatican on March 27.
The Pope blesses the altar at Rome's Santa Sabina church as he celebrates Mass on March 5, Ash Wednesday.
Daniele De Sanctis, a 19-month-old child dressed up as a pope, is handed to Francis as the pontiff is driven through the crowd February 26 at St. Peter's Square in the Vatican.
Wind blows the papal skullcap off Pope Francis' head February 19 in St. Peter's Square.
A lamb is placed around Francis' neck as he visits a living nativity scene staged at the St. Alfonso Maria de' Liguori parish church, on the outskirts of Rome, on January 6.
The Pope holds a baby Jesus during a Christmas Eve Mass held at St. Peter's Basilica in the Vatican in 2013.
Pope Francis, right, meets with Pope Emeritus Benedict XVI at the Mater Ecclesiae monastery in the Vatican on December 23. Benedict surprised the world by resigning "because of advanced age." It was the first time a pope has stepped down in nearly 600 years.
Pope Francis marked his 77th birthday on December 17 by hosting homeless men to a Mass and a meal at the Vatican. One of the men brought his dog.
Pope Francis embraced Vinicio Riva, a disfigured man who suffers from a non-infectious genetic disease, during a public audience November 6 at the Vatican. Riva then buried his head in the Pope's chest.
Pope Francis jokes November 6 with members of the Rainbow Association, which uses clown therapy in hospitals, nursing homes and orphanages.
A young boy hugs Francis as he delivers a speech October 26 in St. Peter's Square. The boy, part of a group of children sitting around the stage, played around the Pope as the Pope continued his speech and occasionally patted the boy's head.
Francis has eschewed fancy cars. Here, Father Don Renzo Zocca, second from right, offers his white Renault 4L to the Pope during a meeting September 7 at the Vatican.
Francis has his picture taken inside St. Peter's Basilica with youths who came to Rome for a pilgrimage in August.
During an impromptu news conference on July 29, aboard a plane from Brazil to Rome, the Pope said about gay priests, "Who am I to judge?" Many saw the move as the opening of a more tolerant era in the Catholic Church.
Crowds swarm the Pope as he makes his way through World Youth Day in Rio de Janeiro on July 27. According to the Vatican, 1 million people turned out to see the Pope.
Francis frees a dove May 15 during his weekly general audience in St. Peter's Square.
Francis embraces a young boy with cerebral palsy on March 31, 2013, a gesture that many took as a heartwarming token of his self-stated desire to "be close to the people."
The Pope washes the feet of juvenile offenders, including Muslim women, as part of Holy Thursday rituals on March 28, 2013. The act commemorates Jesus' washing of the Apostles' feet during the Last Supper.
Francis stands at the reception desk of the Domus Internationalis Paulus VI residence, where he paid the bill for his stay during the conclave that would elect him leader of the world's 1.2 billion Catholics.
Francis, formerly known as Argentine Cardinal Jorge Mario Bergoglio, was elected the Roman Catholic Church's 266th Pope on March 13, 2013. The first pontiff from Latin America was also the first to take the name Francis.
Pope Francis
Pope Francis
Pope Francis
Pope Francis
Pope Francis
Pope Francis
Pope Francis
Pope Francis
Pope Francis
Pope Francis
Pope Francis
Pope Francis
Pope Francis
Pope Francis
Pope Francis
Pope Francis
Pope Francis
Pope Francis
Pope Francis
Pope Francis
Pope Francis
Pope Francis
Pope Francis
Pope Francis
STORY HIGHLIGHTS
NEW: Pope says "the door is always open" on celibacy discussions
The meeting would mark his first with a group of abuse victims
Speaking to reporters aboard the papal plane, the pontiff called for zero tolerance
While in Mideast, he invites Israeli, Palestinian leaders to Vatican to pray
(CNN) -- Pope Francis spoke out against sexual abuse by Catholic clergy on Monday and said he plans to meet with victims in early June.
In a wide-ranging talk with reporters, he also discussed celibacy in the clergy, saying it's not dogma so "the door is always open."
The Pope fielded questions on these subjects during an informal chat with reporters. He simply walked to the back of the papal airplane, sat down with a group of journalists and took questions for about 45 minutes, answering in Italian.
When the Vatican spokesman suggested he stop after half an hour to rest, the Pope indicated he was happy to continue. Such informality has become a hallmark of Pope Francis.
Stressing that sex abuse constitutes a horrific crime, he told reporters that three bishops are under investigation. One has already been found guilty and a penalty is being considered, he said.
It was not clear whether the bishops are under investigation for alleged abuse, or for purported involvement in some sort of cover-up. None of those clerics were named.
A priest who abuses a child betrays the body of the Lord, the Pope said, according to pool reports. He called for zero tolerance.
"This is very serious," he said. "It is like, by way of comparison, holding a black Mass. You are supposed to lead them to sanctity and instead you lead them to a problem that will last their entire lives."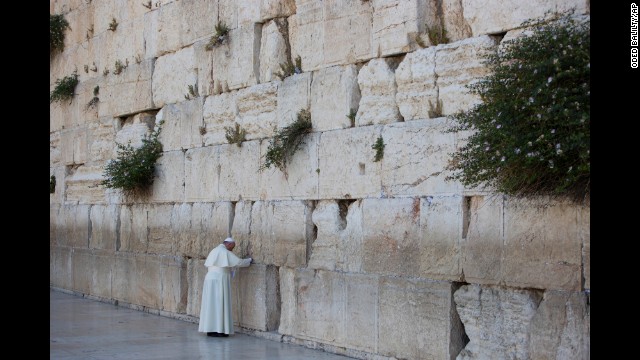 Pope Francis prays in front of the Western Wall in Jerusalem's Old City on Monday, May 26. The Pope has been on a three-day historic trip to the Middle East, his first as leader of the Roman Catholic Church.
Pope Francis arrives to meet prelates, nuns and seminarists at the Church of Gethsemane in Jerusalem on May 26.
The Pope's reflection is seen May 26 on a marble plaque in Jerusalem that's engraved with names of Israeli civilians killed by terrorism.
Francis meets Muhammad Ahmad Hussein, the grand mufti of Jerusalem, outside the Dome of the Rock on May 26.
Surrounded by Israeli security guards, Francis leaves the Hall of Remembrance at the Yad Vashem Holocaust Memorial and Museum in Jerusalem on May 26.
Francis visits the Hall of Remembrance at the Yad Vashem museum on May 26. Here the Pope stands with Israeli President Shimon Peres, second from right, and Israeli Prime Minister Benjamin Netanyahu, fourth from right.
Francis and Ecumenical Patriarch of Constantinople Bartholomew I pray over the Stone of Unction at the Church of the Holy Sepulchre in Jerusalem's Old City on Sunday, May 25. The Pope joined Bartholomew in a historic joint prayer for Christian unity at Christianity's holiest site in Jerusalem.
Francis blesses a child from his Popemobile as he leaves Manger Square after presiding over an open-air Mass in the West Bank town of Bethlehem on May 25. Francis extended an invitation Sunday to the leaders of Israel and the Palestinian Authority to travel to the Vatican for a "peace initiative," as he called for a two-state solution to the intractable conflict.
Francis, center, leads an open-air Mass in Bethlehem on May 25.
Francis touches the wall that divides Israel from the West Bank on his way to celebrate a Mass in Bethlehem on May 25.
Palestinian President Mahmoud Abbas greets Pope Francis in Ramallah, West Bank, on May 25.
Francis prays Saturday, May 24, at Bethany Beyond the Jordan, on a tributary of the Jordan River that tradition holds is the site where Christ was baptized.
Pope Francis celebrates Mass in Amman's International Stadium on May 24.
Pope Francis kisses a baby after giving a blessing upon his arrival to lead Mass at the Amman stadium.
Pope Francis rides in a golf cart with King Abdullah II of Jordan on May 24 as they visit Bethany, on the eastern bank of the Jordan River.
Jordanians and Christians of various nationalities and denominations congregate at Amman's International Stadium on May 24 awaiting the Pope's arrival.
Pope Francis meets King Abdullah II in Amman's Al Husseini Royal Palace on May 24.
Pope Francis walks with Jordanian Prince Ghazi, chief adviser to the King of Jordan for Religious and Cultural Affairs, on May 24 as he arrives at the Amman airport.
Pope Francis arrives at the airport in Amman on May 24.
Pope Francis blesses a man as he greets journalists aboard the papal flight on his way to Jordan on May 24.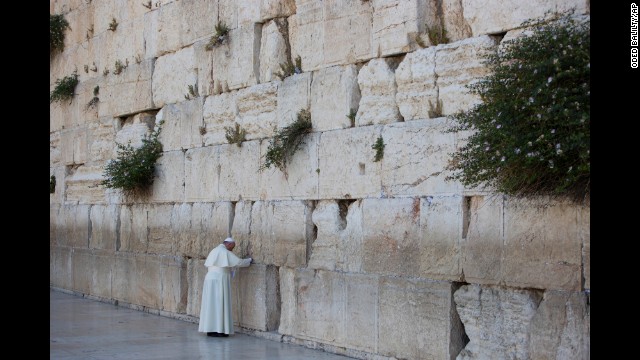 Photos: Pope visits Holy Land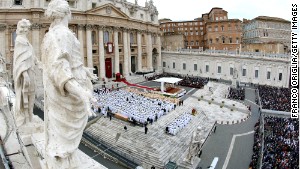 Pope condemns clergy who sexually abused
Among the expected invitees to the meeting are abuse victims from Germany, England and Ireland, and Cardinal Sean O'Malley, the archbishop of Boston.
Terrence Donilon, a spokesman for the cardinal, said the time and date of the meeting have not been finalized.
"Cardinal O'Malley has been asked by the Holy Father to assist with the planning for a meeting with survivors of sexual abuse in the coming months," said Donilon. "The cardinal looks forward to supporting this effort by Pope Francis in whatever manner will be most helpful."
The meeting at the Vatican will not be the first time a pope has met with sexual abuse victims, according to John L. Allen Jr., CNN's senior Vatican analyst. However, it will mark the first time Pope Francis has done so.
"This is a clear indication that Francis is trying to get the message out that he 'gets it' about the need to confront the church's abuse scandals," Allen said.
However, the U.S.-based Survivors Network of those Abused by Priests said the pope's comments did not go far enough.
"No child rape will be prevented, no abuse cover-up will be prevented and no predator priest will be exposed by anything the pope said today or will do next month," Joelle Casteix, western regional director of SNAP, said in a statement. "His upcoming and self-serving meeting with victims is more of what we've seen for decades -- more gestures, promises, symbolism and public relations."
When reporters asked about celibacy in the clergy, Pope Francis showed an open mind but didn't say he's ready to make a change yet.
"The Catholic Church has married priests -- Greek Catholics, Coptic Catholics, those of oriental rites," he said. "Celibacy is not a question of dogma, but rather a rule of life that I greatly appreciate, as I believe it is a gift for the Church. But, since it is not a dogma of faith, the door is always open."
The pontiff spoke as he was returning to Rome from a three-day trip to the Middle East.
During that trip, the Pope extended an invitation to the leaders of Israel and the Palestinian Authority to travel to the Vatican for peace talks.
In comments aboard the plane, he clarified the talks would not focus on finding a solution.
"It will be a meeting of prayer," he said.
The Pope also appeared to open the door to the possibility he might resign one day, like his predecessor, if he no longer had the strength to carry on.
"I think that Pope Benedict XVI was not a unique case," Francis told reporters. "I will do what God tells me to do."
Kick out those who sexually abuse children, U.N. panel tells Vatican
Vatican setting up commission against sexual abuse of minors
CNN's Eric Marrapodi contributed to this report.