Nigerian military official claims he knows whereabouts of kidnapped girls
updated 5:26 AM EDT, Tue May 27, 2014
STORY HIGHLIGHTS
The official says the Nigerian military will not use force to try to rescue the girls
"We can't kill our girls in the name of trying to get them back," he reportedly says
More than 200 schoolgirls were abducted in northern Nigeria last month by Boko Haram
(CNN) -- A top Nigerian military official believes he knows the whereabouts of girls kidnapped last month, but he says the nation's military will not use force to try to rescue them, a state news report said Monday.
"We want our girls back. I can tell you that our military can and will do it, but where they are held, can we go there with force?" asked Air Chief Marshal Alex Badeh.
"Nobody should say Nigerian military does not know what it is doing; we can't kill our girls in the name of trying to get them back."
His comments were reported by the News Agency of Nigeria, a state-run news service.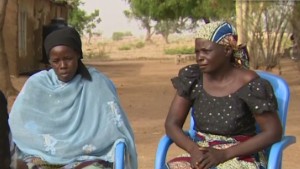 Mother of missing girl: 'Our hearts hurt'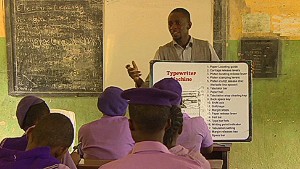 Nigeria: 'Teachers live in fear'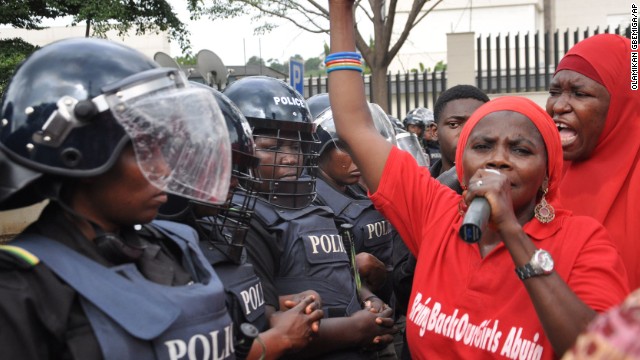 Police in riot gear block a route in Abuja, Nigeria, on Tuesday, October 14, during a demonstration calling on the Nigerian government to rescue schoolgirls kidnapped by the Islamist militant group Boko Haram. In April, more than 200 girls were abducted from their boarding school in northeastern Nigeria, officials and witnesses said.
Women in Abuja hold a candlelight vigil on Wednesday, May 14, one month after the schoolgirls were kidnapped.
People march in Lagos, Nigeria, on Monday, May 12, to demand the release of the kidnapped schoolgirls.
Catholic faithful in Abuja take Holy Communion and pray for the safety of the kidnapped schoolgirls on Sunday, May 11.
Catholic faithful attend a morning Mass in honor of the kidnapped schoolgirls in Abuja on May 11.
Catholics nuns pray in Abuja on May 11.
A woman attends a demonstration Tuesday, May 6, that called for the Nigerian government to rescue the girls.
Community leader Hosea Sambido speaks during a May 6 rally in Abuja.
Brig. Gen. Chris Olukolade, Nigeria's top military spokesman, speaks to people at a demonstration May 6 in Abuja.
Women march Monday, May 5, in Chibok, Nigeria.
People rally in Lagos on Thursday, May 1.
Police stand guard during a demonstration in Lagos on May 1.
Protesters take part in a "million-woman march" Wednesday, April 30, in Abuja.
Obiageli Ezekwesili, former Nigerian education minister and vice president of the World Bank's Africa division, leads a march of women in Abuja on April 30.
A woman cries out during a demonstration in Abuja on Tuesday, April 29, along with other mothers whose daughters have been kidnapped.
A man weeps as he joins parents of the kidnapped girls during a meeting with the Borno state governor in Chibok on Tuesday, April 22.
Mothers weep April 22 during a meeting with the Borno state governor in Chibok.
Four female students who were abducted by gunmen and reunited with their families walk in Chibok on Monday, April 21.
Borno state Gov. Kashim Shettima, center, visits the girls' school in Chibok on April 21.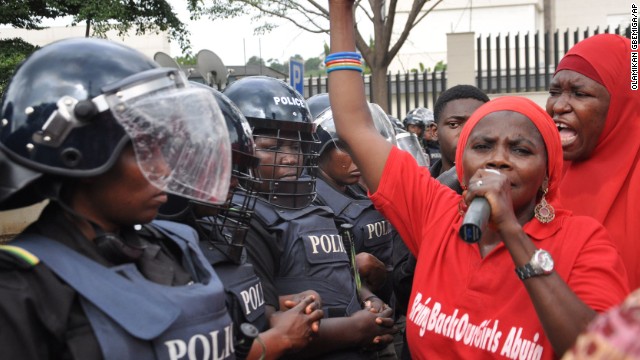 Photos: Nigerians protest over kidnapped girls
Badeh continued: "The good news for the parents of the girls is that we know where they are, but we cannot tell you.
"We cannot come and tell you the military secret, just leave us alone, we are working to get the girls back," he reportedly said.
In response to the news, Pentagon spokesman Adm. John Kirby told CNN U.S. officials were not able to confirm the report.
More than 200 schoolgirls were kidnapped in northern Nigeria last month by Boko Haram, an act that drew international condemnation.
The terror group abducted an estimated 276 girls on April 14 from a boarding school in Chibok. The Nigerian military suffered an embarrassing setback when it retracted a report that nearly all the kidnapped girls were released.
Dozens escaped, but more than 200 girls are still missing.
Nigerians and others have accused their government of not acting swiftly or efficiently enough to protect the girls seized in the dead of night.
Boko Haram translates as "Western education is a sin" in the Hausa language. The militant group says its aim is to impose a stricter enforcement of Sharia law across Nigeria, Africa's most populous nation, which is split between a majority Muslim north and a mostly Christian south.
Boko Haram's attacks have intensified in recent years.
Kidnapped girls: How you can help
Girl: 'How I escaped Boko Haram'
Hagel: No 'solid evidence' on whereabouts of Nigeria schoolgirls
CNN's Jim Sciutto contributed to this report.