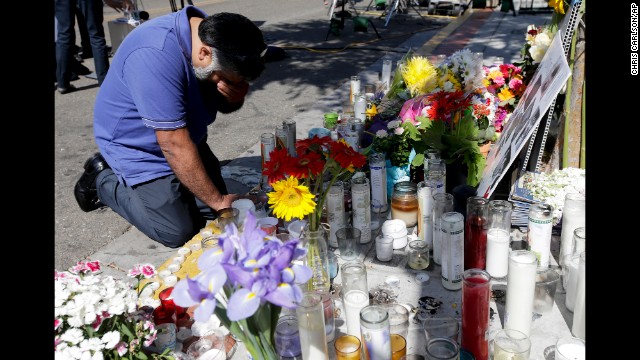 Jose Cardoso pays his respects Sunday, May 25, at a makeshift memorial at the IV Deli Mart, where part of a mass shooting took place, in Isla Vista, California. Elliot Rodger, 22, went on a rampage Friday night, May 23, near the University of California, Santa Barbara, stabbing three people to death at his apartment before shooting and killing three more in a nearby neighborhood, sheriff's officials said. Rodger also injured 13 others and died of an apparent self-inflicted gunshot wound, authorities said.
A man places flowers on the lawn of the Alpha Phi sorority house in Isla Vista on May 25. Two young women -- Katherine Cooper, 22, and Veronika Weiss, 19, -- were fatally shot outside the house Friday night.
Students gather for a candlelight vigil at the University of California, Santa Barbara, on Saturday, May 24.
Two students comfort each other during the candlelight vigil to honor the victims of Friday night's mass shooting in Isla Vista.
People gather at a park in Isla Vista for the May 24 vigil.
IV Deli Mart owner Michael Hassan, second from left, cleans up his store with employees May 24 as onlookers gather outside one of the shooting scenes. Student Christopher Martinez, 20, was getting a sandwich at the deli when he was fatally shot.
University of Santa Barbara, California, student Derrick Hayes gets emotional outside the IV Deli Mart on May 24 in Isla Vista.
A police officer inspects the gunman's car on May 24 after the killing spree in Isla Vista. The suspect, described as mentally disturbed and possibly bent on retribution, sprayed bullets from his car in a rampage called "premeditated mass murder," Santa Barbara County sheriff's deputies said.
A Santa Barbara County deputy sheriff walks along the street May 24 near a shooting scene in Isla Vista.
Santa Barbara County Sheriff Bill Brown speaks at a press conference regarding murder suspect Elliot Rodger on May 24. All the weapons used in Friday's rampage "were legally purchased" and registered to the suspect, Brown told reporters.
Flowers are placed in a bullet hole in the window of a delicatessen in Isla Vista on May 24.
Richard Martinez, father of victim Christopher Martinez, breaks down as he talks to media outside the Santa Barbara County Sheriff's Office. "Our family has a message for every parent out there: You don't think it will happen to your child until it does," the visibly emotional parent said.
An investigator speaks on a cell phone while examining the gunman's car.
A woman looks at the bullet holes on the window of the deli where part of the shooting spree took place in Isla Vista, California.
Flowers are left on the sidewalk of the IV Deli Mart in Isla Vista, California.
Two women comfort each other Saturday near the scene of a shooting. Seven people also were being treated in a hospital for gunshot wounds or traumatic injuries, a sheriff's office spokeswoman said.
A Santa Barbara County deputy sheriff checks out the black BMW sedan driven by the suspected shooter. The gunman died from a gunshot wound after his car crashed, police said. It was unclear whether the fatal head wound was self-inflicted or the result of a firefight with police.
The car of the alleged shooter at the crime scene Saturday. Isla Vista is the residential quarter for students mostly enrolled in UCSB and some in Santa Barbara City College. The community sits on beachfront bluffs just west of UCSB.
The crime scene in the aftermath of the shooting.
Broken glass at the shooting scene Saturday. Authorities said there were multiple crime scenes.
Fire trucks are parked outside an Isla Vista mart Friday night after the deadly rampage. The shootings occurred in a crowded area bustling with activity on Memorial Day weekend.
Deadly rampage in California college town
Deadly rampage in California college town
Deadly rampage in California college town
Deadly rampage in California college town
Deadly rampage in California college town
Deadly rampage in California college town
Deadly rampage in California college town
Deadly rampage in California college town
Deadly rampage in California college town
Deadly rampage in California college town
Deadly rampage in California college town
Deadly rampage in California college town
Deadly rampage in California college town
Deadly rampage in California college town
Deadly rampage in California college town
Deadly rampage in California college town
Deadly rampage in California college town
Deadly rampage in California college town
Deadly rampage in California college town
Deadly rampage in California college town
Deadly rampage in California college town