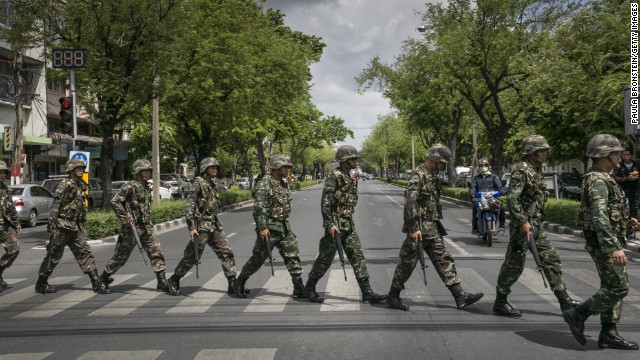 Thai soldiers patrol near government buildings in Bangkok on Friday, May 23. Thailand's army announced the previous day that it has taken control of the country in a coup, just days after it surprised the government by declaring martial law.
See the Thai army impose martial law before the coup.
A pro-government protester points at a soldier as people clean up a demonstration site on the outskirts of Bangkok on May 23. Both pro- and anti-government camp sites have been cleared away in the capital city since the coup.
Buddhist monks help dismantle a shade net at an anti-government camp occupied for months in Bangkok on May 23.
A police dog searches a tent at the pro-government demonstration site outside Bangkok on May 23.
Thai soldiers patrol the streets of Bangkok on May 23.
Students and activists hold anti-coup signs during a brief protest near the Democracy Monument in Bangkok on May 23.
Former Prime Minister Yingluck Shinawatra arrives to report to Thailand's ruling military in Bangkok on May 23.
Thai soldiers and military police try to block media as Yingluck arrives at a military compound on May 23.
A soldier stands guard on Thursday, May 22, in Bangkok.
CNN's Paula Hancocks is told to move while reporting outside the venue for peace talks between political groups in Bangkok on May 22.
A member of the press takes a selfie with soldiers on May 22 in Bangkok.
Commuters wait for taxis after a curfew was imposed in Bangkok on May 22.
Anti-government protesters celebrate after Thailand's army chief announced that armed forces were seizing power in Bangkok on May 22.
A tourist sits in a Thai army vehicle as soldiers deploy on a downtown street after martial law was declared on Tuesday, May 20.
Gen. Prayuth Chan-ocha, head of the Thai military, gives a traditional greeting on May 20, the day he declared military rule over Thailand. He has assumed the powers to act as prime minister until a new one takes office, the military said.
Military coup in Thailand
Military coup in Thailand
Military coup in Thailand
Military coup in Thailand
Military coup in Thailand
Military rule in Thailand
Military rule in Thailand
Military rule in Thailand
Military coup in Thailand
Military rule in Thailand
Military rule in Thailand
Military rule in Thailand
Military rule in Thailand
Military rule in Thailand
Military rule in Thailand