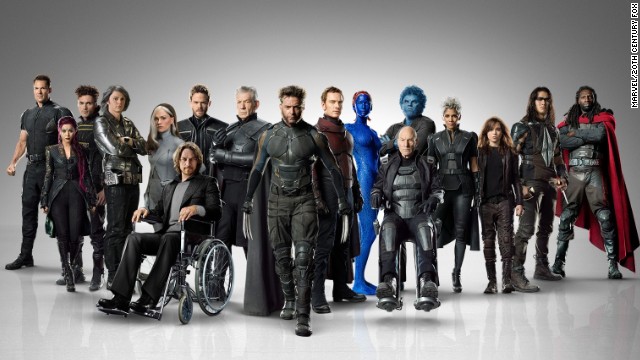 Behold the massive cast of "X-Men: Days of Future Past." The movie is based on a
classic "X-Men'"storyline
from the comic books. Because of the time travel element, it gathers characters from all of the previous "X-Men" movies. Here's a look at the characters in their comic and film incarnations:
The X-Men's leader, Professor Charles Xavier, has been played by Patrick Stewart and James McAvoy (his younger self). For the first time, the two Professors X come face to face.
Ian McKellen and Michael Fassbender have played the X-Men's constant antagonist Magneto over the years, and just like with Xavier, both versions of Erik Lehnsherr show up in the movie.
The most popular member of the X-Men, Wolverine has appeared in each one of the films, including his own solo films. Hugh Jackman has been able to bring the famous attitude of the comic book character to the big screen.
Halle Berry reprises her role as one of the X-Men's most ubiquitous team members, Storm. Berry has also kept consistent with the comic book character's changing hairstyles.
Jennifer Lawrence plays the younger Mystique, taking over the role from Rebecca Romijn in the earlier films. She's far from the only blue mutant, however.
Nicholas Hoult plays the intellectual Beast (a role played by Kelsey Grammer in "X-Men: The Last Stand"), and based on the trailers, he's not always stuck looking that way.
Ellen Page reprises her role as Kitty Pryde, a fan favorite in the comics. Word has it that her role is larger here than it was in "Last Stand."
Shawn Ashmore is back as Iceman, who was one of the original X-Men when the comic books debuted more than 50 years ago.
Bishop has a lot of fans among comic book readers and is portrayed here for the first time by Omar Sy.
Evan Peters portrays the lightning fast Quicksilver for the first time (a role also played by Aaron Taylor-Johnson in the upcoming "Avengers: Age of Ultron").
Daniel Cudmore returns as the super-strong Colossus, who can turn his body into metal.
Lucas Till is back as the remarkably powerful Havok, last seen in "X-Men: First Class."
Booboo Stewart plays Warpath, a character making his film debut.
Toad hasn't been seen on film since the first "X-Men." The villainous mutant is played this time by Evan Jonigkeit.
Blink has the amazing ability of teleportation and shows it off for the first time on the big screen, as portrayed by Bingbing Fan.
Meet the X-Men of 'Days of Future Past'
X-Men characters
X-Men characters
X-Men characters
X-Men characters
X-Men characters
X-Men characters
X-Men characters
X-Men characters
X-Men characters
X-Men characters
X-Men characters
X-Men characters
X-Men characters
X-Men characters
X-Men characters