STORY HIGHLIGHTS
NEW: NFL says its policies apply "to all league personnel," vows it'll take "appropriate action"
Jim Irsay is charged with driving while intoxicated, possession of a controlled substance
The Colts owner checked into a treatment facility a day after the March 16 incident
His legal team credits the prosecutor's office for not pressing felony charges
(CNN) -- Indianapolis Colts owner Jim Irsay was charged with operating a vehicle while intoxicated and possession of a controlled substance on Friday, just over two months after his arrest, a prosecutor said.
The misdemeanor charges filed Friday are pending in Hamilton County, Indiana, Superior Court, Prosecuting Attorney D. Lee Buckingham's office said in a press release. The drug was identified in a court filing as oxycodone and/or hydrocordone.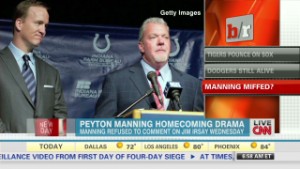 2013: Irsay's Manning comment draws criticism
Irsay's initial hearing on both counts is scheduled for June 19.
The Colts owner and CEO's legal team, in a statement after the charges were announced, thanked the Hamilton County prosecutor's office "for its professionalism in its investigation." The statement pointed out that authorities determined that "the facts in this matter did not warrant the filing of felony charges relative to Mr. Irsay's prescription medications.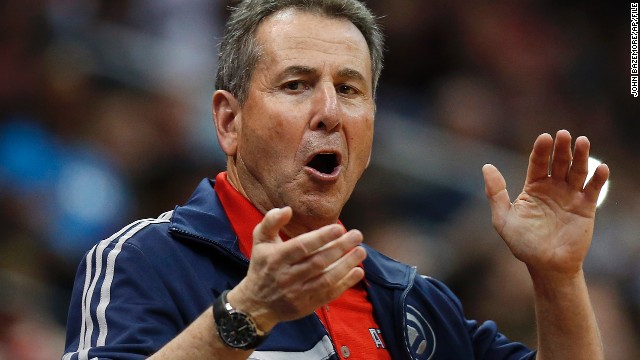 Atlanta Hawks controlling owner Bruce Levenson announced he will sell the team in light of an offensive email he sent. Levenson is not the first sports team owner to face the consequences of his actions:
The NBA's suspension and $2.5-million fine for Los Angeles Clippers owner Donald Sterling sent shockwaves through the sports world.
Bleacher Report has dubbed Mark Cuban the "King of NBA fines. The notoriously vocal Dallas Mavericks owner has been forced to pay more than $1.8 million in fines since he bought the team in 2000, many of them for colorful language and criticism of referees.
Former Cincinnati Reds owner Marge Schott was suspended from Major League Baseball in 1993 and 1996 for several controversial comments, among them racial epithets against players. In a 1996 interview, she said this about Adolf Hitler: "Everybody knows that he was good at the beginning, but he just went too far." She was forced to sell her controlling interest of the Reds in 1999.
Before the announcement about Sterling's suspension, Minnesota Timberwolves owner Glen Taylor was the only owner suspended in the NBA in 68 years. The league suspended Taylor in 2000 for a season after the Timberwolves made a secret deal with a star player to circumvent salary cap rules. Now, Taylor is chairman of the NBA board of governors, which Commissioner Adam Silver has asked to vote on stripping Sterling's ownership of the Clippers.
The NFL suspended San Francisco 49ers owner Eddie DeBartolo Jr. for his role in a racketeering scandal tied to riverboat casino licenses. DeBartolo pleaded guilty in 1998 to felony charges of failing to report an extortion case, according to Bleacher Report. By 2000 he was forced to cede control of the team to his sister.
As former Los Angeles Dodgers owner Frank McCourt's bitter divorce became a cloud over the franchise, his financial turmoil forced Major League Baseball to take over the day-to-day operations of the team in 2011. League Commissioner Bud Selig accused McCourt of "looting" the club of $190 million to fund an extravagant lifestyle. McCourt filed for bankruptcy later that year. During bankruptcy proceedings, McCourt agreed to sell the team under a bidding process.
The late New York Yankees owner George Steinbrenner was suspended from baseball for making illegal campaign contributions to Richard Nixon in 1974. He was banned for life in 1990 after paying a gambler $40,000 to get damaging information about a player, but Major League Baseball reinstated him three years later.
The NBA said Miami Heat owner Micky Arison had been fined in 2011 for posting about the league's collective bargaining process on Twitter. The amount of the fine was not disclosed, but several media reports said it was $500,000.
The NBA slapped Aubrey McClendon, partial owner of the Oklahoma City Thunder, with a $250,000 fine in 2007 after he told an Oklahoma newspaper that he hoped to move the team, then known as the Seattle SuperSonics, to Oklahoma.
The NBA fined former Los Angeles Lakers owner Jerry Buss $25,000 and suspended him for two games in 2007 after his conviction on a misdemeanor drunk driving charge. Buss died in 2013.
The outspoken CNN founder and former Atlanta Braves owner Ted Turner was suspended for a year in 1977 for negotiating a deal with a player who was under contract to play for the San Francisco Giants.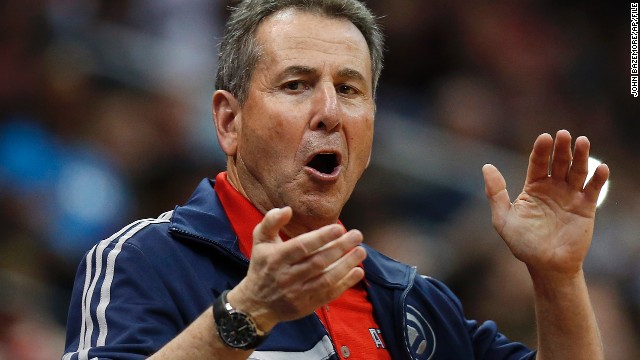 Team owners behaving badly
"Mr. Irsay will deal with the remaining misdemeanor charges through the judicial process," the statement added.
Police in Carmel had earlier said that Irsay was stopped at 11:41 p.m. on March 16 for driving slowly, stopping in a roadway and failing to use his turn signal.
The probable cause affidavit indicates that the Colts owner's speech was "slow and slurred," his eyes were "red and glassy" and his balance was "very unsteady." He failed a number of field sobriety tests, had trouble reciting the alphabet and told an officer "that he was having a hard time finding his house."
In addition, a search of his vehicle found prescription drugs in bottles, police said in a press release. The drugs were not associated with any prescription bottles in the vehicle, according to police.
The next day, Irsay "voluntary checked into a highly respected health care facility," according to the Colts.
"(He) is committed committed to undergoing the treatment and care necessary to help him meet his challenges head-on," added the team.
Irsay is the first National Football League owner to face criminal charges since Eddie DeBartolo of the San Francisco 49ers was indicted on federal racketeering charges in 1997.
In that time, the league -- including its current commissioner, Roger Goodell -- have frequently punished players for off-the-field indiscretions that landed them in court.
It remains to be seen what will happen, then, to the 54-year-old Irsay, who has largely stayed out of the public spotlight -- except for regular tweets -- since his arrest.
In a brief statement Friday, the league said, "The NFL's Personal Conduct Policy applies to all league personnel and holds all of us accountable. We are reviewing the matter and will take appropriate action in accordance with the policy.
The Colts owner -- whose father, Robert Irsay, owned the team before him -- has spoken publicly about his struggles with substance abuse as well as his efforts to stay sober.
In a tweet last December, Jim Irsay said that he didn't drink: "(S)orry to ruin your theories ... but I don't drink ... at all," he posted on his official account.
Report: Irsay's behavior was alarming