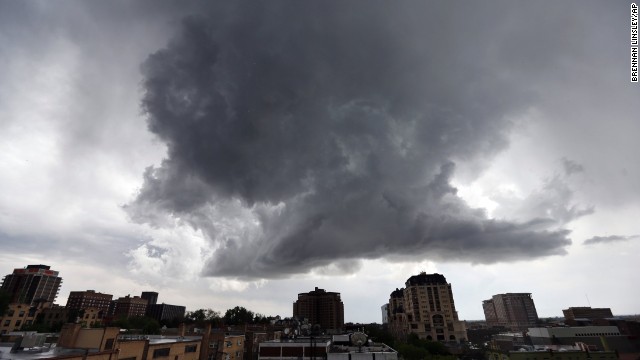 A thunderhead forms over downtown Denver on Thursday, May 22. More spring thunderstorms began rolling into the Front Range and eastern Colorado on Thursday, a day after six tornadoes touched down east of Denver.
Robert Teran walks to work as hail falls over downtown Denver on May 22.
Officials inspect damage to the Duanesburg Volunteer Ambulance Corps on May 22 in Duanesburg, New York, after a severe storm passed through the area.
A downed utility pole blocks a road in Duanesburg, New York, on May 22.
Hail covers the parking lot of Berkshire Mall in Wyomissing, Pennsylvania, on May 22.
A car shows severe damage from the hail storm in Wyomissing, Pennsylvania, on May 22.
A truck is seen overtuned by strong winds on Interstate 88 on May 22 near Altamont, New York.
Violent storms strike U.S.
Violent storms strike U.S.
Violent storms strike U.S.
Violent storms strike U.S.
Violent storms strike U.S.
Violent storms strike U.S.
Violent storms strike U.S.
STORY HIGHLIGHTS
NEW: The strong storm knocks out power to thousands in Virginia
NEW: Weather Service reports a "possible" tornado in Prince George County
There are scores hail reports, some of them golf-ball sized
Police: 2 police cars unusable, 3 badly damaged in a Pennsylvania town
(CNN) -- A potent storm system socked the Mid-Atlantic and as far north as New York on Thursday, lashing the region with damaging hail, strong winds and pelting rains.
At various points Thursday afternoon and evening, parts of Delaware, Virginia and Maryland were under tornado warnings tied to the system. There were reports of a few possible touchdowns, though thankfully no widespread damage or injuries.
Even without twisters, the storms did damage in other ways. Photos posted to Twitter from Wyomissing, Pennsylvania -- which is just outside of Reading -- showed some cars with smashed windshields thanks to large, powerful hail. Lt. Thomas D. Endy said two police cars in town aren't drivable, and three can go out only if absolutely necessary.
"It got really loud," said Heather Knaub, who was working at a department store in Berkshire Mall in Wyomissing when the hail started pounding down, eventually caving in some overhead glass windows. "... It looked like a white-out; hail was everywhere."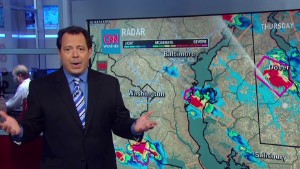 Severe weather hits across US
The National Weather Service documented scores of other such reports, including ones indicating hail the size of golf balls in locales from Hamden, New York, to Roxbury Mills, Maryland.
Central Virginia was particularly hard-hit, with Dominion Electric reporting about 14,000 customers without power around 9:15 p.m. due to hail and strong winds. This activity includes a "possible brief tornado" that may have hit in Prince George County, according to the weather service.
New York state got its share of bad weather as well, with the weather service tweeting that there was a tornado in Delanson. It later tweeted an image of house there that had been obliterated.
Much of upstate New York also had to deal with flooding concerns due to the combination of rain and hail. Some places north of Rome, New York, already got as much as 6 inches of rain, for instance.
The system caused temporary headaches for those traveling in and out of the region, with all traffic bound for New Jersey's Newark airport, New York's LaGuardia airport and Philadelphia's airport not allowed to take off until after 6:30 p.m.
And the Mid-Atlantic wasn't the only part of the country braving severe weather.
Hazardous weather outlooks were once in effect for huge swaths of the central and southwestern United States -- as far north as Montana and North Dakota, as far south as Arizona and Texas, and as far east as Tennessee.
The storms were also affecting areas in and around Denver, which was the site of several reported tornadoes on Wednesday.
Frontier Airlines tweeted that its call center there was evacuated due to the storm, around the same time Denver International Airport urged travelers to be on-guard for instructions if the situation takes a sudden turn for the worse.
CNN's AnneClaire Stapleton, Aaron Cooper, Lorenzo Ferrigno, Kevin Conlon and Matthew Stucker contributed to this report.