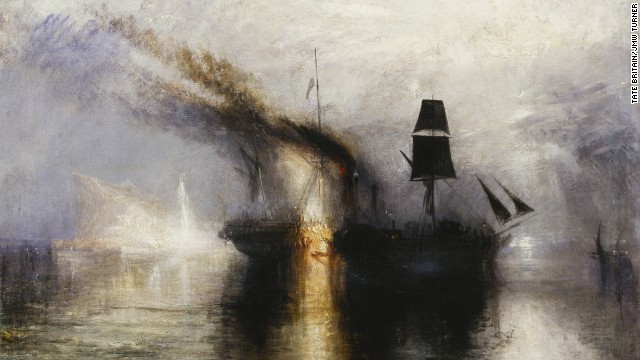 JMW Turner is renowned as the greatest maritime artist of all time -- among his illustrious works is this 1842 painting "Peace -- Burial at Sea."
Some 60% of the 24,000 works that Turner produced were maritime-themed, including "The Blue Rigi" from 1841-2.
Now British painter Andy Parker is planning to retrace Turner's journeys to British ports.
Parker downplays himself as a "painter" while he says Turner -- who created such works as "Light and Color" (pictured here) -- was a "great artist."
Turner reputedly had himself tied to the mast for four hours in order to recreate this painting. Parker does not plan to follow suit.
Parker came to painting late in life and has turned heavily to the sea in his own artwork, including this picture, "The Catch."
It is clear that the Turner's influence permeates through Parker's work, such as this red English sunset captured on canvas.
And the more storm-turned elements of Turner's work are, to some degree, replicated in Parker's "Brighton Storm."
Reliving Turner's maritime passion
Reliving Turner's maritime passion
Reliving Turner's maritime passion
Reliving Turner's maritime passion
Reliving Turner's maritime passion
Reliving Turner's maritime passion
Reliving Turner's maritime passion
Reliving Turner's maritime passion
STORY HIGHLIGHTS
JMW Turner was notorious for his maritime paintings in 19th Century Britain
Now British artist Andy Parker is to emulate his artistic journeys on the high seas
The pair are connected by their upbringing as sons of shopkeepers in Covent Garden
Art expert describes Turner's fascination with the sea, which accounted for 60% of his work more than a century and a half after Turner's death.
Follow us at @WorldSportCNN and like us on Facebook
(CNN) -- "I got the sailors to lash me to the mast to observe it. I was lashed for four hours and I did not expect to escape, but I felt bound to record it if I did."
Joseph Mallord William Turner had a truly obsessional attention to art, so following in his footsteps is no easy task.
British artist Andy Parker admits he will draw the line at being tied to a mast for hours on end, but nonetheless he plans to retrace the movements at sea of arguably the greatest maritime artist of all time.
Parker may be relieved to know that the quote attributed to Turner by John Ruskin after his 1842 painting "Snow Storm -- Steam-Boat off a Harbor's Mouth making Signals in Shallow Water, and going for the Lead" -- is now thought to have been apocryphal.
After all, Ruskin described Turner as "at once the painter and poet of the day," using poetic license in the 24,000 works of art he created, of which more than 60% were water-themed.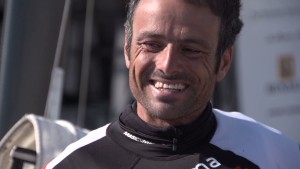 Sailing champ sets his eyes on Rio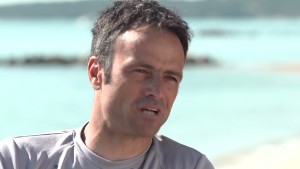 Chasing world sport's oldest trophy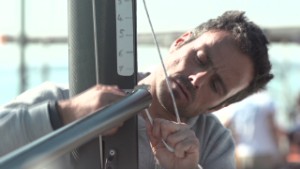 Cammas takes on tough challenges
"His style of painting, I believe, was not necessarily what's in front of you but what you want to see," explains Parker. "These fabulous sunsets of his were not necessarily what he saw, he could just come up with a good idea.
"That's what makes him such a great artist, while I'm just a painter. So I'm not trying to emulate his style but the position where he was."
Following in Turner's footsteps has been done before -- UK-born American artist Edward Moran's infatuation was such that he traveled from the United States to study his work and retrace some of the spots where he painted. Parker, however, is the first to do so for more than 150 years.
The link between Parker and Turner is more than just an admiration of his work -- both were born in London's Covent Garden and were shopkeepers' sons.
"Turner's father was a barber and I'm sure the Parkers and Turners probably knew each other," says Parker, whose family ran a saddlery business.
Parker's "big undertaking" is to visit 12 to 15 locations from Deal in Kent to Poole in Dorset, along Britain's southern coast.
The amount of materials and canvases he would have to carry means he may not be able to do the whole trip at once.
And while Turner set off to sea to sketch, Parker will travel the 1,000 or so miles to the various ports and harbors.
But like Turner, he too plans to take to the waters and is looking for yachting enthusiasts across the country to help him in his quest.
"Chartering boats is so expensive so I've contacted some yachting magazines to see if I can get any helpers," he says.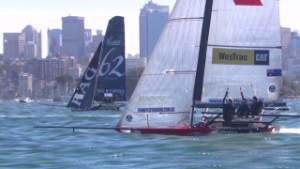 Australia's rich sailing tradition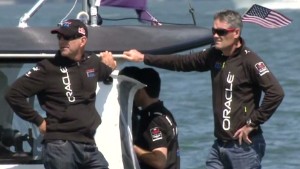 Russell Coutts' big challenge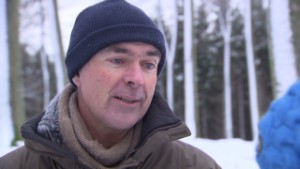 Bouwe risks all for Volvo Ocean Race
"I don't want to go out for eight hours on some fishing jolly -- no-one wants an artist spoiling the view. I'm just looking for a couple of hours where I can work quickly -- Turner's journeys were usually brief -- and throw down some ideas."
Parker, 56, spent the majority of his life working in the music industry before coming to painting as a profession.
While Parker is "not really a sailor," Turner had sea legs.
"Turner was a great traveler," says Christine Riding, head of art at London's Royal Museums Greenwich.
"He liked to travel alone or with intimate friends, who paint the picture of a mariner.
"They paint a nice picture of him not being bothered by the stormy weather while everyone was being sick he carried on sketching.
"He was a workaholic that certainly enjoyed the dynamics of the sea, and he had a very good grasp of maritime terminology. The sea was constantly imbibed in his DNA as an artist."
The Greenwich National Maritime Museum recently hosted an exhibition called "Turner and the Sea," the first to solely focus on his apparent obsession.
"Whether the story of him being tied to the mast or not is true, it doesn't really matter, it's just a very romantic idea," explains Riding.
"If you take that painting, the title itself is very important. The boat's name is Aerial and there is no evidence of a ship by that name then.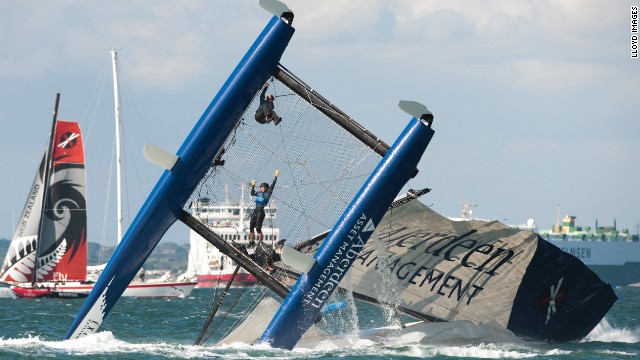 The Extreme Sailing Series provides volatile racing action, as the Aberdeen Asset Management crew found when capsizing in Cowes, England.
Sailors are stretched to their limit throughout the events. Here, Realteam bowman Thierry Wasem holds on by his feet as he tries to keep his crew on track.
The series is about close, stadium racing, enabling boats such as Holmatro (pictured) to get tight to rivals and spectators alike.
The margins between triumph and disaster tend to be very fine, as BT Betterworld's crew know all too well.
Among the competitors are a host of well-known teams, including former America's Cup winner Alinghi.
Perhaps the most high-profile entrant this year is America's Cup winner Ben Ainslie, who will skipper his own crew when the competition starts in Singapore.
For all his experience, though, Ainslie has been warned about the perils of the series, where crashes and damage to multimillion-dollar catamarans are not uncommon.
Unlike many other top-class sailing events, fans and spectators are able to get up close and personal with the competitors.
The series travels to all manner of venues across the globe after the first "act" (as each regatta is known) in Singapore starting February 20.
No venue is too small, apparently, with crews even battling it out on the narrow canals of Amsterdam, Holland, in recent years.
The series plays host to a variety of breathtaking backdrops, such as this one in Portugal last season.
The man to beat this year is British skipper Leigh McMillan, who is targeting a hat-trick of series titles with his boat The Wave Muscat.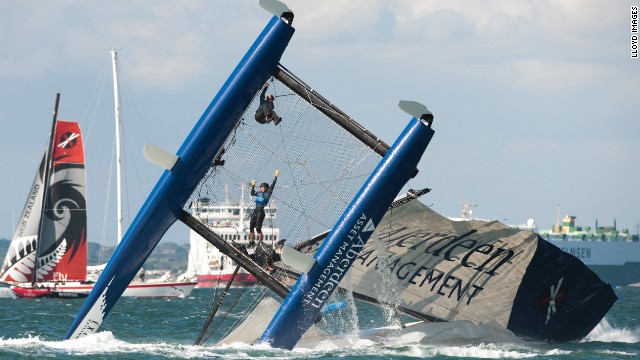 Sailing in the extreme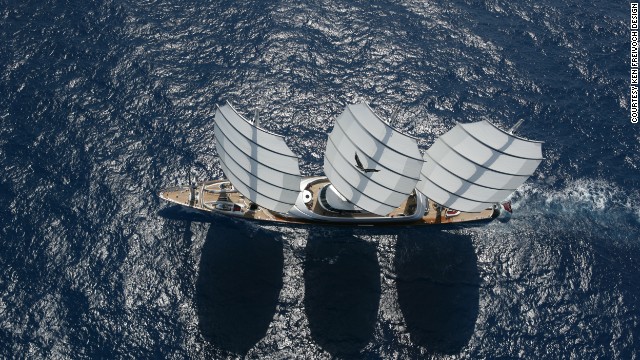 The 88.1-meter Maltese Falcon has one of the most advanced sailing systems in the world but the vessel designed by Ken Freivokh and launched in 2006 is in overshadowed by some of the larger yachts built since.
The motor-powered Azzam was launched in 2013 and is the largest yacht in the world. Stretching fully 180 meters, it is reportedly owned by the Emir of Abu Dhabi.
Russian billionaire Roman Abramovich's superyacht, Eclipse, cruises past Antibes Bay in southern France. At 162.5 meters, Eclipse is the world's second largest yacht.
Freivokh has been designing yachts for more than three decades and says he has noticed a change in the type of individuals investing in his company's services in recent years.
In the past clients generally had an interest in sailing and the intricacies of yacht performance but today it's all about luxury, Freivokh said.
The blueprints of a 100-meter superyacht by Ken Freivokh Designs, including helicopter garage, saloon and swimming pool. New entrants to the market from resource rich and fast developing nations are often keen on these facilities as opposed to specialized sailing technology, Freivokh said.
A computer-generated image of the Fortissimo yacht, the exterior of which was designed by Freivokh's company.
Stretching fully 145 meters, the Fortissimo would be one of the biggest in the world if built, but would still lag behind the 180-meter Azzam.
Freivokh believes individuals from other areas of design and architecture can bring exciting new aspects to yacht design. Superstar architect Zaha Hadid turned her hand to the discipline last year when she designed this vessel for German firm Blohm+Voss.
Hadid's signature curves offer a significant departure from a traditional yacht and bear more than a passing resemblance to the King Abdullah Financial District Metro Station she designed in Riyadh, Saudi Arabia.
A computer-generated image of the 141-meter Dream Symphony vessel, another Ken Freivokh Designs creation.
The Dream Symphony is still being constructed in Turkey and will be the largest sailing yacht in the world once completed in 2015.
Freivokh believes there are now few luxury amenities you can't fit on a yacht, as borne out by these plans to include an outdoor cinema.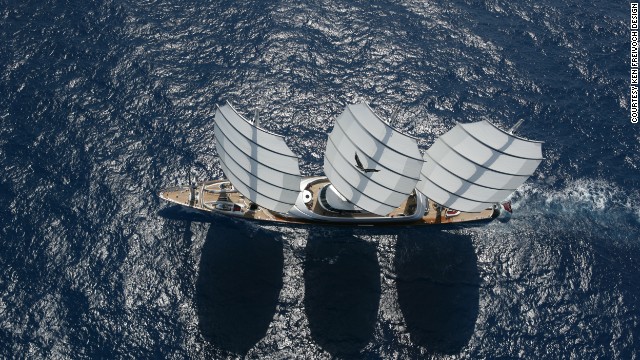 Inside the mind of a superyacht designer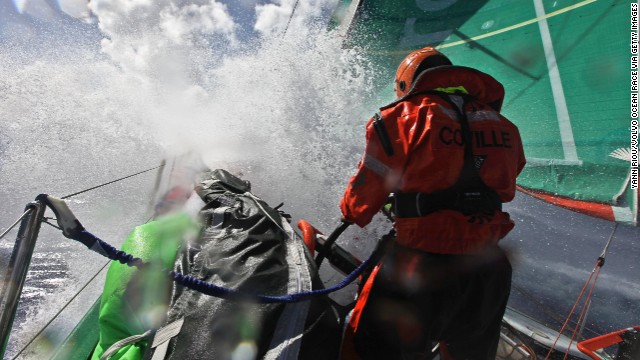 French skipper Thomas Coville is the latest yachtsman trying to tackle the round-the-world solo record in his trimaran Sodebo.
In February 2009, Michel Desjoyeaux became the first -- and still only -- man to twice win the Vendee Globe, considered by many the pinnacle of ocean racing.
The world's leading yachtsmen marvel at the often glorious skyline on their various solo voyages -- here the sun sets on British skipper Alex Thomson.
Sailors are left to spend months at sea on their own with only satellite phones and the occasional helicopter flying overhead to keep them company.
The end of each voyage is traditionally met by huge fanfare with tens of thousands of spectators. Here Francis Joyon celebrates his record of 57 days for circumnavigating the globe.
Britain's Robin Knox-Johnston was the first man to perform a singlehanded nonstop circumnavigation of the globe, in 1968.
In 2007, nearly four decades after his last circumnavigation and aged 68, Knox-Johnston once again sailed solo around the world in the VELUX 5 Oceans Race, being the oldest to ever enter the event.
Not all voyages, however, have gone to plan. Desjoyeaux's latest trip in the Transat Jacques Vabre ended up with him dismasting just 140 miles (260 kilometers) from the finish.
Steve White (second from right) with other Brits in the 2008-09 Vendee Globe and Knox-Johnston (second from left). White faced a battle just to fund his entry but finished a creditable eighth.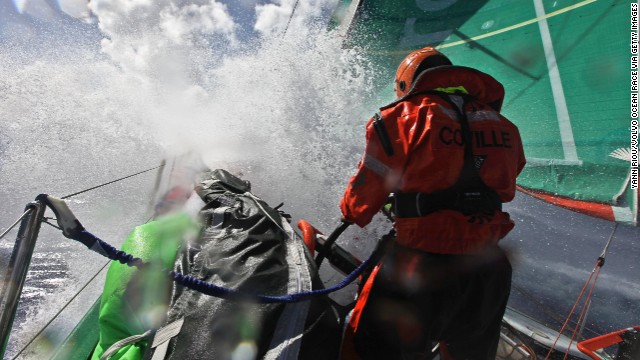 Sailing on the high seas around the world
"Turner was known to be a very poetic artist so you think of Ariel in the Tempest, or else Ariel the ship on which Percy Bysshe Shelley died."
At the time, the British Empire ruled the waves with the world's biggest navy.
"That was basically part of the national identity," Riding explains. "He's an artist responding to his history. Landscape artists by their very nature tend to have a maritime period but it was such a key time.
"He was born in 1775 when Captain Cook had just come back from his second voyage of discovery and the nation was a global sea power. It was almost part of his DNA from the outset."
Riding says Parker's expedition has echoes of Moran's journey, which came shortly after Turner's death in 1851 at the age of 76.
"He traveled the south coast to emulate his artistic idol, and you can see a heavy Turner influence in his work," Riding says.
Moran's subsequent work, paintings such as "The Shipwreck," were very Turner-esque in their use of bold colors and glowing, turbulent skies, as boats were tossed in different directions amid stormy seas.
More than a century and a half after Moran's voyage, Parker is following suit.
Read: Can't afford a house? Try this
Read: Sailing a lifesaver for record-breaking yachtswoman
See: The best sailing images of 2013