STORY HIGHLIGHTS
NEW: Michael Jace's arraignment continued until June 18 at the defense's request
April Jace died from "multiple gunshot wounds," autopsy finds
April Jace was found shot to death in a Los Angeles home Monday night
Playing an LAPD detective in "The Shield" is Jace's biggest and longest-running role
Los Angeles (CNN) -- Actor Michael Jace has been formally charged with one count of murder with a gun in the shooting death of his wife, the prosecutor's spokeswoman said Thursday.
April Jace, 40, died from "multiple gunshot wounds," according to preliminary autopsy results. The death was ruled a homicide by the Los Angeles County coroner, Deputy Chief Coroner Ed Winter said.
Jace, 51, made his first appearance in a Los Angeles courtroom Thursday afternoon. Bail was set at $2 million, and his arraignment was continued until June 18 at the defense's request.
"He's doing as well as somebody who is in custody," said Jason Sias, Jace's lawyer. "It's emotional. He wants to see this through. He's just thinking about his children."
Los Angeles police detectives presented their evidence against Jace, who played a Los Angeles cop in TV's "The Shield," to the district attorney Thursday morning, according to spokeswoman Jane Robison.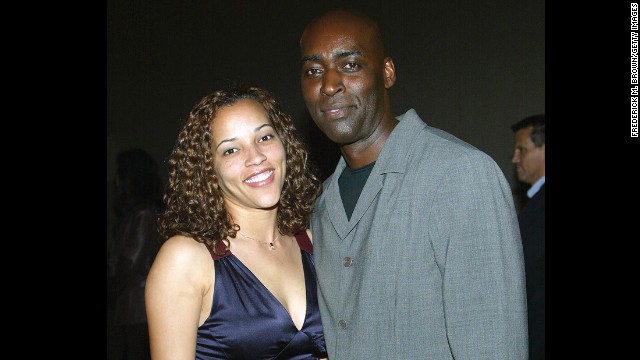 Actor Michael Jace, right, has been arrested in connection with the fatal shooting of his wife, April. Jace formerly appeared on the hit FX show "The Shield." His case is the latest of many shocking crimes in the showbiz world:
In 1958, a then 14-year-old Cheryl Crane, daughter of actress Lana Turner, stabbed her mother's boyfriend, Johnny Stompanato. Crane told police Stompanato, who had ties to organized crime, had threatened her mother with a knife. Here Crane is shown with three unidentified men at the time of her trial, which resulted in a ruling of justifiable homicide.
Vladimir "Spider" Sabich was an alpine ski racer who died in March 1976 after being shot by his girlfriend, singer and actress Claudine Longet. Longet was convicted of criminally negligent homicide and sentenced to 30 days in jail. She later married her defense attorney, Ron Austin, in 1986.
John Lennon -- seen here in 1969 with his wife, Yoko Ono -- was shot and killed in December 1980 outside of his apartment building in New York City by Mark David Chapman. Chapman remains jailed.
Probably one of the most famous cases ever involving a celebrity, O.J. Simpson, center, was arrested for the murders of his ex-wife, Nicole Brown Simpson, and her friend, Ron Goldman, in 1994. Here he confers with attorneys Johnnie Cochran, left, and Robert Shapiro, right, during a hearing in 1995. Simpson's friend Robert Kardashian stands behind him. Simpson, a former professional football player, was acquitted in the criminal case.
The murder of rapper Tupac Shakur remains unsolved. Shakur was shot and killed in Las Vegas in September 1996.
The death of rapper Christopher Wallace, known professionally as the Notorious B.I.G., and Biggie Smalls, has never been solved. Wallace was killed in March 1997 in Los Angeles when a gunman opened fire on his vehicle.
The marriage of "Saturday Night Law" star Phil Hartman and wife Brynn ended tragically in 1998 after she shot him to death in their bed and then took her own life.
Sean Combs, then known as "Puffy," is flanked by security and court guards as he leaves the first day of his trial in January 2001 in New York City. The rapper/producer was charged in connection with a 1999 shooting in a New York City nightclub. He was found not guilty of all of the charges.
Actor Robert Blake reacts after being found not guilty of murdering his wife, Bonny Lee Bakley, in 2005 in Van Nuys, California. Bakley was shot in the head while sitting in the couple's vehicle.
Music impresario Phil Spector, left, was sentenced to 19 years to life in 2009 for the shooting death of actress Lana Clarkson.
William Balfour was arrested in December 2008 and charged in the murders of the mother, brother and nephew of Oscar-winning actress and singer Jennifer Hudson. He was found guilty in 2012 and received three life sentences.
Tim Lambesis, lead singer of the metal band As I Lay Dying, was arrested and accused in May 2013 of seeking to have his wife killed. He was reportedly sentenced to six years.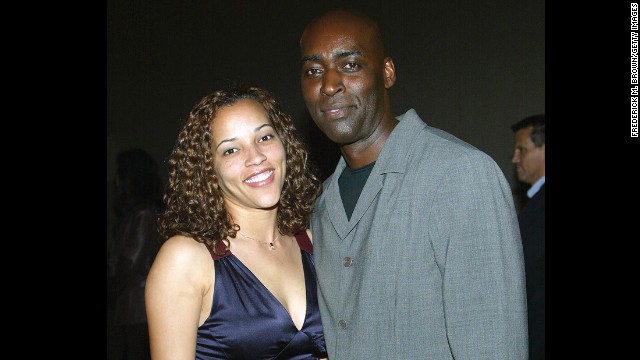 Shocking showbiz crimes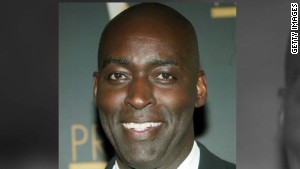 'Forrest Gump' actor charged with murder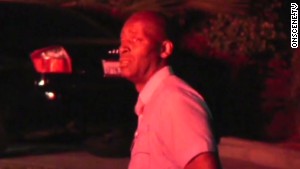 'Shield' actor charged in wife's death
Police found April Jace shot to death in her south Los Angeles home Monday night, Det. Lyman Doster said.
Michael Jace called 911 to report that his wife had been shot, Det. Dean Vinluan said, adding that he "was on the phone with the operator." Neighbors who heard gunshots also called 911, he said.
"At this moment, the motive of the murder is believed to be domestic violence," a police statement this week said.
Investigators detained Jace at the couple's Hyde Park-area home Monday night and booked the actor on a homicide charge early Tuesday, according to Doster.
Two children were in the home when their mother was shot, Vinluan said. The children, whose ages he would not reveal, were taken to a police station and then handed over to a representative of California's Department of Children and Family Services, he said.
Investigators have found no reports of domestic violence between the husband and wife at their south Los Angeles residence, another LAPD detective said.
A woman described as a close friend of Jace's first wife said in a sworn statement that she witnessed Jace physically abusing his wife in 1997. The declaration was in court records from Jace's 2005 custody case concerning his son with Jennifer Bitterman.
Jace "choked and hit" his wife and "slammed her against the wall while (their infant son) screamed in his crib next to her," Maria De Le Vegas said in the sworn declaration obtained by CNN.
Jace "was raging and out of control, and seeing the extent of his anger was one of the most terrifying things I have ever seen," she said.
Jace appeared to be suffering severe financial strain in recent years, according to court documents obtained by CNN. The actor filed for Chapter 13 bankruptcy in March 2011, citing $500,000 in debts and an annual income of around $80,000 from residuals from his TV and film work, the documents said.
Jace had defaulted on the $411,000 mortgage on the south Los Angeles home where his wife died, according to the documents.
He married April Jace in June 2003, a year after divorcing his first wife, with whom he shared a son who is now a teen.
The FX police drama "The Shield" was the biggest and longest-running role in Jace's 22-year acting career. He appeared in 89 episodes as Julien Lowe, who started as a rookie officer in an inner-city Los Angeles police precinct in 2002 and rose through the ranks to become a detective before the series ended in 2008, according to the Internet Movie Database.
He acted on several episodes of "Southland," another TV drama about Los Angeles police, between 2009 and 2012.
Jace often played a law enforcement or military officer on television shows. He is credited with roles in "CSI: Crime Scene Investigation," "Private Practice," "The Mentalist," "Burn Notice" and "NYPD Blue."
He had the title role of Michael Jordan in the 1999 TV movie about the NBA star, "Michael Jordan: An American Hero."
Jace played Officer Brown in Russell Crowe's 2009 film "State of Play," and he portrayed a Black Panther member in the 1994 blockbuster movie "Forrest Gump."
April Jace had worked for the past year as a financial aid counselor at Biola University, a private school in La Mirada, California, according to the school.
"We are obviously shocked and saddened by this terrible news, to lose a wonderful colleague, mother and friend," Biola President Barry Corey said in a written statement.
"April's radiant personality brought great energy to the financial aid office," financial aid director Geoff Marsh said. "Her love for helping students and families and her great work ethic earned the respect and love of her coworkers. Her smiling face and helpful spirit will be missed by all."
Photos: Shocking Hollywood crimes
CNN's Dottie Selin Darkalstanian contributed to this report.