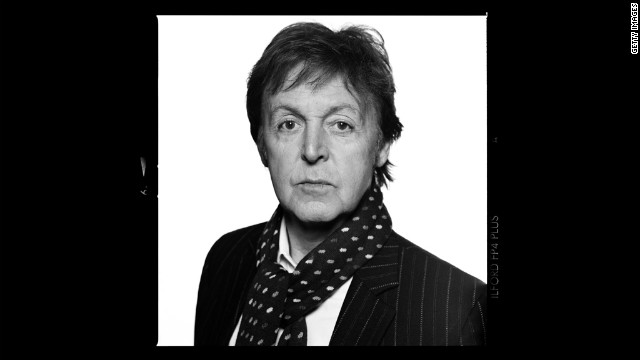 Paul McCartney was a founding member of The Beatles and is considered to be the "most successful composer and recording artist of all time."
The Silver Beatles, consisting of Stu Sutcliffe (from left), John Lennon, Paul McCartney, Johnny Hutch and George Harrison, perform on stage in Liverpool, England, in 1960.
McCartney, who was labeled the cute Beatle, poses for a portrait in London in 1964.
The Beatles, whose arrival in the U.S. in 1964 set off "Beatlemania," perform on stage at the London Palladium in 1963.
McCartney is hugged by an adoring fan after arriving at rehearsal for the TV show "Jukebox Jury" in London in 1964.
Sir Joseph Lockwood, chairman of EMI Music, presents The Beatles with two silver records for their albums "Please, Please Me" and "With The Beatles," which reached 250,000 sales.
McCartney performs in 1976 with the band Wings, which he formed after The Beatles disbanded in 1970.
McCartney with his first wife, Linda Eastman, and their daughters Stella (from left), Mary and Heather, at Heathrow Airport in London in 1974.
McCartney in the recording studio with Michael Jackson in 1983.
McCartney performs on stage during the Paul McCartney World Tour in Rotterdam, Netherlands, in 1989.
McCartney poses wtih Queen Elizabeth II at the Liverpool Institute for Performing Arts in 1996.
McCartney records the song "From a Lover to a Friend" for his 2001 album "Driving Rain." Following the September 11 terrorist attacks, he said all proceeds from the sales of the single would go to New York's fire and police departments.
In 2005, McCartney performs during the Super Bowl XXXIX halftime show in Jacksonville, Florida.
McCartney performs at the 2009 Coachella Music and Arts Festival in Palm Desert, California.
In 2006, Yoko Ono and McCartney attend "LOVE," a Beatles-inspired performance by Cirque du Soleil in Las Vegas.
McCartney performs onstage at the 54th annual Grammy Awards in Los Angeles on February 12, 2012.
Paul McCartney's career
Paul McCartney's career
Paul McCartney's career
Paul McCartney's career
Paul McCartney's career
Paul McCartney's career
Paul McCartney's career
Paul McCartney's career
Paul McCartney's career
Paul McCartney's career
Paul McCartney's career
Paul McCartney's career
Paul McCartney's career
Paul McCartney's career
Paul McCartney's career
Paul McCartney's career