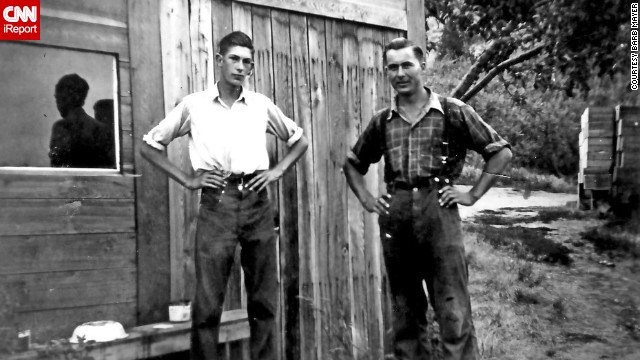 Denim jeans -- or trousers, waist overalls or dungarees -- started out as work-wear for hard labor in mines, factories and fields, as seen on
two fruit pickers
in British Columbia in 1942.
By the '50s, denim had become popular with everyday Americans, children included. The grandmother of
these twin boys
"thought it was time they looked like little boys instead of babies," said iReporter Janie Lambert, whose husband, right, was about 3 years old in this 1952 photo. The pants were a deep blue denim (no prewash in those days).
Jim Heston
was growing faster than his jeans were wearing out, so his mom sewed on the red extensions.
In the '60s and '70s, people began experimenting with flares, bell-bottoms and extensions to personalize their jeans and get a few extra years out of them. As a teenager in 1972,
Not all those looks were successful, especially early renditions of what's now known as the Canadian tuxedo. Patricia Alfano
sewed this ill-fitting outfit
for her husband, which he wore quite a bit until "I had to admit to him it was a 'fail'." All that denim, plus the large blocks of contrast "made him look like a hippie Smurf."
Clothing became another way for young people to challenge norms and minimize the gender gap, paving the way for the mainstreaming of jeans across all spectrums of society. Shown here in 1975,
Jim Heston
wore the belt buckle on the side of his waist.
cutoff denim shorts
came along. Barb Mayer, second from left, in 1974, says she would be embarrassed to wear such short shorts today.
Men were historically the ones promoting denim fashions, until
prewashed denims
, stone washing and other techniques to achieve a worn-out look. Jeans really were for everyone by then, from children to Brooke Shields, who famously proclaimed: "
You wanna know what comes between me and my Calvins? Nothing."
The '80s saw the development of more
Acid-washed
, severely bleached and ripped jeans were trendy in the mid- to late '80s, thanks to punk and heavy-metal rockers who popularized the style.
Just about every '80s kid in America
had a jean jacket
, preferably with patches, pins or rhinestones. In 1983, when Beth Barret was 13, her mom bought her this jacket and her grandmother sewed the patches. Barret's daughter, shown here in May, often wears it now.
In the 1990s, denim fell out of high fashion as other fabrics and styles overtook style trends in casual wear, like khakis and cargo pants. But the
high-waisted
and grunge styles of the decade are coming back.
load cattle on their farm
in Patricia, Alberta, in May 2013.
To this day, blue jeans remain the uniform for cowboys young and old. Here, Bruce Beasley and his grandson
Lesli Larson
(who both work in the apparel industry), favor raw denim from Japan, including their beloved
1947 Sugar Cane denim
. "They are simple, unadorned, and fill the role of classic blue jean better than any other pants that can be bought today," said Madden. Larson added, "I feel like I could toss out the rest of my wardrobe and live in these pants for the next decade. "
Recent years have seen a revival of appreciation for untreated denim common in the days of Jacob Davis and Levi Strauss. Today, however, purists like Tyler Madden, left, and
Blue jeans through the years
Blue jeans through the years
Blue jeans through the years
Blue jeans through the years
Blue jeans through the years
Blue jeans through the years
Blue jeans through the years
Blue jeans through the years
Blue jeans through the years
Blue jeans through the years
Blue jeans through the years
Blue jeans through the years