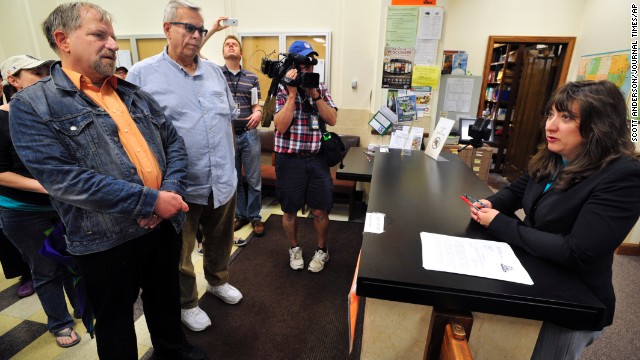 The Rev. Tony Larsen and his partner, Craig Matheus, are refused a marriage license by Racine County Clerk Wendy Christensen, right, in the clerk's office in Racine, Wisconsin, on Friday, June 13. The county does not grant marriage licenses to same-sex couples despite a judge's ruling that the state ban on gay marriage is unconstitutional.
Pastor Carol Hill from Epworth United Methodist Church speaks during a beachfront marriage equality ceremony at the Kathy Osterman Beach in Chicago, on Sunday, June 1, 2014. June 1 marked the first day that all of Illinois' 102 counties could begin issuing marriage licenses to same-sex couples.
William Roletter, left, and Paul Rowe, right, press close to one another after having their photo taken with their newly acquired marriage certificate at City Hall in Philadelphia, Pennsylvania, on May 21.
Same-sex couples get their marriage licenses at the Oakland County Courthouse in Pontiac, Michigan, on Saturday, March 22, a day after a federal judge overturned Michigan's ban on same-sex marriage.
Utah state Sen. Jim Dabakis, left, and Stephen Justesen acknowledge the crowd after being married in Salt Lake City on Friday, December 20. A federal judge struck down Utah's ban on same-sex marriage, saying it conflicted with the constitutional guarantees of equal protection and due process. Many Utah counties began issuing marriage licenses before the state appealed to the U.S. Supreme Court. The high court temporarily blocked enforcement of the lower court ruling until the constitutional questions are fully resolved.
Plaintiffs Laurie Wood, left, and Kody Partridge, center, and attorney Peggy Tomsic leave a federal courthouse in Salt Lake City on Wednesday, December 4, after a judge heard arguments challenging Utah's same-sex marriage ban.
Hawaiian Gov. Neil Abercrombie, left, and former Sen. Avery Chumbley celebrate with a copy of the Star-Advertiser after Abercrombie signed a bill legalizing same-sex marriage in Hawaii on Wednesday, November 13, in Honolulu. Hawaii's same-sex marriage debate began in 1990, when two women applied for a marriage license, leading to a court battle and a 1993 state Supreme Court decision that their rights to equal protection were violated by not letting them marry. Now the state is positioning itself for an increase in tourism as visitors arrive to take advantage of the law, which took effect December 2.
Newark, New Jersey, Mayor Cory Booker officiates a wedding ceremony for Joseph Panessidi and Orville Bell at City Hall on Monday, October 21. The state Supreme Court denied the state's request to prevent same-sex marriages temporarily, clearing the way for same-sex couples to marry.
A couple celebrates at San Francisco City Hall upon hearing about the U.S. Supreme Court rulings on same-sex marriage on June 26, 2013. The high court cleared the way for same-sex couples in California to resume marrying after dismissing an appeal on Proposition 8 on jurisdictional grounds.
In the other June 26 ruling, the Supreme Court struck down a key part of the Defense of Marriage Act, a 1996 federal law defining marriage as between a man and a woman. Jamous Lizotte, right, and Steven Jones pose for photos while waiting for a marriage license in Portland, Maine, in December 2012.
signing a same-sex marriage bill on March 1, 2012
. The law was challenged, but voters approved marriage equality in a November 2012 referendum.
Maryland Gov. Martin O'Malley, center, shakes hands with Senate President Thomas V. "Mike" Miller after
Washington Gov. Chris Gregoire celebrates after signing marriage equality legislation
into law on February 13, 2012. Voters there approved same-sex marriage in November 2012.
Olin Burkhart, left, and Carl Burkhart kiss on the steps of the New Hampshire Capitol in Concord in January 2010 as the
Maine state Sen. Dennis Damon left, hands Gov. John Baldacci the bill that the
Beth Robinson of the Vermont Freedom to Marry Task Force, who is among those who fought for marriage equality, on April 7, 2009.
Amy Klein-Matheny, left, and her wife, Jennifer, exchange vows in
Michael Miller, left, and Ross Zachs marry on the West Hartford Town Hall steps after same-sex marriages became legal in Connecticut on November 12, 2008.
Massachusetts approved same-sex marriage.
Massachusetts was the first state in the U.S. to do so.
Lara Ramsey, left, and her partner of eight years, Jane Lohmann, play with their 7-month-old son, Wyatt Ramsey-Lohmann. The two wed in 2004 after
Same-sex marriage in U.S.
Same-sex marriage in U.S.
Same-sex marriage in U.S.
Same-sex marriage in U.S.
Same-sex marriage in U.S.
Same-sex marriage in U.S.
Same-sex marriage in U.S.
Same-sex marriage in U.S.
Same-sex marriage in U.S.
Same-sex marriage in U.S.
Same-sex marriage in U.S.
Same-sex marriage in U.S.
Same-sex marriage in U.S.
Same-sex marriage in U.S.
Same-sex marriage in U.S.
Same-sex marriage in U.S.
Same-sex marriage in U.S.
Same-sex marriage in U.S.
Same-sex marriage in U.S.
Same-sex marriage in U.S.
Same-sex marriage in U.S.
Same-sex marriage in U.S.
Same-sex marriage in U.S.
Same-sex marriage in U.S.
Same-sex marriage in U.S.
STORY HIGHLIGHTS
NEW: Pennsylvania's governor says he won't challenge ruling in his state striking down ban
The Supreme Court issued its U.S. v. Windsor ruling last June
Since then, several states have legalized gay marriage on their own
Federal judges have struck several state bans, calling them unconstitutional
(CNN) -- The wave started last summer in the Supreme Court.
At 5-4, the high court's decision on United States v. Windsor wasn't unanimous. And it wasn't decisive: The federal government would now have to recognize marriages between gay and lesbian couples, but the ruling did not overturn prohibitions on such legal unions within individual states.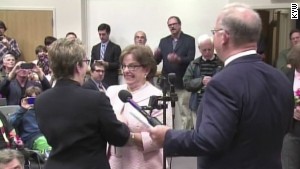 Same-sex marriages begin in Pennsylvania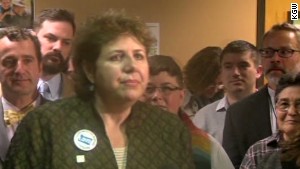 Gay rights advocate: America is ready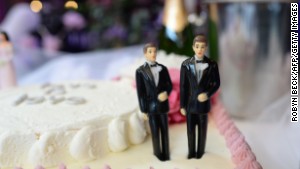 Ten years of same-sex marriage
Yet the prevailing opinion has proven to be momentous, especially given what's happened in its aftermath.
Since Windsor, many states have acted -- either via their courts or their legislatures -- to legalize same-sex marriage. And, over the past six months, federal judges have moved several other states in the same direction.
These district judges have cited Justice Anthony Kennedy's ruling on Windsor -- even though, in the opinion of University of California at Berkeley law professor Jesse Choper, that decision is "very cautious" and references both individual and states' rights arguments.
They have repeatedly claimed that having one set of marriage rules for heterosexuals and another for gays and lesbians violates Section 1 of the 14th Amendment, which declares that no state shall "deprive any person of life, liberty, or property, without due process of law; nor deny to any person within its jurisdiction the equal protection of the laws."
With about 70 cases working their way through the court systems, more district judges could issue their own decisions affecting yet more states. And three-judge appeals court panels will hear more cases, as has already happened in the 10th Circuit out of Denver and the 4th Circuit out of Richmond, Virginia.
Carl Tobias, a constitutional law professor at the University of Richmond, believes it's likely that the LGBT advocates' winning streak will end somewhere on the appellate level. While district judges function more independently, appeals court judges "tend to be more ideological," Tobias notes, and thus it's more likely they cumulatively will express opinions on both sides of the debate.
That said, whatever these appeals courts decide might be moot. Experts say this fast-moving wave of decisions will ultimately climax where it began, on the nation's top court -- with so-called "swing" justice Kennedy most likely siding with the winner.
As Choper says, "This will only authoritatively be decided by the U.S. Supreme Court."
Until then, here's a breakdown of what's happened in key states on same-sex marriage since the Windsor ruling on June 26, 2013 -- based on key developments by state, arranged roughly according to when they happened.
CALIFORNIA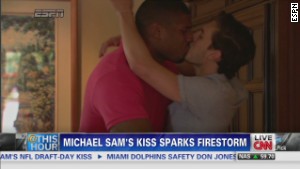 Granderson: Kiss a sign of NFL progress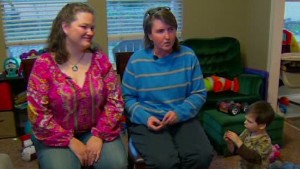 Same-sex moms: School sent mixed messages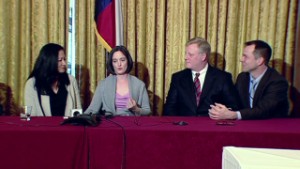 Texas: Same-sex marriage ban struck down
The Golden State has figured prominently in the same-sex marriage fight for years, with both sides winning key victories. It's perhaps fitting, then, that California's fate on this matter was effectively decided the same day as the Windsor case.
Four and a half years earlier, voters passed Proposition 8 amending the state's constitution to ban gay marriage. But several federal courts struck down that prohibition, even if their rulings didn't take effect immediately.
Meanwhile, California's leaders decided not to defend Prop 8. This ended up being key when the Supreme Court got the case. It ruled that private parties, rather than government officials, do not have "standing" to defend the voter-approved ballot measure -- clearing the way for same-sex marriages in California to resume immediately.
DELAWARE
For all the talk about courts, there has also been a lot of movement in state legislatures moving the needle on same-sex marriage over the past 11 months.
Delaware -- which previously had civil unions for gay and lesbian couples -- adopted full-fledged marriage rights on July 1, just a few days after the Windsor ruling.
RHODE ISLAND
Rhode Island similarly opened up to same-sex marriage on August 1, three months after Gov. Lincoln Chafee signed a landmark law in that state.
MINNESOTA
That same August day, Minnesota joined the same club following the passage of a similar law through its legislature. At that point, 13 states plus the District of Columbia allowed same-sex marriage.
Seven more states allowed civil unions between same-sex couples at that point in time, according to the National Conference of State Legislatures, though six of those also had laws against gay marriage.
NEW JERSEY
In September, Judge Mary Jacobson of New Jersey's Mercer County Superior Court ruled that same-sex couples must be allowed to marry in her state. The state's Supreme Court shortly thereafter denied state officials' attempt to temporarily prevent such marriages.
The biggest surprise may have been when Gov. Chris Christie -- a Republican with rumored presidential aspirations who vetoed a same-sex marriage bill in February 2012 -- decided to end his legal fight. That set the stage for gay and lesbian couples to wed in the Garden State starting on October 21.
HAWAII
During the 1990s the state Supreme Court found that giving marriage licenses to straight couples but not gay and lesbian ones was unconstitutional. But that decision did not lead to equal rights on marriage; in fact, a same-sex marriage ban made it into the state's constitution a few years later.
It wasn't until late last year (and nearly two years after civil unions were allowed) that gay and lesbian couples were given the chance to marry in the Aloha State, after a law moved through the state's legislature.
ILLINOIS
Illinois' state legislature passed a law in November, which Gov. Pat Quinn signed later that month, setting the stage for same-sex marriages there.
They were supposed to start June 1, 2014 -- but things didn't turn out that way.
A few days after Quinn put pen to paper, Patricia Ewert and Verinta Gray -- who was then suffering from a terminal cancer -- were married. Gray died the following March, according to local media reports.
U.S. District Court Judge Sharon Johnson Coleman ruled in February that same-sex couples in Chicago and surrounding Cook County could marry right away, contending "there is no reason to delay further when no opposition has been presented to this court."
NEW MEXICO
It was unanimous: Five justices on New Mexico's Supreme Court all agreed in December that their state's existing laws prohibiting same-sex marriage violated the state's constitution. That made New Mexico the 17th state to legalize gay marriage.
In the months before this decision, eight counties had been issuing marriage licenses to same-sex couples -- unions that were now affirmed to be valid and ordered be recognized statewide.
UTAH
Until December 20, 2013, most of the states in which same-sex marriages were overturned had a progressive or at least moderate history. But not so for Utah, where Republicans have won the most votes in the last 12 presidential elections -- including Mitt Romney garnering a whopping 73% of the vote in 2012, compared to Barack Obama's 25%.
That day, a federal judge ruled Utah's same-sex marriage ban unconstitutional. The 10th Circuit Court of Appeals on Christmas Eve denied state officials bid to temporarily stay that ruling. In fact, it wasn't until the U.S. Supreme Court stepped in January 6 to temporarily block the decision that the case was sent back to the appeals court.
In April,10th Circuit judges began hearing that appeal. But even as everyone waited for their decision, other courts continued to churn: U.S. District Judge Dale Kimball decided May 19 that the state must recognize the more than 1,000 gay and lesbian couples during that three-week stretch in late December and early January, according to a copy of the ruling posted by SCOTUSblog.
OKLAHOMA
U.S. District Court Judge Terence Kern similarly opined on January 14 that "Oklahoma's constitutional amendment limiting marriage to opposite-sex couples violates the Equal Protection Clause of the Fourteenth Amendment of the U.S. Constitution."
But his ruling didn't take right away. Kern stayed his own ruling until the likely appeals worked their way through the legal process. As with the Utah case, that 10th Circuit heard arguments on Oklahoma in December.
KENTUCKY
The Bluegrass State was thrust into this debate on February 12, after U.S. District Judge John G. Heyburn II declared that "it is clear that Kentucky's laws treat gay and lesbian persons differently in a way that demeans them." Yet like Kern, Heyburn prevented his own ruling from immediately taking effect.
Politicians took the next step in March. Stating Heyburn "got it right" and that "these laws will not likely survive upon appeal," state Attorney General Jack Conway said he wouldn't devote state resources to an appeal. But Gov. Steven Beshear -- a Democrat, like Conway -- said he'd hire outside lawyers to press the case, contending that "Kentucky should be part of this process" until the Supreme Court weighs in.
VIRGINIA
Virginia's same-sex marriage ban -- including a constitutional amendment that passed in 2006 -- was struck done one day after that of Kentucky. U.S. District Judge Arenda Wright Allen followed Heyburn's lead in another way, too, by staying her ruling pending appeal.
The 4th Circuit U.S. Court of Appeals heard 70 minutes of arguments on the case on May 13, during which time its members offered dramatically different views over the constitutionality and scope of Virginia's ban.
What the three judges in Richmond seemed to agree on was that both sides of the issue were using the intermediate court as a "way-station up (Interstate) 95" to the Supreme Court, where the social, political and legal debate will ultimately and almost certainly be resolved.
TEXAS
Virginia may have been the first traditionally Southern state to have its same-sex marriage ban struck down. But it's not seen as being nearly as conservative as Texas, where San Antonio-based federal Judge Orlando Garcia issued a sweeping decision on February 26 saying the current state restrictions serve "no legitimate government purpose."
The ruling was immediately stayed pending appeal. Still, LGBT advocates in the state of Gov. Rick Perry and former President George W. Bush celebrated the judgment nonetheless, with one plaintiff calling it "an awesome first step."
MICHIGAN
The court action moved to the Great Lakes in March, when U.S. District Judge Bernard Friedman issued a decision he said "affirms the enduring principle that regardless of whoever finds favor in the eyes of the most recent majority, the guarantee of equal protection must prevail."
He did not put off his ruling, as other judges had done. The next day, the 6th Circuit U.S. Court of Appeals instituted a temporary stay -- by which time some gay and lesbian couples had married in the meantime.
OHIO
In February, a Quinnipiac University survey found that 50% of Ohio voters support legalizing same-sex marriage in their state -- the same place where, over eight years earlier, a state constitutional amendment barring this very thing was passed.
U.S. District Judge Timothy Black moved Ohio in that direction on April 14, ruling that the state must recognize same-sex marriages performed legally in other states as valid. But he did not put this ruling in effect immediately. Nor did he open the doors to gay and lesbian couples from actually marrying within Ohio.
ARKANSAS
Pulaski County Circuit Judge Chris Piazza on May 9 broke a string of seven consecutive decisions by federal judges on same-sex marriage, though his sentiment was the same: His state's law barring gay and lesbian couples from marrying should not stand.
One week later -- after a back-in-forth in which Piazza was forced to issue an updated, "final" order -- Arkansas' Supreme Court stopped any more same-sex marriages in the state. All of this left the legal status of more than 400 gay and lesbian couples who had gotten marriage licenses in the meantime in limbo.
IDAHO
As the Arkansas drama was unfolding, U.S. Magistrate Judge Candy Wagahoff Dale ruled that Idaho, too, shouldn't be able to prevent gay and lesbian couples from marrying. Like other judges, she asserted the state's marriage ban didn't jive with the Constitution's 14th Amendment.
Dale was firm in her decision, but still gave a few days before the order could take effect (and, thus, same-sex couples could marry). That hasn't happened, with local media (including the Idaho Statesman) reporting Tuesday the 9th U.S. Circuit Court of Appeals staying Dale's ruling pending appeal.
OREGON
On Monday, the same-sex marriage prohibition written into Oregon's state constitution after a 2004 vote was struck down by U.S. District Judge Michael McShane. And it may stay down: While the National Organization for Marriage filed an appeal, no state officials have said they'll challenge McShane's ruling.
Unless or until a high court steps in, the first marriages Monday between gay and lesbian couples could continue indefinitely.
PENNSYLVANIA
The Keystone State was the last to see its gay marriage ban fall, at least in some fashion. U.S. District Judge John E. Jones said that Pennsylvania's current ban (written into the state's legal code, but not its constitution) is not legally valid and opined that, in the future, "the label same-sex marriage will be abandoned, to be replaced simply by marriage."
A day later, it looked like Jones' decision would hold up. State Attorney General Kathleen Kane announced right away that she would not fight the order in court. And on Wednesday, Gov. Tom Corbett -- a Republican who made a point to express his personal belief that "marriage is between one man and one woman" -- said that he wouldn't press the issue either because such an appeal "is extremely unlikely to succeed."