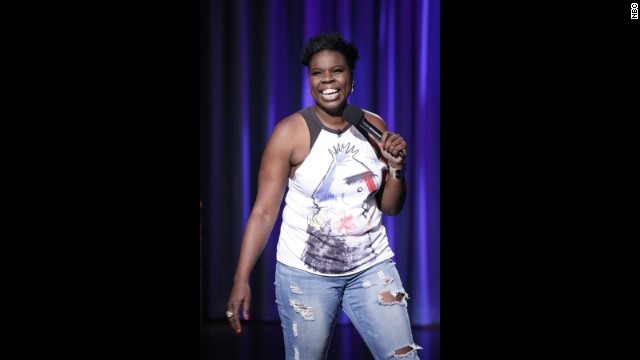 Leslie Jones is going from "Saturday Night Live's" writers room to the main stage. The comedic talent
has been promoted
to "SNL's" main cast after getting her start behind the scenes in January. Click through to see other female SNL comedians through the years:
Laraine Newman was one of the original cast members, appearing from 1975 to 1980. She went on to have a successful career in acting and doing voice work, including "Beavis and Butt-Head" and "Despicable Me 2."
Gilda Radner, left, made characters such as Roseanne Roseannadanna popular during her time on the show from 1975 to 1980. She died of ovarian cancer in 1989.
Jane Curtin was an original cast member who helped make "Weekend Update" popular. After leaving in 1980, she found further fame on the sitcoms "Kate & Allie" and "3rd Rock from the Sun."
Before "Seinfeld" made her a superstar, Julia Louis-Dreyfus was cast on "Saturday Night Live" from 1982 to 1985.
Canadian actress Robin Duke followed up her gig on another late-night comedy sketch show, "SCTV," with a spot on the show from 1981 to 1984.
boycotted an episode of the show
to protest what she viewed as the misogynistic humor of Andrew Dice Clay.
Nora Dunn appeared for five years beginning in 1985. She once famously
Danitra Vance was the first African-American female full cast member from 1985 to 1986. She had roles in some films including "Little Man Tate" and died of breast cancer in 1993.
Her official time on the show was from 1986 to 1991, but Jan Hooks, right, continued to appear on the show occasionally until 1994. She later had roles on "Designing Women" and "30 Rock." She died on October 9 at 57 years old.
Victoria Jackson appeared from 1986 to 1992. She is now known more for her political activism and has written the book "Is My Bow Too Big? How I went from Saturday Night Live to the Tea Party."
Julia Sweeney started as a feature player before becoming a regular from 1990 to 1994. She's done some one-woman plays and is a regular on the NPR quiz show "Wait, Wait ... Don't Tell Me."
Ellen Cleghorne became the first black female cast member to stay beyond one season when she was on the show from 1991 to 1995. She has mostly been off the Hollywood scene lately, appearing only occasionally in films such as "Old School."
Janeane Garofalo left after six months during the 1994-1995 season before starring in the hit film "The Truth About Cats & Dogs." In recent years, she's appeared in TV shows including "24."
Sarah Silverman, left, was only on the show from 1993 to 1994 and Jenny Slate from 2009 to 2010 but both made an impression during their brief times on "Saturday Night Live."
After appearing on the show from 1995 to 2000, Cheri Oteri has been seen in several films, including "Liar, Liar," "Dumb and Dumberer" and "Scary Movie."
Ana Gasteyer often teamed with Will Ferrell for some funny musical skits during her time on "SNL" from 1996 to 2002. She currently stars on the ABC series "Suburgatory."
Rachel Dratch specialized in quirky characters while on the show from 1999 to 2006. She appeared on "30 Rock" with fellow "SNL" alum Tina Fey. In 2012, her book "Girl Walks Into a Bar: Comedy Calamities, Dating Disasters and a Midlife Miracle" was published.
Molly Shannon made the character of Mary Katherine Gallagher a cult hit during her time on the show from 1995 to 2001. That character was the subject of the feature film "Superstar" in 1999.
Tina Fey spent her time on the show from 1997 to 2006 as not only a cast member but also the first female head writer. She found further fame as the creator and star of "30 Rock" and writer of the film "Mean Girls."
"Saturday Night Live" veteran Maya Rudolph took on playing everyone from LaToya Jackson and Whitney Houston to Donatella Versace during her tenure from 2000 to 2007. She has appeared on TV with "Up All Night" and in films like "Bridesmaids" and "Grown Ups." On May 19, she tried her hand at the TV variety show with a special on NBC.
Amy Poehler and BFF Fey not only hosted the "Golden Globes" and co-starred in their film "Baby Mama," but they also both became break-out stars of the show. Poehler appeared on the show from 2001 to 2009. She now stars on the sitcom "Parks and Recreation."
Abby Elliott is not just the daughter of former "SNL" cast member Chris Elliott, she also appeared on the show from 2008 to 2012.
Kristen Wiig used her time on the show from 2005 to 2012 to carve out a career in movies such as "Bridesmaids" and "The Secret Life of Walter Mitty."
Appearing as a regular cast member since 2012, Vanessa Bayer has been making her mark with impersonations, including Miley Cyrus.
Aidy Bryant was promoted from feature player in 2013.
Cecily Strong, right, began co-anchoring "Weekend Update" in 2013.
for an EWwy Award
for her performance on the show.
Kate McKinnon has been a cast member since 2012. In 2013, she was nominated
The women of 'Saturday Night Live'
The women of 'Saturday Night Live'
The women of 'Saturday Night Live'
The women of 'Saturday Night Live'
The women of 'Saturday Night Live'
The women of 'Saturday Night Live'
The women of 'Saturday Night Live'
The women of 'Saturday Night Live'
The women of 'Saturday Night Live'
The women of 'Saturday Night Live'
The women of 'Saturday Night Live'
The women of 'Saturday Night Live'
The women of 'Saturday Night Live'
The women of 'Saturday Night Live'
The women of 'Saturday Night Live'
The women of 'Saturday Night Live'
The women of 'Saturday Night Live'
The women of 'Saturday Night Live'
The women of 'Saturday Night Live'
The women of 'Saturday Night Live'
The women of 'Saturday Night Live'
The women of 'Saturday Night Live'
The women of 'Saturday Night Live'
The women of 'Saturday Night Live'
The women of 'Saturday Night Live'
The women of 'Saturday Night Live'
The women of 'Saturday Night Live'
The women of 'Saturday Night Live'
The women of 'Saturday Night Live'