STORY HIGHLIGHTS
Thai beauty queen accused of hateful comments against pro-government protesters
Weluree Ditsayabut won the Miss Universe Thailand beauty pageant Saturday
On Facebook, she reportedly called for red shirt supporters to be "executed"
Weluree has apologized for the "careless" remarks
(CNN) -- She was only crowned Miss Universe Thailand on Saturday but Weluree "Fai" Ditsayabut has already become caught up in the political crisis engulfing her country, after comments were found on her Facebook page referring to pro-government demonstrators as "dirty," "evil activists" that should "all be executed."
According to news site Khaosod English, the 22-year-old has often published scathing comments about the "red shirt" movement on her Facebook page, which now appears to have been deleted.
"I am not neutral. I am on the side of His Majesty the King," Weluree said in a comment from November, Khaosod English reported. "I'm so angry at these evil activists. They should all be executed."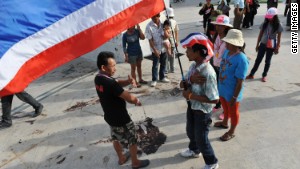 Thai military threatens to quell protests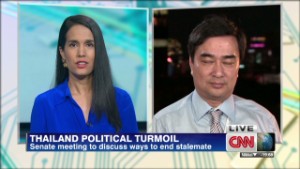 Solving Thailand's political crisis?
Weluree reportedly said Thailand would be cleaner if the "dirty" red shirts left the country.
Pro-government supporters have questioned Weluree's pageant victory on popular online forums and social media sites. A Facebook page in protest of her winning the competition had over 10,000 "likes" on Monday -- although some users criticized her appearance and claimed she won because of her connections, rather than raising concerns about her anti-red shirt comments.
The deputy director of Human Rights Watch's Asia division, Phil Robertson, condemned Weluree's remarks on Twitter. "Perhaps (a) better title is Miss Politically Divided #Thailand? Shameful when beauty queens are calling for executions," he wrote.
Weluree -- an actress, talk show host, and English student -- apologized Monday for the remarks in an interview on Thailand's Channel 3. "I was careless. I was young. I did it recklessly," she said. "It won't happen again."
Weluree beat the pageant favorite Pimbongkod "Ellie" Chankaew who placed second in Saturday's competition.
The pageant organizers have not responded to the controversy, nor have the leaders of the pro-government movement.
Thailand's political turmoil began in November when the government attempted to pass a controversial amnesty bill that would have cleared the way for the return of then-prime minister Yingluck Shinawatra's brother, Thaksin, to politics. The former prime minister and tycoon has been living in self-imposed exile to avoid a corruption conviction after being overthrown in a military coup in 2006.
Since November, the People's Democratic Reform Committee has led anti-government protesters, who are mostly middle-class royalists, in calling for Yingluck's government to be replaced with an unelected "people's council."
Competing rallies have been held by pro-government supporters, many of whom come from the country's rural north and northeast and view Shinawatra's ouster as a "judicial coup."
Yingluck was found guilty of abuse of power and removed from office along with several cabinet ministers on May 7, and indicted by Thailand's anti-graft body. If the Senate votes to impeach her, she could be banned from politics for five years.
Monday marks a particularly sensitive day for the red shirt movement as the anniversary of a military crackdown that left more than 90 people dead and thousands injured in 2010.
Army chief issues warning as violence returns to Bangkok
Protesters descend on Thai capital seeking government's ouster
CNN's Karla Cripps and Tim Hume contributed to this report.