STORY HIGHLIGHTS
NEW: Plaintiff: "It means that my son's family is just as legitimate as the one next door"
Judge: Oregon's voter-approved same-sex marriage ban is unconstitutional
Activist after the ruling: "Love won today"
Opponents of same-sex marriage say Oregon abandoned citizens in court
(CNN) -- A federal judge struck down Oregon's voter-approved ban on same-sex marriage Monday.
"Because Oregon's marriage laws discriminate on the basis of sexual orientation without a rational relationship to any legitimate government interest, the laws violate the Equal Protection Clause of the Fourteenth Amendment to the United States Constitution," U.S. District Judge Michael McShane said in his ruling.
Oregon voters passed Measure 36 in 2004, which amended the state's Constitution to define marriage as between one man and a woman.
In February, the state's attorney general said she would not defend the ban in court because it would not stand up to a federal constitutional challenge.
"My decision will not be the final word on this subject, but on this issue of marriage I am struck more by our similarities than our differences. I believe that if we can look for a moment past gender and sexuality, we can see in these plaintiffs nothing more or less than our own families, families who we would expect our Constitution to protect, if not exalt, in equal measure," McShane said. "With discernment we see not shadows lurking in closets or the stereotypes of what was once believed; rather, we see families committed to the common purpose of love, devotion, and service to the greater community."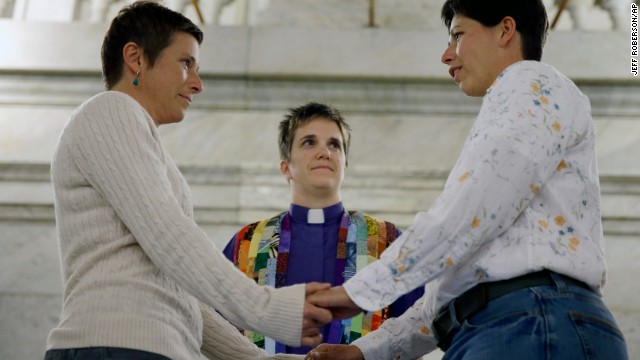 April Dawn Breeden, left, and longtime partner Crystal Peairs are married by the Rev. Katie Hotze-Wilton at St. Louis City Hall on Wednesday, November 5. A Missouri judge on November 5 overturned the state's ban on same-sex marriages and ordered registrars to start issuing licenses to gay and lesbian couples. More than 30 states and the District of Columbia allow marriage for same-sex couples.
Rachael Beierle, left, and Boise City Council President Maryanne Jordan, center, laugh at a joke during Amber Beierle's wedding vows Wednesday, October 15, at City Hall in Boise, Idaho. With Boise Mayor Dave Bieter out of town, Jordan officiated the wedding as acting mayor. Earlier this month, a federal appeals court found that same-sex marriage bans in Idaho and neighboring Nevada were unconstitutional.
Chad Biggs, left, and his fiance, Chris Creech, say their wedding vows in Raleigh, North Carolina, on Friday, October 10, after a federal judge ruled that same-sex marriage can begin there.
Joshua Gunter, right, and Bryan Shields attend a rally in Las Vegas to celebrate an appeals court ruling that overturned Nevada's same-sex marriage ban on Tuesday, October 7.
From left, plaintiffs Moudi Sbeity; his partner, Derek Kitchen; Kody Partridge; and Partridge's wife, Laurie Wood, celebrate after a news conference in Salt Lake City on Monday, October 6. The U.S. Supreme Court had just cleared the way for legal same-sex marriages in five more states -- Virginia, Utah, Nevada, Indiana and Wisconsin.
Abbi Huber, left, and Talia Frolkis exit the City County Building in Madison, Wisconsin, after applying for a marriage license on October 6.
Rob MacPherson, right, and his husband, Steven Stolen, hug during a news conference at the American Civil Liberties Union in Indianapolis on October 6.
Mary Bishop, second from left, and Sharon Baldwin, right, celebrate with family and friends following their wedding ceremony on the courthouse steps in Tulsa, Oklahoma, on October 6.
Jennifer Melsop, left, and Erika Turner kiss after they were married in front of the Arlington County Courthouse in Arlington, Virginia, on October 6.
Pastor Carol Hill from Epworth United Methodist Church speaks during a marriage-equality ceremony at the Kathy Osterman Beach in Chicago on Sunday, June 1. June 1 marked the first day that all of Illinois' 102 counties could begin issuing marriage licenses to same-sex couples.
William Roletter, left, and Paul Rowe, right, press close to each other after having their photo taken with their newly acquired marriage certificate Wednesday, May 21, at City Hall in Philadelphia.
Julie Engbloom, left, and Laurie Brown embrace after they were wed in Portland, Oregon, on Monday, May 19. A federal judge struck down the state's voter-approved ban on same-sex marriage.
Jennifer Rambo, right, kisses her partner, Kristin Seaton, after their marriage ceremony in front of the Carroll County Courthouse in Eureka Springs, Arkansas, on Saturday, May 10. Rambo and Seaton were the first same-sex couple to be granted a marriage license in Eureka Springs after a judge overturned Amendment 83, which banned same-sex marriage in Arkansas.
Same-sex couples get their marriage licenses at the Oakland County Courthouse in Pontiac, Michigan, on Saturday, March 22, a day after a federal judge overturned Michigan's ban on same-sex marriage.
Utah state Sen. Jim Dabakis, left, and Stephen Justesen acknowledge the crowd after being married in Salt Lake City on Friday, December 20. A federal judge struck down Utah's ban on same-sex marriage, saying it conflicted with the constitutional guarantees of equal protection and due process. Many Utah counties began issuing marriage licenses before the state appealed to the U.S. Supreme Court. The high court temporarily blocked enforcement of the lower court ruling until the constitutional questions were fully resolved.
Plaintiffs Laurie Wood, left, and Kody Partridge, center, walk with attorney Peggy Tomsic on Wednesday, December 4, after a judge heard arguments challenging Utah's same-sex marriage ban.
Hawaiian Gov. Neil Abercrombie, left, and former Sen. Avery Chumbley celebrate with a copy of the Star-Advertiser after Abercrombie signed a bill legalizing same-sex marriage in Hawaii on Wednesday, November 13.
Newark, New Jersey, Mayor Cory Booker officiates a wedding ceremony for Joseph Panessidi and Orville Bell at City Hall in October 2013. The state Supreme Court denied the state's request to prevent same-sex marriages temporarily, clearing the way for same-sex couples to marry.
A couple celebrates at San Francisco City Hall upon hearing about the U.S. Supreme Court rulings on same-sex marriage in June 2013. The high court cleared the way for same-sex couples in California to resume marrying after dismissing an appeal on Proposition 8 on jurisdictional grounds. The court also struck down a key part of the Defense of Marriage Act, a 1996 federal law defining marriage as between a man and a woman.
At the state Capitol in St. Paul, Minnesota, Gov. Mark Dayton signs a bill legalizing same-sex marriage in May 2013.
Delaware Gov. Jack Markell holds up legislation in May 2013 allowing same-sex couples to wed in the state.
Rhode Island state Sen. Donna Nesselbush, right, embraces a supporter after the Marriage Equality Act was signed into law at the statehouse in Providence in May 2013.
Jamous Lizotte, right, and Steven Jones pose for photos while waiting for a marriage license in Portland, Maine, in December 2012.
Maryland Gov. Martin O'Malley, center, shakes hands with Senate President Thomas V. "Mike" Miller after signing a same-sex marriage bill in March 2012. The law was challenged, but voters approved marriage equality in a November 2012 referendum.
Washington Gov. Chris Gregoire celebrates after signing marriage-equality legislation into law on February 13, 2012. Voters there approved same-sex marriage in November 2012.
Phyllis Siegel, right, kisses her wife, Connie Kopelov, after exchanging vows at the Manhattan City Clerk's office on July 24, 2011, the first day New York's Marriage Equality Act went into effect.
In 2010, television reporter Roby Chavez, right, shares a moment with gay rights activist Frank Kameny during Chavez and Chris Roe's wedding ceremony in the nation's capital. Same-sex marriage became legal in Washington in March 2010.
Olin Burkhart, left, and Carl Burkhart kiss on the steps of the New Hampshire Capitol in January 2010 after the state's law allowing same-sex marriage went into effect.
Maine state Sen. Dennis Damon, left, hands Gov. John Baldacci the bill that the state Senate passed in May 2009 to affirm the right of same-sex couples to marry.
Amy Klein-Matheny, left, and her wife, Jennifer, exchange vows in Iowa after same-sex couples were allowed to marry there with a court ruling in April 2009.
Michael Miller, left, and Ross Zachs marry on the West Hartford Town Hall steps after same-sex marriages became legal in Connecticut on November 12, 2008.
Lara Ramsey, left, and her partner of eight years, Jane Lohmann, play with their 7-month-old son, Wyatt Ramsey-Lohmann. The two wed in 2004 after Massachusetts approved same-sex marriage. Massachusetts was the first state to do so.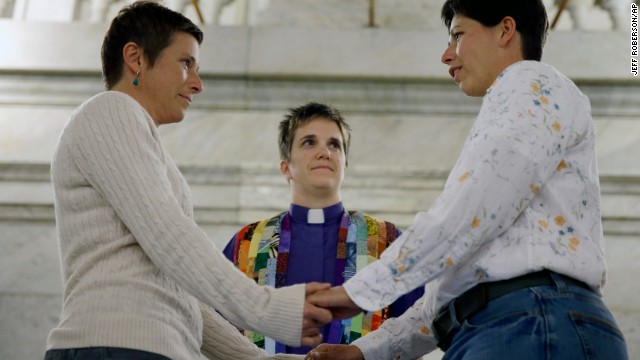 Photos: Same-sex marriage in the U.S.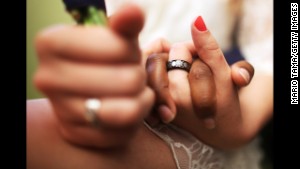 Gov: Equality a fundamental American idea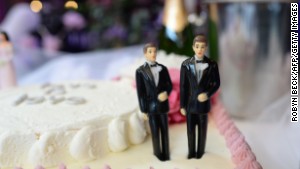 Ten years of same-sex marriage
Same-sex couples camped out in lawn chairs outside a government building in Oregon's largest county while waiting for the news, then cheered as word of the judge's decision spread.
Multnomah County began issuing marriage licenses to same-sex couples minutes later, the county said in a statement.
Ben West, one of the plaintiffs who challenged Oregon's constitutional ban, stood beside his fiance and his son as he told CNN affiliate KGW that he was thrilled by the news.
"We're excited. It's surreal. We're part of history. Our family is recognized, I mean, I'm tingling. It's amazing," he said.
"It means that my son's family is just as legitimate as the one next door, and that he can grow up proud."
At a news conference shortly after the judge's ruling, activists and attorneys who challenged the amendment celebrated the news.
"Love won today," said Marty Rouse, national field director for the Human Rights Campaign.
Ten years ago, Rouse said, the first same-sex marriages in the United States were celebrated in Massachusetts. And 45 years ago marked another historic moment, he said.
"Same-sex couples were arrested and sent to jail for dancing together at establishments like the Stonewall Inn," he said. "Today, 45 years later, in 18 states and now including Oregon and the District of Columbia, same-sex couples are dancing together at their own weddings, and they have wedding rings, not handcuffs. History in Oregon. Congratulations."
Meanwhile, the National Organization for Marriage, which opposes same-sex marriage, said it had filed a motion with the 9th Circuit Court of Appeals asking judges to block McShane's ruling.
"This case is an ugly example of inappropriate cooperation between the Attorney General and the gay marriage lobby, both of whom want to redefine marriage in contravention of the overwhelming decision of the people to define marriage as the union of one man and one woman," Brian Brown, the organization's president, said in a statement. "The people of Oregon are entitled to a defense of their decision on marriage rather than being abandoned in court."
Same-sex marriage now allowed in 18 states
The Oregon ruling continues a near-unbroken string of state and federal court victories nationwide in the past year for supporters of same-sex marriage.
Seventeen other states and the District of Columbia allow same-sex marriage within their borders: California, Connecticut, Delaware, Hawaii, Illinois, Iowa, Maine, Maryland, Massachusetts, Minnesota, New Hampshire, New Jersey, New Mexico, New York, Rhode Island, Vermont, and Washington. Just over a decade ago, there were none.
Earlier this month, judges in Arkansas and Idaho ruled that same-sex marriage bans in those states were unconstitutional. Both decisions are being appealed.
This month also marks the two-year anniversary of President Barack Obama voicing his public support for the first time of same-sex marriage, citing his own "evolution" on the issue.
"At a certain point, I've just concluded that for me personally it is important for me to go ahead and affirm that I think same-sex couples should be able to get married," Obama said at the time.
Groups supporting same-sex marriage applauded the Oregon ruling.
"The importance of Judge McShane's decision cannot be overemphasized," said David Fidanque, executive director of the ACLU of Oregon. "Our federal Constitution does not allow any state -- or its voters -- to deny same-sex couples equal protection under the law simply because of who they are and who they love. This type of discrimination is wrong, and it's also unconstitutional."
But court battles over the matter are far from over.
About 70 cases dealing with same-sex marriage are now making their way through U.S. courts.
Separate federal appeals courts in recent weeks heard challenges to same-sex marriage bans in Utah, Oklahoma and Virginia. Similar appeals will be heard on current bans in Nevada, Texas, Kentucky, Ohio and Michigan.
Federal judge orders Utah to recognize same-sex marriages
Also Monday, a federal judge said Utah must recognize the marriages of more than 1,200 same-sex couples who obtained marriage licenses earlier this year after a court struck down that state's same-sex marriage ban.
The U.S. Supreme Court days later issued a stay preventing any more same-sex marriages, but that action left those who got married in the interim in legal limbo.
The judge's ruling Monday says Utah must give those couples "all the protections, benefits, and responsibilities given to all marriages under Utah law."
While some details of the Oregon and Utah cases are similar, there's a key difference. In Utah, the state is appealing a judge's decision to overturn its voter-approved ban of same-sex marriage. Gov. Gary Herbert slammed what he said was a decision by an "activist federal judge."
In Oregon, officials are taking the opposite tack, praising the judge's ruling overturning their state's same-sex marriage ban.
"Now, finally, all Oregonians will have the opportunity to make a legal commitment to the person they love. Every person and every family in Oregon deserves that chance," Gov. John Kitzhaber said in a statement. "Today is a win for love, for families, and for freedom."
CNN's Ralph Ellis, Karan Olson, Matthew Stucker and Shane Deitert contributed to this report.