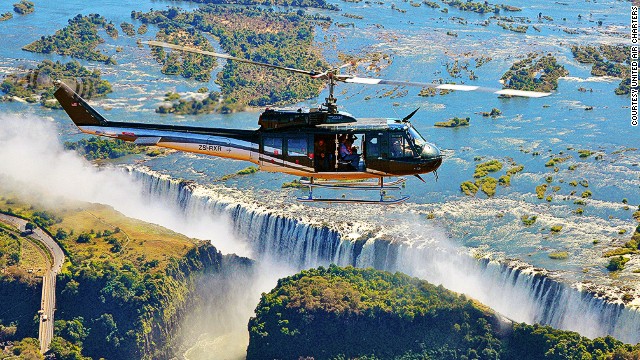 With fully open side doors, the 13-passenger Huey zigzags above the Zambezi River before rapidly rising up and over Victoria Falls.
African Profile Safaris offers private flights over the Kalahari Desert and the Okavango Delta in southern Africa.
This is just part of the amazing view of Cape Town and the Cape of Good Hope from the Table Mountain Cableway.
While it's far from Africa's highest bungee (216-meter/710-foot Bloukrans Bridge in South Africa is the hightest), 44-meter/144-foot Nile High Bungee offers the best view of any jump.
Skydive Diani and Kenya Skydivers offer exhilarating free falls over the Indian Ocean coast and East African bush.
Experienced climbers can make this breathtaking ascent in a single day along the Eastwood Route.
Africa's great dormant, snow-capped volcano is known for its high-altitude flora and equatorial glaciers.
Located in Kafue, Zambia's oldest and largest national park, the Busanga Plains are known for vast herds, diverse species and healthy populations of large animals. Wildlife can be seen up close from hot air balloons.
Flying over the bush in a two-seater with an open cockpit is a throwback to the days when legendary pilots such as Denys Finch Hatton and Beryl Markham explored Africa by air.
Located on Gezira Island in the middle of the Nile, the Cairo Tower was opened in 1961. A 2009 makeover added elevators, restaurants (one of them revolving) and other facilities.
Zipline fliers can control their speed as they hurtle through Tsitsikamma, a jumble of rainforest, rivers and rocky cliffs along South Africa's Garden Route.
Huey helicopter, Victoria Falls (Zambia)
Private flights (Namibia, Botswana)
Table Mountain Cableway (South Africa)
Nile bungee (Uganda)
Skydiving (Kenya)
West Face at Mulanje (Malawi)
Mount Kilimanjaro (Tanzania)
Busanga Plains hot air balloon (Zambia)
Microlight flights (South Africa)
Cairo Tower (Egypt)
Tsitsikamma zipline (South Africa)