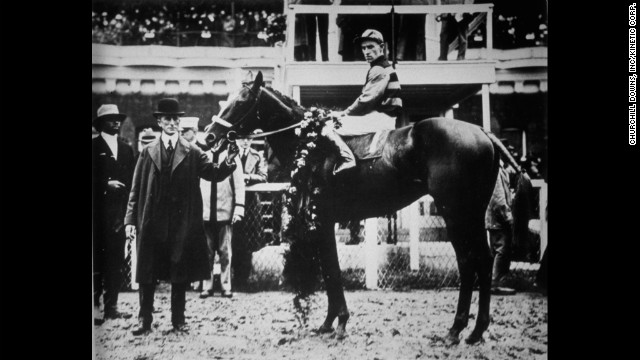 Here's a look back at the 11 horses who've managed the feat. Sir Barton was the first horse to earn the Triple Crown of Thoroughbred Racing, as it would come to be known, by winning the Kentucky Derby, Preakness Stakes and Belmont Stakes in 1919.
More than a decade later, Gallant Fox captured the Triple Crown in 1930.
Omaha -- the son of Gallant Fox -- won the Triple Crown in 1935. Here, jockey Pat Beasley rides the horse in 1936.
War Admiral took the Triple Crown in 1937. He won 21 of his 26 career starts.
Whirlaway (here with horse Robert Morris) won the Triple Crown in 1941 and was named Horse of the Year.
Count Fleet, who won the Triple Crown in 1943, is adorned with a garland of flowers after winning the Preakness Stakes in 1943.
Assault won the Triple Crown in 1946.
Citation at Belmont Park in 1947. He would win the Triple Crown the following year.
Secretariat, left, heads to victory with jockey Ron Turcotte at the Kentucky Derby in 1973. Considered by many to be the greatest racehorse of all time, Secretariat still holds the record for the fastest times in all three Triple Crown races. He won the Belmont Stakes by an astounding 31 lengths.
Jockey Jean Cruguet guides Seattle Slew to the Triple Crown at the Belmont Stakes in 1977.
Jockey Steve Cauthen rides Affirmed to victory at the Belmont Stakes in 1978.
Triple Crown winners
Triple Crown winners
Triple Crown winners
Triple Crown winners
Triple Crown winners
Triple Crown winners
Triple Crown winners
Triple Crown winners
Triple Crown winners
Triple Crown winners
Triple Crown winners
STORY HIGHLIGHTS
California Chrome wins the Preakness and could contend for the Triple Crown
Mike Downey says nasal strips could get in the way, if racing officials object to them
He says the horse's fans won't be happy if it's not allowed to race with nasal strips
No horse has won the Triple Crown since 1978
(CNN) -- Breaking nose news!
California Chrome CAN wear a nasal strip on June 7 in the Belmont Stakes, the third leg of horse racing's "Triple Crown," track officials confirmed on Monday, so we can all breathe a little easier about him now.
I keep hearing why California Chrome can't become our next Superhorse, with a capital S:
Chrome can't win the Kentucky Derby because: 1) he is the odds-on favorite to win, and the derby's favorite "never" wins, and 2) he is a California-bred, and a California horse "never" wins the derby.
Then he DID win the Derby.
Chrome can't win the Preakness because: 1) he developed a cough before the race, so he's obviously too "hoarse" to win (hahaha), and 2) the horse ate like a pig for two solid weeks following the Kentucky Derby, putting on so much weight that there's no way he will win the Preakness.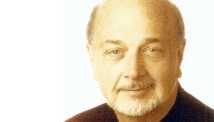 Mike Downey
Then he DID win the Preakness.
I suppose it shouldn't have been a shock that I began hearing why California Chrome wouldn't win the Belmont Stakes on June 7, and with it the "Triple Crown" of horse racing, becoming the first horse to earn this coveted crown since Affirmed in 1978.
He was going to lose it by a nose.
Literally.
California Chrome wears a nasal strip, not unlike human beings who want to keep dust and dirt and true grit and other stuff that's hazardous to your health out of their sinus passages.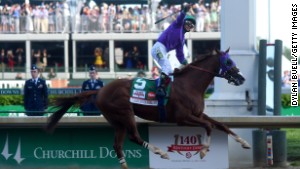 Will nasal strips end Triple Crown bid?
He has won six races in a row with a nasal strip across his handsome proboscis. It obviously gave this California smog-breather a little breathing room.
But whoa ... a possibility suddenly existed that Chrome wouldn't be permitted to wear a nasal strip for the Belmont race, which at a mile and a half is the longest of the Triple Crown events and which is run on Long Island in New York, which has been known to have a speck of dust or two.
(Hey, it's an "island.")
The last time this nasal-strip business came up, a horse named I'll Have Another had just won the Kentucky Derby and Preakness to become the four-legged darling of 2012. If it could win the Belmont next, it could become the 12th horse in the history of thoroughbred hoofbeats to win that Triple Crown.
Not to mention the prize money and the millions of dollars in stud fees that went along with it.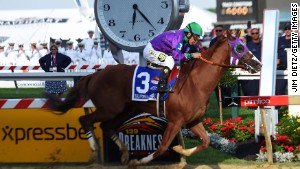 California Chrome, ridden by Victor Espinoza, crosses the finish line to win the Preakness Stakes at Pimlico Race Course Saturday.
Back in 2012, Belmont's racing officials had notified I'll Have Another's handlers that a nasal strip would be prohibited. It is up to each organization's discretion whether to permit such a thing, so Belmont's decision makers, along with those from the New York Racing Association, had the final say.
It became moot when I'll Have Another was withdrawn on the eve of the Belmont, unable to go for "another" due to a sore tendon.
This weekend, the nose thing reared its ugly head again.
Chrome's trainer, 77-year-old Art Sherman, pointed out Sunday that there was a distinct possibility the horse's owners might yank their fast horse right out of the race.
He said a nasal strip had been the idea of Perry Martin, the horse's co-owner, who has been thoroughly pleased with the thoroughbred's success since strapping it onto his schnoz.
"He might not run if they say you can't run with a nasal strip," Sherman suggested.
Martin is an unpredictable guy. He didn't even attend Saturday's running of the Preakness. The horse's other owner, Steve Coburn, a walrus-mustached Wilford Brimley lookalike in a cowboy hat, indicated his partner Martin was still doing a burn over what he deemed to be inhospitable treatment at Churchill Downs during the Kentucky Derby.
It wasn't long after California Chrome's impressive victory (by a length and a half) in Maryland that the downside of the Louisville experience, two weeks before, reared its ugly head. "Even though we won (the Kentucky Derby), it was a bad day for my partner and his family," Coburn blurted out on Martin's behalf.
One complaint reportedly was the way the needs of Martin's mother, an elderly woman in a wheelchair, were not met after Martin went to great effort to bring her to Churchill Downs for the race. By coincidence, Ron Turcotte, the jockey of the great Secretariat during the 1970s, also is in a wheelchair and complained about Churchill Downs' indifference to his situation. Turcotte implied that he would never go to a Kentucky Derby again.
"Handicap" is strictly a horse-race term in this generation, no longer a permissible word in regard to human physicality. Oh, though, it sure is becoming a topical double-entendre these days at Churchill Downs.
As for a certain living creature's breathing needs?
Sherman said of nasal strips, "A lot of horses all over California wear them all the time ... Maryland lets you use them."
Furthermore, harness-race horses -- trotters and pacers pulling sulkies -- apparently do have permission in New York to wear nasal strips as well.
But would Belmont say nay to Chrome's wearing one?
Nope, they say OK.
California Chrome, the coast is clear. And so is your nasal cavity, so on you go to the third and last run for everlasting glory.
Triple Crown winners thus far: Sir Barton (1919), Gallant Fox (1930), Omaha (1935), War Admiral (1937), Whirlaway (1941), Count Fleet (1943), Assault (1946), Citation (1948), Secretariat (1973), Seattle Slew (1977) and Affirmed (1978). That's it.
I wasn't among the 123,469 spectators at Pimlico who saw Saturday's running of the Preakness. I did, 3,000 miles away, go to Santa Anita, basically the "home track" of California Chrome, to watch the race alongside thousands of his fans, many of whom wore a free purple or green California Chrome cap they were given as they entered the track.
It was a sunny, smog-free day under a beautiful blue sky, so I saw no human in a face mask.
If the West Coast's favorite horse didn't get to run in New York because of what he didn't get to wear, a lot of these people would have had a new reason to hold their noses. They'd have all been saying, "This stinks."
Luckily, no hanky-panky is happening and Chrome is good to go. The nose mess has been cleared up.
(Note: This article was updated with news of the decision by New York officials Monday to allow the nasal strips.)
Follow us on Twitter @CNNOpinion.
Join us on Facebook/CNNOpinion.