STORY HIGHLIGHTS
Residents are returning home, after thousands had fled
Crews have battled more than 1,500 wildfires so far this year
Stubborn drought has made the area ripe for fire
Three people were arrested on suspicion of arson
Have you been affected? Please share your photos and video with CNN iReport if you can do so safely.
(CNN) -- The Cocos Fire is slated to go down for the count on Sunday, after scorching almost 2,000 acres of land.
Crews battling that blaze and other wildfires in Southern California expect to have it 100% contained before the day is done. And many of the other fires should meet with the same fate soon, they say.
A shift in the weather pattern has put the wind at their backs, figuratively speaking, bringing in cooler winds and moist air from the Pacific Ocean.
That means that Cocos resident Eloisa will get to return home after taking up temporary residence on a green cot in a high school gymnasium.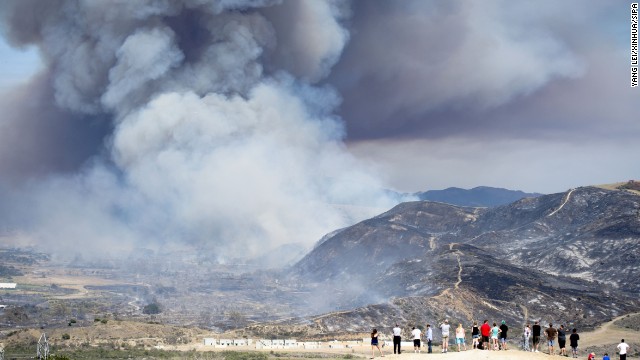 Residents watch a wildfire near San Diego on Friday, May 16. Wildfires devoured more than 20,000 acres in San Diego County after a high-pressure system brought unseasonable heat and gusty winds to the parched state.
A paddleboarder watches two helicopters grab water from the Pacific Ocean to fight wildfires near Camp Pendleton, California, on May 16.
Smoke plumes rise May 16 behind the entrance to Camp Pendleton, a U.S. Marine Corps base.
A Marine helicopter scoops water from the ocean to fight a wildfire near Camp Pendleton on May 16.
Flames light up the sky May 16 near Camp Pendleton.
A helicopter drops water near homes in San Marcos, California, on May 16.
Marines move military vehicles near the entrance to Camp Pendleton on May 16.
People look over a canyon ravaged by fire in Carlsbad, California.
Fire engulfs a structure in Escondido, California, on Thursday, May 15.
A firefighter pulls a hose on May 15 while battling a wildfire in San Marcos.
A house in San Marcos burns on May 15.
A helicopter from the San Diego County Sheriff's Department drops water on flames in the hills of San Marcos, California, on May 15.
A huge plume of smoke in San Marcos is seen on May 15 from atop Mount Soledad in La Jolla, California.
The grille of a pickup truck is left melted by a wildfire in San Marcos.
Smoke rises as a wildfire closes in on houses near San Marcos on May 15.
Jeff Brown wets down the roof of his Escondido home as a wildfire smolders around it on May 15.
A helicopter drops retardants onto a wildfire May 15 in San Marcos.
A wildfire burns near homes and California State University in San Marcos on Wednesday, May 14.
A house in San Marcos is consumed by a wildfire on May 14.
Firefighters spray water on a burning building in Carlsbad, California.
A firefighter puts out a spot fire in San Marcos.
A plane drops fire retardant over a hot spot in San Marcos on May 14.
A woman flees a wildfire as it crosses a highway in Carlsbad on May 14.
A firefighter sprays water onto a fully engulfed home in Carlsbad on May 14.
A helicopter flies over burning vegetation near homes in Carlsbad on May 14.
A firefighter puts water on a smoldering fence outside a home in Carlsbad on May 14.
A woman is escorted to safety May 14 in Carlsbad.
A Carlsbad police officer turns traffic away as flames rage behind him on May 14.
A wildfire approaches buildings in Carlsbad on May 14.
A helicopter drops water near the Rancho Santa Fe neighborhood of San Diego on Tuesday, May 13.
Trees burn on May 13 as a San Diego wildfire moves through a canyon between Rancho Santa Fe and the Fairbanks Ranch area.
A wildfire threatens luxury homes in the Fairbanks Ranch area on May 13.
Firefighters prepare to take on a wildfire in San Diego.
A helicopter battles a San Diego wildfire on May 13.
Firefighters arrive to assist local personnel in San Diego on May 13.
Smoke rises from a canyon where a San Diego wildfire burned on May 13.
Firefighters watch from a ridge as a helicopter drops retardant on flames in San Diego on May 13.
Billowing smoke rises as firefighters trek up the hills to battle a San Diego fire on May 13.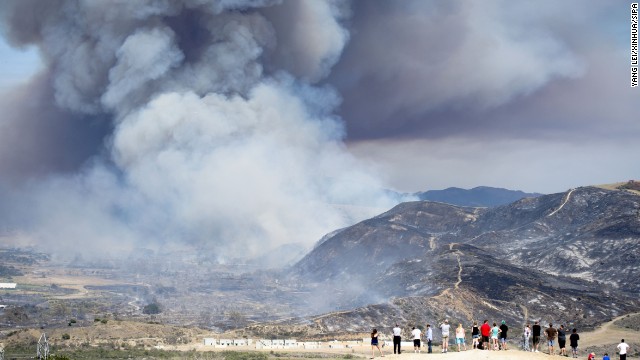 Photos: California wildfires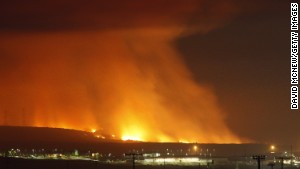 The air assault on California fires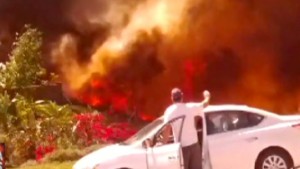 Wildfires caught on camera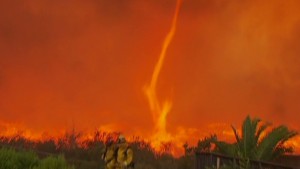 Bizarre fire tornado forms in wildfire
The Red Cross had converted it into a fire shelter and lined up dozens of the cots in uniform rows and columns. Most of them were empty, and Eloisa, who didn't give her last name, was one of the few guests left inside.
She told CNN affiliate KGTV that she is not ready to leave because of a culinary delight she tasted there.
"I don't like Mexican food, but they had something called fajitas," she said. "Oh, I came for seconds."
Good food at shelters notwithstanding, many residents have been able to return home, as crews have tamed walls of fire.
It has put a mass exodus into reverse.
In all, 176,000 notices of evacuation had been sent throughout San Diego County via cell phone calls, e-mails, text messages and calls to homes and businesses.
Battleweary
Firefighters are very close to bringing another enemy to its knees, the Combat Fire, which has consumed 6,500 acres of land, according to Marine Corps base Camp Pendleton.
And the fight against an even bigger blaze, the Las Pulgas Fire, is 55% won. It has eaten away 15,000 acres of vegetation -- a patch about the size of Manhattan Island.
When the last of the flames have ceased to roar, more than 1,000 firefighters from Cal Fire will pack up over 100 engines and more than two dozen water trucks and bulldozers.
That's not counting the ranks of firefighters from the Marine Corps and their equipment.
The numbers are already lower than they were at the peak of the blazes' rage.
At one point, at least eight wildfires singed the bone-dry mountains and valleys, and fire planes doused smoldering swaths with bright red fire retardant.
But if predictions are correct, the exhausting work of the firefighters is far from over, as the fire season this year is expected to be particularly bad.
And the crews' fortitude has been put to the test already.
Since January 1, Cal Fire has responded to over 1,500 wildfires. This week's rash of blazes is a reminder of just how extreme the drought in California is.
If the hazardous conditions were not enough, investigators suspect that arson may have contributed to some smaller blazes. Three people have been arrested, one of whom has been charged.
In anticipation of what calamities may come, the agency is urging all Californians to ensure they are prepared by visiting ReadyForWildfire.org.
Flames have swallowed up dozens of homes and businesses already this year. And the wildfire season has only just begun.
Evolution of a disaster
The wave of wildfires started Tuesday with the Bernardo Fire in San Diego County. The next day, new blazes popped up -- each one separate from the others, each posing its own dangers.
Here's where some of the major California fires stood Sunday morning, according to the agencies responsible for tracking them. The fires are listed by the names they have been given. The list begins with active fires and ends with contained fires:
Cocos Fire
Acres Burned: 1,995
Contained: 85%
Tomahawk Fire
Acres Burned: 5,400
Contained: 97%
San Mateo Fire
Acres Burned: 1,500
Contained: 80%
Las Pulgas Fire
Acres Burned: 15,000
Contained: 55%
Highway Fire
Acres Burned: 380
Contained: 100%
Poinsettia Fire
Acres Burned: 600
Contained: 100%
Bernardo Fire
Acres Burned: 1,548
Contained: 100%
Bone dry + brutal heat + gusty winds = unseasonably early wildfires
Are you there? If you're in a safe place, please share your photos and videos.
CNN's Carma Hassan, Joe Sutton, Chelsea J. Carter and Kisa Mlela Santiago contributed to this report