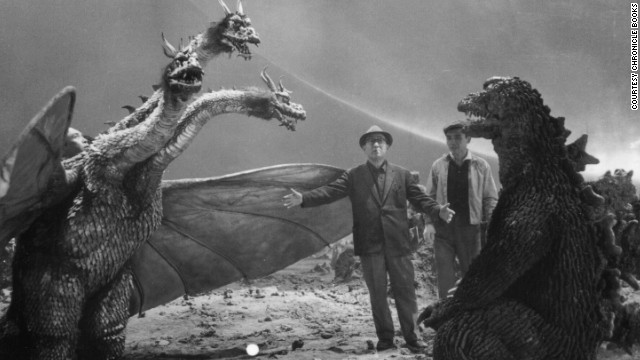 Eiji Tsuburaya was a visual effects mastermind, and audiences are still reaping the rewards of his genius. As the man behind such classics as "Godzilla" and "Ultraman," Tsuburaya is the
subject of the book "Eiji Tsuburaya: Master of Monsters."
Here he runs through the direction of the battle between Godzilla and King Ghidorah in 1965's "The Great Monster War." Click through for a look at more images from the book.
Mechanical engineer Akinori Takagi, left, and members of the effects crew work on the 1964 film "The Greatest Battle on Earth."
Tsuburaya with a prop from 1968's Admiral Yamamoto. The book about his amazing career,
The King Kong costume constructed for 1962's "King Kong vs. Godzilla" was reused in episode 2 of the Eiji TV series "Ultra Q," "Goro and Goroh," as the monster Goro.
Tsuburaya and the 33-foot Mothra "costume" in 1961. Note the detailed miniature fields in the background.
Rodan descends upon Fukuoka City in 1956's "Rodan." Since the title beast was a flying monster, Tsuburaya's crew had the opportunity to build more intricate and elaborate cityscapes than they had for "Godzilla."
Tsuburaya supervises Mothra's attack on New Kirk City in 1961.
Tsuburaya supervises an effects scene from 1955's "Godzilla Raids Again." The Godzilla costume was considerably thinner than the one used in the first movie.
Godzila on the beach, shooting a scene for the U.S. version of 1964's "Mothra vs. Godzilla."
Katsumi Tezuka offers a drink to Haruto Nakajima, left, while filming the U.S. version of "Mothra vs. Godzilla."
Haruo Nakajima in the Godzilla costume from 1966's "Big Duel in the South Seas." By this time, he'd spent more than 10 years playing the role of Japan's most beloved monster.
A publicity photo for 1954's "Godzilla."
"Godzilla" stars Akira Takarada, bottom, and Momoko Kochi clown around at Toshimitsu's fabrication studio with the unfinished monster costume in 1954.
Eiji Tsuburaya: Master of Monsters
Eiji Tsuburaya: Master of Monsters
Eiji Tsuburaya: Master of Monsters
Eiji Tsuburaya: Master of Monsters
Eiji Tsuburaya: Master of Monsters
Eiji Tsuburaya: Master of Monsters
Eiji Tsuburaya: Master of Monsters
Eiji Tsuburaya: Master of Monsters
Eiji Tsuburaya: Master of Monsters
Eiji Tsuburaya: Master of Monsters
Eiji Tsuburaya: Master of Monsters
Eiji Tsuburaya: Master of Monsters
Eiji Tsuburaya: Master of Monsters