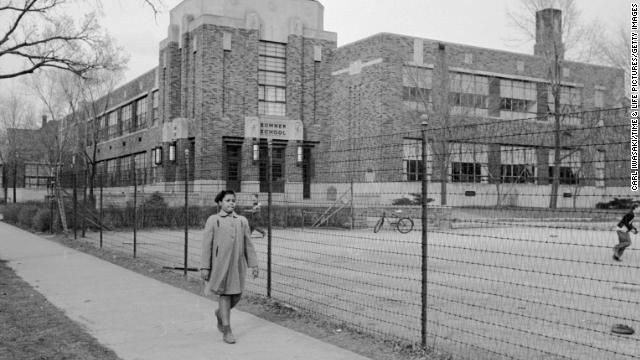 Linda Brown, 9, walks past Sumner Elementary School in Topeka, Kansas, in 1953. Her enrollment in the all-white school was blocked, leading her family to bring a lawsuit against the Topeka Board of Education. Four similar cases were combined with the Brown complaint and presented to the U.S. Supreme Court as
Brown v. Board of Education
. The court's landmark ruling on the case on May 17, 1954, led to the desegregation of the U.S. education system.
Linda Brown, center, and her sister Terry Lynn, far right, take a bus to Monroe Elementary School, an all-black school in Topeka, in 1953.
The Brown sisters attend class at Monroe Elementary School in 1953. Linda is on the front row on the right, and Terry Lynn is in the far left row, third from the front.
From left, lead lawyers Harold P. Boulware, Thurgood Marshall and Spottswood W. Robinson III confer at the U.S. Supreme Court prior to presenting arguments in 1953. Marshall, the NAACP's Special Counsel and lead counsel for the plaintiffs, argued the case before the Supreme Court.
Among the other cases attached to Brown v. Board of Education was Dorothy Davis, et al. v. County School Board of Prince Edward County, Virginia. Pictured are some of the more than 100 students named in that case. The lawsuit initially sought repairs to Robert Moton High School, a segregated school in Farmville, Virginia. The suit was named for Dorothy E. Davis, pictured in the center with glasses.
People wait in line outside the Supreme Court during the hearings in 1953.
One of the key pieces presented against segregation was psychologist Kenneth Clark's "Doll Test" in the 1940s. Black children were shown two dolls, identical except for color, to determine racial perception and preference. A majority preferred the white doll and associated it with positive characteristics. The court cited Clark's study, saying, "To separate [African-American children] from others of similar age and qualifications solely because of their race generates a feeling of inferiority as to their status in the community that may affect their hearts and minds in a way unlikely ever to be undone."
From left, lawyers George E.C. Hayes, Thurgood Marshall and James M. Nabrit join hands outside the U.S. Supreme Court on May 17, 1954, in celebration of the court's historic ruling. The ruling read in part: "We conclude that, in the field of public education, the doctrine of 'separate but equal' has no place. Separate educational facilities are inherently unequal."
Fourth-graders, both black and white, dash for the playground at St. Martin School in Washington on September 17, 1954. The Supreme Court ruling did not set a schedule for the integration of schools, rather calling for "deliberate speed." The District of Columbia and four states acted to end segregation promptly, while other areas met with resistance.
Alex Wilson, a reporter from the Tri-State Defender, is shoved by an angry mob of white people near Central High School in Little Rock, Arkansas, on September 23, 1957. The fight started when nine black students gained entrance to the school as the U.S. Army enforced integration.
National Guardsmen escort a black student from high school in Sturgis, Kentucky, at the end of a school day in September 1956.
Ten years after the Supreme Court's decision, protests were still taking place. Here, 2-year-old Prentice Sharpe joins older children picketing a predominantly black elementary school in Albany, New York, on May 18, 1964.
Desegregating U.S. schools
Desegregating U.S. schools
Desegregating U.S. schools
Desegregating U.S. schools
Desegregating U.S. schools
Desegregating U.S. schools
Desegregating U.S. schools
Desegregating U.S. schools
Desegregating U.S. schools
Desegregating U.S. schools
Desegregating U.S. schools
Desegregating U.S. schools
STORY HIGHLIGHTS
Donna Brazile: Students of color increasingly attend schools that don't reflect nation's diversity
Public schools in many cities outperform those supported by vouchers, she says
School privatization, she says, results in more segregation, not improved education
Editor's note: Donna Brazile, a CNN contributor and a Democratic strategist, is vice chairwoman for voter registration and participation at the Democratic National Committee. She is a nationally syndicated columnist, an adjunct professor at Georgetown University and author of "Cooking With Grease: Stirring the Pots in America." She was manager for the Gore-Lieberman presidential campaign in 2000. The opinions expressed in this commentary are solely those of the author.
(CNN) -- On Saturday, we will commemorate the 60th anniversary of Brown v. Board of Education, the U.S. Supreme Court decision that outlawed school segregation. Across the country, people are reflecting on the current state of educational opportunities for children of color.
In Milwaukee, parents, educators, students and community members are coming together to support educational opportunities for young people, and to challenge the increasing segregation and lack of resources facing young people of color today. I will join them in that celebration.
But Milwaukee is among the most racially and economically segregated major metropolitan regions in the country. It registers the largest discrepancy in employment rates between African-Americans and whites. Wisconsin has the widest gap in test scores between black and white students.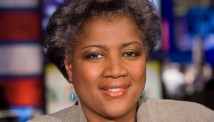 Donna Brazile
The problems in Milwaukee and Wisconsin are not unique. In cities across the country, students of color increasingly attend schools that do not reflect the diversity of our national community. The biggest metro areas in the Northeast and Midwest have been epicenters of re-segregation. In the 1990s and 2000s, school districts across the South, after being released from Brown-era, court-enforced integration, began gerrymandering school attendance zones, effectively separating black and white students.
Today, black students in the South attend majority-black schools at levels not observed for 40 years. In Tuscaloosa, Alabama, for example, nearly one in three black students attends a school that looks like Brown never even happened.
The result is that the achievement gap, which steadily decreased during integration, is widening as re-segregation occurs.
Integrated schools help students achieve academic success in the present and personal success in the future. Students of color who attended integrated schools in the decades immediately following Brown were more likely to graduate high school, go to college, earn higher wages, live healthier lifestyles and not have a criminal record than their peers in segregated schools. (Diverse schools can also decrease prejudice and teach all students how to navigate an increasingly diverse nation.)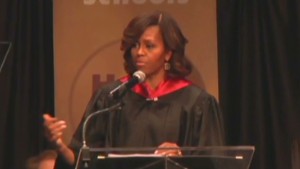 First Lady: Some schools 'aren't equal'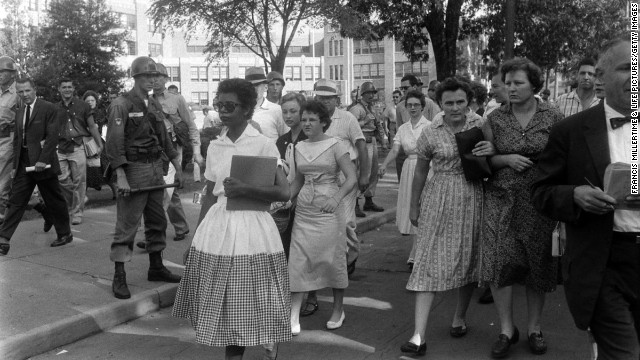 Arguably the most critical school desegregation battle in American history took place in 1957, three years after the Supreme Court's landmark Brown v. Board of Education ruling, when nine African-American students -- known ever after as the Little Rock Nine -- integrated Arkansas' Little Rock Central High School. On September 4, 1957 -- the first day of school -- a crush of reporters and photographers chronicled the scene as Arkansas National Guardsmen blocked 15-year-old Elizabeth Eckford, the first of the nine to arrive, from entering school grounds. See more of LIFE's coverage of the Little Rock Nine.
Arkansas National Guardsmen prevent African-American students from entering Little Rock Central High School.
Members of the Little Rock Nine arrive at school, only to be turned away by Arkansas National Guardsmen.
Segregationists picket in Little Rock.
Within days, President Dwight Eisenhower underscored the government's commitment to the Supreme Court's decision by sending in troops from the Army's 101st Airborne to Little Rock to ensure the teens' safety. Here, soldiers square off against anti-integration protesters. Eight of the nine completed that school year. See more of LIFE's coverage of the Little Rock Nine.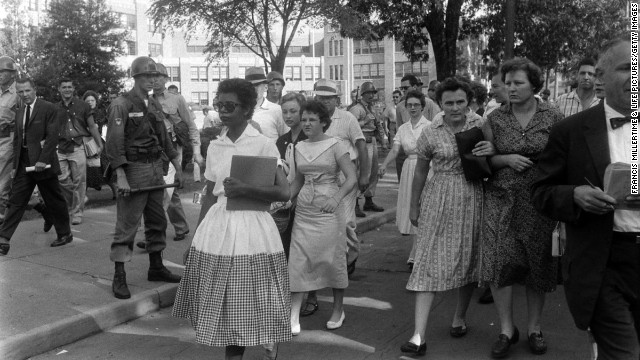 Photos: LIFE looks back at the Little Rock Nine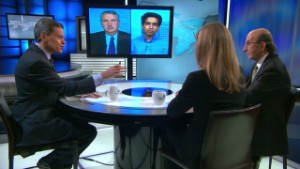 'GPS': Are U.S. students falling behind?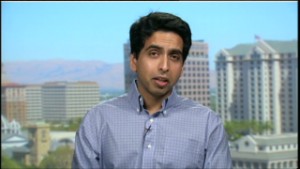 'GPS': How to improve U.S. schools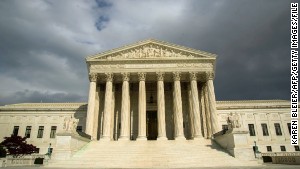 Analyzing affirmative-action ruling
Unfortunately, many localities are embracing vouchers and charter schools as silver bullets for addressing persistent achievement gaps. Milwaukee has the largest and oldest voucher school program in the country, which funnels public dollars to private, often sectarian, schools. In 2011, Indiana created the nation's first statewide voucher program, and Louisiana followed suit in 2012. Charter schools have increased dramatically in the past decade; from the 1999-2000 school year to the 2010-2011 one, public charter school enrollment increased from 300,000 to 1.8 million.
Vouchers and charter schools just don't live up to the hype. In New Orleans, students using vouchers to attend private schools have not advanced to grade-level work any faster during the first two years of the program than public school students. A recent study found students in voucher schools are performing worse on academic benchmarks than students in Milwaukee Public Schools. And a national study comparing charter and normal public schools of similar demographics found that 29% of charter schools reported academic improvements significantly higher than public schools. Forty percent of charter schools reported no difference in academic performance, and 31% reported a performance worse than their public school counterparts.
Sixty years later, "separate and unequal" is still alive.
To fix the problem, we must recognize the problem. First, privatizing our school systems results in increased segregation, not improved opportunities. Whether in New Orleans or Philadelphia or Detroit or New York, legislative schemes perpetuate separate and unequal by privatizing large swaths of public school districts -- and in some cases, entire districts.
Second, education doesn't take place in a vacuum. Students and their families need access to health care, decent wages and affordable housing in integrated neighborhoods. Thus, Brown's legacy includes economic improvements for children and families.
Third, neither high-quality public schools nor economic improvements can occur when voters are disenfranchised. Only the right to vote protects access to education and movement toward economic improvement. Yet 34 states -- most under Republican control -- have passed laws to make it harder for minorities, the elderly, and young people to vote, including so-called voter ID laws and regulations that limit early voting.
The economic and racial inequities that existed 60 years ago persist in our communities today. They must be addressed. In the spirit of Brown, students, parents and educators are demanding solutions that go beyond the dysfunctional "education reforms" and address a wide range of community concerns, from stopping school privatization to providing universal early childhood education to raising the minimum wage.
School integration did not come to be the day after the Brown ruling was issued. Progress took years, and it took passion, strength and courage from a large group of committed individuals.
Sixty years after Brown v. Board of Education, it's time for us to take a hard look at the separate and unequal conditions that still exist in our schools and our communities, and rededicate ourselves to fulfilling the promise of equal opportunity for all.
Follow us on Twitter @CNNOpinion.
Join us on Facebook.com/CNNOpinion.