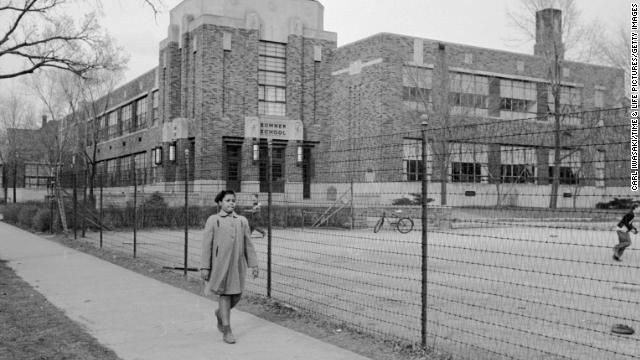 Linda Brown, 9, walks past Sumner Elementary School in Topeka, Kansas, in 1953. Her enrollment in the all-white school was blocked, leading her family to bring a lawsuit against the Topeka Board of Education. Four similar cases were combined with the Brown complaint and presented to the U.S. Supreme Court as
Brown v. Board of Education
. The court's landmark ruling on the case on May 17, 1954, led to the desegregation of the U.S. education system.
Linda Brown, center, and her sister Terry Lynn, far right, take a bus to Monroe Elementary School, an all-black school in Topeka, in 1953.
The Brown sisters attend class at Monroe Elementary School in 1953. Linda is on the front row on the right, and Terry Lynn is in the far left row, third from the front.
From left, lead lawyers Harold P. Boulware, Thurgood Marshall and Spottswood W. Robinson III confer at the U.S. Supreme Court prior to presenting arguments in 1953. Marshall, the NAACP's Special Counsel and lead counsel for the plaintiffs, argued the case before the Supreme Court.
Among the other cases attached to Brown v. Board of Education was Dorothy Davis, et al. v. County School Board of Prince Edward County, Virginia. Pictured are some of the more than 100 students named in that case. The lawsuit initially sought repairs to Robert Moton High School, a segregated school in Farmville, Virginia. The suit was named for Dorothy E. Davis, pictured in the center with glasses.
People wait in line outside the Supreme Court during the hearings in 1953.
One of the key pieces presented against segregation was psychologist Kenneth Clark's "Doll Test" in the 1940s. Black children were shown two dolls, identical except for color, to determine racial perception and preference. A majority preferred the white doll and associated it with positive characteristics. The court cited Clark's study, saying, "To separate [African-American children] from others of similar age and qualifications solely because of their race generates a feeling of inferiority as to their status in the community that may affect their hearts and minds in a way unlikely ever to be undone."
From left, lawyers George E.C. Hayes, Thurgood Marshall and James M. Nabrit join hands outside the U.S. Supreme Court on May 17, 1954, in celebration of the court's historic ruling. The ruling read in part: "We conclude that, in the field of public education, the doctrine of 'separate but equal' has no place. Separate educational facilities are inherently unequal."
Fourth-graders, both black and white, dash for the playground at St. Martin School in Washington on September 17, 1954. The Supreme Court ruling did not set a schedule for the integration of schools, rather calling for "deliberate speed." The District of Columbia and four states acted to end segregation promptly, while other areas met with resistance.
Alex Wilson, a reporter from the Tri-State Defender, is shoved by an angry mob of white people near Central High School in Little Rock, Arkansas, on September 23, 1957. The fight started when nine black students gained entrance to the school as the U.S. Army enforced integration.
National Guardsmen escort a black student from high school in Sturgis, Kentucky, at the end of a school day in September 1956.
Ten years after the Supreme Court's decision, protests were still taking place. Here, 2-year-old Prentice Sharpe joins older children picketing a predominantly black elementary school in Albany, New York, on May 18, 1964.
Desegregating U.S. schools
Desegregating U.S. schools
Desegregating U.S. schools
Desegregating U.S. schools
Desegregating U.S. schools
Desegregating U.S. schools
Desegregating U.S. schools
Desegregating U.S. schools
Desegregating U.S. schools
Desegregating U.S. schools
Desegregating U.S. schools
Desegregating U.S. schools
STORY HIGHLIGHTS
The 60th anniversary of Brown v. Board of Education is May 17, 2014
The Supreme Court case desegregated public schools
Public schools are again segregating along racial lines
Spelman College president: We fail to address school segregation at "our own peril"
Editor's note: Beverly Daniel Tatum is the president of Spelman College in Atlanta and the author of "Can We Talk About Race?" and Other Conversations in an Era of School Resegregation. The opinions expressed in this commentary are solely those of the author.
(CNN) -- I was born in Tallahassee, Florida, in 1954, the year of the landmark school desegregation case, Brown v. Board of Education.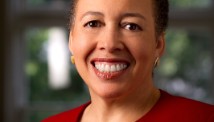 Beverly Daniel Tatum
The struggle for integration has shaped my life from the very beginning.
When my father, an art professor at Florida A&M University, sought to pursue his doctorate in art education at Florida State University, the state of Florida chose to pay his transportation to Penn State rather than open its doors to an African-American graduate student.
In 1957, he completed his degree at Penn State, and in 1958 became the first African-American professor at Bridgewater State College, now Bridgewater State University, in Massachusetts, where I grew up. My parents were part of the great migration, moving to the North to escape segregation.
They achieved their goal. My three siblings and I attended predominantly white public schools in our small Massachusetts town without protest or high court drama, and graduated well-prepared for the colleges we all attended.
Forty-four years later, in 2002, my husband and I left Massachusetts and returned to the South -- initiating our family's reverse migration.
Eventually our sons, and even my parents, moved to Atlanta, too. They returned to a region very different than the one they remembered. Fifty years after the passage of the Civil Rights Act of 1964, their choice of housing and their freedom of movement are unencumbered by race.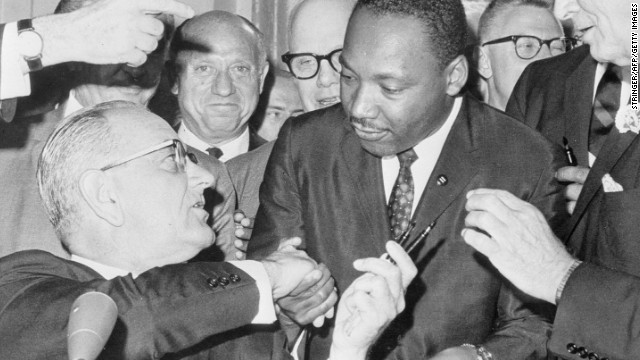 President Lyndon B. Johnson shakes hands with civil rights leader Martin Luther King Jr. after signing the Civil Rights Act of 1964. The LBJ Presidential Library is hosting a Civil Rights Summit this week to mark the 50th anniversary of the legislation.
Jackie Robinson, who broke Major League Baseball's color barrier, poses in the dugout with some of his Brooklyn Dodgers teammates during his first game on April 15, 1947.
Rosa Parks poses for her booking photo after she was arrested in Montgomery, Alabama, for refusing to give up her bus seat to a white passenger in 1955.
Students of Central High School in Little Rock, Arkansas, shout insults at Elizabeth Eckford as she walks toward the school building on the first day of school in 1957. Schools in Arkansas integrated races after the Supreme Court ruling in Brown v. Board of Education.
As part of his training for sit-in protests in 1960, student Virginius Thornton practices not reacting to smoke being blown in his face.
Freedom Riders sit on a bus during a trip from Montgomery to Jackson, Mississippi, in 1961. The Freedom Riders would brave mobs and endure savage beatings to desegregate interstate travel.
A black woman and a white woman sit next to each other at a New York City restaurant in 1962.
A police dog jumps at a 17-year-old civil rights demonstrator in Birmingham, Alabama, on May 3, 1963. The image appeared on the front page of The New York Times the next day.
Firefighters turn their hoses on demonstrators in Birmingham in July 1963. When civil rights protesters stalled in Birmingham, the city's African-American children took to the streets. Their bravery facing water hoses and dogs riveted the nation.
King addresses the crowd at the Lincoln Memorial in Washington, where he delivered his famous "I Have a Dream" speech on August 28, 1963.
People gather on the National Mall during the March on Washington on August 28, 1963.
Sarah Jean Collins, 12, lies in bed after being blinded by the dynamite that killed her sister in the bombing of a Birmingham church in September 1963. Four African-American girls were killed in the blast.
The family of Carol Robertson, a 14-year-old girl killed in the church bombing, attend a graveside service for her in Birmingham on September 17, 1963.
A 1964 FBI poster seeks information on the whereabouts of Andrew Goodman, James Earl Chaney and Michael Henry Schwerner. The three civil rights workers disappeared in rural Mississippi in the summer of 1964. Their bodies were found 44 days later. They had been tortured before they were murdered.
Nation Of Islam leader and civil rights activist Malcolm X poses for a portrait in 1965. Malcolm was a symbol of black defiance who ridiculed King's stance on nonviolence.
The car belonging to Viola Liuzzo sits off the road near Selma, Alabama, in 1965. Liuzzo, a white housewife from Detroit, felt compelled to drive to Selma to help the civil rights movement after seeing demonstrators beaten on television. While driving on a deserted road in the small town one night, Liuzzo's car was run off the road and she was shot to death. Her death showed the nation that the civil rights movement was not just an African-American struggle -- it was an American struggle.
Memphis sanitation workers hold signs with the slogan "I am a man" during a strike in 1968. Their campaign against discrimination and poor conditions in the workplace brought King to Memphis.
King lies bleeding at the feet of other civil rights leaders after he was shot on the balcony of the Lorraine Motel in Memphis, Tennessee, on April 4, 1968.
King's widow, Coretta Scott King, and their daughter Yolanda sit in a car on their way to his funeral in Atlanta on April 9, 1968.
U.S. Olympians Tommie Smith, center, and John Carlos raise their fists in protest during the U.S. national anthem, which was being played after Smith won the 200 meters at the 1968 Summer Olympics in Mexico City.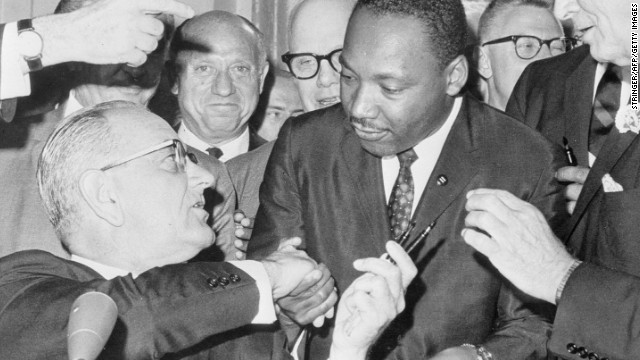 The civil rights movement in photos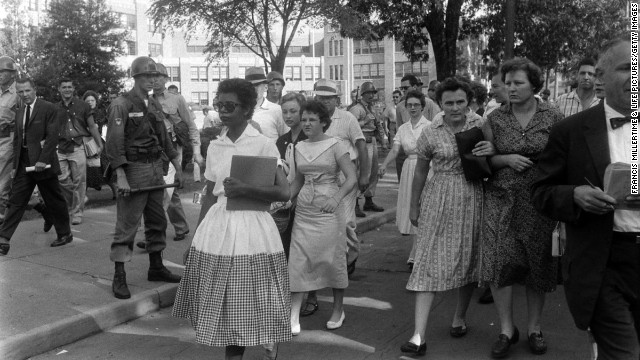 Arguably the most critical school desegregation battle in American history took place in 1957, three years after the Supreme Court's landmark Brown v. Board of Education ruling, when nine African-American students -- known ever after as the Little Rock Nine -- integrated Arkansas' Little Rock Central High School. On September 4, 1957 -- the first day of school -- a crush of reporters and photographers chronicled the scene as Arkansas National Guardsmen blocked 15-year-old Elizabeth Eckford, the first of the nine to arrive, from entering school grounds. See more of LIFE's coverage of the Little Rock Nine.
Arkansas National Guardsmen prevent African-American students from entering Little Rock Central High School.
Members of the Little Rock Nine arrive at school, only to be turned away by Arkansas National Guardsmen.
Segregationists picket in Little Rock.
Within days, President Dwight Eisenhower underscored the government's commitment to the Supreme Court's decision by sending in troops from the Army's 101st Airborne to Little Rock to ensure the teens' safety. Here, soldiers square off against anti-integration protesters. Eight of the nine completed that school year. See more of LIFE's coverage of the Little Rock Nine.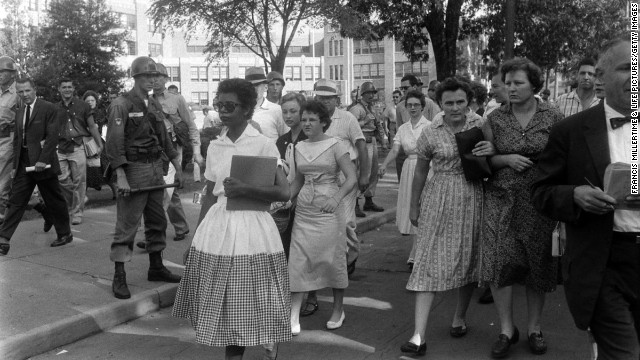 Photos: LIFE looks back at the Little Rock Nine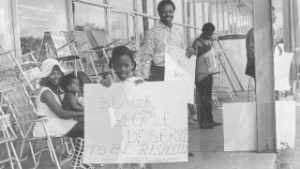 Civil Rights: Three Generations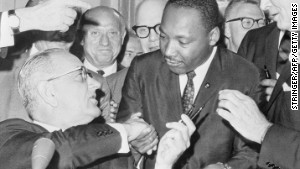 Unsung heroes for Civil Rights bill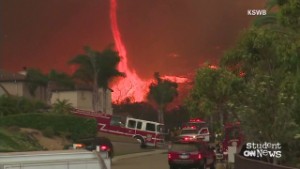 CNN Student News - 05/16/14
But 60 years after racial segregation was outlawed in schools, public education is again segregating along racial lines. And not just in the South, but across the United States.
Schools are more segregated today than in the 1980s, according to a new report released by researchers at UCLA's Civil Rights Project, "Brown at 60: Great Progress, a Long Retreat and Uncertain Future."
This is the result of continued patterns of residential segregation, and a series of Supreme Court decisions that have quietly undermined the implementation of Brown through a shift away from court-ordered busing and other mandated desegregation strategies.
As school districts move back to "neighborhood school" policies, white students will likely have less school contact with people of color than their parents had. Particularly for young white children, interaction with people of color is likely to be a virtual reality rather than an actual one, with media images (often negative ones) most clearly shaping their attitudes and perceived knowledge of communities of color.
For students of color, the return to segregation means the increased likelihood of attending a school with limited resources. Most highly segregated black and Latino schools have high percentages of poor children. At most highly segregated white schools, middle-class students are in the majority.
The negative educational impact of attending high-poverty schools is well-documented.
Whether a student comes from a poor or middle-income family, academic achievement is likely to decline if the student attends a high-poverty school.
Conversely, academic performance is likely to improve if the student attends a middle-class school, even if his or her own family is poor. The learning conditions which are taken for granted in middle-class suburban schools are too often absent in impoverished classrooms.
It is not surprising that the outcomes associated with high-poverty schools across the country are bleak: lower test scores, higher dropout rates, fewer course offerings and low levels of college attendance.
If we remember that the original impetus for the Brown lawsuit was not simply a symbolic fight for the acknowledgment of the equality of all children, but a struggle for equal access to publicly funded educational resources, we can see that the struggle continues.
So, what must we do?
In particular, white children will need to be in schools that are intentional about helping them understand social justice issues like prejudice, discrimination and racism, empowering them to think critically about the stereotypes to which they are exposed in the culture.
Such tools are needed to help them acquire the social skills necessary to function effectively in a diverse world, and are essential for continued progress in a society still struggling to disentangle the racism woven into the fabric of its founding.
The hopeful news is that there are educators around the country working hard to create anti-racist classrooms and learning environments even when their classrooms are predominantly white.
Don't miss out on the conversation we're having at CNN Living.
Follow us on Twitter
and
Facebook
for the latest stories and tell us what's influencing your life.
Children of color in under-resourced, racially isolated schools also need these same tools. But they will also require powerful advocates to insure that they have committed and well-trained teachers, a challenging curriculum and the educational resources needed to inspire their own striving for excellence.
Providing these resources equitably is a daunting task, one that has never been accomplished in the history of education in the United States.
Yet we fail to do it at our own peril.
In 2014, the question we all must ask is: How do we build strong school communities where every student, regardless of race, is supported to achieve his or her personal best, and teach the skills needed to live in healthy, democratic society?
When we can answer that question, the promise of Brown v. Board of Education will be fulfilled.