STORY HIGHLIGHTS
New wave pioneers Blondie are celebrating their 40th anniversary with a new album, Ghosts of Download
Maggie Lake speaks with Deborah Harry and Chris Stein about modern music and unforgettable 70s moments
She discovers the duo love touring, miss family and have mixed views on the new world of digital downloads
Editor's note: Maggie Lake is a business anchor and correspondent for CNN International. You can follow her on Twitter.
New York (CNN) -- In an era of entourages and media minders, rock-n-roll hall of famer Deborah Harry arrived to our interview alone.
Wearing a black and white graphic scarf draped over a long sleeve T-shirt and practical black flip-flops, she wandered in off the street, browsing the hotel art installation like any other tourist.
But this was no casual viewing. Strewn around the room was four decades of memories -- stunning black and white photos taken by Blondie bandmate and one-time boyfriend Chris Stein. It took me a few minutes to realize it was her. She seemed strangely detached looking at her younger self. But then, it was a lifetime ago.
Blondie hit their stride when the lines between music and video were mingling. They made their mark in the space between punk, new wave and disco and introduced mass audiences to hip-hop. They were a fixture on the New York scene, but that is a landscape that has changed literally ...and musically.
It makes it more important to tour, there is no record industry to speak of, but I sort of appreciate that a person can download a track they love
Deborah Harry
When Stein arrived a short time after Harry, in his trademark leather and shades, he paused to look at the blown-up photo of Harry up on the top of the World Trade Center observation deck. It made him emotional to see that building, now gone. Neither could remember the exact date he snapped the shot or why she seems to be holding a folded bill.
It was just one of the ghosts in the room. We talked about the clubs that have closed, music stores shuttered. Songs now premiere on YouTube before the radio or TV. You might expect the veteran rockers to lament this lost past. But Harry and Stein are surprisingly open about the change. While Harry has been quoted in the past as saying the internet killed music, she was much more nuanced in our conversation.
"It makes it more important to tour, there is no record industry to speak of, but I sort of appreciate that a person can download a track they love," said Harry.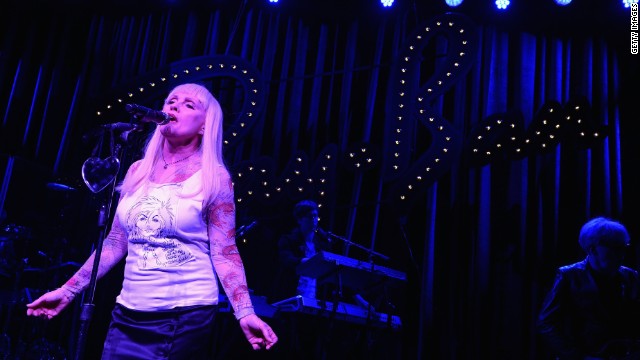 Blondie formed forty years ago, with Debbie Harry, pictured, as front-woman. "Heart of Glass" was its first big hit, in 1979, and the band followed up with chart-topping singles such as "Call Me" and "Rapture." Here, Harry performs on May 15, 2014 in New York City. Blondie released its latest album, "Ghosts of Download," this week.
Black Sabbath emerged in 1969, and become one of the leading proponents of heavy metal music. The band -- whose front man, Ozzy Osbourne, became known as the Prince of Darkness -- was critically snubbed but sold more than 8 million albums before Osbourne went solo in 1979. Osbourne and other band members then played together intermittently through the 1990s and 2000s, and were inducted into the UK Music Hall of Fame in 2005. They joined the U.S. Rock and Roll Hall of Fame the following year. Here, Osbourne performs onstage at the Barclays Center of Brooklyn on March 31, 2014 in New York City.
The New York Dolls formed in 1971, and helped drive the punk movement. According to The Rolling Stone Encyclopedia of Rock & Roll, their cross-dressing "captured the outrage and threat of glam." However, tragedy hit the group when drummer Billy Murcia died after suffocating when he mixed alcohol and pills in the band's first England tour. The band played support for Alice Cooper in 2011. Here, the New Yorks Dolls' David Johansen performs at London's Alexandra Palace on October 29, 2011.
The Rolling Stones formed in 1962 and, while the band has taken breaks, it's never broken up. According to The Rock and Roll Hall of Fame, they hold the record for band longevity. The Stones represented the opposite of the Beatles, according to the biography, epitomizing "the darker, bluesier and more boldly sexual side of rock and roll." They are due to play Australian and New Zealand later this year, after postponing due to the death of singer Mick Jagger's partner, designer L'Wren Scott. Here, Ronnie Wood, Mick Jagger, Charlie Watts and Keith Richards perform at the Mercedes-Benz Arena on March 12, 2014 in Shanghai, China.
ACDC was formed by brothers Angus and Malcolm Young in Sydney, in 1963. "Highway to Hell," in 1979, put them on the U.S. charts and the album "Back in Black," released in 1980, sold more than 22 million copies to become one of the best-selling albums in U.S. history. According to The Rolling Stone Encyclopedia of Rock & Roll, their "rowdy image, giant riffs and macho lyrics" helped make them one of the biggest hard rock bands in history. Here Angus Young of AC/DC performs on stage on the first day of the Download Festival at Donington Park on June 11, 2010 in Derby, England.
The Who started in 1964, and blasted into the charts with their anthem "My Generation." According to The Rock and Roll Hall of Fame, the band "didn't just play rock and roll, they attacked their music and their instruments with raw power fueled by teenage rage." In the late 60s and early 70s they released conceptual albums "Tommy" and "Quadrophenia" before being inducted into the Hall of Fame in 1990. Here, Roger Daltrey and Pete Townshend perform at the 02 Arena on June 15, 2013 in London, England.
The Eagles emerged in the early 1970s from Los Angeles, and have sold more than 100 million albums. The Eagles "Their Greatest Hits" album went platinum and is one of the biggest selling in the U.S. The band broke up in 1980 but reunited in the mid 1990s with a successful tour, and were inducted into the Rock and Roll Hall of Fame in 1998. Here, Bernie Leadon, Timothy B. Schmit and Glen Frey of the Eagles perform during "History Of The Eagles Live In Concert" at the Bridgestone Arena on October 16, 2013 in Nashville, Tennessee.
The origins of British instrumental group The Shadows date back to 1958, with Cliff Richard as a key front person. The band disbanded in 1968, but started up again in the 70s. They were then inactive through the 90s but reunited in the mid 2000s. Here, the now Sir Cliff Richard performs with Hank Marvin of The Shadows at Kirstenbosch Gardens to a sold out crowd on 9 March 2010 in Cape Town, South Africa.
The Beach Boys, known as the band who invented California Rock, emerged in the early 1960s after brothers Brian, Carl and Dennis Wilson began churning out easy pop hits like "Surfin Safari" and "Surfin U.S.A.," about the West Coast life. They were inducted into the Rock and Roll Hall of Fame in 1988. Here, Brian Wilson, David Marks, Mike Love and Al Jardine of The Beach Boys perform at the Royal Albert Hall on September 27, 2012 in London, England.
For 40 years, KISS has been enthralling fans with its hard-rock sound, over-the-top look and pyrotechnic shows. The band's chart success was based on constant and energetic touring -- concerts that were then turned into some best-selling live albums. The band was inducted into the Rock and Roll Hall of Fame in 2013. Here, Gene Simmons performs on April 11, 2014.
David Crosby, Stephen Stills and Graham Nash came together in the late 1960s and have continually split and reformed through the decades. According to The Rolling Stone Encyclopedia of Rock & Roll, Young had become a respected elder statesman of rock by the 1990s. Nash, meanwhile, had become a successful photographer while Crosby had become ill and received a liver transplant. Here, Crosby, Stills and Nash perform in front of a crowd at the Sands Bethlehem Event Center, in Bethlehem, Pennsylvania, 2012.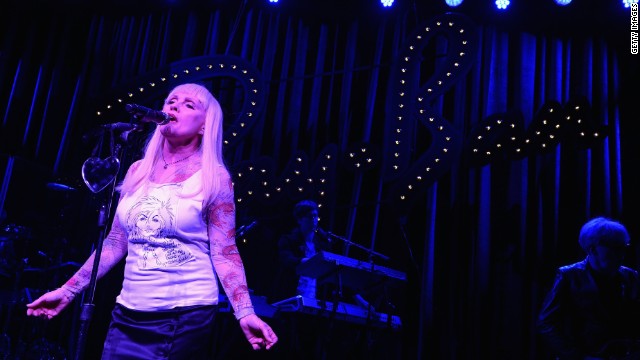 Bands still going 40 years later
Stein also seemed to appreciate technology's ability to reach an audience. "It used to be a struggle to get yourself on television -- before MTV even more so -- now it's completely secondary," he said. "Now you can just press a button and watch anyone doing anything anywhere doing anything. In unison they agreed: "The verdict is not in yet."
The new studio album may be called Ghosts of Download, but both artists feel it's forward looking, especially in the collaborations. Beth Ditto of Indie rock group Gossip, Oakland-based Panamanian rappers Los Rakas and Colombian Systema Solar are featured on tracks. Stein, laughing, noted: "I think my ego is less pronounced -- it's easier to take ideas from other people."
Though they may be rock-n-roll royalty, they are incredibly down to earth. Harry, still striking, has a wry smile and a slight mystery about her. Stein is more open. We joked about TV binge-watching House of Cards and Game of Thrones (which was why he was running late) and the difficulty of getting things done in politics. Does Harry have a favorite song? Rapture and a little known track Cautious Lip, she wished she could play live.
It used to be a struggle to get yourself on television -- before MTV even more so -- now it's completely secondary
Chris Stein
They tag team a conversation the way only long-time partners can. "We get along," joked Stein when I asked how they have survived when so many other bands haven't. The best thing about touring? "The fans," Harry said without hesitation. The worst? "Being away from my wife and kids," said Stein, who is married to actress Barbara Sicuranza.
Though people dismiss the potency of aging rockers, there is a history they carry that is hard to resist. When I asked if they had a favorite live performance, they an told amazing story about being in Bangkok on New Year's Eve in the 70s, the night the curfew from the Vietnam War was lifted.
The band may have a treasure trove of memories, but they are now 40 years on -- in their words, Blondie 4(0) Ever -- and looking to the future.
When asked which musicians they admire, the reveal: Justin Timberlake and J-lo.
Read more: The evolution of Mariah Carey
Read more: What Vivienne Westwood did next
Watch more: SJP discusses humble start
Watch more: Disney head embraces tech