STORY HIGHLIGHTS
At least one person has died in the fires
The region braves record high temperatures around 100 degrees
County official: 'We have a year-round fire risk,' citing drought and winds
Temperatures are expected to drop somewhat on Friday
Have you been affected? Please share your photos and video with CNN iReport if you can do so safely.
Carlsbad, California (CNN) -- In her 42 years of living in Southern California, Sophie Payne of Carlsbad has "never, never, never" witnessed so many wildfires at one time.
Three dozen raged overnight. Eight of them continued to burn Thursday in a patchwork across of San Diego County, ravaging 10,000 acres since Tuesday, and killing at least one person. Payne's hilltop house was an exhibit of their destruction: It was burned to the ground, except for a stone archway and several walls.
"This is my dream house, and what can I say," she said, looking at the destruction to the three-bedroom, four-bathroom house. "Now it's all gone."
Payne found some family keepsakes in a small safe, and while intact, the papers were charred at the edges. "It's just falling apart," Payne said.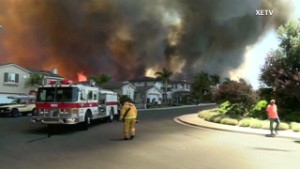 Southern California Wildfires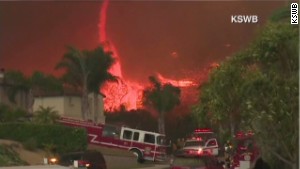 Wildfires rage on in southern California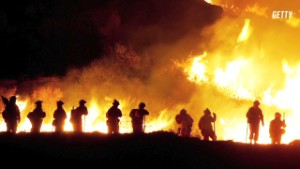 The worst wildfires in America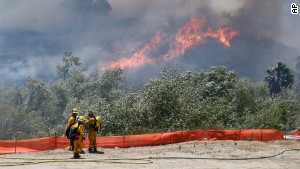 Thousands told to flee fires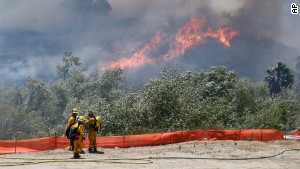 Thousands told to flee fires
Another family in Carlsbad similarly lost its house, but everyone -- including the dog -- survived.
"We walked up to this place, and it was like a bomb went off. I can't even explain to you how just horrific it was," Anya Bannasch told CNN's "Anderson Cooper 360" on Thursday.
"I've never seen anything like it. I pray for all the other families too out there that are going through this right now, because I know there's fires everywhere," she said.
Gay Walker was evacuated from her home in nearby San Marcos and doubted she would even be allowed to return by Friday. Police told her to evacuate immediately.
"It was an orderly evacuation, but it was reminiscent of something apocalyptic," Walker said.
The City of Carlsbad reported was what apparently the first fire-related death Thursday.
On its website, it said: "During a hot spot check, firefighters were alerted to a transient encampment in the area of Ambrosia and Calliandra. On checking the area, firefighters located a badly burned body. Further details about the deceased are unknown at this time and the investigation is ongoing."
Unseasonably strong winds, intense heat
The first blaze, the Bernardo Fire, erupted Tuesday in San Diego County. The next day, a spate of new fires popped up -- each one separate from one another, each posing its own dangers.
Crews were able to subdue most of the fires raging overnight, but things didn't get much better.
"Unfortunately, Mother Nature was not on our side today," Cal Fire Capt. Mike Mohler told CNN's Erin Burnett on Thursday.
Scorching temperatures, including record daily highs of 97 in San Diego and 104 in both Esconido and El Cajon, certainly didn't help.
Nor did bone dry conditions: 100% of California is experiencing exceptional, extreme or severe drought conditions. The wildfire area is in second most-dangerous category.
"The last three years have the driest in California's recorded history," Gov. Jerry Brown said, citing climate change as "a factor" in the spate of blazes.
On top of the drought, the Santa Ana winds have helped many of these fires race, challenging the hundreds of firefighters on the ground and in the air. These are typical for October and November, but Cal Fire Assistant Region Chief Thom Porter notes, "we've had this kind of wind ... every month this year."
"As a native San Diegan, I have never seen the Santa Ana winds -- also called 'the devil winds' -- in the month of May," San Diego County Supervisor Dianne Jacob said.
Fire season in Southern California typically starts late in the summer and extends into fall. But nowadays, as Jacob points out, "We have year-round fire risk."
Porter, from Cal Fire, notes that there's been no time to shut down over the past 12 months at least, adding: "We have never gone out of what you would call fire season."
Statewide, the amount of fire activity so far this year is "unprecedented," Cal Fire Director Ken Pimlott told CNN.
Thankfully, for the immediate future, temperatures are expected to drop throughout the region in the coming days.
But that doesn't mean rain is on the horizon, or that the drought will end anytime soon. This scenario could repeat itself at most any point over the next few weeks and months.
As Bill Horn, another San Diego County supervisor, told CNN: "I guess it's going to be ... an awfully hot fire season."
San Marcos, Escondido among hard-hit cities
Some 10,000 acres had burned in Horn's county in various blazes, the worst being a nearly uncontrollable fire in San Marcos.
County officials in that city said that one intense wildfire sucked so much oxygen that it was creating its own weather system, and the city's fire chief, Brett Van Wey, said 5,000 homes remained evacuated Thursday.
"They are skirting subdivisions, and we are just doing our best to kind of guide it along through the path of least resistance," Van Wey said of the wildfire.
The city was "fortunate" to have lost only three homes and had one damaged, he said.
In broad daylight at noon, the fire blackened the skies in one San Marcos neighborhood and sent a "firenado" -- a column resembling a tornado with smoke and flames shooting from it -- rising and twisting into the air. The blaze prompted a state university in that city to cancel this week's commencement and other activities, officials said.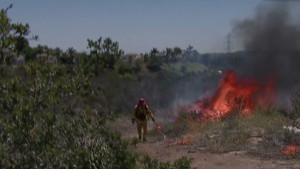 Hot winds fan San Diego-area wildfire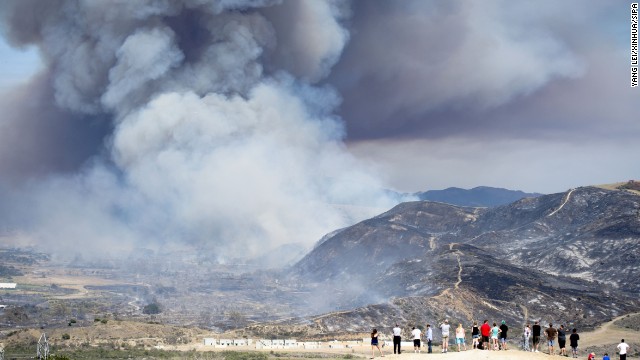 Residents watch a wildfire near San Diego on Friday, May 16. Wildfires devoured more than 20,000 acres in San Diego County after a high-pressure system brought unseasonable heat and gusty winds to the parched state.
A paddleboarder watches two helicopters grab water from the Pacific Ocean to fight wildfires near Camp Pendleton, California, on May 16.
Smoke plumes rise May 16 behind the entrance to Camp Pendleton, a U.S. Marine Corps base.
A Marine helicopter scoops water from the ocean to fight a wildfire near Camp Pendleton on May 16.
Flames light up the sky May 16 near Camp Pendleton.
A helicopter drops water near homes in San Marcos, California, on May 16.
Marines move military vehicles near the entrance to Camp Pendleton on May 16.
People look over a canyon ravaged by fire in Carlsbad, California.
Fire engulfs a structure in Escondido, California, on Thursday, May 15.
A firefighter pulls a hose on May 15 while battling a wildfire in San Marcos.
A house in San Marcos burns on May 15.
A helicopter from the San Diego County Sheriff's Department drops water on flames in the hills of San Marcos, California, on May 15.
A huge plume of smoke in San Marcos is seen on May 15 from atop Mount Soledad in La Jolla, California.
The grille of a pickup truck is left melted by a wildfire in San Marcos.
Smoke rises as a wildfire closes in on houses near San Marcos on May 15.
Jeff Brown wets down the roof of his Escondido home as a wildfire smolders around it on May 15.
A helicopter drops retardants onto a wildfire May 15 in San Marcos.
A wildfire burns near homes and California State University in San Marcos on Wednesday, May 14.
A house in San Marcos is consumed by a wildfire on May 14.
Firefighters spray water on a burning building in Carlsbad, California.
A firefighter puts out a spot fire in San Marcos.
A plane drops fire retardant over a hot spot in San Marcos on May 14.
A woman flees a wildfire as it crosses a highway in Carlsbad on May 14.
A firefighter sprays water onto a fully engulfed home in Carlsbad on May 14.
A helicopter flies over burning vegetation near homes in Carlsbad on May 14.
A firefighter puts water on a smoldering fence outside a home in Carlsbad on May 14.
A woman is escorted to safety May 14 in Carlsbad.
A Carlsbad police officer turns traffic away as flames rage behind him on May 14.
A wildfire approaches buildings in Carlsbad on May 14.
A helicopter drops water near the Rancho Santa Fe neighborhood of San Diego on Tuesday, May 13.
Trees burn on May 13 as a San Diego wildfire moves through a canyon between Rancho Santa Fe and the Fairbanks Ranch area.
A wildfire threatens luxury homes in the Fairbanks Ranch area on May 13.
Firefighters prepare to take on a wildfire in San Diego.
A helicopter battles a San Diego wildfire on May 13.
Firefighters arrive to assist local personnel in San Diego on May 13.
Smoke rises from a canyon where a San Diego wildfire burned on May 13.
Firefighters watch from a ridge as a helicopter drops retardant on flames in San Diego on May 13.
Billowing smoke rises as firefighters trek up the hills to battle a San Diego fire on May 13.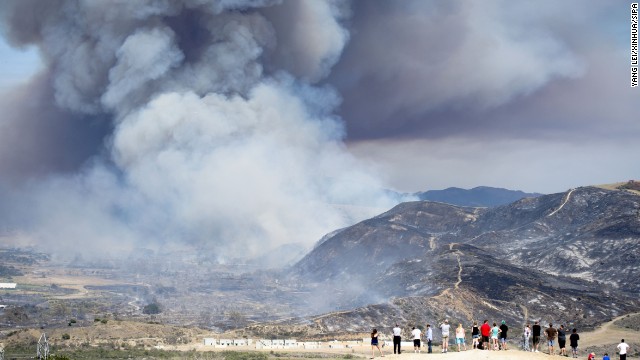 Photos: California wildfires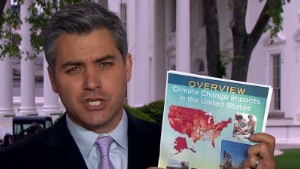 White House: Expect droughts, fires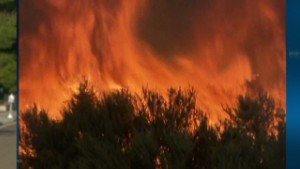 Dangerous battle to stop San Diego wildfires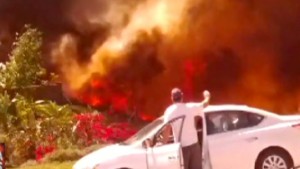 Wildfires caught on camera
And San Marcos isn't alone.
A new wildfire ignited near the Las Pulgas gate on the Marine Corps' Camp Pendleton, prompting more evacuations, Cal Fire Director Ken Pimlot said. That fire burned 25 acres, a relatively small size compared to the base's other fire on 6,000 acres -- or 9.3 square miles -- the military said.
By mid-afternoon Thursday, about 15,000 residents were being evacuated in Escondido, a city with a population of 146,000, according to Escondido Community Relations Manager Joyce Masterson. A few hours later, Mayor Sam Abed said he was grateful not just for the cooperation among various agencies, but for the fact Escondido hadn't "lost any structures or any lives and there hasn't been any significant injury."
The evacuation zone included a 12-story hospital, Palomar Medical Center West in Escondido, but that facility wasn't evacuated because it has a "shelter in place," Masterson said. That hospital announced on Twitter that its emergency room had closed to new patients because of flames, then still a few miles away.
The fire department was "in place to do everything possible to protect the hospital," Masterson said. "It's just logistically hard to transport that many patients in a short period of time. The hospital is along the foothills and about three miles away from the fire."
Investigators have yet determine cause of fires
While there have been no fatalities, the fires have destroyed and damaged a number of buildings, no mention prompted thousands of evacuations and cancellations.
For example, Alert San Diego, a countywide notification system, sent out nearly 122,000 emergency telephone notifications on Wednesday as the wildfires sprang up. And classes were called off Friday for 13 school districts in San Diego County, the San Diego Office of Education said.
Twenty fire chiefs are working together with officials from Cal Fire and other agencies to coordinate the firefighting effort. They have already gotten help from the federal government as well, with a senior official telling CNN that President Barack Obama's administration has supplied large air tankers and hotshot crews of firefighters to battle the flames.
So what's the immediate cause of all this fire?
Investigators are trying to determine that. Horn, for one, suspects some or all of them might have been set purposefully, saying it is "too much of a coincidence."
Still, authorities haven't said whether that's what they think, and no one has been detained.
San Diego County Sheriff Bill Gore noted the tinderbox conditions of southern California. Grasses were so dry that setting a fire would take only a few hundred degrees, and a spark from a catalytic converter easily carries 2,500 to 3,000 degrees of heat, Gore said.
Carlsbad Mayor Matt Hall declined to address some residents' speculation whether arson was behind so many fires in the county.
"I'm sure people are thinking about that," Hall said. "I would just ask people to keep on what we're having to deal with today."
Bone dry + brutal heat + gusty winds = unseasonably early wildfires
Are you there? If you're in a safe place, please share your photos and videos.
CNN's Dan Simon reported from Carlsbad, while Michael Martinez wrote from Los Angeles. CNN's Greg Botelho, Joe Sutton, Ed Payne, Amanda Watts, AnneClaire Stapleton and Sonya Hamasaki contributed to this report.