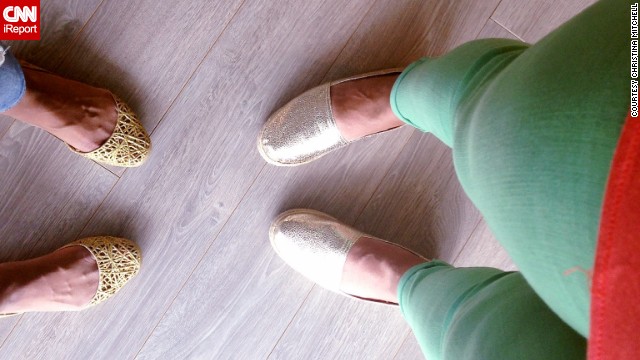 CNN Living visited
FLATZ shoe boutique
in Atlanta to explore our fascination with shoes that lay low. Founder Kelci Stringer, right, and store manager Christina Mitchell model some of the store's offerings. Click through the gallery to see more beloved flats from CNN iReporters.
Regina Arevalo
from the Philippines. The island of Mindanao, where she lives, has been suffering recent blackouts.
What's not to love about a pair of shoes that glow in the dark? Even in daylight, "their happy colors bring good vibes even on a hot summer's day sans electricity," said
Katherine McMillan
, a working mother of two in Brooklyn, New York. "Haven't worn my white suede loafers since last summer so they're happy to get back out there."
"My three favorite flats are comfortable for walking to work or chasing my kids," said
Lori Dobson
loves her Chuck Taylors for lunch hour walks on College Hill in Easton, Pennsylvania. Comfort is her number one priority in choosing a shoe, she says.
Zeynep Rice
of Guilderland, New York, prioritizes versatility in her shoes. Her shiny black Kenneth Cole Mary Janes transition seamlessly from work to dinner or other activities.
Janie Lambert
is concerned they've always been the perfect shoe. "There's nothing pretty or cute about my very old Birkenstocks, but we have been through a lot together," said Lambert, 62. Her trademark look is a different funky sock on each foot. "Hey, I am old now and can get away with it!"
Birkenstocks might be trendy this season, but as far as
Amanda Watts
calls these her "subtle flats," because they are anything but subtle. "I love the juxtaposition of the menswear-inspired loafer against the super girly hot pink color. And since hot pink is a neutral (isn't it?) they go with just about everything," said Watts, who works in Atlanta.
Even CNN employees were eager to share their favorite flatts. Assignment editor
Cuchie Echeverria
, right, of Manila, Philippines. She donned her "most comfy pair" of silver Nike slippers for to visit a nature park in the Philippines.
"I've had a love affair with flats since as far back as I can remember," said
Sobhana Venkatesan
's choice of "flexible, comfortable footwear for a casual city lifestyle" in St. John's, Newfoundland.
Soft-soled moccasins are
Kathi Cordsen
was thrilled to find some new flats she liked for spring and summer. "You don't know how pleased I am to never have to wear heels again," she said.
Kylee Copeland
, an independent shoe designer in Pensacola, Florida. She made these Edgar Allan Poe-inspired shoes, her personal favorites, using a decoupage technique.
Flats "match everything and they're always so comfortable," said
Devoted to flats
Devoted to flats
Our favorite flats
Devoted to flats
Devoted to flats
Devoted to flats
Devoted to flats
Devoted to flats
Devoted to flats
Devoted to flats
Devoted to flats
STORY HIGHLIGHTS
There's more to flat shoes than your basic ballet slipper
FLATZ shoe store in Atlanta specializes in low shoes
"View From The Topp" style blog pays tribute to variety of flats
Summer draws shoppers looking for stylish walking shoes for sightseeing vacations
(CNN) -- Kelci Stringer realized her days in high heels were numbered when her children began to walk.
She struggled to keep up with them in her strappy stilettos and platform pumps, and the situation only worsened as they got older and needed to be shuttled around from school to soccer and myriad extracurricular activities.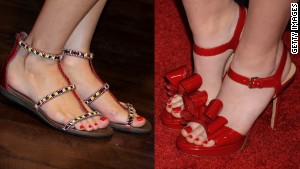 Heels vs. flats: An economic indicator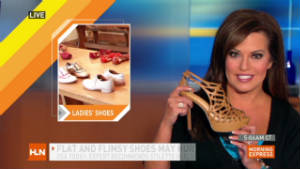 Shoes: Flat and flimsy or tall and tight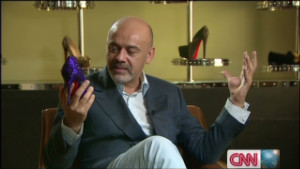 Louboutin's red sole story
The Atlanta mother still loves heels for special occasions, but her daily routine calls for flats. Slippers, loafers and sneakers are part of her uniform but she struggled to find unique varieties at a decent price. When she decided to start her own business, the name "flats" sprang to mind while she was getting a pedicure.
"I saw a void in the market that needed to be filled," Stringer said. "My father said to me, 'You've bought enough shoes so you ought to know something about them.'"
Sure, heels will always be a mainstay of women's fashion. But flats are getting their due on the streets and the runway with more embellishment and detail, belying the common perception of a basic ballet flat.
Stringer's Buckhead boutique, "FLATZ" is full of variations: embroidered ikat loafers, faux pink snakeskin slippers, bright yellow jelly sandals and leather studded flip-flops. Located in a small shopping plaza among a deli, hair salon and shoe repair shop, FLATZ opened in October to cater to shoppers who don't want to sacrifice style for comfort. Business is picking up with summer around the corner as shoppers look for comfortable beach sandals or stylish walking shoes for sightseeing vacations.
Some might say flats lack the appeal of a sky-high stiletto, but strutting around in comfort can be sexy, too.
"I feel like wearing a pair of flats connotes a sense of low maintenance that men are typically drawn toward," said Leandra Medine, founder of the popular "Man Repeller" fashion blog that celebrates trends women love and men hate. "Of course, the purported argument against them and pro-heels is related to the sex factor. They're obviously the more conventionally 'attractive' choice."
The return of a classic
Flats are having a moment as mainstream fashion embraces menswear-inspired looks for women, with wing-tipped oxfords, embroidered loafers and smoking slippers gracing fall 2014 runway shows. Glamour Magazine recently started featuring flats in a #FlatsFriday Instagram post which also invites Instagrammers to share their favorite flats.
On the popular style blog "View From The Topp" Kate Brien chronicles her daily outfits, paying tribute to a wide range of flats, from her beloved Birkenstocks and Clio sandals to tasseled loafers and colorful oxfords.
Heels occasionally make an appearance, but "I'm rarely in heels during my day-to-day," she said.
"I'll wear heels on occasion but flats are much more me," said Brien, who describes her look as "Parisian Tomboy/Messy Vogue."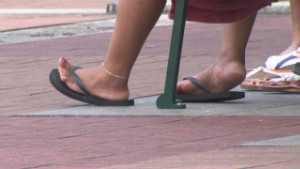 How to prevent achy summer feet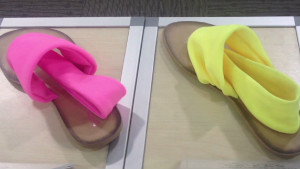 Shoes tell of your inner sole?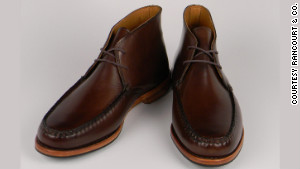 Get Real! Do shoes match personality?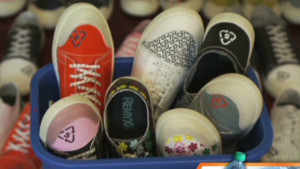 Go Green: New shoes you can recycle
"I like shoes that are comfortable and classic. Of course interesting details and fun colors are always great, but my favorite pairs are ones that I know I will have forever."
The basic ballet flat has been around for centuries, modeled after the dancer's ballet slipper as an alternative to the unwieldy heels and chopines of the Renaissance era. Their popularity waxed and waned over the years before French shoemaker Rose Repetto revived production of ballet slippers in the 20th century. French actor Brigitte Bardot is credited with bringing the classic "cendrillon" shoe to the masses after Repetto created it at her request for her to wear it in "...And God Created Women." Actor Audrey Hepburn is also thought to have contributed to the popularity of ballet flats after wearing them in "Funny Face."
Women have been complaining about heels for as long as they've been wearing them. "We'll know that feminism has worked when a woman goes up to get a best actress Oscar wearing flat, comfortable shoes," author Caitlin Moran snarkily noted in her 2012 book, "How to be a Woman."
"How much more fun we would be having if we could only stop being slaves to the torture stilts we insisted on wearing. We could then stand around and chat and laugh all night like the men ... and maybe even do a little bit of business."
Opting for flats over heels might require a mental shift in women who've come to identify themselves by their footwear.
'Reprogramming' perceptions
The typical customer at Atlanta's FLATZ boutique is in her mid-30s, someone who "knows what works for her and knows what she wants," owner Kelcie Stringer said.
"She's not competing with anyone, or what's on TV," Stringer said. "I appreciate a customer who knows what she wants instead of my having to convince her of what she needs."
Other shoppers tend to come in because they can no longer wear heels due to foot problems, or because they're unhappy with their body and want their shoes to be their statement piece, store manager Christina Mitchell said.
Often, her job requires "reprogramming" their minds to make them understand that flats can be chic, she said.
"Sometimes, when people think of flats, they say flats are boring," she said. "But they can have a lot of personality."
When shopper Tanya Lewis visited the store this week, she was already a convert. Flats are her go-to footwear for work and socializing. Her mother, on the other hand, had just recently come around to them after leaving her job in banking.
"When I was working I wore heels every day. I think you need them in corporate America," Lewis' mother said, declining to give her name.
The pair left with a pair of gladiator sandals for Lewis, and loafers and pointed-toe slippers for her mother.
"I'm veering more toward flats with age," she said.