STORY HIGHLIGHTS
NEW: U.S. Treasury Department announces sanctions on two al Qaeda leaders
Faisal al Mekdad says the regime has never used chlorine gas a weapon
Human Rights Watch says it has evidence the regime launched a chemical attack
Mekdad also denies that the government has starved people in Homs into submission
Damascus, Syria (CNN) -- Chemical attacks with chlorine gas. Barrel bombs dropped from regime helicopters. Syrians starved into submission in opposition-controlled areas.
The alleged assaults by the Syrian government against its own people are atrocious. But in an exclusive interview with CNN's Frederik Pleitgen, the country's deputy foreign minister says such claims are rubbish.
"I assure you 100% that chlorine gas has never been used by the government," Deputy Foreign Minister Faisal al Mekdad said.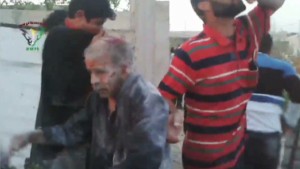 Chlorine gas attack alleged in Syria
His assertion came shortly after Human Rights Watch said it had strong evidence that showed regime forces carried out a chlorine gas attack in the rebel-held village of Kfar Zeita. According to the rights group, 11 people were killed and 500 were injured in three towns following the gas attack.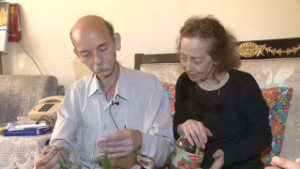 Survivors recount life under siege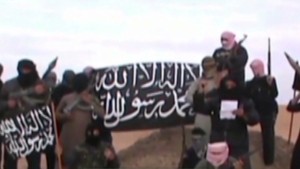 Warning to US: Terrorists swarming Syria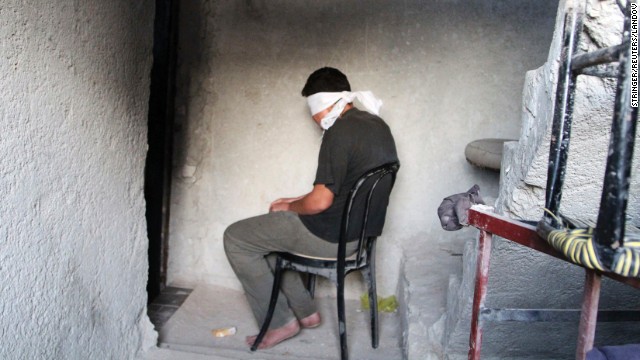 A blindfolded man suspected of passing military information to the Syrian government waits to be interrogated by Free Syrian Army fighters Monday, October 6, in Aleppo, Syria. The United Nations estimates more than 190,000 people have been killed in Syria since an uprising in March 2011 spiraled into civil war.
Medics at a field hospital in Douma, Syria, attend to a man who was injured in what activists said were two airstrikes carried out by forces loyal to Syrian President Bashar al-Assad on Saturday, September 20.
Free Syrian Army fighters rest inside a damaged room in Aleppo on Tuesday, September 16, during what activists said were clashes with forces loyal to al-Assad.
Syrian government forces walk down a street in Halfaya, Syria, after taking the city from rebel forces on Friday, September 12.
Al-Qaeda-linked rebels from Syria gather around vehicles carrying U.N. peacekeepers from Fiji before releasing them Thursday, September 11, in the Golan Heights. The 45 peacekeepers were captured in the Golan Heights after rebels seized control of a border crossing between Syria and the Israeli-occupied territory.
Syrian opposition fighters take position behind sandbags in Aleppo on Thursday, September 11.
Syrians fleeing the violence stand next to their belongings as they attempt to cross into Turkey on Sunday, September 7.
A boy looks at bodies lying outside a hospital after a barrel-bomb attack in Aleppo on Friday, September 5.
A U.N. convoy moves in the buffer zone near the Golan Heights as they are escorted by Syrian rebel fighters near the Syrian village of Jubata Al Khashab on Tuesday, September 2.
Residents of Aleppo remove a body from debris on Friday, August 29, after what activists claim was shelling by forces loyal to al-Assad.
Druze men watch from the Golan Heights side of the Quneitra border with Syria as smoke rises during fighting between rebels and forces loyal to al-Assad on Wednesday, August 27.
This image was taken during a government guided tour in Mleiha, Syria, one day after Syrian government forces retook the town after a months-long battle with rebels, according to a military source and state television on Friday, August 15.
Residents inspect the rubble of destroyed buildings in Aleppo after Syrian regime helicopters allegedly dropped barrel bombs there on Wednesday, August 13.
Smoke trails over Aleppo following barrel bombs that were allegedly dropped by the Syrian regime on an opposition-controlled area on Monday, August 11.
Photographs of victims of the Bashar al-Assad regime are displayed as a Syrian Army defector known as "Caesar," center, appears in disguise to speak before the House Foreign Affairs Committee in Washington. The briefing on Thursday, July 31, was called "Assad's Killing Machine Exposed: Implications for U.S. Policy." Caesar was apparently a witness to al-Assad's brutality and has smuggled more than 50,000 photographs depicting the torture and execution of more than 10,000 dissidents.
Syrian rebel fighters take up positions behind sandbags in Aleppo on Wednesday, July 30.
People carry an injured man away from the site of an airstrike, reportedly carried out by Syrian government forces, in Aleppo on Sunday, July 27.
Rebel fighters execute two men Friday, July 25, in Binnish, Syria. The men reportedly were charged by an Islamic religious court with detonating several car bombs.
A rebel fighter stands on a dust-covered street in Aleppo on Monday, July 21.
A man clears debris at the site of an alleged barrel-bomb attack in Aleppo on Tuesday, July 15.
A woman walks amid debris after an airstrike by government forces July 15 in Aleppo.
People walk on a dust-filled street after a reported barrel-bomb attack in Aleppo on Monday, July 7.
Apartments and other buildings lie in ruins on Tuesday, June 3, in Aleppo, a city that "has had the life bombed out of it," according to CNN's Nick Paton Walsh.
A man carries a girl injured in a reported barrel-bomb attack by government forces June 3 in Aleppo.
A rebel fighter loads an anti-tank cannon outside Latakia, Syria, on Sunday, June 1.
A rescue worker pulls a girl from rubble in Aleppo on June 1 after reported bombing by government forces.
A giant poster of Syrian President Bashar al-Assad is seen in Damascus, Syria, on Saturday, May 31, as the capital prepares for presidential elections.
Portraits of al-Assad dominate the cityscape in central Damascus on Tuesday, May 27. Al-Assad is firmly in power three years into the civil war, while the opposition remains weak and fragmented and extremists grow in numbers and influence.
The father of a 3-month-old girl weeps Monday, May 26, after she was pulled from rubble following a barrel-bomb strike in Aleppo.
A woman stands in a heavily damaged building in Aleppo on May 26.
An injured man lies in a hospital bed after alleged airstrikes by government forces in Aleppo on Sunday, May 18.
Buildings in Homs, Syria, lie in ruins Saturday, May 10, days after an evacuation truce went into effect. Thousands of displaced residents returned to the city.
Rescuers carry a man wounded by a mine in the Bustan al-Diwan neighborhood of Homs on May 10.
A Syrian woman carries a suitcase along a street in the Juret al-Shayah district of Homs on May 10.
Residents carry their belongings in the al-Hamidieh neighborhood of Homs on May 10.
A woman injured when a mine went off is carried in Homs on May 10.
Residents return to damaged dwellings in Homs on May 10.
Debris lies on a deserted street in Homs on Thursday, May 8.
A mosque is seen through shattered glass in Homs, where an evacuation truce went into effect on Wednesday, May 7.
A wounded man is treated at a makeshift hospital in Aleppo on Sunday, May 4.
Debris rises in what Free Syrian Army fighters said was an operation to strike a checkpoint and remove government forces in Maarat al-Numan, Syria, on Monday, May 5.
A man helps a woman through debris after reported airstrikes by government forces on Thursday, May 1, in the Halak neighborhood of Aleppo.
Syrians gather at the site of reported airstrikes in Aleppo on May 1. According to the Syrian Observatory for Human Rights, at least 33 civilians were killed in the attack.
A woman runs after two barrel bombs were thrown, reportedly by forces loyal to Syrian President Bashar al-Assad in Aleppo on May 1.
A boy runs in Aleppo on Sunday, April 27, after what activists said were explosive barrels thrown by forces loyal to al-Assad.
Security and emergency medical personnel work at the site of a car bomb explosion Monday, April 14, in the Ekremah neighborhood of Homs.
In this photo released by the state-run SANA news agency, Syrian forces take positions during clashes with rebels near the town of Rankous, Syria, on Sunday, April 13.
Flames engulf a vehicle following a car bomb Wednesday, April 9, in the Karm al-Loz neighborhood of Homs.
A man carries a child who was found in the rubble of an Aleppo building after it was reportedly bombed by government forces on Monday, March 18.
An elderly man and a child walk among debris in a residential block of Aleppo on March 18.
A woman with blood on her face carries a child following a reported airstrike by government forces Saturday, March 15, in Aleppo.
People attempt to comfort a man in Aleppo after a reported airstrike by government forces on Sunday, March 9.
Buildings in Homs lay in ruins on March 9.
Syrian forces fire a cannon and a heavy machine gun loaded on a truck as they fight rebels in the Syrian town of Zara on Saturday, March 8.
A handout photo released by SANA shows Syrian President Bashar al-Assad speaking March 8 during a meeting in Damascus to mark the 51st anniversary of the 1963 revolution, when Baath Party supporters in the Syrian army seized power. Al-Assad said the country will go on with reconciliation efforts along with its fight against terrorism.
Syrians inspect the rubble of destroyed buildings in Aleppo following a reported airstrike by Syrian government forces on Friday, March 7.
People dig through the rubble of a building in Damascus that was allegedly hit by government airstrikes on Thursday, February 27.
A boy walks ahead of men carrying the body of his mother in Aleppo on Saturday, February 22. According to activists, the woman was killed when explosive barrels were thrown by forces loyal to al-Assad.
A man holds a baby who survived what activists say was an airstrike by al-Assad loyalists Friday, February 14, in Aleppo.
In this photo provided by the anti-government activist group Aleppo Media Center, Syrian men help survivors out of a building in Aleppo after it was bombed, allegedly by a Syrian regime warplane on Saturday, February 8.
Syrians gather at a site hit by barrel bombs, allegedly dropped by a regime helicopter on the opposition-controlled Mesekin Hananu district of Aleppo on February 8.
In this handout photo released by the state-run SANA news agency on February 8, civilians wave national flags in Damascus as they take part in a rally in support of President al-Assad.
A man stands next to debris in the road following a reported airstrike by Syrian government forces in Aleppo on February 8.
Medical personnel look for survivors after a reported airstrike in Aleppo on Saturday, February 1.
Syrians carry a dead body following an airstrike on February 1.
A man walks amid debris and dust on January 31.
An injured man is covered in dust after an airstrike on January 29.
A man tries to fix electrical wires in Aleppo on January 27.
Rebels and civilians check out a crater that activists say resulted from a Syrian government airstrike on an Aleppo bus station on Tuesday, January 21.
Men rush to a site that Syrian government forces reportedly hit in Aleppo on January 21.
Buildings lie in ruins in Aleppo on Sunday, January 19, after reported air raids by Syrian government planes.
A child collects items from a garbage pile in Douma, northeast of the capital, on Saturday, January 18.
A piece of exploded mortar lies in a street in Daraya, a Syrian city southwest of Damascus, on Friday, January 17.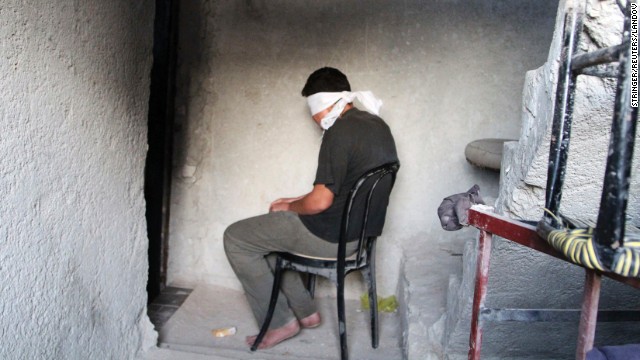 Photos: Syrian civil war in 2014
But Mekdad acknowledged that the government is not fighting lightly against opposition forces.
"My friend, we shall not attack them with flowers, because they are not attacking us with flowers," he said. "They are attacking with most sophisticated weapons, given to them by the United States, given to them by Europe, given to them by Turkey, given to them by the Saudis and others."
Last September, a U.S. official said CIA-funded weapons have started flowing to Syrian rebels.
A rebel leader told CNN at the time that he "can't talk about weapons," though he did stress that opposition forces were getting help.
"We are getting now a lot of support from our American friends, but I can't talk in detail about all kinds of the support," he said.
Sanctions from United States
On Wednesday, the United States announced sanctions against two al Qaeda leaders operating in Syria. The U.S. Treasury Department took action against Abd Al-Rahman Muhammad Zafir Al-Dubaysi Al-Juhni and 'Abd Al-Rahman Mustafa Al-Qaduli.
The pair were named as Specially Designated Global Terrorists, meaning any assets they may have under U.S. jurisdiction are frozen, and U.S. citizens are prohibited from doing business with them.
According to the Treasury Department, Al-Juhni was one of a group of senior al Qaeda members who conducted operations against Western targets.
Al-Qaduli is a senior official in the Islamic State of Iraq and Syria, formerly known as al Qaeda in Iraq, the department said. He is based in Syria for the terrorist network.
Al-Qaeda is one of the groups of fighters who have entered the battlefield in Syria. Their alliance with some factions of the opposition has led to tensions and rifts between those fighting against the Syrian government.
"Our action today highlights al Qaeda's and similar groups' efforts to take advantage of the unrest in Syria and sends a strong warning to the legitimate Syrian opposition and those who wish to support it that they must reject the attempts of (terrorist groups) to elicit support for their cause by preying on the sympathies of the international community for the plight of the Syrian people," Under Secretary for Terrorism and Financial Intelligence David S. Cohen said in a statement.
Claims of forced starvation
Mekdad also vehemently denied claims that the regime has been cutting off food access to people in Homs, which has been an opposition stronghold during much of the country's 3-year civil war.
"We are not starving anybody. We are trying to reach all those civilians under the control (of the rebels). And on different occasions, many convoys carrying humanitarian aid have gone but were turned back by the terrorist groups," Mekdad said.
The Syrian regime has consistently referred to opposition fighters as "terrorists."
"If they are speaking about (the) starving of terrorism and terrorists, yes we have to do our best, and I think this is our right to do it," Mekdad added.
Syrians return to Homs to see what war left them
Botched truce
A truce began May 7 in Homs, and opposition fighters and their families there were evacuated to Addar al-Kabira, according to the opposition Syrian Observatory for Human Rights.
But government forces shelled Addar al-Kabira this week, according to the opposition.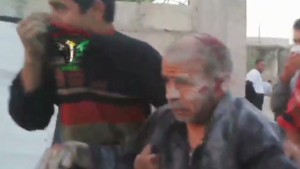 Report: Strong evidence Syria used gas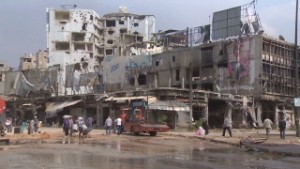 Cleanup starts in Homs after truce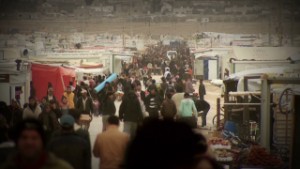 The plight of Syria's refugees
"The regime's shelling of the town of Addar al-Kabira north of Homs, to where rebels of Homs retreated in line with a deal organized by the U.N., makes evident the falsity of the truces that the Assad regime seeks to promote," Nasser al-Hariri, a member of the Syrian Coalition, said in a statement Tuesday.
Originally, the opposition had agreed to allow aid into pro-government neighborhoods in Aleppo, both Shiite enclaves, in exchange for the safe passage of fighters out of Homs.
Survival in a siege: leaves become food, faith becomes strength
Election coming up
Despite the ongoing war that has killed more than 100,000 people, Mekdad said the country is "absolutely" fit to hold a presidential election on June 3.
When asked how Syrians in war-torn Aleppo would be able vote, the deputy foreign minister lambasted the United States and European countries.
"This double standard by certain ... European countries and the United States among others -- they don't want anything to move in Syria. They don't want legitimacy in Syria. They want the disintegration of this country," Mekdad said.
"Or, in fact if we have to take into full consideration what they want: They don't want Syria to exist, or they want to hand Syria over to terrorist groups."
The United Nations has asked the government to reconsider the election as the carnage continues to mount every day.
But even if Syria proceeds with a presidential vote, the election might not yield any significant change.
President Bashar al-Assad's family has had a tight grip on power in Syria for the past 43 years. Al-Assad succeeded his father in 2000 and won a second term in 2007, unopposed.
Al-Assad is running again this year.
READ: U.N. envoy to Syria resigns as truce falters
READ: Attacks kill nearly 60 in Homs, Damascus, Syrian media report
READ: Russia, Syria, Middle East: Is the U.S. losing its ability to sway allies?
Frederik Pleitgen reported from Damascus; Holly Yan reported and wrote from Atlanta. CNN's Salma Abdelaziz and Barbara Starr also contributed to this report.