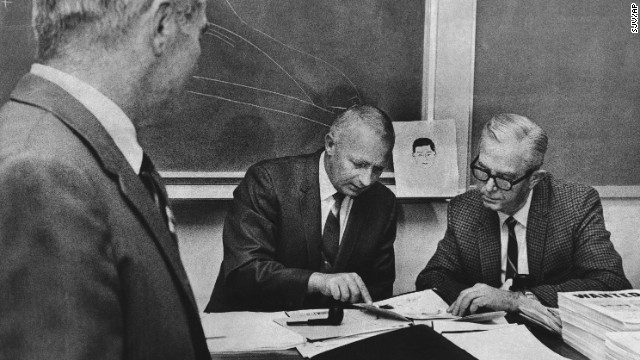 Law enforcement officers meet in San Francisco in 1969 to compare notes on the Zodiac Killer, who is believed to have killed five people in 1968 and 1969. The killer gained notoriety by writing several letters to police boasting of the slayings. He claimed to have killed as many as 37 people and has never been caught.
Authorities said DNA recovered from the body of Mary Sullivan matches that of her suspected killer -- the confessed Boston Strangler, Albert DeSalvo. After a sample was secretly collected from a relative, DeSalvo's body was exhumed in July 2013 for more DNA testing. From mid-1962 to early 1964, the Boston Strangler killed at least 13 women. DeSalvo was stabbed to death in 1973 while serving a prison sentence for rape.
Ed Gein killed at least two women and dug up the corpses of several others from a cemetery in Wisconsin, using their skin and body parts to make clothing and household objects in the 1950s.
In 1973, Juan Corona, a California farm laborer, was sentenced to 25 consecutive life sentences for the murder of 25 people found hacked to death in shallow graves.
Joseph Paul Franklin was convicted in 1997 of murdering Gerald Gordon outside a St. Louis synagogue in 1977. Franklin was also convicted of at least five other murders, receiving a string of life sentences, but he suggested that he was responsible for 22 murders. He was best known for shooting Hustler publisher Larry Flynt, who was paralyzed from the attack. Franklin was executed in November.
In 1977, David Berkowitz, also known as Son of Sam, confessed to the murders of six people in New York City. Berkowitz, now serving six consecutive 25-to-life sentences, claimed a demon spoke to him through a neighbor's dog.
Cousins Kenneth Bianchi, seen here, and Angelo Buono were charged with the murders of nine women between 1977 and 1978. Also known as the Hillside Stranglers, the cousins sexually assaulted and sometimes tortured their victims, leaving their bodies on roadsides in the hills of southern California.
Wayne Williams killed at least two men between 1979 and 1981, and police believed he might have been responsible for more than 20 other deaths in the Atlanta area. Williams was convicted and sentenced to two life terms in 1982.
After serving 15 years for murdering his mother, Henry Lee Lucas was convicted in 1985 for nine more murders. Lucas was the only inmate ever spared from execution by then-Texas Gov. George W. Bush.
Richard Ramirez, also known as the Night Stalker, was convicted of 13 murders and sentenced to death in California in 1989. The self-proclaimed devil worshipper found his victims in quiet neighborhoods and entered their homes through unlocked windows and doors.
During a routine traffic stop, a policeman found a dead U.S. Marine in the front seat of a car driven by Randy Steven Kraft. Kraft was linked to 45 murders and sentenced to death in 1989. He would pick up hitchhikers, give them drugs and alcohol, sexually assault them and then mutilate and strangle them.
Ted Bundy raped and killed at least 16 young women in the early to mid-1970s before he was executed in 1989. A crowd of several hundred gathered outside the prison where he was executed, and they cheered at the news of his death.
Jeffery Dahmer was sentenced to 15 consecutive life terms for the murders of 17 men and boys in the Milwaukee area between 1978 and 1991. Dahmer had sex with the corpses of his victims and kept the body parts of others, some of which he ate. Dahmer and another prison inmate were beaten to death during a work detail in November 1994.
John Wayne Gacy killed 33 men and boys between 1972 and 1978. Many of his victims, mostly drifters or runaways, were buried in a crawl space beneath his suburban Chicago home.
Joel David Rifkin was stopped by police for driving without a license plate when a body was found in his pickup truck. Rifkin killed 17 women in New York City between 1991 and 1993 and was sentenced to life in prison.
Charles Ng, seen here, and accomplice Leonard Lake tortured, killed and buried 11 people in northern California between 1984 and 1985. After the men were arrested for shoplifting, police found bullets and a silencer in their car and took them into the police station for questioning. Lake killed himself there with a cyanide pill. Ng was later sentenced to death.
Robert Lee Yates Jr. killed 15 people, most of them between 1996 and 1998. He buried one of them in a flower bed by his house in the Spokane, Washington, area. Most of his victims were prostitutes or drug addicts he killed in his van. He is on Washington's death row.
Gary Leon Ridgway, also known as the Green River Killer, confessed to 48 killings after his DNA was linked to a few of his victims. Remains of his victims, mostly runaways and prostitutes, turned up in ravines, rivers, airports and freeways in the Pacific Northwest.
Aileen Wuornos was executed in Florida in 2002 for the murders of seven men whom she had lured by posing as a prostitute or a distressed traveler.
Derrick Todd Lee was accused of raping and killing six women in Baton Rouge, Louisiana, between 2001 and 2003. He was arrested in Atlanta for the murder of Charlotte Murray Pace, convicted in 2004 and sentenced to death.
Danny Rolling pleaded guilty to the 1990 murders of five students he raped, tortured and mutilated in Gainesville, Florida. Rolling was also responsible for a separate 1991 triple homicide in Shreveport, Louisiana, and he was executed in 2006.
Angel Maturino Resendez, also known as the Railway Killer, was a drifter from Mexico. During the 1990s, he would rob and kill his victims near railroad tracks on both sides of the border, then hop rail cars to escape. Resendez was executed in 2006.
Pig farmer Robert Pickton was charged with 26 counts of murder after police found the bodies of young women on his farm in Port Coquitman, British Columbia, Canada. He was convicted of six murders in 2007, and he is serving a life sentence.
The BTK Strangler, Dennis Rader, killed 10 people between 1977 and 1991 in the Wichita, Kansas, area. He was convicted to 10 consecutive life terms in 2005. Rader named himself BTK, short for "bind, torture, kill."
Police found the decomposing and buried bodies of 10 women, and the skull of another woman, at the Cleveland home of ex-Marine Anthony Sowell. Sowell was convicted and given the death penalty in 2011.
Chester Dewayne Turner was charged with murdering 10 women and one unborn fetus in the Los Angeles area between 1987 and 1998. In 2007, Turner was sentenced to death for the murders and charged with four more murders in 2011.
Infamous serial killers
Infamous serial killers
Infamous serial killers
Infamous serial killers
Infamous serial killers
Infamous serial killers
Infamous serial killers
Infamous serial killers
Infamous serial killers
Infamous serial killers
Infamous serial killers
Infamous serial killers
Infamous serial killers
Infamous serial killers
Infamous serial killers
Infamous serial killers
Infamous serial killers
Infamous serial killers
Infamous serial killers
Infamous serial killers
Infamous serial killers
Infamous serial killers
Infamous serial killers
Infamous serial killers
Infamous serial killers
Infamous serial killers
STORY HIGHLIGHTS
Survivor says photo is "not inconsistent" with what he saw of killer
Zodiac Killer, who has never been caught, claimed to have killed 37 people
Each prospective child of Zodiac points to a different man as the killer
Gary Stewart is the latest and has compiled his account into a new book
(CNN) -- His declaration grabbed the ear: I am the son of a mass murderer whose dark deeds and enigmatic identity spawned silver screen thrillers. I am the son of the Zodiac Killer.
Gary Stewart of Baton Rouge, Louisiana, may be the latest person to claim lineage with the infamous psycho murderer who inspired the movies "Zodiac" and "Dirty Harry."
But he's not the first to say he is descended from a man who police suspect killed five people in northern California in the late 1960s, then taunted the public with creepy letters to the media.
Zodiac has never been caught. And he has, in all, 37 people's lives on his conscience, he has said in his cryptic claims of responsibility.
He also may have spawned a child. Others before Stewart have purported to be his offspring.
There's the self-proclaimed "Stepson of the Zodiac Killer," Dennis Kaufman, who has appeared on TV news and a crime show touting his deceased stepfather Jack Tarrance as the crazed killer. He said his stepfather's handwriting was similar to the killer's.
There's Deborah Perez, who said she wrote some of the claims of responsibility for her father, Guy Ward Hendrickson, when she was 7 years old. Her half-sister called her claims lies.
There's Steve Hodel, who says his father was a columnist for the San Francisco Chronicle -- the paper to which the Zodiac Killer sent his mocking notes. His claim too was discounted.
Whether Stewart's contention will hold true is yet to be seen.
Louisiana man claims his biological father was Zodiac Killer
Stewart's biological father
Stewart is accusing his deceased biological father, Earl Van Best Jr. The vice president of a cleaning company has compiled his account into a book published by HarperCollins.
"The Most Dangerous Animal of All" reveals Zodiac's true identity for the first time, the publisher says -- a claim Perez, Kaufman and others will likely dispute.
Stewart sleuthed for a decade through government files and news articles and hunted down relatives to dig up evidence, HarperCollins said.
The result is a narrative story about a "boy with disturbing fixations," who can't process being jilted by prospective mates and lets out his rage in a spate of murders.
Kaufman has described going to similar lengths with his obsession that his father could be the real killer. He even hired a handwriting analyst to compare his father's handwriting to letters the proclaimed mass murderer mailed to the press.
But since Stewart's account is new, investigators may take a gander at it to see if it helps them solve the case that is still open.
The author -- who was abandoned as an infant by his biological parents, then later adopted -- promises to answer questions in the case that have been open for nearly 50 years.
Police in Northern California have said they weren't aware of the book or its claims.
"It's an open and active case, so we don't comment," San Francisco police spokesman Albie Esparza told CNN. "But (it's) certainly something our homicide investigators will take a look at."
Gruesome murders
The Zodiac Killer stalked his victims with knives and guns in 1968 and 1969 and once even dressed as an executioner.
He craved publicity, taunting police in letter after letter to newspapers. The letters were often written in a cipher he seemed to have invented himself.
"If you read these letters, he was getting a tremendous thrill out of terrifying the public," said Susan Morton, a forensic scientist who has studied the letters.
The Zodiac's last known victim, San Francisco cab driver Paul Stine, was shot to death in his cab in 1969.
The killer cut out a piece of Stine's blood-stained shirt and mailed it to a newspaper, along with a letter.
Police believe the killings stopped, but the letters kept coming until 1974.
In the 1970s, a man named Arthur Allen was a prime suspect in the case. He was never charged and denied being the Zodiac Killer until his death in 1992.
Stirring the pot
As exciting as Stewart's account sounds, it may be just a new drop in the bucket.
More than 2,500 other people have been considered suspects in the case. Investigators said that for decades the phones rang regularly with people wanting to pass on new clues.
"We have talked to many people over the years," Steve Blower of the Napa County Sheriff's Office said.
Only two people are believed to have survived Zodiac's attacks. One was Bryan Hartnell, who was stabbed eight times in an attack in September 1969. His girlfriend was stabbed between 10 and 20 times. She died, but not before giving a description of her attacker.
A sketch of the suspect emerged, and HarperCollins says Stewart's father was a match for it.
"If you look at Gary's photo next to the sketch of the Zodiac (Killer) next to his father's mug shot, you can see that there is very clearly more than just a passing resemblance," HarperCollins publicist Tina Andreadis told the magazine. "They look alike."
Hartnell told CNN on Wednesday that he took a look at a head shot of Van Best that the publisher is circulating. That portrait is part of the new book.
"The things that I saw that were not inconsistent were the high forehead, the shock of dark hair, and the fact that he wears glasses," Hartnell said.
Hartnell has his reservations about Stewart's new account, but says he's interested in seeing the book.
"I somewhat follow the news, but there has been no time in the last 40-plus years when someone was not (stirring) the pot," Hartnell wrote to CNN in an e-mail.
CNN's Dan Simon and Michael Martinez contributed to this report.