Do you want the moon? Auction features artifacts from Apollo missions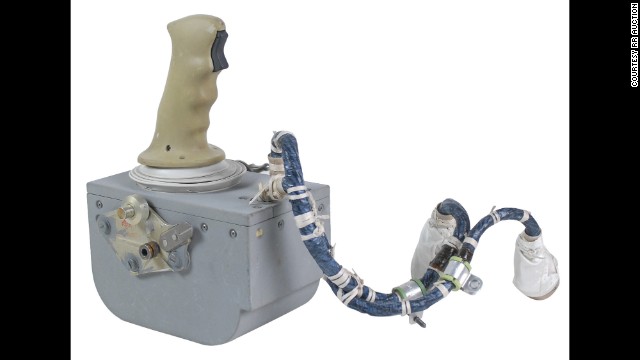 Dozens of artifacts from Apollo lunar missions were auctioned off this week. Among them: This hand controller from the Apollo 15 Lunar Module "Falcon," which was used by Commander Dave Scott to help land him and pilot James Irwin on the moon on July 30, 1971. It was bought by an anonymous European client for $610,063.
This backpack strap held a personal life-support system for Charles "Pete" Conrad, commander of the Apollo 12 mission, during both of his moonwalks in November 1969. The straps were custom-made for each astronaut, and Conrad kept his as a personal memento. It sold for $52,649.
A reproduction of the Declaration of Independence was carried to the moon aboard Apollo 11 in 1969. It includes a handwritten note from pilot Michael Collins. Sold for $31,409.
The sinking of the Liberty Bell 7 capsule in 1961 tarnished the Mercury-Redstone 4 mission and plagued astronaut Gus Grissom, who was initially blamed for the failure. Fellow astronaut Gordon Cooper gave Grissom this Mercury-era controller, mounted on a wooden base, as a show of support. Sold at $1,037.58.
This checklist, carried on the moon (and signed in ink) by astronaut Buzz Aldrin, helped Apollo 11 crews prepare for any eventuality by listing critical steps for an emergency liftoff. Fortunately for Aldrin and Neil Armstrong, those steps weren't necessary. Sold for $31,409.
This nylon glove liner was worn by astronaut Buzz Aldrin under his pressurized gloves on the lunar surface during the historic Apollo 11 mission. His name is stamped in the fabric. Sold for $61,212.
Schematics of lunar rovers were required on the moon in case a vehicle broke down while the astronauts were away from the lunar module. This one was carried by astronaut Charlie Duke during the Apollo 16 mission in 1972. Sold for $25,598.83.
Space artifacts for sale
Space artifacts for sale
Space artifacts for sale
Space artifacts for sale
Space artifacts for sale
Space artifacts for sale
Space artifacts for sale
STORY HIGHLIGHTS
Hundreds of rare aviation- and space-related artifacts are going on the auction block
Among them: Items brought to the moon on the Apollo lunar missions
Online auction begins Thursday and runs through May 22
(CNN) -- If you have some disposable income and want to own a piece of aviation or space-exploration history, now's your chance.
A metal fragment from the doomed Hindenburg airship, a signed photo of vanished pilot Amelia Earhart and items brought to the moon on the Apollo lunar missions are among hundreds of aviation- and space-related artifacts going on the auction block.
Almost 600 items are being offered in RR Auction's Space & Aviation online sale, which begins Thursday and runs through May 22.
For space enthusiasts, the highlights may be artifacts from NASA's Apollo lunar missions, including several pieces of rare equipment:
-- A complete Apollo 15 Rotational Hand Controller used by Commander David Scott to fly and land his lunar module on the surface of the moon in 1971. Bidding starts at $10,000.
-- A Crewman Optical Alignment Sight used by Scott for rendezvous, docking and star sightings during the lunar module phases of the mission. Bidding starts at $2,500.
Both pieces came from Scott's personal collection and are likely to be prized by collectors.
"These items represent the pinnacle of Apollo-era flown material," said Richard Jurek, co-author of "Marketing the Moon: The Selling of the Apollo Lunar Program."
"While risking their lives during the most critical and historic phases of their mission, these are the items that the astronauts personally selected to retain as mementos from arguably the greatest technological and engineering achievement of the 20th century."
Seventy items from Apollo 11 -- the first manned mission to land on the moon -- will be offered, including pieces from the personal collections of Buzz Aldrin and Michael Collins. Items from other Apollo missions as well as Mercury, Gemini, and space shuttle missions also are being auctioned.
Other artifacts include signed maps, patches, photos, and even a full spacesuit.
RR Auction has been around for more than 30 years and specializes in rare documents, manuscripts, autographs and historical artifacts. This will be the site's seventh auction that has focused on human aviation and space exploration.
Much of the equipment used on NASA missions has been left behind on the moon or sent drifting into the vastness of space. And many items that return from space missions are stored away in private collections or donated to museums, which is why rare auctions of spaceflight memorabilia draw interest from aviation enthusiasts.
"Objects coming directly from moon walkers and that have been in private collections since returning to Earth are unquestionably the most sought after," said Bobby Livingston, executive vice present of RR Auction.