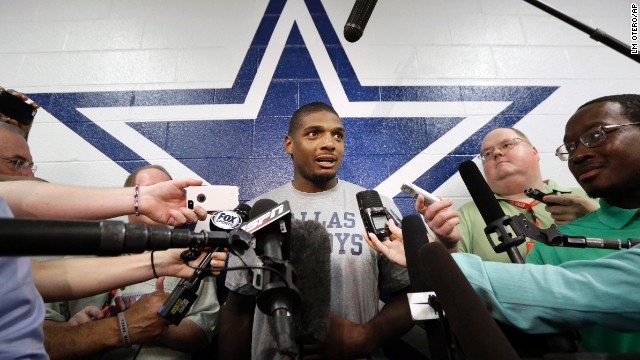 Michael Sam speaks to reporters Wednesday, September 3, after practicing at the Dallas Cowboys' headquarters in Irving, Texas. Sam, who made history as the first openly gay player to be drafted into the NFL,
did not make the St. Louis Rams' final 53-man roster
, but he was signed by the Cowboys to be on their practice squad.
Sam looks on prior to the NFL preseason game between the St. Louis Rams and the Miami Dolphins on August 28. "The most worthwhile things in life rarely come easy, this is a lesson I've always known," Sam tweeted after the Rams released him. "The journey continues."
Sam mocks Johnny Manziel's "money" celebration after sacking the Cleveland Browns quarterback during a preseason game August 23 in Cleveland. Sam, a defensive end, had three sacks in the preseason.
Sam accepts the Arthur Ashe Courage Award during the 2014 ESPYs on July 16. "Great things can happen when you have the courage to be yourself," Sam said while accepting the award, which is given to those who have shown strength in the face of adversity and stood up for their beliefs.
Cammisano tweeted
a photo of their kiss and said he was "so proud and happy."
Sam and his boyfriend, Vito Cammisano, kiss in San Diego after Sam was drafted on May 10. Sam was selected by the Rams in the seventh round with the 249th overall pick.
Sam hoists the Cotton Bowl trophy as the University of Missouri's football team is honored at halftime of a Missouri basketball game February 15 in Columbia, Missouri. Sam was instrumental in leading the Tigers to a 12-win season, an SEC Eastern Division title and a Cotton Bowl victory over Oklahoma State. He was named to many All-American teams, and he was selected as the SEC's co-defensive player of the year.
Sam runs the 40-yard dash February 2 during the NFL Scouting Combine in Indianapolis.
Sam runs onto the field January 25 before the NCAA Senior Bowl in Mobile, Alabama.
Sam reacts after Oklahoma State missed a field goal January 3 during the Cotton Bowl in Arlington, Texas.
Sam speaks to the media during a Cotton Bowl news conference on January 1.
Sam celebrates with fans November 9 after Missouri defeated the Kentucky Wildcats in Lexington, Kentucky.
Sam celebrates a sack October 19 during the first half of a game against the Florida Gators.
Sam returned a fumble for a touchdown October 12 against the Georgia Bulldogs in Athens, Georgia.
Sam and his Missouri teammates sing the school song September 21 after defeating Indiana in Bloomington, Indiana.
Michael Sam's journey
Michael Sam's journey
Michael Sam's journey
Michael Sam's journey
Michael Sam's journey
Michael Sam's journey
Michael Sam's journey
Michael Sam's journey
Michael Sam's journey
Michael Sam's journey
Michael Sam's journey
Michael Sam's journey
Michael Sam's journey
Michael Sam's journey
STORY HIGHLIGHTS
Writer Jeff Ruby's son is a die-hard football fan unfazed that Michael Sam was drafted
The 7-year-old didn't understand the fuss around Sam -- "Is he any good?" he asked
Ruby: To the next generation of football fans, "gay is just another kind of person"
(CNN) -- My son has 15 different NFL jerseys, most of which his mother purchased for $3 each at a thrift store. Popular jerseys never make it to the thrift store, which means Max is usually sporting a frayed and ill-fitting schmata advertising a retired player like Donovan McNabb or Priest Holmes, or one you assume had retired like Willis McGahee. He's got players no one likes, players no one remembers, and a player shot to death in a burglary gone wrong. The kid doesn't discriminate based on team, status or even vital signs. He loves football more than anything and it's impossible not to admire his blanket enthusiasm.
READ: The undefeated Little League champs from America's most dangerous city
Then again, this is a first-grader we're talking about. Max still believes in the tooth fairy and can't wipe his own ass with any kind of proficiency. So, you can imagine we hadn't really had much of a talk about the birds, to say nothing of the bees, when Michael Sam came along earlier this year, big and gay and proud and impossible for a football fan to ignore, even when the fan in question is a half-baked, illiterate thumb-sucker.
READ: The 10 habits of highly unflabby people
I suppose it helps that Max is a liberal. That may sound perverse, considering he's 7 and not old enough to understand the average Adam Sandler movie, let alone gay rights. But the kid's growing up in a liberal family in a liberal city where he goes to a bleeding-heart private school with other kids whose political leanings have been predetermined since they were hoisting sippy cups. When our upstairs neighbors, Brad and Peter, got married recently, Max's only confusion over the arrangement stemmed from an assumption that they always had been married.
READ: Eat healthy all week for just $60
So the Michael Sam conversation in our home wasn't some awkward dance about the existence of real, actual homosexuals in the world, a fact my son already understands and accepts. What he didn't get was why this qualified as a big deal. While the rest of us wrung our hands and debated how this would affect the delicate balance of the manliest locker rooms of America's manliest sport -- or how Michael Sam could possibly thrive in a spotlight so bright for an audience so potentially hostile -- this is how my conversation with Max went.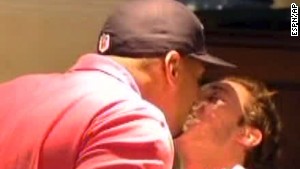 First openly gay player drafted in NFL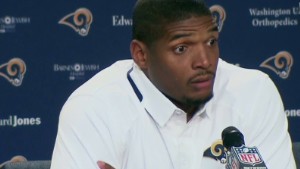 Sam: If you're shunned, join my family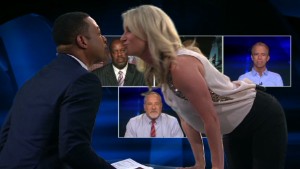 Reaction to 'The Kiss'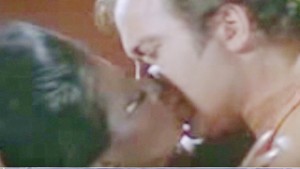 NFL kiss reminds of other broken taboos
Do you know what gay is?
Max: It means you're a man and you like men.
Right. Well, Michael Sam, this player from the University of Missouri who wants to play in the NFL, is gay.
Max: OK.
And he just told everyone.
Max: OK. Is he the only one in the NFL who likes men?
No.
Max: Does Jay Cutler?
I don't think so.
Max: Why does it matter?
It doesn't.
Max: So ... why -- what's the big deal?
Because he's the first one who has told everybody.
Max: The others are keeping secrets?
Yes. Because some people out there don't like gay people.
(long pause)
Max: Is he any good?
This, I suspect, will be the next generation of American sports fan. The one who shrugs at gay, because gay is just another kind of person, like tall or bald or funny or mean. Max's upbringing may not be typical, but his response -- is he any good? -- seemed right to me. It's basically the same response that his potential teammates and opponents in the NFL have exhibited, professionals who don't have time or interest in anything other than: Can he play?
The answer, of course, was yes. He was All-American, the SEC Defensive Player of the Year when he came out. Which was what made him so terrifying to the bigots -- it wasn't just the chance that he'd end up in the NFL, it was the idea that he could be a team's first pick, that a franchise they root for could actively decide to become The Team With the Gay Player. Which might explain why the anti-Sam campaign began almost immediately, the chorus of he's not necessarily a useful choice for a lot of teams, or if you look at his stats, he's not really that great. In the end, 248 players were picked before him.
I'm not suggesting we treat Michael Sam as though he's not newsworthy, an approach that contains its own stealth homophobia. When bigots are no longer free to publicly complain about the queers ruining their game, they say things like, "Who cares?" and "Why is this even news?" then they spit their venom onto a safer source: the media, which they accuse of pushing an agenda and pillory for turning the story into a publicity circus.
But we should pay attention to the conversation -- to the subtle ways that it diverges from the one I had with my 7-year-old son. When they said Sam wouldn't be drafted because no team would want to deal with the distraction, what they meant was they hoped their team didn't pick him. Are they breathing a sigh of relief now that the Rams are "the gay team"? And what of the players like University of Texas' Case McCoy, who's so open in his prejudice that he took to Twitter to express disgust at one of the most heartwarming moments in the history of sports? Surely McCoy is wishing this whole gay thing would just go away, before he has to play against a guy like Sam, or join him in an NFL locker room. But it won't. Even if Sam warms the bench and gets traded next year, where a whole new fan base has to reevaluate their priorities, it won't go away. If Michael Sam flops, another player will come out, then another and even the most intolerant among us will have to have to deal with the notion that Gay People Are Everywhere.
It's obvious that those who still cling to pro football as the last place in America where Boys Can Be Boys, a cozy man cave where they don't have to confront thorny issues like homosexuality, now find themselves confused and angry. They hear about Michael Sam and they feel uncomfortable about the way the world is changing, and they wonder about their place in it. When these fans say they don't care who a player sleeps with so long as he comes to play on Sunday, the subtext is: Don't push this gay stuff in my face and ruin the game I love. When Max says he doesn't care, he means: Do I still get to watch football on Sundays?
How did the young football fans in your house react to Michael Sam being drafted? Share your thoughts in the comments, on Twitter @CNNLiving with the hashtag #cnnparents or on CNN Living's Facebook page.
Read more from GQ:
How to cook perfect, crisp roasted potatoes
What it's like to be a billionaire's butler
A dad's guide to kids, games and the Apple app store
Reprinted with permission of Conde Nast.