STORY HIGHLIGHTS
Sam is the first openly gay player to be picked by, and possibly play for, an NFL team
He says he's focused on football, will train hard to "try to make the team"
All the media hype over his sexuality will "make me ... a better player," Sam says
Rams COO: Team took the lead, is ready for ramifications of drafting Michael Sam
(CNN) -- Early this year, Michael Sam made news by announcing he is gay. On Saturday, he made history as the first openly gay player to be drafted by a National Football League team. Seconds later, he made waves kissing his boyfriend in celebration as cameras looked on.
Now, Sam has one goal in mind -- to make the St. Louis Rams' roster.
"I'm determined to be great," he told reporters Tuesday in St. Louis. "So I'm going to train hard and try to make the team."
As a selection in the seventh and last round in the NFL draft, Sam playing for the Rams or any other NFL team this upcoming season is hardly a lock.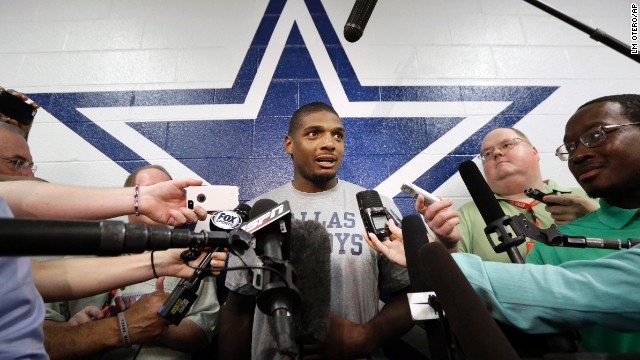 Michael Sam speaks to reporters Wednesday, September 3, after practicing at the Dallas Cowboys' headquarters in Irving, Texas. Sam, who made history as the first openly gay player to be drafted into the NFL, did not make the St. Louis Rams' final 53-man roster, but he was signed by the Cowboys to be on their practice squad.
Sam looks on prior to the NFL preseason game between the St. Louis Rams and the Miami Dolphins on August 28. "The most worthwhile things in life rarely come easy, this is a lesson I've always known," Sam tweeted after the Rams released him. "The journey continues."
Sam mocks Johnny Manziel's "money" celebration after sacking the Cleveland Browns quarterback during a preseason game August 23 in Cleveland. Sam, a defensive end, had three sacks in the preseason.
Sam accepts the Arthur Ashe Courage Award during the 2014 ESPYs on July 16. "Great things can happen when you have the courage to be yourself," Sam said while accepting the award, which is given to those who have shown strength in the face of adversity and stood up for their beliefs.
Sam and his boyfriend, Vito Cammisano, kiss in San Diego after Sam was drafted on May 10. Sam was selected by the Rams in the seventh round with the 249th overall pick. Cammisano tweeted a photo of their kiss and said he was "so proud and happy."
Sam hoists the Cotton Bowl trophy as the University of Missouri's football team is honored at halftime of a Missouri basketball game February 15 in Columbia, Missouri. Sam was instrumental in leading the Tigers to a 12-win season, an SEC Eastern Division title and a Cotton Bowl victory over Oklahoma State. He was named to many All-American teams, and he was selected as the SEC's co-defensive player of the year.
Sam runs the 40-yard dash February 2 during the NFL Scouting Combine in Indianapolis.
Sam runs onto the field January 25 before the NCAA Senior Bowl in Mobile, Alabama.
Sam reacts after Oklahoma State missed a field goal January 3 during the Cotton Bowl in Arlington, Texas.
Sam speaks to the media during a Cotton Bowl news conference on January 1.
Sam celebrates with fans November 9 after Missouri defeated the Kentucky Wildcats in Lexington, Kentucky.
Sam celebrates a sack October 19 during the first half of a game against the Florida Gators.
Sam returned a fumble for a touchdown October 12 against the Georgia Bulldogs in Athens, Georgia.
Sam and his Missouri teammates sing the school song September 21 after defeating Indiana in Bloomington, Indiana.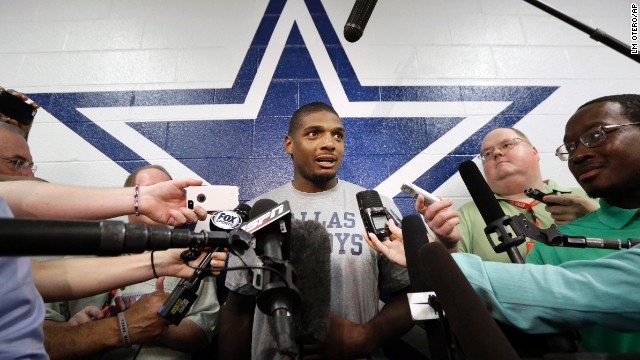 Photos: Michael Sam's journey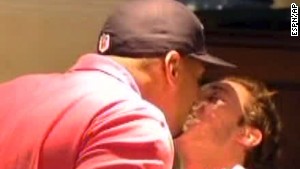 First openly gay player drafted in NFL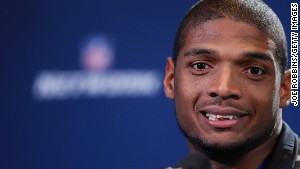 Michael Sam's kiss spurs many reactions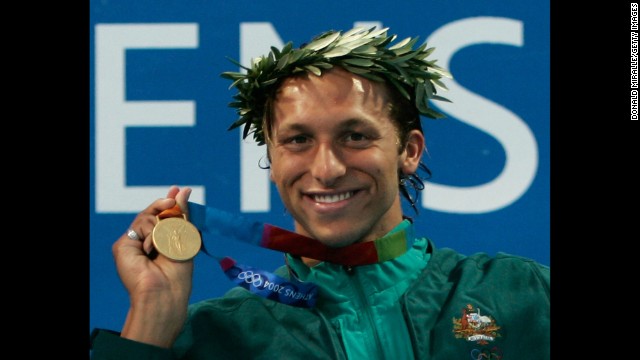 Swimmer Ian Thorpe, seen here in 2004 with one of his five Olympic gold medals, told an Australian news outlet that he is gay in an interview that aired on Sunday, July 13. Click through to see other openly gay athletes.
Former Missouri defensive end Michael Sam told ESPN and The New York Times that he is gay on February 9. Sam later became the first openly gay player to be drafted by a NFL team when he was taken by the St. Louis Rams in the seventh round.
Robbie Rogers became the first openly gay male athlete to play in a professional American sporting match when he took the field for Major League Soccer's Los Angeles Galaxy during a match against the Seattle Sounders on May 26.
"I didn't set out to be the first openly gay athlete playing in a major American team sport. But since I am, I'm happy to start the conversation," NBA player Jason Collins said in a Sports Illustrated article.
Sheryl Swoopes, a retired WNBA star and coach of the Loyola University Chicago's women's basketball team, came out in 2005.
Brittney Griner, selected No. 1 in the 2013 WNBA draft by the Phoenix Mercury, is openly gay.
In an exclusive interview with CNN, former San Francisco 49ers player Kwame Harris came out as gay after rumors circulated in the media.
Rugby player Gareth Thomas of Wales spoke about being gay to a British news channel in 2009.
Justin Fashanu became the first openly gay soccer player in Europe when he came out in 1990. Eight years later, he took his own life.
Tennis great Martina Navratilova came out in 1981.
After his retirement in 2007, basketball player John Amaechi announced he was gay.
After retiring from professional football in 1972, David Kopay acknowledged to the Washington Star that he was gay.
Villanova University's Will Sheridan came out to his teammates in 2003.
In 2012, U.S. women's soccer player Megan Rapinoe confirmed in Out magazine that she was a lesbian.
Champion figure skater Johnny Weir confirmed in his 2011 memoir, "Welcome to My World," that he was gay.
Australia's Matthew Mitcham came out in an interview with the Sydney Morning Herald in 2008.
In 2012, Orlando Cruz became the first active professional fighter to publicly announce that he was gay.
Openly gay British dressage rider Carl Hester helped his team win gold at the 2012 Olympics.
English cricketer Steven Davies announced he was gay in 2011.
Germany's Judith Arndt won the silver medal in cycling at the 2012 Olympics.
Billy Bean, a former Major League Baseball player, discussed being gay in a 1999 New York Times article.
Tennis legend Billie Jean King was outed by a former female partner in 1981.
In 2002, professional football player Esera Tuaolo came out on HBO's "Real Sports."
French tennis player Amelie Mauresmo came out in 1999.
Greg Louganis, who won four Olympic golds for the United States during his diving career, has been openly gay since 1995.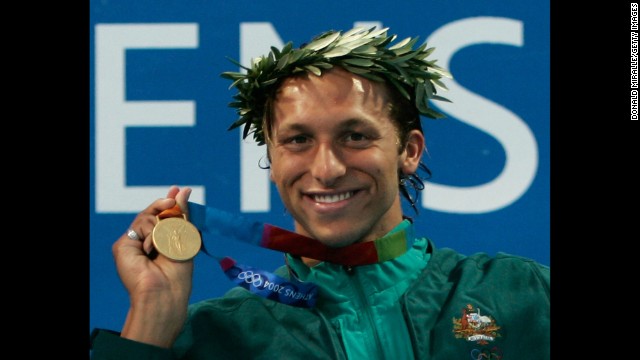 Photos: Openly gay athletes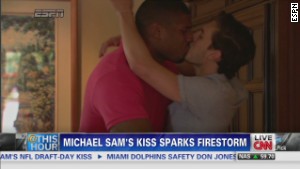 Granderson: Kiss a sign of NFL progress
And with standouts like Chris Long and Kendall Langford, the fact that St. Louis boasts one of the league's best defensive lines -- the place where Sam starred at the University of Missouri -- makes his task even harder.
That challenge isn't lost on Sam, who some experts thought might not fit in the NFL not because of his sexual orientation but because they characterized him as a "tweener" -- too small to play on the defensive line, too slow to be a linebacker.
Still, he sees the chance to learn from his Rams coaches and teammates things that can help improve his game. And he seemed careful Tuesday not to get too far ahead of himself, expressing thanks for being given "the opportunity to play" but professing no certainty that he will be on the sidelines come opening day.
"I still (don't) really feel like I'm part of the NFL right now," Sam said of the whirlwind of the past three days. "I'm blessed, really."
Obama congratulates Michael Sam
The company around him during his first media availability Tuesday showed that he's not the only prospective football player living a dream. Other late-round selections for the Rams joined him in fielding questions. And each had their own one-of-a-kind stories -- like Demetrius Rhaney, who lost his grandmother and great-grandmother on the same day a few years after his mother died, or Maurice Alexander's having worked at St. Louis' Edward Jones Dome to pay for college.
Yet the fact that Sam was the only player at the podium a few minutes later speaks to the fact that he was extraordinary, even among NFL draftees.
Not every would-be pro wins ESPN's Arthur Ashe Courage Award, gets a phone call from President Barack Obama after getting drafted, or ranks second in jersey sales among rookies, after all. Sam has recently tasted the flip side of stardom as well -- as a number of people, among them current and former NFL players, took to Twitter to rip ESPN for airing footage of him kissing his boyfriend, Vito Cammisano, right after he got the call from the Rams.
Reactions heat up after Sam kisses boyfriend on TV
Sam noted that he'd never experienced all this attention as an openly gay player at Mizzou because, while he confided his sexuality to coaches and teammates before the 2013 season, he didn't announce anything publicly until February.
Now that he's out, he said any jabs about his sexuality would fuel him on the gridiron.
"Thank God for you guys," Sam said, referring to the media, "because it's just going to make me even a better player than I am now."
Kevin Demoff, the St. Louis Rams chief operating officer, said the organization discussed the ramifications of picking a man who could become the NFL's first openly gay player.
"If you're going to take a leadership position by drafting Michael, then I think you have to expect both the good and the bad," Demoff said of the public reaction. "We're prepared for it, and I think we'll shine through it."
Rams General Manager Les Snead acknowledged Sam's selection is historic, comparing it to Kenny Washington's becoming the league's first black player, in 1946.
Moments later, though, head coach Jeff Fisher stressed that the team did what it did based on what Sam could do for the Rams on the field.
"Michael's value as a football player was off the charts," Fisher said. "So we drafted Michael as a football player. And he has an opportunity now to compete to try to make our football team."
Opinion: Just a kiss, and more than a kiss