STORY HIGHLIGHTS
NEW: Magic Johnson says Donald Sterling is 'living in the stone ages'
NEW: Johnson says Sterling disrespected him by questioning his charitable work
The embattled owner trashed Johnson in a CNN interview
Johnson says his only interaction with V. Stiviano was to take one picture
(CNN) -- Magic Johnson has some advice for Los Angeles Clippers owner Donald Sterling: Sell the team, take the money and enjoy the rest of your life.
A day after Sterling appeared on CNN slamming the NBA legend's character, his battle with HIV and his community outreach efforts, Johnson said Tuesday that he feels sorry for the 80-year-old billionaire.
"It's sad. It really is. I'm going to pray for this ... man," Johnson told CNN's Anderson Cooper in an exclusive interview.
Sterling's explosive CNN interview that aired Monday night was the first time he had spoken publicly since audio recordings surfaced last month of him making racist remarks. Reaction to the taped remarks came fast and furious, and the NBA responded with a lifetime ban for Sterling.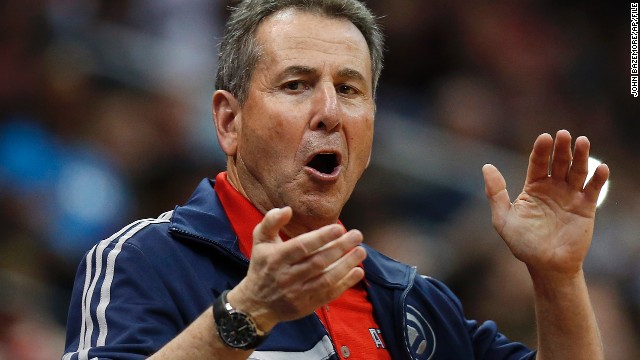 Atlanta Hawks controlling owner Bruce Levenson announced he will sell the team in light of an offensive email he sent. Levenson is not the first sports team owner to face the consequences of his actions:
The NBA's suspension and $2.5-million fine for Los Angeles Clippers owner Donald Sterling sent shockwaves through the sports world.
Bleacher Report has dubbed Mark Cuban the "King of NBA fines. The notoriously vocal Dallas Mavericks owner has been forced to pay more than $1.8 million in fines since he bought the team in 2000, many of them for colorful language and criticism of referees.
Former Cincinnati Reds owner Marge Schott was suspended from Major League Baseball in 1993 and 1996 for several controversial comments, among them racial epithets against players. In a 1996 interview, she said this about Adolf Hitler: "Everybody knows that he was good at the beginning, but he just went too far." She was forced to sell her controlling interest of the Reds in 1999.
Before the announcement about Sterling's suspension, Minnesota Timberwolves owner Glen Taylor was the only owner suspended in the NBA in 68 years. The league suspended Taylor in 2000 for a season after the Timberwolves made a secret deal with a star player to circumvent salary cap rules. Now, Taylor is chairman of the NBA board of governors, which Commissioner Adam Silver has asked to vote on stripping Sterling's ownership of the Clippers.
The NFL suspended San Francisco 49ers owner Eddie DeBartolo Jr. for his role in a racketeering scandal tied to riverboat casino licenses. DeBartolo pleaded guilty in 1998 to felony charges of failing to report an extortion case, according to Bleacher Report. By 2000 he was forced to cede control of the team to his sister.
As former Los Angeles Dodgers owner Frank McCourt's bitter divorce became a cloud over the franchise, his financial turmoil forced Major League Baseball to take over the day-to-day operations of the team in 2011. League Commissioner Bud Selig accused McCourt of "looting" the club of $190 million to fund an extravagant lifestyle. McCourt filed for bankruptcy later that year. During bankruptcy proceedings, McCourt agreed to sell the team under a bidding process.
The late New York Yankees owner George Steinbrenner was suspended from baseball for making illegal campaign contributions to Richard Nixon in 1974. He was banned for life in 1990 after paying a gambler $40,000 to get damaging information about a player, but Major League Baseball reinstated him three years later.
The NBA said Miami Heat owner Micky Arison had been fined in 2011 for posting about the league's collective bargaining process on Twitter. The amount of the fine was not disclosed, but several media reports said it was $500,000.
The NBA slapped Aubrey McClendon, partial owner of the Oklahoma City Thunder, with a $250,000 fine in 2007 after he told an Oklahoma newspaper that he hoped to move the team, then known as the Seattle SuperSonics, to Oklahoma.
The NBA fined former Los Angeles Lakers owner Jerry Buss $25,000 and suspended him for two games in 2007 after his conviction on a misdemeanor drunk driving charge. Buss died in 2013.
The outspoken CNN founder and former Atlanta Braves owner Ted Turner was suspended for a year in 1977 for negotiating a deal with a player who was under contract to play for the San Francisco Giants.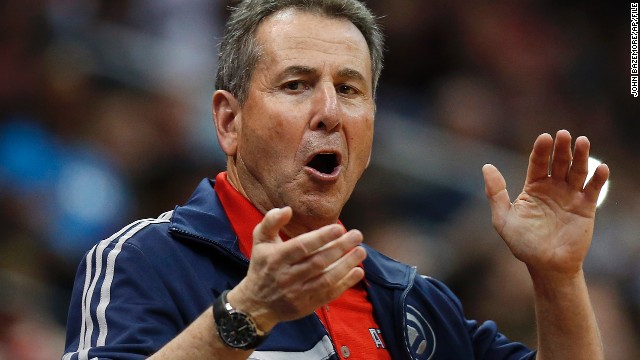 Team owners behaving badly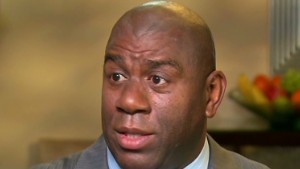 Magic: Sterling didn't apologize at all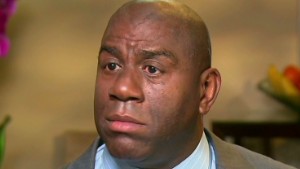 Magic: Sterling is upset and reaching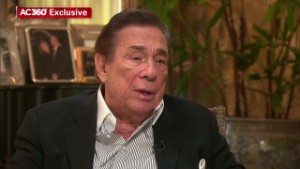 Donald Sterling on race, Magic & the NBA
Johnson became an involuntary figure in the controversy after Sterling named him in the leaked recording.
"Admire him, bring him here, feed him, f**k him, but don't put (Magic) on an Instagram for the world to have to see so they have to call me," Sterling is heard telling friend V. Stiviano.
Johnson told Cooper he is still waiting for an apology from Sterling for getting roped into Sterling's fight with Stiviano, and Johnson called the Monday interview -- in which Sterling directed another tirade at the NBA legend -- "disturbing."
"What's really sad is, it's not about me," Johnson said. "This is about the woman you love outing you and taping you and putting your conversation out here for everybody to know. ... This is between you two, but then he wants to include me."
Johnson said he had only met with Sterling three or four times, and most of those discussions had focused on basketball. Johnson couldn't say if the Clippers owner has slipped mentally.
Sterling "seems like he's all there," Johnson said. "But the problem is, he's living in the stone ages."
Johnson: Sterling called me
Sterling went on the offensive in his interview with Cooper when Johnson's name came up, blaming the basketball Hall of Famer for Sterling's delay in apologizing for the racist remarks that have him now fighting to keep his team.
"Wait, be patient, I'll help you, we'll work it out," Sterling said the NBA legend told him.
Not so, Johnson said Tuesday.
In fact, Johnson told CNN, Sterling called him recently and asked him to appear alongside him in an interview with ABC's Barbara Walters.
"I said the number one thing you need to do which you haven't done is apologize to everybody, and myself," Johnson said. "(Sterling replied) 'I'll get to that. I'll get to that.'"
The former NBA star told Sterling that the billionaire businessman needed to consult with attorneys, stressing that the controversy was bigger than Sterling realized.
Johnson said Sterling was adamant about Johnson doing the interview, even reaching out a second time. Johnson said his attorneys advised him not to have any further conversations with the embattled owner.
Sterling never did the interview with Walters.
"I'm really disturbed by the fact that when he called me he should have said, 'Magic, I'm sorry,'" Johnson said.
A sterling solution: Start talking honestly about race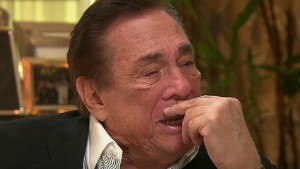 Sterling: 'I thought she cared for me'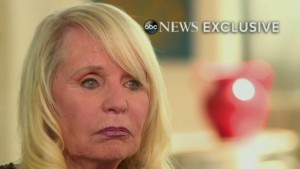 Mrs. Sterling: I signed divorce papers
'I don't know that young lady'
Johnson and the woman at the center of the scandal -- Stiviano -- have met briefly only once, the NBA legend said, taking a picture at a Los Angeles Dodgers game. Johnson is a part-owner of the baseball team.
"I don't know the young lady. I barely know Donald, so now I am caught in the middle of this love affair or whatever they had," Johnson said.
Stiviano has denied being intimate with Sterling, who when asked about the nature of their relationship declined to answer.
Johnson said he doesn't think Sterling understands what a big mistake the Clippers owner's racist comments were or the number of people who were offended by the remarks -- and by Sterling's statements to Cooper that aired Monday night, slamming Johnson again.
"What kind of a guy goes to every city, has sex with every girl, then he catches HIV? Is that someone we want to respect and tell our kids about?" Sterling asked Cooper in Monday's interview. "I think he should be ashamed of himself. I think he should go into the background. But what does he do for the black people? He doesn't do anything."
In response, Johnson defended his charitable work and business investments, saying Sterling should have done his homework before making the comments.
"My whole life is devoted to urban America. So, you know I just wish he knew the facts when he's talking," Johnson told Cooper. "But he's a man who's upset and he's reaching. He's reaching. He's trying to find something that he can grab on to help him save his team. And it's not going to happen."
Johnson says Sterling disrespected the work he's done, like helping coffee shops, gyms and theaters open in urban areas. "That really makes me upset. And then my competitive spirit comes out, because I've done all this great work. All the kids we've sent to college, and I've got 150 kids on scholarship right now."
He also responded to Sterling's HIV remarks, saying he never hid from the diagnosis when he retired from the NBA in 1991.
"I came out like a man, you know, I told the world. I didn't blame nobody else. I understood that what I did was wrong," Johnson said. "OK, so I announced that to the world, and I hoped that I was able to help people in doing that, and I think I did."
Johnson says Sterling's comments about HIV show there's still a stigma that needs to be fought.
"I hope this doesn't set us back," Johnson said. "The stigma is still there. We know that. We've been fighting it for years, and what we want to continue to do is just educate the world that it's OK, that you can high-five a person who has HIV. It's OK. ... It's a shame that Donald used this platform with you, instead of using this platform to come out and apologize to the world, which would have been great."
Opinion: The 5 apology rules that Sterling broke
Magic's interest in a basketball team
Johnson, whose ownership interests also include the WNBA's Sparks in Los Angeles, denied Sterling's assertion that the former Los Angeles Laker was trying to deceive his way into buying the Clippers.
The accusation made Johnson laugh.
"If I was going to trick somebody, deceive somebody, be dishonest to somebody, steal somebody's franchise, it's going to be the Los Angeles Lakers," said the man who won five league titles while with the team, one of the NBA's marquee franchises.
Johnson once owned a minority stake in the Lakers, which have been owned by the Buss family since 1979.
But Johnson said he would entertain the idea of buying the Clippers with his five partners who spent more than $2 billion on the Dodgers.
He thinks a sale forced by a vote of the NBA Board of Governors would take at least eight months to complete and would be a $1 billion transaction.
"If it comes out and it's for sale, and my Guggenheim (Baseball Management) partners and I say, 'OK, we want to take a look at it, we want to buy it,' of course, we'll make a run for it," he said, adding that he has had offers from other NBA teams to become a part owner.
Donald Sterling's claims vs. reality
Time for change?
Sterling, the longest tenured owner in the NBA, bought the team in 1981 when it was in San Diego and moved into Los Angeles.
But after his recorded racist remarks were revealed, the NBA began the process of forcing him to sell the franchise, which some experts have valued between $575 million and $1 billion. It will take a 75% vote of the league's owners to terminate Sterling's franchise rights.
The case is with the NBA's finance and advisory committee of 10 owners, which talked by conference call on Tuesday, but didn't recommend sending the matter to the board.
Sterling hasn't definitively said if he will sue to keep the team -- which is actually owned by a family trust that includes his wife, Shelly, as a co-executor -- but many analysts expect him to do so.
Johnson noted Sterling's past legal issues with his real estate business where he settled lawsuits brought against him and his wife with out-of-court payments.
Sterling "can't buy his way out of this one. He has bought his way out of all the other situations. Can't do it this time," Johnson said.
Johnson said Sterling should go into retirement.
"You're 80 years old. You've had a tremendous life. And you're going to benefit, whatever the price tag is, from this team selling. Just go ahead and enjoy the rest of your life," Johnson said. "You're fighting a battle that you can't win."
Sterling asked: What has Magic Johnson done? Answer: Quite a lot
Watch Anderson Cooper 360° weeknights 8pm ET. For the latest from AC360° click here.