Iran says it built copy of captured U.S. drone
updated 11:30 AM EDT, Mon May 12, 2014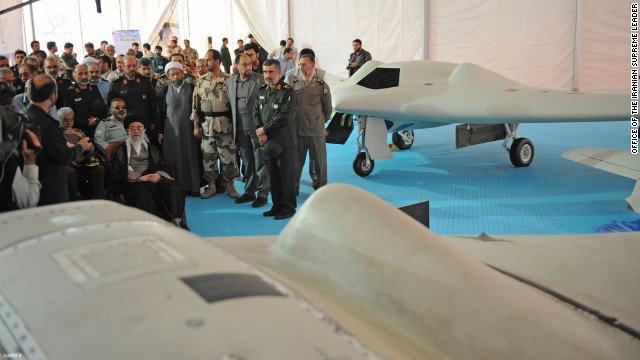 Iranian Supreme Leader Ayatollah Ali Khamenei, seated left, listens to an official during his visit to an aerospace exhibition in Tehran, Iran, on Sunday, May 11. The exhibition revealed an advanced CIA spy drone, at front, captured in 2011 by Iran, and its Iranian-made copy, at back.
Iran says it built its drone by reverse-engineering the U.S. drone.
Iran says its new drone is a copy of Lockheed Martin's RQ-170 Sentinel.
Iran says it was able to commandeer the U.S. drone, rather than shooting it down.
Iran's new spy drone
Iran's new spy drone
Iran's new spy drone
Iran's new spy drone
STORY HIGHLIGHTS
News agency says Iranian electronic warfare unit brought down the drone in 2011
That year, U.S. officials said it was part of a CIA reconnaissance mission
On Sunday, the U.S. drone was displayed alongside an Iranian copy
It was identified as a Lockheed Martin RQ-170 Sentinel
(CNN) -- Iran on Sunday unveiled what it says is a copy of a U.S. stealth drone that it "commandeered" in 2011.
"The drone was brought down by the Iranian Armed Forces' electronic warfare unit which commandeered the aircraft and safely landed it," the Iranian Tasnim News Agency reported.
Late last year, Iran announced it had "managed to reverse engineer most parts" of the drone, according to the Tasnim report.
The U.S. drone was identified as the RQ-170 Sentinel, made by Lockheed Martin.
Pictures of the aircraft taken during the unveiling ceremony attended by Iran's Supreme Leader, Ayatollah Ali Khamenei, were posted on Khamenei's official website.
U.S. officials told CNN in December 2011 that the drone was part of a CIA reconnaissance mission that involved both the intelligence community and military personnel stationed in Afghanistan.
Later that month, President Barack Obama asked Iran to return the drone to the U.S.
"We've asked for it back. We'll see how the Iranians respond," Obama said.
"No nation welcomes other countries' spy drones in its territory, and no one sends back the spying equipment and its information back to the country of origin," Gen. Hossein Salami, deputy commander of Iran's military, said at the time, according to the semiofficial Fars News Agency.
In photos of Sunday's ceremony, the U.S. drone was on display alongside the Iranian copy.
In February 2013, Iran said it had been able to decode surveillance footage from the captured drone and displayed it on YouTube.
Iranian company wants to send toy drone to Obama
Iran's newest warplane something from 'GI Joe'
Why is Iran building giant mock-up of U.S. aircraft carrier?
Iran unveils squadrons of flying boats