STORY HIGHLIGHTS
NEW: Prosecutor Gerrie Nel says the law requires an evaluation of Pistorius
A psychiatrist testified that he suffers general anxiety and is depressed
She says he can tell the difference between right and wrong
Pistorius says he mistook his girlfriend for an intruder in the middle of the night
Pretoria, South Africa (CNN) -- Oscar Pistorius prosecutor Gerrie Nel wants the South African track star sent for independent psychiatric evaluation, he said Monday, in a move that could delay the athlete's murder trial for a month or more.
A psychiatrist testified Monday that Pistorius has an anxiety disorder stemming from his double amputation as an infant and his unstable parents.
He's depressed now and feeling guilt from having killed his girlfriend, Reeva Steenkamp, defense witness Dr. Meryl Vorster said on the stand.
Nel responded by comparing the athlete's mental state to post-traumatic stress disorder and saying the law required psychiatric observation.
The prosecutor's extremely unusual move is essentially an effort to maneuver the court into considering an insanity or "capacity" defense even though the athlete's legal team is not mounting one, CNN legal analyst Kelly Phelps said. Phelps, a criminologist and law lecturer at the University of Cape Town, said she had never seen this done before.
Pistorius' lead defense lawyer, Barry Roux, is fighting back, saying Nel is oversimplifying the law.
The question was left unresolved when court adjourned for the day. Nel is due to submit his application on Tuesday after both sides have finished questioning Vorster.
The psychiatrist took the stand Monday morning for the defense, going all the way back to when the disabled sprinter was 11 months old.
Pistorius would have experienced the amputation of both of his legs below the knee at that time as a "traumatic assault" because he was too young to speak or understand what was happening to him, she said in court.
His parents then put pressure on him to appear normal, and his mother abused alcohol at times after she and Pistorius' father divorced, she said.
She raised him and his siblings "to see their external environment as threatening" and "added to the anxiety," Vorster said.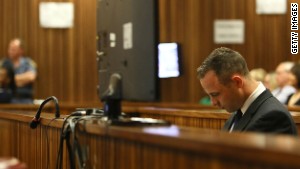 Pistorius' neighbor imitates scream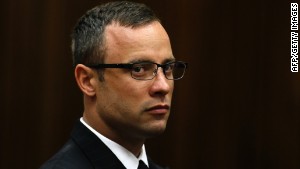 Pistorius 'begged God to keep her alive'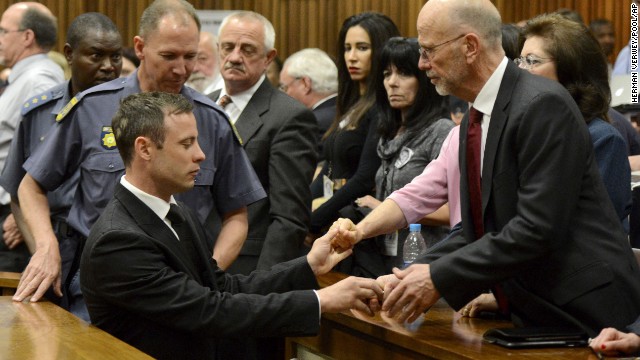 Oscar Pistorius reaches out to his uncle Arnold Pistorius and other family members as he is led out of court in Pretoria, South Africa, after being sentenced to five years in prison on Tuesday, October 21. Pistorius, the first double-amputee runner to compete in the Olympics, was sentenced for culpable homicide in the February 2013 death of his girlfriend, Reeva Steenkamp.
Pistorius leaves the high court in Pretoria on Monday, October 13. A judge cleared Pistorius of premeditated murder last month, but he was found guilty of culpable homicide -- the South African term for unintentionally, but unlawfully, killing a person.
Pistorius speaks with his uncle Arnold Pistorius during his trial at the Pretoria High Court on Friday, September 12.
Pistorius cries on the stand in Pretoria on Thursday, September 11, as the judge reads notes while delivering her verdict.
Pistorius arrives at court on September 11.
Pistorius speaks to someone in court as his murder trial resumes in Pretoria on Thursday, August 7.
Pistorius sits in court in Pretoria on Tuesday, July 8.
Pistorius arrives at court in Pretoria on Monday, July 7.
Pistorius yawns during day 37 of his murder trial on June 3.
Pistorius hugs a supporter Wednesday, July 2.
Pistorius listens to evidence being presented in court on Monday, June 30.
Pistorius leaves the court in Pretoria on Tuesday, May 20.
Pistorius reads notes during his trial on Monday, May 12.
Ballistics expert Tom "Wollie" Wolmarans testifies for the defense on May 12.
A red laser dot points at bullet holes in the bathroom door for a forensic demonstration during the trial on May 12. Pistorius admits firing four bullets through the closed door, killing Steenkamp, but says he thought he was protecting himself from a burglar.
Pistorius returns to court as his murder trial resumes Monday, May 5, after a break of more than two weeks.
Pistorius gets a hug from a woman as he leaves court in Pretoria on Wednesday, April 16.
Pistorius rubs his eye Tuesday, April 15, after testifying during his murder trial.
Pistorius arrives at the court in Pretoria on Monday, April 14.
Pistorius' sister, Aimee, cries in court as she listens to her brother's testimony on Tuesday, April 8.
June Steenkamp, Reeva Steenkamp's mother, reacts as she listens to Pistorius' testimony on April 8.
Pistorius is hugged by his aunt Lois Pistorius in court on Monday, April 7.
Pistorius sits inside the courtroom as members of his defense team talk in the foreground Friday, March 28.
Pistorius leaves court on March 28. The trial was delayed until April 7 because one of the legal experts who will assist the judge in reaching a verdict was sick.
Steenkamp's mother, right, and family friend Jenny Strydom react in court Tuesday, March 25, during cross-questioning.
Cell phone analyst Francois Moller testifies during the trial on March 25. Questioned by the prosecution, Moller listed in order the calls made and received by Pistorius after he shot Steenkamp.
Pistorius cries as he sits in the dock during his trial on Monday, March 24.
Pistorius talks to defense attorney Barry Roux on March 24.
Pistorius holds his head while members of his family talk behind him on Tuesday, March 18.
Steenkamp's mother, wearing the white collared shirt, looks on while a police officer takes notes in court March 18.
Pistorius is hugged by his aunt Lois on March 18.
Pistorius takes notes Monday, March 17, as his murder trial enters its third week.
Pistorius covers his head as he listens to forensic evidence Thursday, March 13.
Forensic investigator Johannes Vermeulen, left, is questioned during the trial March 13.
Pistorius listens to questions during his trial on Wednesday, March 12.
A police officer takes part in a court reconstruction March 12. A police forensic expert said Pistorius was on the stumps of his amputated legs when he knocked down a locked toilet door with a cricket bat to reach his shot girlfriend. That counters the track star's assertion he was wearing his prosthetic legs at the time. Defense attorney Barry Roux countered by suggesting that even with his prosthetic legs on, Pistorius would not be swinging a bat at the same height as an able-bodied person.
Pistorius listens to cross-questioning on Monday, March 10.
Friends of Steenkamp's family watch Pistorius during his trial on March 7.
Pistorius covers his ears on Thursday, March 6, as a witness speaks about the morning Steenkamp was killed.
Pistorius' sister, Aimee, right, speaks with members of Steenkamp's family on March 6.
Pistorius sits in court on the third day of his trial Wednesday, March 5.
Pistorius appears on the second day of his trial Tuesday, March 4.
Members of the media work during a break in proceedings March 4.
Pistorius talks with Roux inside the court on March 4.
Pistorius speaks with his legal representatives on March 4.
Pistorius is escorted out of the court Monday, March 3, after the first day of his murder trial.
People try to get a glimpse of Pistorius as he leaves the court building on March 3.
Pistorius is seen shortly after arriving for his trial on March 3.
Pistorius walks into the courtroom on March 3.
Pistorius takes a drink of water March 3 during his trial.
The case has captivated South Africa. Here, Lauren Wentzel watches the proceedings from her home outside Cape Town on March 3.
June Steenkamp arrives at the court building for the start of the trial.
Pistorius' relatives wait inside the courtroom on March 3.
People at the court building wait for Pistorius' arrival on March 3.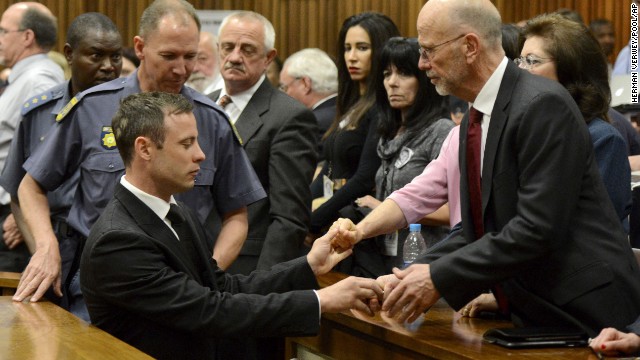 Photos: Oscar Pistorius trial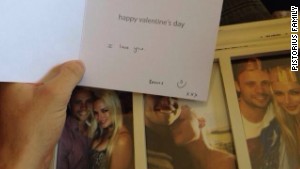 Reeva's last words to Oscar: I love you
Pistorius earlier testified that "Everything I learnt in life, I learned from her."
Reasonable?
The defense is trying to show that Pistorius made a genuine and reasonable mistake and responded reasonably on the night he killed Steenkamp, 29, a model and law school graduate.
Pistorius, 27, admits that he fired four bullets through a closed door in his house, killing Steenkamp, but says he thought he was protecting himself from a burglar.
Whether the judge believes he acted reasonably could mean the difference between a verdict of culpable homicide, a lesser charge than murder, and an acquittal, according to Phelps.
If Pistorius is convicted of murder, he faces at least 15 years in prison, and possibly life. South Africa does not have the death penalty.
A verdict of culpable homicide would leave the sentence at the discretion of Judge Thokozile Masipa.
Vorster said the athlete's general anxiety disorder meant he felt that his safety was threatened even when objectively it was not, she said.
And she said he was "devastated that he killed his girlfriend."
Steenkamp's mother, who has been in court for most of the trial, was not there Monday to hear the evaluation.
Fight or flight
Vorster also addressed the question of why Pistorius took his gun and went toward the sound of what the thought was danger rather than trying to get away.
Because of his disability, she said, when he faces a fight-or-flight situation, he cannot flee, so his instinct is to fight.
Nel then pressed the psychiatrist on whether Pistorius was mentally ill and whether he could distinguish right from wrong.
She said he could.
Many people have general anxiety disorder, and it does not imply that one has lost touch with reality, she said.
The psychiatrist took the stand on day 30 of a high-profile trial that has gripped South Africa and much of the world.
She could be the last witness. Roux said last week that he expected to wrap up his case Tuesday. New psychiatric evaluation could push the end of the trial a month or more away.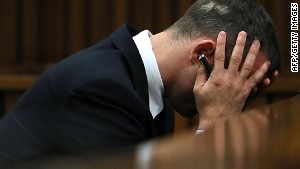 Is that a cricket bat or gunshot?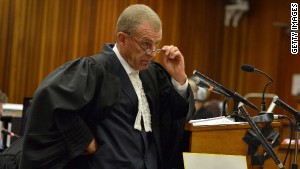 Pistorius cross-examination highlights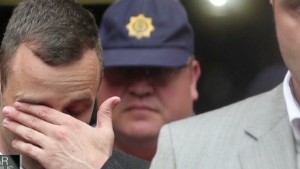 Pistorius: 'Not sure' who is to blame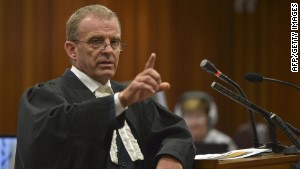 Gerrie 'The Bull Dog' Nel on the attack
When the defense is done presenting its evidence, both sides will make closing arguments, and then Masipa will retire to consider her verdict. South Africa does not have jury trials, but she is being assisted by two experts called assessors.
Nel has fought aggressively to show that Pistorius argued with Steenkamp before killing her.
The trial has seen Pistorius break down repeatedly, crying, wailing and sometimes throwing up as the court sees and hears evidence about Steenkamp's death.
Vortser said the athlete's physical distress was real.
He listened with his head lowered as the psychiatrist testified Monday.
Earlier evidence has included graphic photos of the wounds; testimony from neighbors, friends, police and pathologists; and the actual door through which Pistorius fired four hollow-tipped bullets on the fateful night.
Argument or error?
There is no dispute that Pistorius shot and killed Steenkamp in his home early on the morning of Valentine's Day 2013.
Nel tore into Pistorius over five days in court in April, saying the Paralympic medalist had argued with Steenkamp and killed her on purpose. He tried to force Pistorius to look at a picture of Steenkamp's head after the shooting, accused Pistorius of being selfish and possessive, and said he refused to take responsibility for his actions.
The defense team is seeking to cast doubt on the state's case and needs only to show there is a reasonable doubt that Pistorius meant to kill Steenkamp.
Masipa must decide whether Pistorius genuinely made a terrible mistake or whether he murdered Steenkamp intentionally.
Pistorius is arguably the world's most famous disabled athlete, known as the "Blade Runner" for the carbon-fiber blades he runs on.
He fought for -- and won -- the right to compete against able-bodied runners at the Olympics after his Paralympic success.
Sports fans worldwide saw Pistorius a symbol of triumph over physical adversity.
Oscar Pistorius trial enters new phase after blistering cross-examination
Gerrie Nel: 'Bulldog' prosecutor sinks teeth into Oscar Pistorius at murder trial