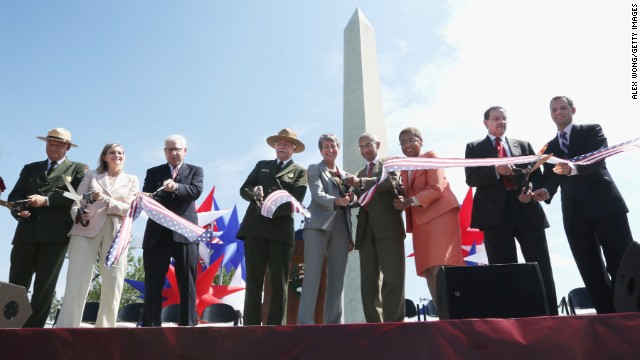 The Washington Monument is reopening after a 2011 earthquake caused $15 million in damage. Cutting the ribbon Monday, May 12, were, from left, National Mall and Memorial Parks Superintendent Robert Vogel; Caroline Cunningham, president of the Trust for the National Mall; David Rubenstein, co-founder and co-CEO of the Carlyle Group; National Park Service Director Jonathan Jarvis; U.S. Interior Secretary Sally Jewell; counselor to President Obama John Podesta; Rep. Eleanor Holmes Norton, D-D.C.; and D.C. Mayor Vincent Gray (with unidentified man).
One of Washington's most popular sites, the 555-foot obelisk had been closed since the magnitude-5.8 earthquake on August 23, 2011, caused more than 150 cracks in the structure.
Steven Avilla wears a Washington Monument costume as he greets visitors.
Master of ceremonies Al Roker, of NBC's "Today Show," speaks during the ceremony to celebrate the monument's reopening.
The ceremony included entertainment from "American Idol" winner Candice Glover, seen here, the Boy and Girl Choristers of Washington National Cathedral Choir, the Old Guard Fife and Drum Corps and the U.S. Navy Band.
David Rubenstein, co-founder and co-CEO of the Carlyle Group, addresses National Park Service Director Jonathan Jarvis and the rest of the crowd. For the restoration project, Congress allocated $7.5 million, and Rubenstein matched those funds with a $7.5 million donation via the Trust for the National Mall.
Ticketed public tours were made available at the Washington Monument Lodge on a first-come basis for the reopening.
Re-enactors portraying President George Washington and his wife, Martha, attend the reopening celebrations. Built as a tribute to Washington's military leadership during the American Revolution, construction of the Washington Monument was started in 1848 and completed in 1884.
The Washington Monument is reflected in tourist Lani Walatka's sunglasses.
Recent repairs are visible as visiting fifth-graders have lunch in the shade. From left are Jacob Smith-Osborn, Dom Balzano, Jiashu Chen, James Downs and Alex Musshorn.
Washington Monument reopens
Washington Monument reopens
Washington Monument reopens
Washington Monument reopens
Washington Monument reopens
Washington Monument reopens
Washington Monument reopens
Washington Monument reopens
Washington Monument reopens
Washington Monument reopens