North Korea through a Google Glass lens
Join the conversation
CNN iReport
updated 10:06 AM EDT, Tue May 13, 2014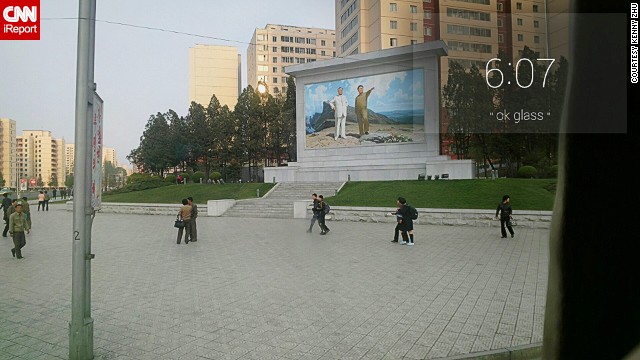 Kenny Zhu visited North Korea from China and captured North Korea using his Google Glass. He was allowed to wear the wearable camera as long as "everything reflects the positive side of DPRK."
The words beside the two photos translate roughly as "Long live the The Great Leader Kim Jong-un," and "Long Live the Sun-Like Workers' Party of Korea."
The Mansudae Grand Monument is where North Koreans line up to place flowers at the foot of the gigantic statue of Kim Il Sung.
"The banner said something like 'Fully execute the missions that our beloved General Kim Jung-un mentioned in this year's New Year Statement' -- I know some basic Korean," says Zhu.
Zhu noticed that the DMZ uses Samsung air conditioners, a South Korean brand.
One tour guide told Zhu that from his only visit to China, he discovered China has series pollution problems.
'OK Glass'
Kim's family photo
Mansudae Grand Monuments
Remember what Kim said
South Korean air cons found
Workers' Party of Korea Memorial Sculpture
Pyongyang metro
STORY HIGHLIGHTS
iReporter Kenny Zhu was allowed to capture North Korea using Google Glass
Zhu made some observations after the trip -- at the DMZ, they use South Korean brand, Samsung's air con
South Korea or North Korea? Sony or Apple? Questions the tour guides asked Zhu
(CNN) -- iReporter Kenny Zhu visited North Korea in April and was able to take video footage and photos with his Google Glass during the trip (the complete iReport is here).
Zhu, wearing Google Glass, said he encountered curiosity from officials and was inspected before he was allowed to take pictures with his wearable camera/computer device.
"At the first sight they were able to tell it is a photography device. But without Internet -- no Internet service available for temporary foreign visitors in North Korea, the glasses are just a wearable video camera," says Zhu.
"They were suspicious of the Google Glass at first though, asking me some questions about it -- how it work, what does it do, etc.. I let them played around with it and they seemed flattered and inquired no more," says Zhu.
Got Google Glass? Send an iReport
A DPRK official actually accidentally recorded himself while toying with the Glass but Zhu didn't upload the photos in case there might be consequences, for them or himself.
Here are the things that stood out to him the most during the trip, in his words:
1. North Korea w