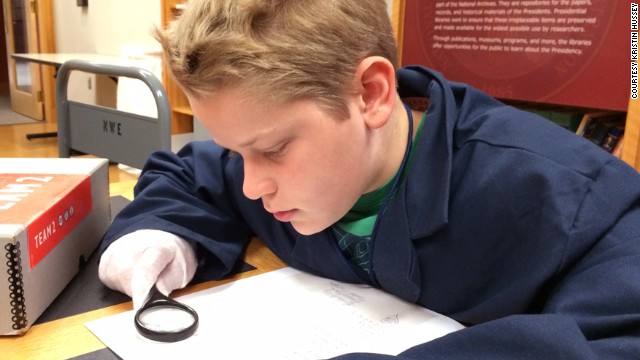 Kristin Hussey's family is about to begin the last leg of a school sabbatical that has taken them on learning adventures in Florida, Washington, D.C., and next in the western United States. Here, Hussey's son examined historical documents at the National Archives during a visit to Washington, D.C. The Archives' Learning Center and free family programs were among several kid-friendly programs the family discovered in unexpected places.
During the sabbatical, Hussey's sons used library books and blog entries for reading and writing work. In math, the boys used the same textbooks as their classmates back home.
Hussey's sons scanned names on the Vietnam Veterans Memorial during their visit to Washington, D.C. They were searching for John B. Sherman, a college friend of their grandfather's who died during the conflict. "We tried to make everything into a lesson," Hussey said. "We're trying to bring the history to life."
One of the goals behind the school sabbatical was to enable Hussey's children, who live in Connecticut, to spend more time with their grandparents in Florida. Hussey and her children stayed in the same building as her parents, Michael and Donna Hussey, and they often joined in the family's adventures.
Hussey's aunt, retired biology teacher Diane Doyle, spent two weeks visiting Florida and leading science projects for Hussey's children. When their experiments were complete, they held a small science fair to show off their work.
Hussey's daughter will enter kindergarten in the fall, but she took part in many of her older brothers' learning experiences. Here, she worked on identifying birds at Everglades National Park in Florida.
Hussey's family spent a night camping at the remote Dry Tortugas National Park, about 68 miles off the coast of Key West. While visiting, Hussey's children learned that conspirators in Abraham Lincoln's death were imprisoned there in the Civil War-era Fort Jefferson. Later in their sabbatical, they visited Ford's Theatre, where Lincoln was shot. Both visits prompted discussions about the Civil War and Lincoln's presidency.
Hussey's husband's parents visited the family in Florida and in Washington during the sabbatical, and both sets of grandparents expect to join in the last leg of the family's journey out West.
Lessons from a school sabbatical
Lessons from a school sabbatical
Lessons from a school sabbatical
Lessons from a school sabbatical
Lessons from a school sabbatical
Lessons from a school sabbatical
Lessons from a school sabbatical
Lessons from a school sabbatical
STORY HIGHLIGHTS
Writer Kristin Hussey's children are taking a sabbatical from school
Instead of a strict schedule, they're diving into hands-on experiences and learning
"Not every day is an awesome day," Hussey writes, but the learning is profound
Other families describe months spent camping or traveling during school sabbaticals
(CNN) -- A couple years ago, my husband and I realized that our family had moved out of the baby stage. The labor-intensive work of the early parenting years was behind us. Suddenly we were hurtling toward middle school and our home life was revving up.
With work, school and the usual activities of suburban family life, all five of us were giving our best everywhere else. By the end of the day, we didn't have much left for each other. I wanted to slow it all down.
I pitched an idea to my husband, Alex: For one school semester, from January to June, we'd take a family sabbatical. Our children are 11, 8 and nearly 5 years old -- old enough to carry their own backpacks, but not so old that they don't want to hang with us anymore. We decided to hit the pause button on everyday life and do something memorable as a family.
As we worked out the logistics, we decided on two main goals: We wanted our children to spend time with their grandparents, and we wanted to travel around the United States. My husband couldn't take six months off from work, but we could plan a trip that would allow Alex to spend the workweek at home and meet up for long weekends.
I talked with the principal of our boys' public elementary school about our plan and she didn't tell me it was a bad idea. Neither did our pediatrician, or our kids' teachers, when I asked their opinions. The grandparents were happy to have time with the children. Our friends told us we were either brave or nuts. The kids loved the adventure of it all, although they weren't thrilled about leaving their friends.
Last December, we withdrew our children from school and signed an agreement with the school district acknowledging our responsibility for their education.
'Stop the madness'
It's hard to say how often families decide to take sabbaticals. Many families homeschool their children, and a subset of those families "roadschool," packing everything into a van or RV and hitting the road for an indefinite period of time. Most sabbaticals, like ours, are designed to be temporary. Our kids are already registered for school in September, when they will enter kindergarten and third and sixth grades. The sabbatical just offers a break from a whirling dervish life at home.
Amy and Keith Carney know the feeling.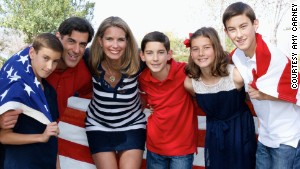 Amy and Keith Carney and their children will depart soon for a seven-month sabbatical from their lives in Arizona.
The Carneys, who live in Paradise Valley, Arizona, plan to leave in a few weeks for a seven-month sabbatical with their 12-year-old triplet sons and 11-year-old daughter. Keith spent more than 20 years playing and then coaching in the National Hockey League, jobs that frequently kept him away from home. Three of the Carney kids play competitive sports, and Amy said their family life became dominated by tournaments and escalating pressures at school. They vacationed in Europe but didn't find those trips relaxing.
About a year ago, the Carneys started talking about taking an extended break with their children. One of the kids anxiously asked whether the trip would prevent him from getting into the National Honor Society. "I had never even mentioned National Honor Society to him," said Amy Carney. "I was like, 'You've got to be kidding me!'"
Their son's anxiety served to reinforce the Carneys' concern that pressure to achieve might distract their children from enjoying -- or even noticing -- life's simpler pleasures.
"I just said, 'Stop the madness.' There's so much emphasis on grades and sports," Amy Carney said. "We don't want them to think that's all there is in life."
The Carneys worked with their financial adviser to plan for their sabbatical. They sold some land in Florida to buy a 45-foot Allegro bus. Keith left his coaching job with the Chicago Blackhawks. They found someone to rent their house while they're gone. Amy, a model and freelance writer, courted sponsors for their trip, and struck a deal with Kampgrounds of America to write about their travels in exchange for free campsites.
"We have never camped a day in our life," Amy Carney said. "My kids have been to the Eiffel Tower, they've been to the Colosseum in Rome, but they've never been to a national park."
My family's sabbatical came together differently. We live one street over from my husband's parents, but my parents are based in Florida for half the year. Our highest sabbatical priority was to spend time with them, so we decided to head south and join the snowbirds in Florida. We spent three months living two floors down from Grandmom and Pop Pop's condo, surrounded almost entirely by retirees.
I worried that our hallway-running, cannonball-jumping boisterousness might ruin my parents' good reputation among their friends, but our neighbors could not have been more welcoming. The kids reveled in the grandparent-to-child ratio found exclusively in South Florida, whooping it up at condo association parties, and telling long, detailed stories to neighbors who listened patiently to every word. Pop Pop let the boys zoom golf carts around the fairways. Our daughter rode the elevator in her pajamas to have breakfast with her grandparents. Grandmom joined us for field trips, helped oversee school assignments and invited the kids to cook dinner with her.
My aunt, a retired biology teacher, visited for two weeks and did science projects with each child. When the experiments were finished, we held a little science fair in the community clubhouse.
We're now four months into our sabbatical. We are a family of five personalities, and not every day is an awesome day. We've had rough days, travel fatigue and homesickness. We've weathered a lice infestation, stolen credit cards, a stomach bug, one lost driver's license, a couple of ear infections and more public meltdowns than I care to recall.
'Take your opportunity when you can'
As we planned the trip, I wanted to make sure the kids' time away from school would be spent wisely. I needn't have worried; there is no shortage of educational opportunities. In fact, it didn't take long to realize that if we really wanted to explore the places we were visiting, we wouldn't have much time for traditional schoolwork.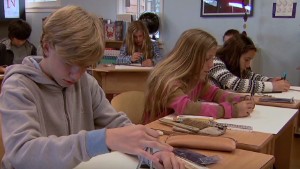 Enrollment up in no-test, no-tech school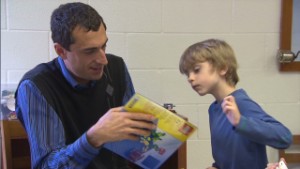 New method: Children decide what to study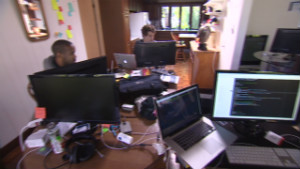 What's the hottest high school class?
We pared down the "homeschooling" part to just the essentials. The boys have continued the same math curriculum their classmates are finishing in school. My husband shuttles suitcases of library books back and forth from home, and the boys write about our adventures and discoveries.
Once we decided to let learning happen through experiences, we were off and running.
We learned about aquatic ecosystems at the Conservancy of Southwest Florida. We spotted manatees, dolphins, manta rays and bald eagles in the Everglades and Gulf of Mexico. We checked out Art Deco buildings and tried Cuban food in Miami.
The boys were introduced to physics during a Disney Youth Education class in the Magic Kingdom. They rode Space Mountain twice, once with lights on and then with lights off, to learn how coaster designers use physics to trick our senses and increase the thrill factor on a ride. Our sons also looked forward to every one of the marine life classes they took at Sanibel Sea School, where they played on the beach and learned about sharks, pelicans and dolphins.
We drove to the end of Interstate 95 and continued all the way to Key West, then boarded a ferry and traveled across the Straits of Florida to snorkel and camp at Dry Tortugas National Park. We read stories from 1890s editions of The New York Times about Dry Tortuga's Fort Jefferson, which was used as a military prison during the Civil War.
At the end of March, we loaded everyone into our minivan and headed to Washington, D.C. For a month, we rented a furnished apartment and lived the city life, eating lunch from food trucks, riding the Metro and walking from museum to monument to memorial and back again. We studied American history and examined documents during a Constitution-in-Action family program at the National Archives.
Our visits to the Archives, Dry Tortugas, Ford's Theatre and Arlington National Cemetery highlighted different elements of the Civil War and Abraham Lincoln's presidency. One of my favorite parts of this trip has been watching the kids gather bits of information and weave their newfound knowledge into a fuller understanding of history. We didn't plot all this out before we left home; it evolved on its own. That's what we were hoping would happen.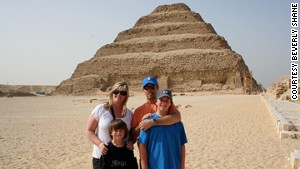 The Shane family of California took a five-month trip through Europe and the Middle East, including Giza, Egypt.
Beverly and John Shane of Manhattan Beach, California, seized a similar opportunity when their sixth-grader was studying ancient civilizations.
Six years ago, the Shanes took their two sons on a five-month trip through Europe and the Middle East. Both Beverly and John had retired from Dell computers several years before, and had long discussed taking an extended family trip. The boys were 12 and 7 at the time, and the Shanes hired Ellen Regenstreif, an acquaintance with teaching experience and a passion for travel, to put together an educational travel experience for them. Regenstreif suggested a trip through ancient outposts of the Roman Empire, and organized a journey through a dozen countries for the Shanes. Regenstreif so enjoyed planning the trip that she started Child Tours, which organizes educational trips for other families.
Because their trip closely tracked the school's curriculum, the children's private school agreed to let them ship completed work to their teachers and move up to the next grade with their classmates when they returned.
But both boys learned lessons that reached beyond the academic world, Beverly Shane said. One day in Turkey, a group of boys played soccer as the family walked nearby; they kicked the ball over to one of the Shane boys to include him in their game.
"Things like that made you realize there are so many nice and welcoming people," Beverly Shane said.
"You really have to take your opportunity when you can. I guess the perfect storm of age and career and everything kind of came together for us."
'I remember it vividly'
The last leg of our trip starts this weekend, when we'll head out west to visit national parks in Utah, Arizona, Montana and Wyoming.
It's hard to have much perspective on our own sabbatical while we're still immersed in it. All three children had phenomenal teachers this year, and it pained us to take them out of those classrooms. Our daughter is young for a trip like this, but she loves the time with her grandparents. Both Alex's parents and mine will join us for some of the western adventures.
Just after we left home in January, as we wondered whether this was such a good idea after all, my husband got an e-mail from a professional acquaintance. Alex Lash, a 44-year-old biotech writer who lives in San Francisco, wrote to tell us his parents had taken him out of school in fourth grade to drive around Mexico in a van. His stepfather was a college professor and took the whole family on an academic sabbatical.
I wanted to know what Lash remembered 35 years after his family's trip. He told me about exploring Mayan ruins, spending hours studying the road map and renting a house on the beach for a few weeks. He recalled that some of the drives were long and boring, and he laughed when he told me he made the whole family listen to the "Grease" soundtrack over and over.
"I remember it vividly, a lot of it," Lash said. "It was amazing."
Every parent knows there are a lot of ways to make great family memories; long, elaborate trips aren't necessary. But we wanted to give this sabbatical a shot, and we've succeeded at spending a lot of uninterrupted time together, for better and for worse.
I don't know what our children will remember decades from now: The science experiments? The dinners with grandparents? The head lice? -- but I can't imagine a better outcome than hearing them laugh at the memories.
Would you consider a school sabbatical for your children? Why or why not? Share your ideas in the comments, on Twitter @CNNschools or on CNN Living's Facebook page!