STORY HIGHLIGHTS
Donna Brazile remembers her mother, the smell of jambalaya and the rules she lived by
She offers up those 10 rules she learned from her mom, Jean
"Jean cooked like she lived -- with largesse," she says of her mother
Editor's note: Donna Brazile, a CNN contributor and a Democratic strategist, is vice chairwoman for voter registration and participation at the Democratic National Committee. She is a nationally syndicated columnist, an adjunct professor at Georgetown University and author of "Cooking With Grease: Stirring the Pots in America." She was manager for the Gore-Lieberman presidential campaign in 2000. The opinions expressed in this commentary are solely those of the author.
(CNN) -- It's been 25 years since I last heard my mother's voice. Jean was home in New Orleans, fretting about the ingredients for her jambalaya, preparing a big tossed green salad.
I'll never forget her.
The look she would give me simply to shut up, or how she raised her hand, signaling it was time to stop playing around. The sound of her small feet walking toward the back of the house, then her waking us up in the order of our birth: Cheryl, Sheila, Donna, Teddy, Chet, Lisa, Demetria, Kevin and Zeola.
When she called, we had to start moving. Right then or else.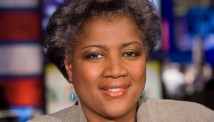 Donna Brazile
My mom passed away when I was in my 20s, but she's still with me today.
How could I forget her, when every day I'm reminded of her loving spirit, her decency, her humor, her optimism, her generous spirit -- and those rules?
My mom was born and died at Charity Hospital in New Orleans. Appropriate -- because she was a living embodiment of charity. Despite having nine children, my mother always had some spare food or clothing or -- whatever -- for any child in the neighborhood in need. She taught us how to share, how not to waste anything, how to think about others who had even less than we did.
That's why I have to think constantly of ways to give back.
She was a friend and confidante to everyone, and a keeper of secrets. She was an optimist. I don't think she knew how to complain.
Jean wanted everybody to be happy. (My oldest sister, Cheryl, started calling her "Jean," and it stuck.) One weekend, I came home from college and told my mom about a roommate who had a difficult time going back home to rural Louisiana. Jean said to invite her to our house. I asked where would she sleep, and my mom answered with her big smile, "There's enough room for everyone if they just scoot over and make space for others."
Jean made room for others. She had to. She came from a family of seven, and my dad, Lionel, was from a family of 12. Everyone was welcome, anytime -- but they had to bring their own beer. (The Kenner Grocery Store, behind the train tracks on the corner, was open late.)
Food was plentiful. Jean cooked like she lived -- with largesse. Red beans and rice with smoke sausage and French bread. A large green tossed salad with dressing, stirred with pickles. For dessert, bread pudding made with leftover bread, cane sugar, butter, cinnamon and raisins.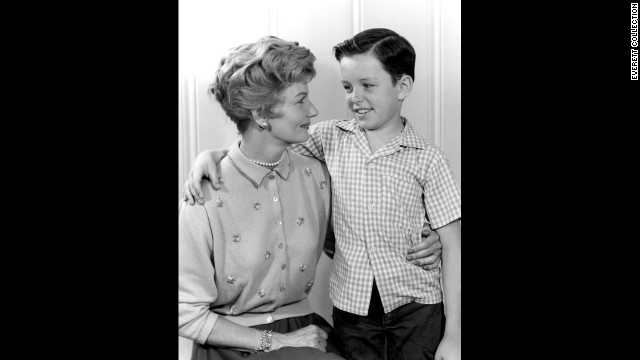 Ah, motherhood and television. They go together likes hugs and kisses, right? After all, we're talking the medium of "Leave It to Beaver's" June Cleaver (Barbara Billingsley, here with Jerry Mathers as the Beaver), among others. But then there are the moms who appear less than loving ...
"Downton Abbey" would be much less entertaining without the cutting Dowager Countess, played by Maggie Smith. There's love in her heart -- she did raise Robert and Rosamund (with the help of servants, of course) -- but her mouth says things such as, "I will applaud your discretion when you leave."
Betty Draper -- later Betty Francis (January Jones, here with Marten Holden Weiner) -- tries to be a polished, grown-up mother on "Mad Men," but the years have shown that her glamorous sheen hides a brittle interior.
Lucille Bluth (Jessica Walter) doesn't even try to hide her brittleness. The "Arrested Development" matriarch abuses underlings -- that would be almost everybody -- and has been known to enjoy a drink. Or several.
And Estelle Costanza (Estelle Harris)? She was a perpetual thorn in the side of her son, George (Jason Alexander), on "Seinfeld." However, on at least one occasion, he was master of his domain.
Other mothers have their complexities. Carmela Soprano (Edie Falco) cared about her children and loved her husband Tony, but she tried to turn a blind eye to his business (which wasn't really waste management) and was known to consider straying.
Lorelai Gilmore (Lauren Graham, left) may have been mother to Rory Gilmore (Alexis Bledel), but she wasn't always the adult on "Gilmore Girls." Since she gave birth to Rory when she was 16, she had a lot of growing up to do.
On "Roseanne," Roseanne Barr (left, with Sara Gilbert) could be brash and sarcastic, but she was good with her children -- often while being brash and sarcastic.
Alicia Florrick (Julianna Margulies, right, with Makenzie Vega as daughter Grace) on "The Good Wife" has been through a lot: her husband's infidelity, challenges at her law firm, up-and-down relationships. She can be mercurial, but as a mother, she's steadfast and protective.
"Weeds' " Nancy Botwin (Mary-Louise Parker, here with Alexander Gould) bent a few rules to maintain the comfortable lifestyle of herself and her kids. Like selling marijuana and trying to stay out of jail. Hey, it was a living.
Peggy Bundy of "Married ... With Children" (Katey Sagal, second from right) was blowzy and materialistic, but she would stand with her family when threatened. Son Bud (David Faustino), husband Al (Ed O'Neill) and daughter Kelly (Christina Applegate) were usually firmly behind her.
"Modern Family's" Claire Dunphy (Julie Bowen) and Gloria Pritchett (Sofia Vergara) are more lovable. The pair don't always see eye to eye, especially since Gloria is married to Claire's father, but they always put their families first.
"One Day at a Time" featured a divorced single mother, a rarity on television in the 1970s. Ann Romano (Bonnie Franklin, center) handled two daughters (played by Mackenzie Phillips, left, and Valerie Bertinelli, right), their mixed-up lives (including husbands Michael Lembeck and Boyd Gaines) and a wacky super played by Pat Harrington.
Dr. Beverly Crusher (Gates McFadden, right) had the mixed blessing of being a mother on the starship Enterprise in "Star Trek: The Next Generation." It could be hard taking care of the crew -- and a son, Wesley, played by Wil Wheaton. Of course, the precocious Wesley Crusher always saved the day.
A mother that was also the literal leader of the band? That was the case on "The Partridge Family" in which Shirley Partridge (Shirley Jones, left) sang with her children and drove the bus. Sure, maybe Keith (David Cassidy, second from left) sang lead, but we know who was really in charge.
There are the good, All-American moms. "The Brady Bunch's" Carol Brady -- played by Florence Henderson -- always knew the right thing to say and had the warm hug to give. Her daughters -- Jan (Eve Plumb, left), Marcia (Maureen McCormick, center) and Cindy (Susan Olsen) -- looked up to her.
"Good Times' " Florida Evans (Esther Rolle, third from left) provided a lot of love and discipline to her children, Michael, J.J. and Thelma (Ralph Carter, left, Jimmie Walker and BernNadette Stanis).
In "Family Ties," Elyse Keaton (Meredith Baxter, second from left) juggled life as an architect with a mother's sturdy guidance for her children (from left, Justine Bateman, Brian Bonsall, Tina Yothers and Michael J. Fox). Husband Steven (Michael Gross, far left) was an equal partner.
"The Cosby Show's" Clair Huxtable (Phylicia Rashad, right, with Keshia Knight Pulliam) could keep her doctor husband, played by Bill Cosby, on his toes, and was a successful lawyer and mother to boot.
Maybe Marge Simpson isn't as perfect as Clair Huxtable. Maybe her children can be difficult and her hair barely fits in the car. The loving wife of Homer and mother of Maggie, Lisa and Bart is the heart of the Simpson clan, the one to lead the way when things go awry. Which they often do.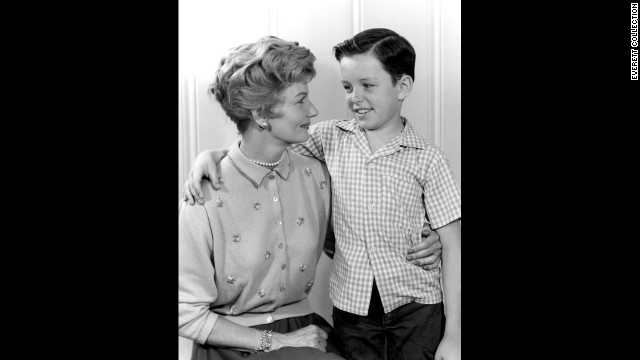 Photos: Our favorite TV moms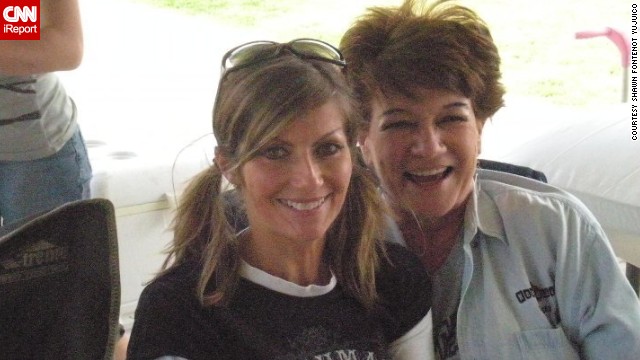 This Mother's Day, CNN readers pay tribute to women who were not their biological mothers but filled a matriarchal role. Shawn Fontenot Yujuico, left, was 17 years old when her mom died in a car accident. Stepmother Shirley Fontenot "just flat out loved us. She loved us over our brattiness, our 'You are not Mother,' over our heartbreak. She didn't love us conditionally; she loved us with her whole heart."
Indian iReporter Meera Vijayann, pictured standing next to her grandmother and younger sister, spent much of her childhood in Kollam, a small port town along the country's southern coast. As a young girl she was brought up to respect her elders, a common occurrence within Indian culture. As a result, she developed a deep bond with her grandmother. She explains: "As a child, she was my source of strength, a vision of wisdom and womanhood so powerful..."
Nicole Sunderlin, right, met her "other mother" Marirose Lula when they were college roommates. "Although she is only one year and two months older than I am ... she has taught me self worth, and only dating people who are good people. She has helped guide me with my faith, she has taught me how to keep a secret and she has taught me, time and time again, when I needed help, that she is there for me."
Jhena Vieira-Coffey, left, was 15 when she journeyed to Michigan as an exchange student and never left. Mariah and Robert Coffey legally adopted her on a state level when she was 17 so she could study as an international student and eventually get her green card. Vieira-Coffey refers to Mariah as her "American mom" and says Mariah made her realize she could aspire to be anything she wanted.
Randy Carmichael, right, was a troubled 16-year-old when he went to live his aunt and grandmother. His Aunt Jean was the one person in his life who made him feel special. "I had a me-against-the-world attitude, and rather than use force or threats, she treated me as an adult, a real person. No one had done that for me ever," he said.
Kathy Bautista, right, has known Nelly since she was a little girl when she was a housekeeper for her family. Today she still helps Bautista in her own home and business. "Since my mother died in 2000, she was there to assist me in household chores, in helping out in decision-making, in dealing with family issues and stress," she says.
"She was always helping others. She always like to help her students, fellow colleagues, strangers," says Maya Hoffman about her mom, Louise, who adopted her when she was 5 years old. In 2007, Louise, who was also a teacher, took a group of students to India. The trip (pictured) provided Maya an opportunity to return to where she was born for the first time in 13 years and will always look back on the trip with the fondest of memories.
When Tashi Wangmo's parents separated, she moved in with her maternal aunt, Kezang Tshomo for five years. Tshomo taught her many of life's vital lessons as well as the little things. Today she continues to be incredibly thankful for her aunt's guidance and hopes to one day return the gesture. "My favorite memory of my aunt is when she dressed me up for my first dance concert. First she gave me a bath and started to make my hair and do my makeup."
Jasmine Clifton, left, said her older sister, Nicole Pierson, became a second mother to her after they lost their mom to cancer in 2006. Pierson taught her "to believe in myself and to never settle." From relationship advice to swapping recipes, "she is everything that I need and more."
Elisa Monterroso. left, was hired as a medical assistant by Patty Desande two days after her graduation, and over the five years they have worked together, she says Patty has always been there for her. In January, Monterroso needed to have surgery to remove a benign tumor growing on her acoustic nerve. Unsurprisingly, her "other mother" was right by her side. "Patty and my husband both hugged me seperately" and "quietly in my left ear said 'I love you.'"
When Coni Russo Szemis' mom left, she was just 11 years old. In her absence, Szemis' father put on the "mom" hat guiding her through puberty and relationships all while continuing to work as a pipe fitter and supporting her three brothers. "He always gives so generously to us all, even if we don't deserve it! He's the best mom this girl could ever wish for," she says.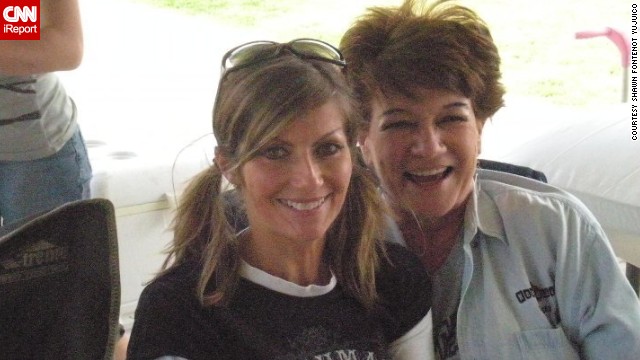 Celebrating our 'other mothers'
After our meals and once we removed the throw rugs and put the furniture against the wall, we had a dance floor.
My brother Teddy Man and I did the James Brown moves; our cousin Gale did the funky chicken better than anyone on the block. The older kids showed off their fancy footwork, doing the Popeyes or Four Corners.
Soon the adults took over. That's when I learned how to really dance. Jean told us, "Straighten up your backs, never bend over. Raise up your arms like a bird in the sky and sway those hips from side to side." After a while, I realized my Mom was also getting us to work off some of the good food.
My mom led by example: Step up, speak up, be dignified, be respectful -- and be tolerant of others.
Her rules have sustained me, guided me and inspired me. I share them with my nieces and nephews -- many of them never met their Maw-Maw, as Janika, her oldest grandchild, referred to her.
Here are 10 of Jean's rules: 1. Don't you ever talk back to grown folks. 2. If you make a mess, clean it up. 3. Don't expect others to do for you what you're not willing to do for yourself. 4. Get up and go to work. If you want it bad enough, earn it. 5. Watch what you say. 6. If you have something to give, then go ahead and share it. 7. Never go to a party before eating at home. You'll regret it later. 8. If you lie, you steal. If you steal, you kill. So always tell the truth. And if you're wrong, ask for forgiveness. 9. Have faith in God. Prayers work. 10. Nobody has all the answers, so if you get lost, ask for help.
I last talked with Jean the day before her death. She wasn't feeling well. She was tired. My sister Sheila told her to take the day off from work. A day later, Jean went to the emergency room and never came home again.
My mom was -- is -- unique. Isn't yours? To honor Jean's spirit on Mother's Day, I will cook a delicious Cajun or Creole meal. I hope you're doing something special to honor your mom.
So, in appreciation to all the mothers out there, the soon-to-be moms, the PANKs (Professional Aunt No Kids) and those who embrace motherhood at some level, thank you.
Thank you, Jean!
Follow us on Twitter @CNNOpinion.
Join us on Facebook.com/CNNOpinion.