STORY HIGHLIGHTS
Zain Asher: Girls in Nigeria "now have to decide between staying alive and getting an education"
Kidnappings are common throughout Nigeria, from which her parents fled during the Biafra War
Her uncle was kidnapped three years ago
Editor's note: Zain Asher, who was born and raised in England but spent some of her childhood in Enugu in southeastern Nigeria, is a business and personal finance correspondent for CNN.
(CNN) -- As a Nigerian, and as somebody who has been blessed with a top-tier education, the idea that teenage girls could be snatched from their school in northeastern Nigeria is particularly chilling.
I was born and raised in England but spent some of my childhood in Enugu, in the southeastern part of Nigeria. I studied at Oxford University and Columbia University, and my thirst for knowledge made journalism a natural choice. I wouldn't be working as a CNN reporter today if it wasn't for the fact that my parents fled Nigeria during the Biafra War and my mother, despite losing my father in a car accident, sacrificed everything to send me to good schools in England.
Girls in Chibok, Nigeria, now have to decide between staying alive and getting an education. Aside from the nearly 300 school girls who were kidnapped in April, 56 boys at a boarding school were also recently killed. This is particularly heart-wrenching because I've always believed education is freedom, especially for children in northeastern Nigeria whose education will be the only chance they have at eventually escaping poverty like my parents did.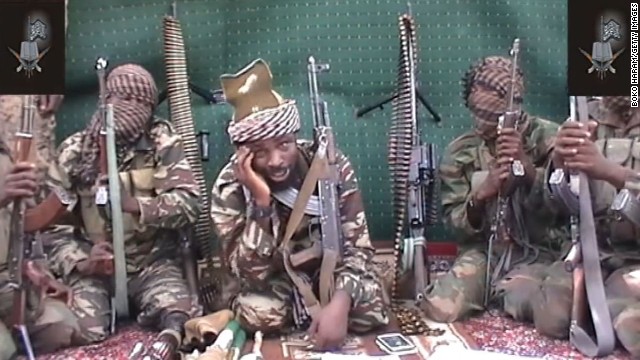 A video of Abubakar Shekau, who claims to be the leader of the Nigerian Islamist extremist group Boko Haram, is shown in September 2013. Boko Haram is an Islamist militant group waging a campaign of violence in northern Nigeria. The group's ambitions range from the stricter enforcement of Sharia law to the total destruction of the Nigerian state and its government. Click through to see recent bloody incidents in this strife-torn West African nation:
Bodies lie in the streets in Maiduguri, Nigeria, after religious clashes on July 31, 2009. Boko Haram exploded onto the national scene in 2009 when 700 people were killed in widespread clashes across the north between the group and the Nigerian military.
An official displays burned equipment inside a prison in Bauchi, Nigeria, on September 9, 2010, after the prison was attacked by suspected members of Boko Haram two days earlier. About 720 inmates escaped during the prison break, and police suspect the prison was attacked because it was holding 80 members of the sect.
Nigerian President Goodluck Jonathan, second from left, stands on the back of a vehicle after being sworn-in as President during a ceremony in the capital of Abuja on May 29, 2011. In December 2011, Jonathan declared a state of emergency in parts of the country afflicted by violence from Boko Haram.
Rescue workers help a wounded person from a U.N. building in Abuja, Nigeria, on August 26, 2011. The building was rocked by a bomb that killed at least 23 people, leaving others trapped and causing heavy damage. Boko Haram had claimed responsibility for the attack in which a Honda packed with explosives rammed into the U.N. building, shattering windows and setting the place afire.
A photo taken on November 6, 2011, shows state police headquarters burned by a series of attacks that targeted police stations, mosques and churches in Damaturu, Nigeria, on November 4, 2011. Attackers left scores injured -- probably more than 100 -- in a three-hour rampage, and 63 people died.
Men look at the wreckage of a car after a bomb blast at St. Theresa Catholic Church outside Abuja on December 25, 2011. A string of bombs struck churches in five Nigerian cities, leaving dozens dead and wounded on the Christmas holiday, authorities and witnesses said. Boko Haram's targets included police outposts and churches as well as places associated with "Western influence."
A paramedic helps a young man as he leaves a hospital in the northern Nigerian city of Kano on January 21, 2012. A spate of bombings and shootings left more than 200 people dead in Nigeria's second-largest city. Three days later, a joint military task force in Nigeria arrested 158 suspected members of Boko Haram.
A photo taken on June 18, 2012, shows a car vandalized after three church bombings and retaliatory attacks in northern Nigeria killed at least 50 people and injured more than 130 others, the Nigerian Red Cross Society said.
A French family kidnapped February 19, 2013, in northern Cameroon is released after two months in captivity in Nigeria. The family of four children, their parents and an uncle were kidnapped in Waza National Park in northern Cameroon, situated near the border with Nigeria. One of the captive men read a statement demanding that Nigeria and Cameroon free jailed members of Boko Haram.
A soldier stands in front of a damaged wall and the body of a prison officer killed during an attack on a prison in the northeastern Nigerian town of Bama on May 7, 2013. Two soldiers were killed during coordinated attacks on multiple targets. Nigeria's military said more than 100 Boko Haram militants carried out the attack.
A deserted student hostel is shown on August 6, 2013, after gunmen stormed a school in Yobe state, killing 20 students and a teacher, state media reported.
A photograph made available by the Nigerian army on August 13, 2013, shows improvised explosive devices, bomb-making materials and detonators seized from a Boko Haram hideout. Gunmen attacked a mosque in Nigeria with automatic weapons on August 11, 2013, killing at least 44 people.
Nigerian students from Jos Polytechnic walk on campus in Jos, Nigeria, on September 30, 2013. Under the cover of darkness, gunmen approached a college dormitory in a rural Nigerian town and opened fire on students who were sleeping. At least 40 students died, according to the News Agency of Nigeria.
Soldiers stand outside the 79 Composite Group Air Force base that was attacked earlier in Maiduguri on December 2. Hundreds of Boko Haram militants attacked an Air Force base and a military checkpoint, according to government officials.
Catholic priest Georges Vandenbeusch speaks to reporters outside Paris after his release on January 1. Vandenbeusch was snatched from his parish church in Cameroon on November 13. Boko Haram claimed responsibility for kidnapping the priest.
A man receives treatment at Konduga specialist hospital after a gruesome attack on January 26. It was suspected that Boko Haram militants opened fire on a village market and torched homes in the village of Kawuri, killing at least 45 people.
Police officers stand guard in front of the burned remains of homes and businesses in the village of Konduga on February 12. Suspected Boko Haram militants torched houses in the village, killing at least 23 people, according to the governor of Borno state on February 11.
Yobe state Gov. Ibrahim Gaidam, left, looks at the bodies of students inside an ambulance outside a mosque in Damaturu. At least 29 students died in an attack on a federal college in Buni Yadi, near the capital of Yobe state, Nigeria's military said on February 26. Authorities suspect Boko Haram carried out the assault in which several buildings were also torched.
Rescue workers try to put out a fire after a bomb exploded at the busiest roundabout near the crowded Monday Market in Maiduguri on July 1.
Police in riot gear block a route in Abuja on October 14, during a demonstration calling on the Nigerian government to rescue schoolgirls kidnapped by Boko Haram. In April, more than 200 girls were abducted from their boarding school in northeastern Nigeria, officials and witnesses said.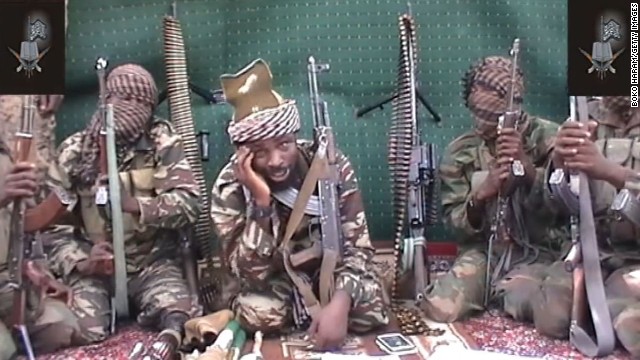 Boko Haram: Nigeria's crisis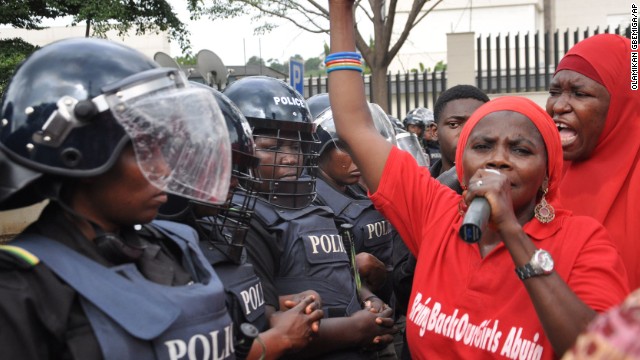 Police in riot gear block a route in Abuja, Nigeria, on Tuesday, October 14, during a demonstration calling on the Nigerian government to rescue schoolgirls kidnapped by the Islamist militant group Boko Haram. In April, more than 200 girls were abducted from their boarding school in northeastern Nigeria, officials and witnesses said.
Women in Abuja hold a candlelight vigil on Wednesday, May 14, one month after the schoolgirls were kidnapped.
People march in Lagos, Nigeria, on Monday, May 12, to demand the release of the kidnapped schoolgirls.
Catholic faithful in Abuja take Holy Communion and pray for the safety of the kidnapped schoolgirls on Sunday, May 11.
Catholic faithful attend a morning Mass in honor of the kidnapped schoolgirls in Abuja on May 11.
Catholics nuns pray in Abuja on May 11.
A woman attends a demonstration Tuesday, May 6, that called for the Nigerian government to rescue the girls.
Community leader Hosea Sambido speaks during a May 6 rally in Abuja.
Brig. Gen. Chris Olukolade, Nigeria's top military spokesman, speaks to people at a demonstration May 6 in Abuja.
Women march Monday, May 5, in Chibok, Nigeria.
People rally in Lagos on Thursday, May 1.
Police stand guard during a demonstration in Lagos on May 1.
Protesters take part in a "million-woman march" Wednesday, April 30, in Abuja.
Obiageli Ezekwesili, former Nigerian education minister and vice president of the World Bank's Africa division, leads a march of women in Abuja on April 30.
A woman cries out during a demonstration in Abuja on Tuesday, April 29, along with other mothers whose daughters have been kidnapped.
A man weeps as he joins parents of the kidnapped girls during a meeting with the Borno state governor in Chibok on Tuesday, April 22.
Mothers weep April 22 during a meeting with the Borno state governor in Chibok.
Four female students who were abducted by gunmen and reunited with their families walk in Chibok on Monday, April 21.
Borno state Gov. Kashim Shettima, center, visits the girls' school in Chibok on April 21.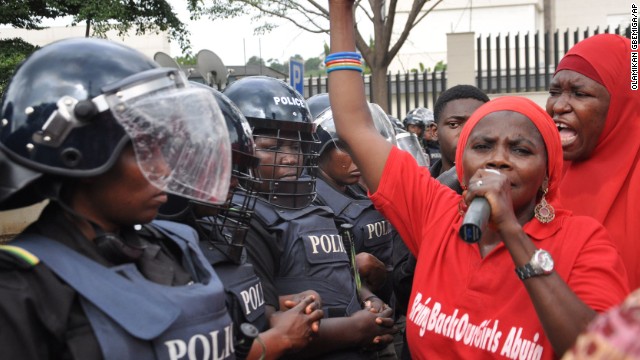 Photos: Nigerians protest over kidnapped girls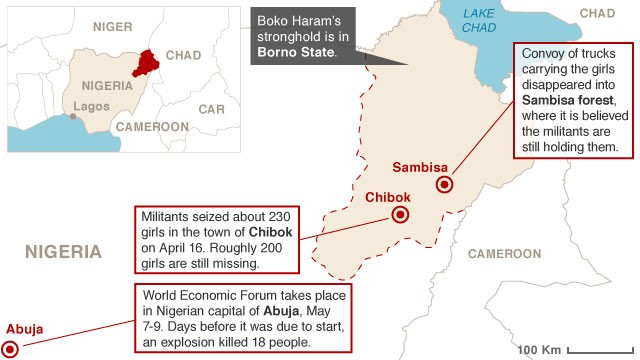 Map: Where the girls were kidnapped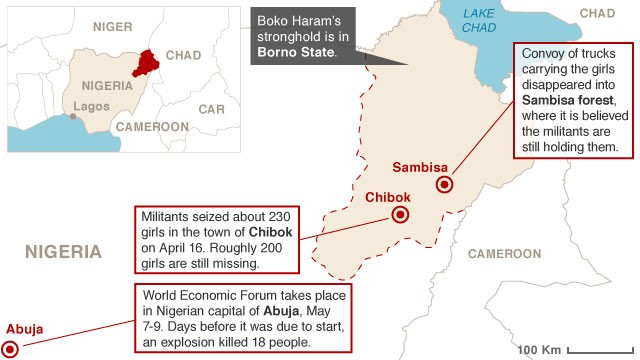 Map: Where the girls were kidnapped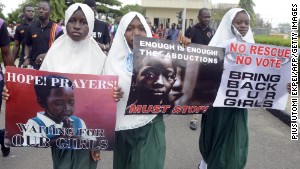 Slavery a reality in Nigeria
However, the unyielding presence of Boko Haram has meant that education has become a choice between life and death. And parents, who are naturally more concerned about their children living to see another day than anything else, have stopped sending their children to school.
Kidnappings are not just limited to Boko Haram's antics in the northern part of Nigeria but are widespread throughout the country. Every Christmas, Nigerians who live in the Western world often travel back to Nigeria for the holidays. The sheer presence of so many foreigners often means an sharp uptick in the number of ransom kidnappings. Whenever I return to Nigeria, I follow sharp instructions from my mother not to tell too many people I'm coming back, not to announce my arrival ahead of time, and not too stay in one place for too long. We've become even more cautious after my uncle was kidnapped three years ago.
He was living between London and Dublin at the time and returned to Nigeria to visit family. One evening, as he was pulling into my grandmother's compound, kidnappers sneaked in behind him on foot. They knocked on the window to his car, and as soon as he rolled down the windows, they hit him over the head, took over his vehicle and drove him five hours through the night. It was by miracle that the car they used broke down. The kidnappers -- and my uncle -- were were stranded. They panicked and let him go. For a very long time, he was afraid to ever go back to Nigeria.
When my uncle shares that story, people aren't necessarily as shocked as you might expect. The first thing people ask him is not, "Oh my goodness, you were kidnapped?" but rather "Who did you tell you were coming back to Nigeria?" This is a country where no one is immune from the rife practice of hostage taking and if you travel to Nigeria, the onus is on you to stay safe. If the Nigerian President's cousin can be kidnapped and the finance minister's mother can be held hostage, then anyone else can be, too.
For that reason, I've always tried to avoid traveling back to Nigeria alone, especially during Christmas. I simply won't do it. And when I am there, the idea of going out after dusk alone is inconceivable. Every time my mother tells me, "You need to go to Nigeria this year," I often look for any excuse to get out of it. It pains me to admit that because I cherish my memories of going to school in Nigeria and the chances of anything happening to me -- though possible -- I hope are unlikely.
Although I'm not in Nigeria physically right now, the story about these girls has haunted me from day one. Whenever I read headlines about the missing schoolgirls, there's always this feeling of guilt that hovers over me. It's hugely unfair that I live comfortably in a first world country, in a nation that affords me the freedoms and luxuries that I can't imagine living without and those girls, whose only wish is to get an education, have to live in a constant state of fear. That's their life every single day, and had my parents not made the sacrifices they did, that could easily have been my life too. My heart bleeds for them.
READ: Opinion: Can U.S. apply lessons learned from War on Terror in Nigeria?
READ: Nigeria abducted girls: Why hasn't the rescue effort produced results?
READ: Nigerian missing girls: Families sleep in the bushes, fearing more attacks